To eat at Ramadan: mega iftar at Tennis Academy and reception by Ufa mayor
Tatarstan business is going to expend tens of millions of rubles on free evening meals in Kazan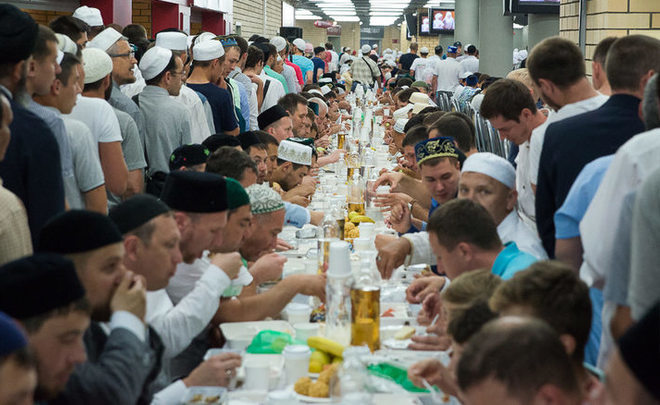 The holy fasting month – Ramadan – started on 26 May. Tatarstan mosques will turn on a non-stop regime and work for 24 hours a day during this time. Apart from daytime affairs, mosques will be busy with night Tarawihs and iftars. Kazan already has certain traditions: to put up Ramadan tents in front of mosques and stage iftars for thousands of people. Realnoe Vremya reviews where a fasting person can share his meal with co-religionists in Kazan during the month and how Ufa and Moscow are doing.
Regional iftar is centre of attention
The 5 th Regional Iftar at Kazan Tennis Academy will be the main event in Tatarstan during the holy month. As it was said earlier, it will be on 15 June. More than 10,000 fasting people will participate in it. The Russian Association of Muslim Entrepreneurs, Tatarstan Muslim Spiritual Directorate and Kazan Arena's directorate will be the organisers of the big action.
Despite early statements about an event for 15,000 people, Tennis Academy won't be able to host this number of guests. This is why last year's number of 10,000 was chosen, President of the Russian Association of Muslim Entrepreneurs Aidar Shagimardanov told Realnoe Vremya's correspondent.
Kazan Arena that hosted the evening meal one year ago is going to receive the 2017 Confederations Cup matches in June. The Central Stadium in front of the Kazan Kremlin can't be used this year because it will be a training base for football teams. The organisers did not consider other options.
In April, the Tatarstan Muslim Spiritual Directorate announced the recruitment of a team of volunteers who will help to hold iftar. Even special communities for guys were created in social networks.
Like last year, admission to the iftar will be by ticket that will be distributed among Tatarstan mosques, social and other establishments.
As Chairman of the Tatarstan Muslim Spiritual Directorate, Mufti Kamil Samigullin told at the press conference dedicated to the beginning of Ramadan on 24 May, initially, the address of Kazan Arena was written down on the tickets. Now new tickets with the address of Tennis Academy are being printed.
''Security measures will be at last year's level,'' Shagimardanov notes. ''Any reinforcement is not needed, all the people work as much as they can. Police workers, ambulance, Ministry of Emergency workers will work there – we will use all the structures.''
The head of the Russian Association of Muslim Entrepreneurs refused to announce how much money was going to be spent on the regional iftar. At the same time, he stressed not a penny from the budget will be spent to stage it, all the money comes from individuals. The businessman reminded that last year's mass iftar cost beneficiaries 10 million rubles and complained that people considered the event quite expensive.
''Salah for 10,000 people needs to be prepared besides meal – covering, fence, prayer rug… When you organise everything in a new place, you have to do everything from scratch: to look for tables, benches, chairs, tablecloths including salary for personnel (waitresses, cooks),'' our interlocutor sighs.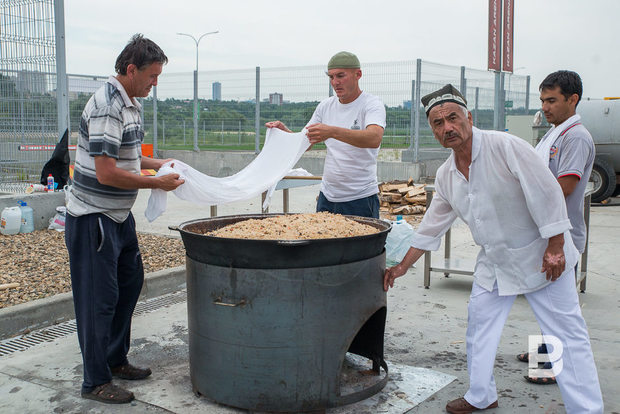 The menu won't be much different from that of last year: religious people will try pilaf, salads, meat and vegetable cuts, pies, sweets. Juice, water and tea will be on the table. In addition, religious songs, sermons of famous imams, Quran recitation are expected to be performed. The meal will be on the tennis court where a special covering is laid. Religious people will say the evening pray on the football pitch of the academy whose grass will be protected from trampling.
Kadyrov's answer
Last year Metropolitan Feofan and Rabbi Itskhak Gorelik were invited to the ''big dinner''. This year priest of the Buddhist community Garmazhap Lama registered in Kazan. Will they be invited again?
''As you remember, last year representatives of other religions were at our big iftar. Now we are preparing new invitations and hope to see them again,'' Kamil Samigullin answered the question of our correspondent but did not specify whether the Buddhist will come.
Many VIPS among top Russian functionaries, deputies, muftis and foreign diplomats are expected at the regional iftar.
''We sent official invitations to Ramzan Kadyrov, Rustem Khamitov and other regional governors. We have not received answers yet. Everyone is welcome,'' Shagimardanov emphasised.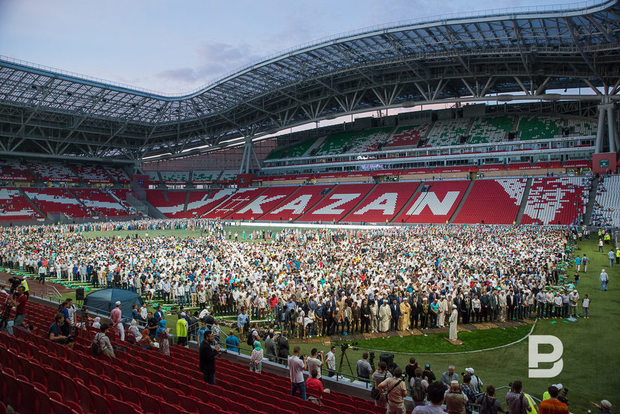 We should remind that the media wrote last year's regional iftar was the biggest iftar in Russia. Far from it… Head of Chechnya Ramzan Kadyrov left Tatarstan behind by the end of the holy month having set the table in the Grozny Central Square in front of The Heart of Chechnya mosque and called over 35,000 people. Let's see whether Ramzan Kadyrov has enough Caucasian ambition this time.
Kazan tents
Ramadan tents will traditionally open in several places in Kazan.
As Deputy Mufti of Tatarstan, head Imam at Al Mardjani Mosque Mansur Dzhalyaletdinov told Realnoe Vremya, mass evening iftars will take place daily at 30 mosques. 15 of them will have tents put up next to them.
''Every year the number of mosques organising iftars increases. We also increase the quantity of places for people who break their fast: about 1,000, 500 people,'' Hazrat Mansur is proud.
For instance, the Russian Association of Muslim Entrepreneurs will stage charity iftars in Native Village national complex. As Aidar Shagimardanov told, about 300-500 people will gather under the tent of Native Village every day. Some evenings will be themed where only certain categories of people will be invited: women, disabled people of the republic and other social groups.
Probably heads of traditional religions of the region will be invited there on first Ramadan days, the Tatarstan mufti promised.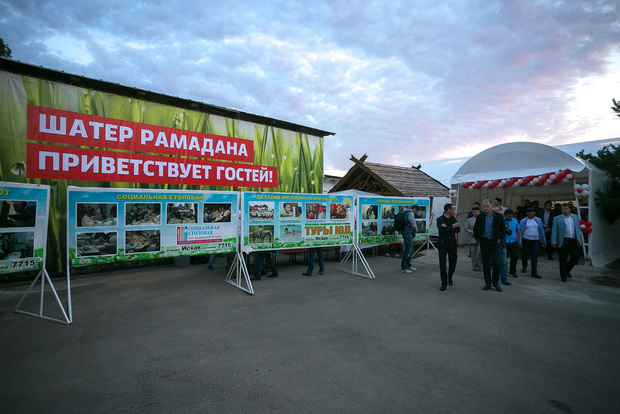 Yardem. What does the Ufa mayor have to do here?
Two tents will open at Yardem mosque that specialises in the work with the disabled: the first one will host 1,000 people, the second – 200. About 1,200 people will have dinner there every day.
As Head Imam and Chairman of Yardem foundation Ildar Bayazitov told Realnoe Vremya, the organisers already prepared a cultural and entertainment programme. Gamil Nur who is famous as halal master of ceremonies will entertain guests in the big tent. Local imams will deliver speeches in the small one. According to Bayazitov, every evening will be themed. For instance, it will be dedicated to famous theologians.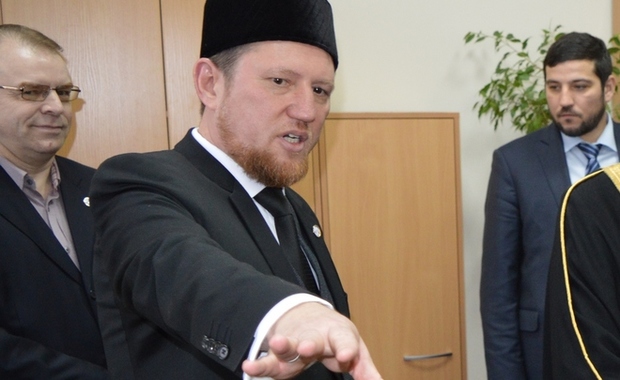 The value of one helping is 200 rubles. It includes the first plate (soup with noodles), second plate (pilaf, roast meat, etc.), salads, fruits, pastry, mineral water. In other words, every single evening will be equal to 240 rubles. Up to 7 million rubles will be spent here on iftars during the month.
Entrepreneurs collect money to set the table. In addition, top functionaries who are members of the regional government, municipal workers help mosques. Mayor of Kazan Ilsur Metshin also stages iftar at a mosque every year. Previously Tatarstan President Rustam Minnikhanov organised evening meals. And Bayazitov hopes the president will also pay attention to the visitors here.
What is more, Suhur – the meal consumed before dawn – is going to take place in the tent every night. Not only guests of Yardem but also any religious person who will want to share his or her meal with the disabled can take part in it.
There is unexpected but pleasant news. Particularly, Mayor of Ufa Irek Yalalov who was marked by a conflict with President of Bashkiria Rustem Khamitov will help to hold one of the iftars at Yardem.
''Mayor of Ufa Irek Yalalov is supposed to organise one of the evenings in the Ramadan tent,'' Hazrat Ildar announced. ''His representatives have already reached out to us. Now we are arranging the date and other details. His interest in us is quite natural. Many residents from Bashkiria including blind people from Ufa rehabilitate here.''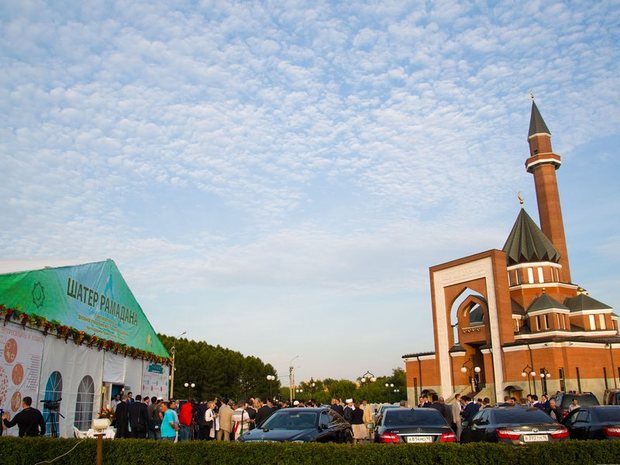 What about Ufa and Moscow?
Speaking about the capital of Bashkortostan. After last year's regional iftar in Kazan for 10,000 people, citizens of Ufa offered to organise something similar in their city via social networks. Unfortunately, everything ended in talk.
According to Realnoe Vremya's source that is close to the Muslim Spiritual Directorate of Bashkortostan, ''if in Kazan almost the very Tatarstan president supervises this issue and sets the pace to local businesspeople, in Bashkiria, the regional administration seems not to need it''.
The only tent for several hundreds of people at the First Cathedral Mosque has worked in the last years. Chief Mufti, Chairman of the Central Spiritual Directorate of Muslims of Russia Talgar Tadzhuddin had dinner together with the visitors.
The Central Spiritual Directorate of Muslims of Russia assured Realnoe Vremya's correspondent that two tents will appear this year. The first one is assembled near Tukay Mosque. The second one is in north-east of the city, in the courtyard of Lyala-Tulpan mosque where mass iftars took place in the open air in the past.
As for another muftiate residing in Ufa – Muslim Spiritual Directorate of Bashkortostan – iftars will take place only at mosques.
Meanwhile, a Ramadan tent will traditionally open near the Memorial Mosque on Polkonnaya Hill for the 12 th time in Moscow. As the Russian Muslim Spiritual Directorate told, every evening will be themed dedicated mainly to a certain nation, region or country depending on who organises the event. Moreover, several ''Tatar'' iftars will be represented there – evenings of Tatars from Nizhny Novgorod (29 May), Finnish Tatars (6 June) and Tatarstan (23 June). By the way, unlike last year, Bashkiria is not going to appear there. There will also be meetings about Islamic business, halal, Muslim women, charity and Quran reciters.