Mayor of Riga: ''We can offer Tatarstan services of the port and our banks''
Nils Ušakovs told journalists about 9 May in Latvia, citizens of Riga in Kazan and cats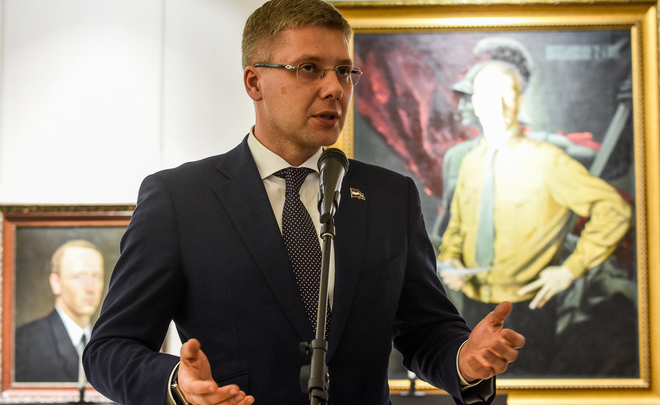 A delegation from Riga headed by Mayor of the city Nils Ušakovs paid a two-day visit to Kazan. After meetings with Tatarstan President Rustam Minnikhanov, Mayor of Kazan Ilsur Metshin and visiting cultural events, Nils Ušakovs gave a press conference in Tatar-inform where he told whether he would celebrate 9 May, how many tourists visited Riga last year and his vision of further cooperation with the Republic of Tatarstan. Realnoe Vremya publishes the answers to the most interesting questions.
About tourism, cars and Russian tourist traffic
In 2015, all cats living in the city administration launched a PR campaign to attract Russian tourists to Riga due to a fall in tourist flow. What can you say about the situation with Russian tourists at the moment and the very cats?
Let's start with tourists. Russian tourists accounted for about 30% before the crisis. A sudden fall was in the 2014-2015s. In 2016, we saw that Russian tourists started to come back because, on the one hand, people got used to the current ruble rate, on the other hand, especially now Riga is a very good destination when not every family can afford a trip to Berlin or London. Riga is closer and has more reasonable prices. For this reason, we also got an additional flow of Russian tourists. For instance, the share of Russian tourists has totalled about 60% in the first decade of January in the last two years. The flow started to increase, we are glad about it.
As for cats, yes, they partially work off their meal also thanks to the advertisement of the city of Riga as a tourist destination in the Russian market.
Could you tell how many Russian tourists visited Riga last year in comparison with 2015?
At the moment, preliminary data shows that we can reach 20% of the total traffic. Last year, we hosted 2,3 million tourists. In 2009, we started with about 650,000 and reached 2,3 million. We set our first record in 2014 when we reached 2 million. Then in 2015, we managed to compensate the fall of Russian tourist traffic by Germany and Scandinavia – we conserved 2 million but lost Russians. Russians started to come back in 2015. Again, it is not easy to calculate them because many of them visit somebody or stay with relatives or friends and don't use hotels. First of all, we use the data of hotels. But Russian tourists to a certain degree, Belarusian tourists to a less degree often use other opportunities to stay in Riga.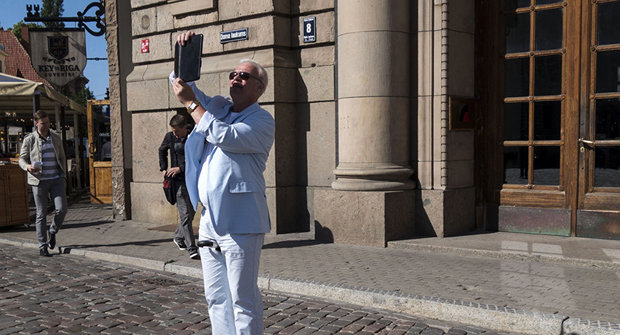 ''Now Riga is a very good destination when not every family can afford a trip to Berlin or London. Riga is closer and has more reasonable prices.'' Photo: ru.sputniknewslv.com
You mentioned that Riga can soon become an air hub having substituted Istanbul that is used to fly to Europe now. When do you think this substitution will happen?
In general, the flight Kazan-Riga, in fact, was completely organised for residents of Tatarstan. In other words, when you fly from Kazan at about 4 o'clock in the morning, you are already in Riga at 6 o'clock. Consequently, flights to European countries start after 7 – about 80 direct destinations, that is to say, connections are very comfortable. All European flights are operated until 22.00-22.30, and a plane to Kazan flies at 23.30. Consequently, you are home in two hours. Everything depends on who flies and where. But I am sure that is closer and quicker in comparison with Helsinki and Moscow – the connection is very comfortable.
Chairman of the Tatarstan State Committee for Tourism Sergey Ivanov mentioned once that the share of tourists from Riga, Latvia is very small. Can you say now how Tatarstan can interest citizens of Riga? How to develop this destination?
We already talked about joint campaigns. First of all, it refers to outdoor ads to advertise Kazan in Riga and Riga in Kazan. We launched such campaigns many times with friendly cities, and it helps a lot. As for citizens of Riga and residents of Latvia, in general, they actively travel in Russia. But, of course, the direct flight simplifies it. In this situation, on the one hand, the advertising campaign, on the other hand, the direct flight are great support. If we speak about what can be found in Kazan, there are things to show, the tourist destination can be beautifully advertised. I am sure many citizens of Riga will use this opportunity. Visa is the only thing that is always a problem in both directions. But the visa centre works, two weeks ago it became possible to obtain Latvian visa in Kazan.
About relationship of Kazan and Riga
Have you learned anything in Kazan that can be used in work in Riga? The second question: you were fined many times for using the Russian language. Don't you think it is a language discrimination to some degree?
As for the agreement signed between Kazan and Riga, it includes an exchange of experience on city management. By my personal experience, if you want to learn something, the result is better when you cooperate with cities of the former Soviet Union. If we speak about Riga and Kazan, we all started with an absolutely identical communal heritage, so to speak. Then every city made its mistakes during these years, every city achieved its successes. In addition, every time in different sectors. Positive and negative experience helps a lot to study. Yesterday, when the agreement was signed, we talked to the city mayor, then the president of the republic that we will actively use this component.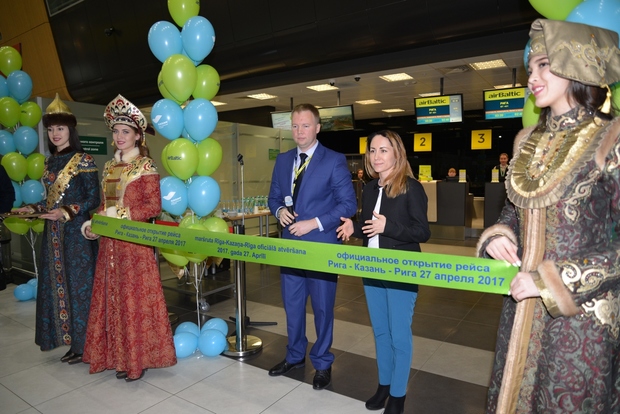 Riga is considered to be objectively ahead because we started all reforms almost immediately. This is why we will have a long and fruitful experience exchange, I think. Apart from community services, they are cultural links, economy, tourism and everything linked with business because tourism is not only when people come and spend money on a hotel, souvenirs and restaurants. It is a promotion of the image of a city, promotion of economic and business opportunities.
When we work with tourist flows going to Riga, we always advertise our investment potential. This is why the current agreement is connected with Riga's politics: we deliberately establish good relations with Russian regions. And we would like to express our gratitude to the president that we managed to launch a direct flight by joint efforts. We have very good potential. In answer to your question, in Riga, Latvia, we have domestic problems and we gradually solve them. It is our business how we cope with them.
Yesterday you had a very busy day. For instance, you met with the mayor of Kazan. Did you find any interesting novelties that you would like to apply in Riga? You probably were shown some things that Tatarstan and Kazan are proud of. For instance, in Housing and Public Utilities.
We had a very busy day yesterday and we did not reach Housing and Public Utilities, which is a bit different dimension. But considering that there is a direct flight, I am sure that my colleagues will visit Kazan many times. This is why, unfortunately, I can't answer in detail now what we liked and disliked in Housing and Public Utilities. We visited the Kremlin yesterday, a museum, met with the president and mayor.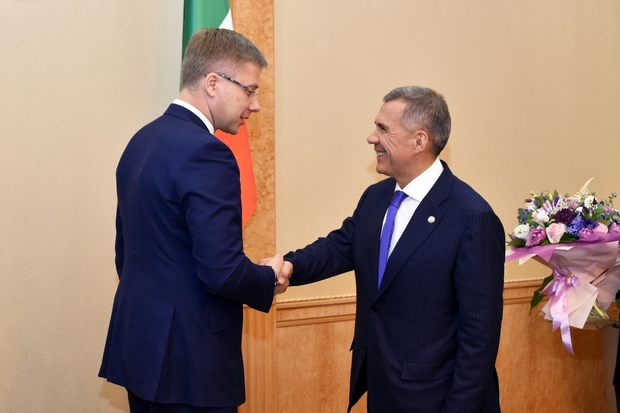 Probably the industrial pool also came with you. Could you name the enterprises that would enter the Tatarstan market?
As for the potential of Latvian economic and business cooperation, of course, first of all, it refers to the port, financial services – banks, transit. What is more, the Tatar party has always been interested in the possibility and potential of the Freeport of Riga. As for industry, Riga has many factories that today are specialised in high added value such as pharmaceutics. We will see in the future what manufacturers from Tatarstan will want to open in Latvia. But finance and port are our key advantages today. First of all, services of the port and banks considering the specifics of the republic is what we can offer Tatarstan.
Do you know any Tatar people? How many Tatars lives in Latvia? Are they active?
According to the latest information, there are up to 1,500 Tatars. There are active, in general. For instance, the first European Sabantuy took place in Riga when Tatars from not only Baltic countries and Scandinavia but also EU countries gathered. It was very active. Not only Tatars but also those who live in Riga liked it because the celebration took place in the city centre in one of the key historical parks. The community has been living for a time, historically, from the 60-70s. They are well integrated into the society.
What other events are scheduled during the visit of your delegation to the republic?
We are going to open a business forum, visit the Parliament during the trip. And we need to be back – we have elections. It is even terrible to talk about it.
What are your chances?
We will probably win.
About social networks and the media
You often write posts in social networks. Is it an answer to the call of your soul or is it linked with your official duties?
In case of Riga, Latvia, today social networks are substituting the traditional media to a great degree, especially if we are talking about a possibility to deliver something to citizens. For instance, if I need to say something about the city to a group aged 25-45 in Riga, Facebook will be more effective than television, radio, not to mention the print media. It is the first moment. Secondly, social networks give a good opportunity to get an instant answer without surveys. You see what people think because it is anonymous. It is great support. In addition, we work further with messages in social networks as well as with officially received addresses. I think that social networks will become part of self-administration sooner or later in some technological form.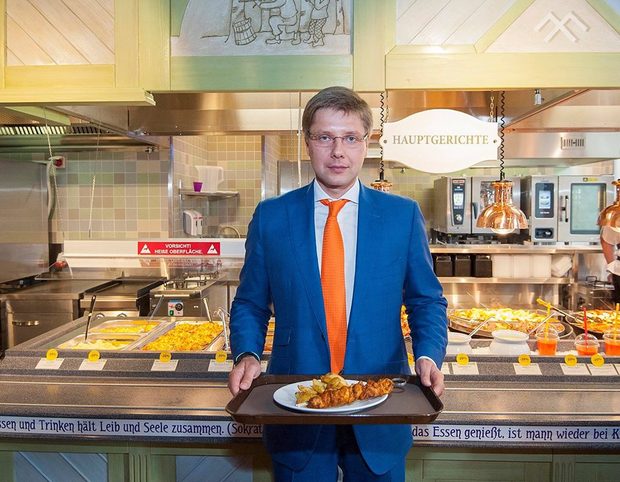 ''Today social networks are substituting the traditional media to a great degree, especially if we are talking about a possibility to deliver something to citizens.'' Photo: facebook.com/NilUshakov
You were a famous journalist in the past. How is the Latvian media doing today? Are there Russian-speaking newspapers?
Speaking about the media, in general, the general tendency is that daily newspapers are reducing. Monthly glossy magazines have a stable position among newspapers. As for radio, it is stable. Television is reducing. Again, the Internet grows year after year. Different kinds of content — not only newspapers but also videos – grow. Social networks also grow.
If we are speaking about languages, from a perspective of a consumer, you pay €20 a month and you will have about 50 channels that transmit in Russian – there will be Russian and European channels transmitting in Russian, plus, I think there are three or more Latvian local commercial channels in Russian – the thing is that I don't watch TV. About one half of the radio stations are in Latvian, the other half speaks Russian. There is a daily newspaper in Russia, there are more weekly newspapers. There are more than one Latvian daily newspapers. But, again, because there is a big flow of information in Russia. Printed newspapers are reducing, in general.
About refugees and bilingual schools
It is not a secret that the problem with refugees is very topical in Europe today. What is the attitude to them in Latvia? Is there Islamophobia?
We have almost hosted refugees within a centralised programme – there were about 200 people if I am not mistaken. The majority of them went to Sweden or Germany after obtaining documents. Outside the centralised programme, today we have about 300 refugees from Iraq, Vietnam, Afghanistan who, first of all, were arrested on the Russian border, they usually stay in Latvia.
But 300 refugees in the last 8 years is not a lot for the city with a population of 700,000 people. Their kids study at schools. It turned out that bilingual schools where Russian-speaking kids study can provide them with good education because they know how to work with the programme in several languages – they do it decently. At the moment, we have more questions linked with uncertainty than the presence of refugees in Latvia.
About 9 May in Riga and marathon
Question from Sergey Nilus, the Latvian Association of Veterans of War in Afghanistan, coordinator of the project Heirs of Victory in Latvia, Lithuania and Estonia. Mr Ušakovs, the media and particularly former Defence Minister Artis Pabriks admitted in 2013 one week before the elections to the Riga Duma where you successfully won that the union of Heirs of Victory was a threat to Latvia's sovereignty and kids were not partiots of Latvia. I have been living in Tatarstan for four years. Could you tell where the all-Russian union of Heirs of Victory will take place? Does this project threaten the sovereignty? Can our kids participate in this project? Many thanks.
It is difficult to comment. I have nothing to do with the project and I don't have information to answer your question in detail. As for 9 May in Latvia, I would like to remind that from 150 to 200,000 people of a 700,000-population come to the Victory Memorial to Soviet Army in Riga on 9 May. This is why many people celebrate the victory over Nazism precisely on 9 May in Latvia. As for different projects linked with historical memory, probably I would not comment. It is a private project.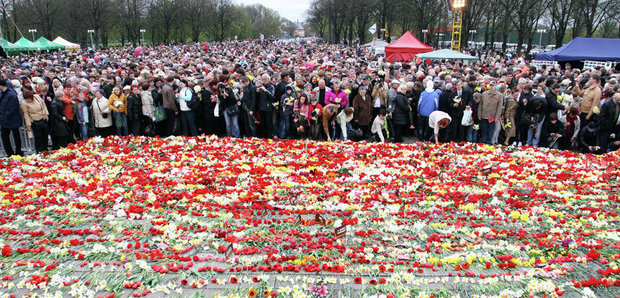 ''From 150 to 200,000 people of a 700,000-population come to Victory Memorial to Soviet Army in Riga on 9 May. This is why many people celebrate the victory over Nazism precisely on 9 May in Latvia.'' Photo: baltnews.lv
Do you personally celebrate 9 May?
As it was said, from 150 to 200,00 people come to the monument on 9 May. As a Parliament deputy and Mayor of Riga, I always participate in these events and talk to citizens of Riga taking the advantage granted by organisers of these events. All our events linked with the victory over Nazi and mourning for victims in WWII take place on 8 May. On 8 May, the Latvian Duma always receives WWII veterans who fought for the Soviet Union. We lay flowers with all officials in the mass cemetery first.
In turn, public organisations that collect money on their own help veterans and do everything linked with the celebration near the monument on 9 May. They always organise at the highest level. Moreover, good singers are invited. This is why everything is good in this respect.
Do you participate in marathons after 2011? (Editor's Note: Ušakovs was hospitalised after running a marathon in 2011)
No, even if I can run. My family won't understand and forgive me.