Expedition of historians to Germany: German Turkologists, Jalil's places of memory and 13th century Tatar tower
Total recall: Sh. Mardjani Institute of History started to study the memorial heritage of Tatar soldiers in Europe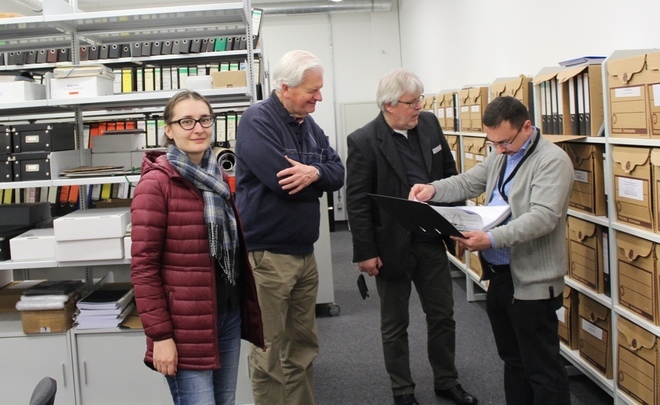 Last week a group of Kazan scientists from Sh. Mardjani Institute of History visited FRG on Tatarstan President Rustam Minnikhanov's instruction. The main mission of the historians' visit is to found and study graves of Tatars in Europe. They also presented the collection The Golden Horde in World History. Realnoe Vremya's columnist Liliya Gabdrafikova who visited Germany together with the delegation came back recently and wrote a column about the first stage of the scientific trip especially for our online newspaper.
Hand in hand with German researchers
21 April 2017, a modest hall of small German town Gardelegen's city administration. Workers of the administration Rupert Kaiser and Gabriela Winkelman surrounded by local journalists are waiting for guests from Tatarstan. Many of them have heard about Tatars for the first time and were writing down Tatar words with difficulty. Meanwhile, Gardelegen's land as well as many other parts of Germany keeps memories of Tatar soldiers of different wars. 12 wooden chandeliers hung in the hall of Gardelegen's city administration in the past. A prisoner of war – some Kazan Tatar Nasibulla – made them in 1916. His name was carved in the chandeliers either of his own volition or the client's order. The acute homesickness was erupting from these wooden patterns even after more than 100 years. We can presuppose that it can be Gamaetullin Nasibulla – an enlisted man of the 14 th Company of the Bolkhovsky Infantry Regiment No. 138 who went missing in June 1915. The full list of losses of this regiment was published in the joint monography written with Khalim Abdullin Tatars During the First World War (1914—1918 years). Master Nasibulla's fate was unknown, whether he returned to his homeland after repatriation in the 1920s or the German land was his last abode. But there is no Nasibulla among the graves of the Wünsdorf camp not far from Zossen where he was confined.
Over 500,000 Tatar soldiers died in two world wars of the 20 th century. Many of them were buried on the territory of European countries. Unfortunately, there has not been any special research on registration of such graves until today. In Russia, mass graves and military cemeteries are under special protection of the society and country. While there is scarce and sketchy information about memorial places of soldiers including Tatars outside Russia. This is why, in 2017, Sh. Mardjani Institute of History of the Tatarstan Academy of Sciences headed by academic Rafael Khakimov started to accomplish a big project to find and study the memorial heritage in Europe. A central catalogue of cemeteries and graves of warriors called up from the Kazan Governorate and TASSR is going to be prepared and published as a result of this work.
The field research on this programme started in April this year. The real scale of the planned work was clear on the spot. Districts of Lower Saxony, Saxony-Anhalt and Brandenburg were chosen for the first stage of the work. Military necropolises (Kriegsgräberstätte) are almost in every district here. Sometimes graves of soldiers could be found in public cemeteries. We met Tatar names in almost every cemetery. Local people care for these graves as much as they can. Commemoration of war victims is indispensable part of the national ideology of Germany. Schoolchildren are involved in these events for a reason. It is both an act of repentance and investment in a humanistic future of the country where formation of respect for identity is one of the goals of education of the younger generation. There is no buck passing for terrors of history to the mythic power here – it was done by a specific person, same people supported him. This is why numerous museums and memories in former camps are looking for answers to awkward questions of the past.
Local researchers also actively joined the project of Sh. Mardjani Institute of History: workers of scientific centres, museums and archives as well as non-indifferent people. We thank Dutch historian Cornelius Admiral who accompanied us in Emsland. 15 camps existed here during WWII where both Germans (opponents of the regime) and prisoners fo war were confined. According to him, the past of the camp has been especially studied in this district in the last years, a huge job is done to make the historical memory eternal. Indeed, one can see different information stands, statuaries not only in cemeteries or where camps were located but also where prisoners of war worked. For instance, in former peat bogs along the southwest highway of Germany.
The museum in Esterwegen is one of the key memorial sites in the southwest of Germany. Museum director Kurt Buck surprised with his enthusiasm. He is not only the administrator and keeper of the museum fund but also a fanatical researcher. This is why he reacted to the visit of the Tatar scientists keen on the analogous idea of search with great enthusiasm. Even a superficial acquaintance with the fund of documents of Esterwegen's museum immediately detected several people from Tatarstan. For instance, Motyg Kafiatullin (Kazan), Yepifan Kontrabaev (Kazan), Safa Valiullov, Khady Sitdikov (Pestrechinsky District). Undoubtedly, this information will be published in detail in the final registry.
In the wake of Musa Jalil and Abdulla Alish
Musa Jalil seems to be the most famous Tatar prisoner during WWII. We could not help but visit places of memory linked with him. It is a special place with theatrical curtains in Plötzensee Prison in Berlin (one part became a museum, the other part of the prison still works). Here another Tatar writer Abdulla Alish was sentenced (Tatar cartoons have been created by his tales today). These poor guys who were born in the countryside followed the echo of pre-revolutionary Jadidism, studied and wrote Tatar verses and tales for kids. But they were sentenced in public as terrible state criminals (announcements about plotting sentences were published in newspapers). This bitterness of the history is especially perceptible in the cold room with pegs sticking out on the ceiling.
The last months of Jalil and his mates' life passed in the small town of Wustrau. Director of the local historical museum of Brandenburg-Prussia Stephan Theilig showed us the hall in a private building where Jalil's supporters met.
The propagandist camp was located on the bank of a small river. There is any memorial lettering neither in this place nor in that hall. Stephan defines the place of the camp comparing it with old photos. High trees are like 73 years ago, a red tulip came about among the wild green on the bank of that river. Almost like the red chamomile from Musa Jalil's verse…
Stephan Theilig as well as his colleague Mieste Hotopp-Riecke are not just historians, they also experts in Tatar studies. Unlike the German journalists, they know the history of the Tatars: from the Golden Horde down to Tatar prisoners of war during the two world wars. They united their scientific interests around Institute for Caucasica-, Tatarica- and Turkestan Studies in Magdeburg. An exhibition dedicated to the Muslim heritage in Brandenburg is going to take place at Islamic Culture Museum at Qul Sharif mosque at the end of May this year on their initiative. That Nasibulla's chandelier from Gardelegen's city administration will also be exhibited there.
To first world and medieval wars
If camps of WWII were concentrated in the northwest of Germany to a great degree, Brandenburg has many places linked with WWI. A landmark installed by very Tatar prisoners or war in 1916 in the honour of their dead fellows survived here in the cemetery of the Wünsdorf propagandist camp (Zossen). The first death among prisoners of war of this camp dates back to April 1915 (Akhmetkatif Akhmetzyanov, Khabibulla Faizullin). People died in the camp after the war not having seen repatriation – a permission to return. Khaliulla Saifullin died here on 19 December 1920.
Of course, the graves of the Wünsdorf camp are not the full list of losses of the Tatars in war capture. Not only Muslim Russians were buried in this cemetery. Well-groomed rows of Muslim Indians draw attention. The memorial was installed by the British government. Names of Tatar soldiers were made eternal on a general memorial post. The very graves have just letters, there are not any names. But one can compare with that list on the post and install separate monuments. This kind of restoration is quite popular in Germany: we saw separate graves or memorials installed by both different governments (for instance, Poland, Holland) and individuals – descendants of prisoners of war. By the way, some countries (for instance, France) transported the remains of their soldiers to the homeland and left only memorial signs on the place where they died.
It should be noted not only the wars of the early 20 th century led Tatar soldiers to Europe. More ancient war graves of Tatars survived in Germany. This is why the researchers will have to discover these layers of history in this country. The survived part of Magdeburg's city wall bears the name of Tatar tower (Tatarenturm) for a reason. It was erected as early as 1241. Local people waited for an invasion of martial nomads from the other bank of the Elbe in dread. Descendants of those who stood on both sides of the wall will have to study our common history hundreds of years later. This is why the appearance of the monograph The Golden Horde in World History in English (printed with support of TAIF Group of Companies) caused great interest among the scientific community of Germany. A presentation of the book took place in Magdeburg (ITACAT) and Berlin (National Library) during the trip.
By Liliya Gabdrafikova. Author's photos