Albert Shigabutdinov, TAIF: ''We have been working on these big projects for almost 14 years''
For the first time the group of companies has presented a detailed strategy for future development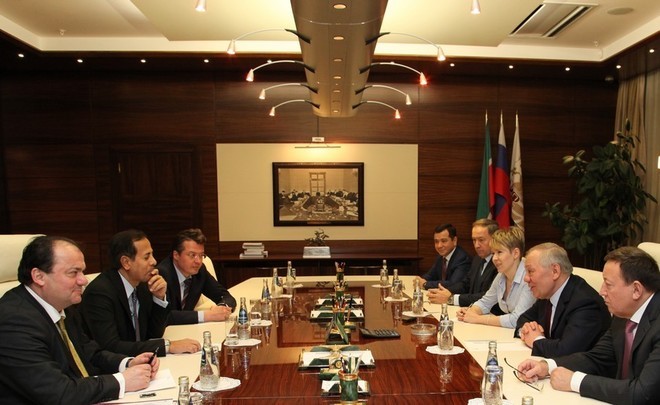 The oil and gas rich state of Qatar and large diversified holding TAIF were seeking in Tatarstan the intersection points of interests and types of mutually beneficial cooperation, discussing the current potential and prospects of development of industrial enterprises belonging to TAIF group. Perhaps, it is with this holding a long-awaited cooperation of Qatar with Russia could begin. The Persian Gulf country has joint projects with many countries of the world except with the largest one. However, at the last meeting of the top management of TAIF with the international consultant in the oil and gas industry, former Minister of Economy and Trade of Qatar Sheikh Mohamed Ahmed Jassim Al Thani it became clear: Qatar is looking for suitable conditions for investing in Russia. Read all the details of the meeting the exclusive article of Realnoe Vremya.

The leader in GDP per capita
''TAIF Group is known today in Qatar after some visits, but when I first heard about it, I thought it was a small petrochemical company. However, after analyzing the information, I was amazed by the figures characterizing the activities of the group,'' Shaikh Mohamed stated, he recalled his first acquaintance with TAIF after the arrival in Kazan mid-December, 2016. Shaikh Mohamed is a member of the ruling family- Al Thani in Qatar, whose history roots go back to the 17th century since their ancestors landed in the land of the Peninsula. His grandfather founded Qatar (he published a book, which is an international seller — Jassim the Leader), Qatar became one of the richest countries in the world. According to IMF, the country has been the leader in the world by such indicators as GDP per capita in the last 5 years. This was due to its success in transforming its economy by fully developing the North field gas dome from early 1990s.
''There are 5 sons in our family,'' says the Sheikh. ''I was sent to America, where I was trained as an industrial engineer. There I received master's degree in the Duke University. In 1985, I started to work in the state company- Qatar Petroleum.'' He has devoted a significant part of his career to this company, nearly 17 years. He held several high positions, in particular in the area of gas sales, refining of petroleum products. In the mid-1980s, the Qatar Petroleum company was producing only oil – only 300-400 thousand barrels per day. Shaikh Mohamed became the main representative for long-term contracts for the sale of liquefied gas to Japan, Taiwan, India, Italy and Spain.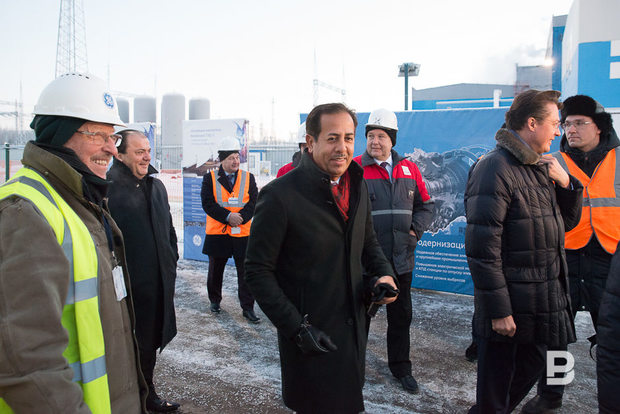 New power generation plant for year and a half
The first point in the itinerary of the delegation of Qatar in Tatarstan was the construction site at the Kazan CHPP-3, the energy plant of the subsidiary company of TAIF PJSC — TGC-16. Here, within the framework of modernization, the construction of a new block of the station equipped with gas turbine plant on the basis of one of the most powerful and efficient turbines in the world 9HA.01, with capacity 388.6 MW of GE production is under way. By the way, the first production model of the gas turbine of this type installed at the power station Bouchain of the EDF company in Northern France, is included in the Guinness World Records as the most efficient in the world power plant of combined cycle with an 62.22% electric efficiency.
Today, the pre-commissioning activities are in high gear at the plant. As Deputy Director General of TAIF JSC for energy and information technologies Ruslan Gizzatullin told the delegation, the construction and installation works at power plant have been executed for half a year. ''Given the results of tests and operation of the turbine in Bouchain when the actual capacity of the turbine reached 400 MW, we hope that by the results of tests of the turbine at Kazan CHPP-3 the actual capacity will exceed the stated one in the contract. Thus, as a bonus from GE, we expect to get another 12 MW of electrical power. When we contracted to construct the station, the representatives of GE reacted very conservatively to the expected turbine power capacity because then the first turbine was sent for testing in America,'' said Ruslan Gizzatullin.
According to Sheikh Mohamed, in Qatar he encountered the same story. ''General Electric has supplied two gas turbines for the plant of gas liquefaction for 5 million tonnes. In the end, they made it possible to produce 6.6 million tonnes. Those additional 1,6 million tonnes provided an extra income,'' noted the former Minister.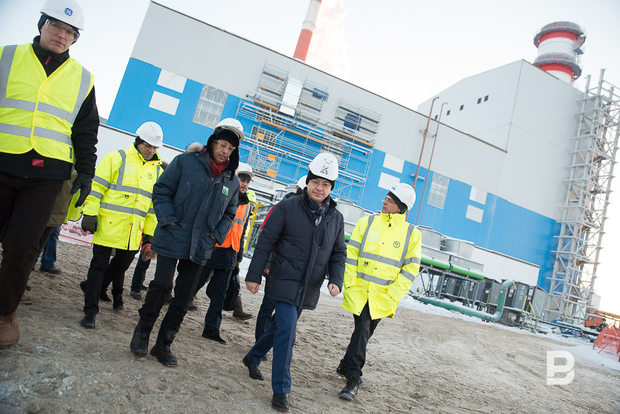 The total capacity of TAIF will reach 2.2 GW
TAIF is also planning the construction of a new plant with a capacity of 500 MW, which will be located at Nizhnekamskneftekhim. As Ruslan Gizzatullin told, every year Nizhnekamskneftekhim acquires the electric energy at about 5.6bn rubles. Now the power consumption of the plant is about 350 MW. After the implementation of all planned for the near future programs for the construction of new plants, energy consumption of the company is going to be increased up to 500 MW. The peculiarity of the work on the market of electricity and capacity is such that Nizhnekamskneftekhim is forced to purchase electricity and power twice more expensive than the price of electricity and power produced by TAIF group. Besides, it should be taken into account that during the production process at Nizhnekamskneftekhim a large amount of methane-hydrogen mixtures is released, which are by-products of the basic technological processes. They can be used as fuel for power plants for the production of electric energy. In this regard, it was decided to build a power plant that will use gas from Nizhnekamskneftekhim and will be part of the enterprise.
The power plant will include a power block consisting of two gas turbines and one steam turbine. It will be a classic combined cycle. All electricity generated by the plant will be consumed by Nizhnekamskneftekhim itself. For this, the scheme of external electric supply of Nizhnekamskneftekhim will be reconstructed, that, among other things, will increase its reliability.
Now the power plants of TAIF group produce 6.6 billion kilowatt-hours per year. By 2020, this figure will reach 13.9 billion kilowatt-hours, and the total power generating capacity of the group will amount to 2.2 GW.
To reduce the cost of electricity three times
According to Ruslan Gizzatullin, after the completion of the program, the company is planning to implement the construction of such plant on the basis of Kazanorgsintez JSC. ''The goal that we actually see is 2.2 GW. By 2025, the total electric power of the group of companies must reach 3 GW, and thermal capacity – 5.9 thousand gigacalories per hour. One third will be for own needs of the company, two-thirds will go on sale,''said Director General of TAIF JSC Albert Shigabutdinov.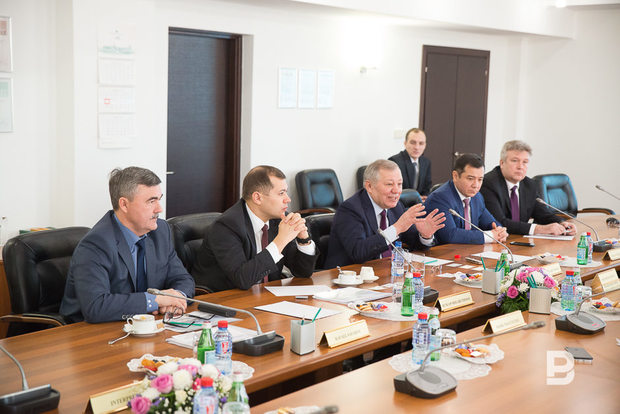 ''At every petrochemical enterprise for the first category reliability of power supply there must be three independent power sources. Technically, we have solved this. Now we are solving the problem how to reduce the cost of the energy three times that we purchase for power supply for our enterprises,'' added Albert Shigabutdinov.
The investment program at $2bn
In order for the international consultant it was easier to orient in petrochemical potential of Tatarstan, chief engineer of Kazanorgsintez Rafael Safarov gave a presentation on the company. He reminded that the company produces more than 170 types of products. The share of plastics in total production volume is 74%, polycarbonate – 7%, other products — 19%. Today in the Russian production Kazanorgsintez is the only producer of polycarbonate, its share in production volume of polyethylene is 44%, of Bisphenol A – 55%, phenol and acetone – 32%.
Kazanorgsintez is one of the oldest plants in Russia, its construction was started in 1958, and first products were produced in 1963. But from 1983 to 2003, when TAIF became a shareholder of the company, there almost was no development of the production. ''A new life started in 2003,'' Rafael Safarov described the changes. Since 2004, with the participation of TAIF it was realized a capital investment plan for the modernization of 10 existing plants. Over this time, the production of polyethylene of low pressure was increased more than 2 times from 200.000 to 510.000 tonnes per year, the production of phenol and acetone were reconstructed, new plants polycarbonate and Bisphenol A were built. The capacity on ethylene was increased from 430.000 to 640.000 tonnes per year. This investment programme cost TAIF about 2bn dollars. ''But we are not resting on our laurels and we are developing a developing program until 2025,'' the chief engineer outlined the future prospects of Kazanorgsintez.
New gas refinery
Kazanorgsintez's further development programme is based on creation of a new gas refinery with a capacity of 30 million cubic metres per year. This factory will allow to provide the new ethylene production with a capacity of 1 million tonnes per year with feedstock.
''West Siberia has natural gas fields with a high level of wet gas such as ethane, propane, butane, pentane, hexane and heptane. There is a corridor where a pipeline for the Kazan CHP Plant-3 was laid. We will lay a pipeline for the gas refinery there. There is a site near Kazanorgsintez that we booked for the new construction. Wet gas will emit hydrocarbon that will be used to produce ethylene and other basic petrochemical products. Then ethylene will be processed into HD and LD PE in the ongoing and new polyethylene factories. It is also planned to build a new petrochemical complex based on olefins,'' Rafael Safarov told.
Construction of the gas refinery is estimated at $1.2bn. The enterprise's development programme till 2025 is equal about 4bn measured in the 2016 dollars. After realisation of the programme, it is scheduled to augment the production capacities to 250bn rubles per year.
Separate piping wet gases to Tatarstan
TAIF PJSC director general Albert Shigabutdinov specified that gas pipes that send about 300bn cubic metres of natural gas per year cross Tatarstan. Mainly it is gas extracted in Urengoy in Yamal. Gas compounds like ethane, propane, butane, isobutene in gas increase every year. In some gas fields, the level of these compounds reaches 14-15%, though earlier it did not surpass 0.5-1%.
''This is why we offered to examine a possibility of coordinated decision with Gazprom, Sibur, Novatek on transportation of wet gases in a separate pipe to Tatarstan and refine it here,'' the TAIF PJSC director general explained. So the republic can receive 5m wet gases, and a part of them will be refined in Kazanorgsintez's gas refinery. Now gas is sold for 6.500 rubles per tonne in Russia. Its refinery will enable to receive a petrochemical production whose 1 tonne will cost significantly more.''
''If you have this kind of feedstock, this kind of project is just needed,'' Sheikh Mohammed estimated the development plan of KOS. ''Gas that is rich in ethane is valuable. We planned to fulfil a similar project with ExxonMobil but had a step back because of current oil prices. I hope a certain movement will begin this year. Our petrochemical companies are as successful as yours.''
''Ethylene is not just polyethylene. Now we are discussing in detail what products we will be able to make during further refinery,'' Albert Shigabutdinov specified Kazanorgsintez's plans.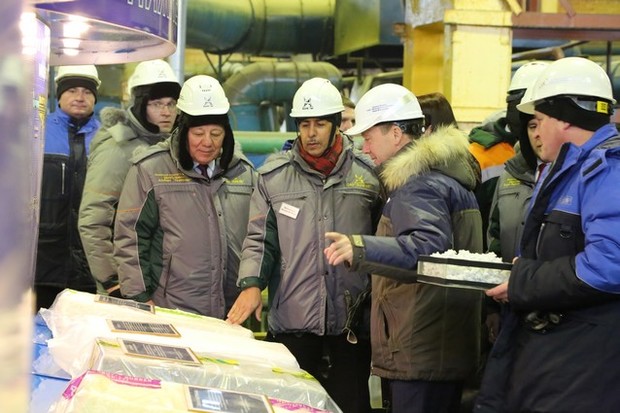 Signing of contracts with ethylene complex licensees
The visit of the delegation with the Qatari sheikh continued in Nizhnekamsk where the biggest petrochemical and oil refining enterprises of TAIF Group are located. Nizhnekamskneftekhim and its halobutyl and isoprene rubber plants were first.
During a short excursion in the production shop, director of the company Azat Bikmurzin and director of Butyl Rubber Plant Irek Aglyamov told and showed how NKNKH makes a raw material to produce tyres and different rubber goods and what from. The sheikh was offered to touch the synthetic rubber that is later pressed into rubber briquettes. He did not refuse the offer.
As for NKNKH's range of polymers – polypropylene, polyethylene, polystyrene and ABS plastics – nowadays their production volume has reached almost 750.000 tonnes. Meanwhile, such factories did not exist before 2002 at all. The first polystyrene production appeared in 2003 with a capacity of 50.000 tonnes, which is 15 times lower than its today's indicators. A half of the current volume is delivered to Russian refiners, and the second part is sent to Near East enterprises. Bikmurzin noted that according to analysts, the demand for plastics within Russia will grow year after year because at the moment the domestic market is demonstrating a low consumption level. The other point – Ethylene Plant – perhaps became one of the key feedstock productions at NKNKH.
As TAIF head Albert Shigabutdinov told, almost all questions with licensees were solved. A big tender is behind. As a result, only three big world companies left. Texts of the contracts are prepared, and ''they are to be signed by 1 February''. Speaking of the financial aspect of the project, offers of both foreign and Russian banks are considered as possible investment sources.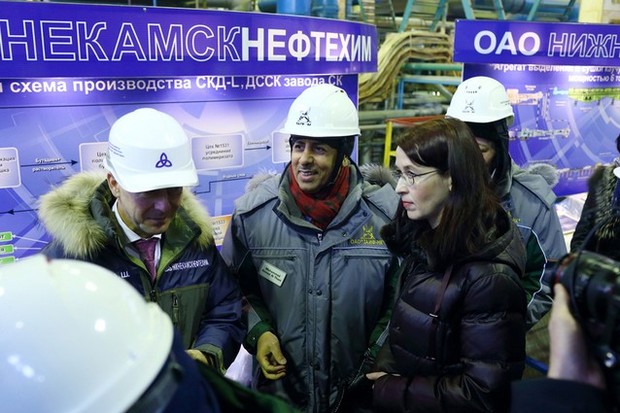 Very brave project of TAIF-NK and heavy oil of Qatar
Then the delegation went to the production site of the petrochemical factory and visited the control room of TAIF-NK's unique Heavy Residues Deep Conversion Complex (HRDCC), which is at a start-up stage.
In its petrochemical factory, the company annually refines 7.3m tonnes of oil purchased for market price and gets naphtha and liquefied gases (propane, isobutene, butane, isopentane and pentane fractions), which are feedstock for its neighbour NKNKH's factories. In addition, it gets Euro-5 diesel fuel, kerosene, including jet fuel, vacuum gas oil and goudron. The last two products will become a basic raw material for HRDCC soon.
Another subdivision of the enterprise – Gasoline Plant – refines natural gas condensate. The capacity of the unit is 1m tonnes per year. Producing about 560.000 tonnes of gasoline per year, the plant is able to provide the TAIF chain of 225 petrol stations with high-quality gasoline and Euro-5 eco standard diesel fuel. This year the company expects to have a revenue equal to almost $2bn of which 52% refer to export sales.
The head of TAIF-NK paid great attention to his presentation on the deep conversion complex. Augmentation of conversion rate from today's 74.5% to 98% and production of light oil products (diesel fuel, straight-run gasoline, butane and propane fractions, naphtha) from heavy residues (goudron and mazut) with a volume of approximately 4m tonnes per year complying with European quality and eco standards will be the goal of the construction. As a result, the volume of light oil products will account for almost 98% in TAIF-NK's product range. In addition, the launch of HRDCC will allow to increase the size of feedstock for NKNKH and KOS and the assortment of product line and create new 700 working places for citizens of Nizhnekamsk.
As Shaikh Mohamed admitted later in Kazan, the deep conversion complex impressed him the most. ''It is a very brave project. Anyway, we used to produce heavy fuel oil but, we build new refineries to refine it and produce higher value products like yours.''
Estimating the industrial power of TAIF, Shaikh Mohamed expressed his admiration of the group's scale and noted that TAIF and his enterprises fulfilled very good projects. Albert Shigabutdinov, in turn, emphasised that ''we have been working on these big projects for almost 14 years. These programmes are supported by shareholders. They are approved and supported by the president and government of Tatarstan as well as by the Russian authority, which is also important''.
Now both sides will make a pause to think over possible cooperation areas. On the one hand, TAIF is ready to participate in the creation of joint ventures to make goods that are not produced in Qatar where Qatar can take part in the projects presented. These projects will be new value add for both side and have access to funding.
By Evgeniya Gazizova, Alina Gubaidullina, Angelina Panchenko. Photo: Maksim Platonov
Reference
Qatar is a country (emirate) in Near East occupying the Qatar Peninsula on the northeastern coast of the Arabian Peninsula. Qatar is one of the richest countries in the world and has the highest GDP per capita in the world, according to the International Monetary Fund. It has the world's third largest natural gas reserves. The country is a big exporter of natural gas (ranked 6 th), oil and oil products (ranked 21st in the world) and a member state of Organization of Petroleum Exporting Countries (OPEC).
Oil and gas extraction accounts for over 50% of GDP, 85% of export value and 70% of government revenues. First of all, the Qatari oil and gas complex got a new development impetus due to foreign investments of the largest world companies: ExxonMobil, Shell, Total. Industry (75%), service sector (25%) and agriculture (0.1%) are the leading areas in GDP. Tatarstan exports equipment, mechanic computers and electric cars to Qatar. It imports organic chemical compounds and plastic goods.
Sheikh Mohamed Ahmed Jassim Al Thani (full name Ahmed bin Jassim bin Mohamed Al Thani) was born on 11 November 1962. He is a member of the House of Al Thani, which the ruling family of Qatar, grandson and direct descendant of founder of modern Qatar Jassim bin Mohamed Al Thani (1878-1913).
His academic studies include a BAA in Industrial Management and Supervision with a minor in Public Administration from Central Michigan University, a senior executive program from London Business School and a Global Executive MBA 2010 from Duke University.
He is a visiting fellow at the Oxford Centre for Islamic studies. He is a board member of the London Business School Global Advisory as well as Duke University.
He worked as minister of Economy and Commerce of Qatar from December 2003 to 2006 (under current Emir Sheikh Tamim bin Hamad Al Thani's father Emir Hamad bin Khalifa Al Thani's rule).
Prior to that, Sheikh Mohamed spent a significant part of his career (17 years) in the oil and gas industry, mainly with Qatar Petroleum, RasGas and QatarGas. He participated in creation of QatarGas.
Nowadays he is mainly a consultant, does research in energy and political economy of GCC and fulfils his own projects in oil refinery complex.