Russian banking sector's profit in 2016 can exceed one trillion rubles
But while Sberbank is prospering, small banks are losing their licenсes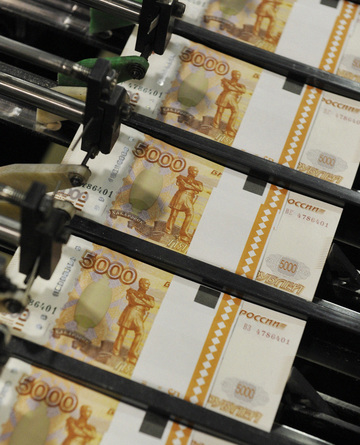 The banking system of Russia showed remarkable results in 2016, but its major institutions feel much better than the smaller ones. The Central Bank is purging the sector of weak players, and less than 200 banks are supposed to survive. Besides, the whole bailout system may be changed if Elvira Nabiullina succeeds to exclude the Deposit Insurance Agency from the process.

The Bank of Russia expects profit for 2016 to increase several times compared to the previous year and reach 1 trillion rubles ($16,6bn), reports Financial Times. State-owned Sberbank has earned almost half of this amount. ''Size does matter,'' says the bank's chief financial officer Alexander Morozov.
While Sberbank more than doubled its profit in 2016, the majority of small banks was struggling to stay afloat. The regulator continues to cleanse banking sector, closing about 10% of banks a year. Only 200 banks or fewer are expected to remain after the end of the crackdown. The Central Bank considers that it would benefit the country's economy. ''It is important to maintain trust in the entire banking system and protect the rights of creditors and depositors,'' says Elvira Nabiullina, the governor of the Bank of Russia.
''The banking system has got to a point after which continuing the policy of total window-dressing would mean an oncoming catastrophe,'' says Andrei Movchan, a senior associate and director of the Economic Policy Program at the Carnegie Moscow Center. According to the Central Bank, most banks that lose their licences get involved in criminal activity to cover their losses.
A number of large institutions left the market in 2016. Tatar Tatfondbank, which was a top 50 player, is waiting for the regulator's decision as well as Peresvet, which is connected with the Russian Orthodox Church. Vneshprombank, which served several top officials, was also among the losers.
The Central Bank is planning to change the bailout system. The compensation process is being administered by Deposit Insurance Agency (DIA), but Elvira Nabiullina is seeking a legislation change that would let the regulator work with distressed lenders' equity directly. The agency's critics state that its financial rehabilitation programme is often abused.
According to Director of DIA Yury Isaev, the financial rehabilitation system has helped prevent further trouble in the sector by keeping large struggling banks afloat. He claims that the agency hasn't had a failed bailout yet. Isaev also considers that consolidation will profit the banking sector: ''Little banks are under siege. They don't have the chance to grow because they have no capital and no good clients. In other sectors, if your business is profitable and you run out of ideas you can sell it. That's not true with banks.''