New Year's holiday in Tatarstan: 12 places to visit
Mapping in the Kremlin, Khan's wife from Bolgar and riding in a sleigh pulled by a husky team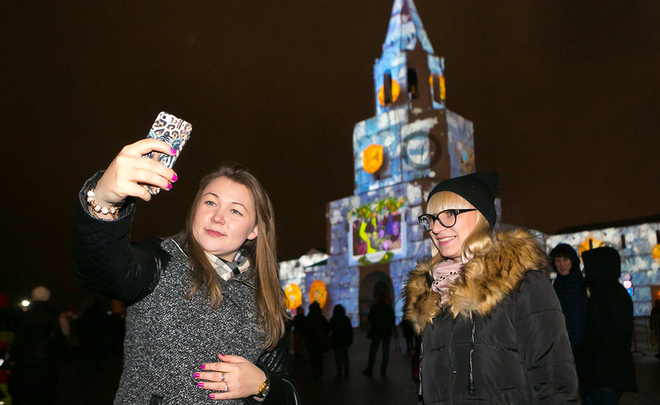 Tatarstan has been leading ratings as one of the most popular destinations for tourists for many years. Chairman of the State Council for Tourism of Tatarstan Sergey Ivanov and other representatives of the sector told how Tatarstan will attract tourists, gladden the local population on New Year's holiday on a press conference.
Kazan
Old Tatar Settlement

Due to numerous positive comments on New Year's eve, a festive fair opens in the Old Tatar Settlement on 24 December. It will be open until 8 January. There will be 10 houses where people will be able to buy souvenirs, works of national art and craft, taste Tatar national cuisine. Slopes will be open everywhere. Also there will be a 15-metre live spruce tree.



2

4 December, 04.00 p.m. – official opening of the fair
Kremlin Embankment

A fair on the Kremlin Embankment has also opened for the first time. It started to please people on 17 December and will do it until 29 January. Moreover, a 1 km ice rink – one of the longest ice rinks in Europe – appeared on the Kremlin Embankment. The embankment will be open until 3-4 a.m. at New Year's night.





Kazan International Equestrian Complex

National New Year's village called Khan's Yard, which one can visit from 24 December to 8 January, will open its doors. Apart from an opportunity to buy gifts and souvenirs, people can visit Winter Sabantuy, see performances of the best dance and vocal groups of Kazan and ride in a sleigh pulled by a husky team or horses as well as spend time at an open-air ice rink.
Kazan Arena

Yurkin Park. Ice Age already opened. Purchasing a ticket for 300 rubles, a visitor of the park will be able to use a free skate hire and dyno bungee, which is the only in the city, and ride on the road for winter races with a studded carting and railway for kids. Moreover, Ded Moroz's residency is located here. There is a special offer for students and pensioners.
Kazan City Hall

A wonderful tradition is coming back 160 years later: a New Year's masked ball like an interactive show The Nutcracker and the Mouse King that will be interest for any kid. New Year's parties will also take place here.



From 26 December to 7 January, price: from 300-500 and to 1,000 rubles

Kazan Family Centre

A winter festival of recreational sports activities Orange Wind will be on 7 January. It includes all professional carting and windsurfing competitions and a unique cultural and leisure programme like riding a husky, etc.



Kazan Kremlin

3D mapping will take place in Kazan for the third time. It is a lighting show that will submerge its spectators to kingdoms of dreams having shown surprising metamorphoses on the walls of the Spass Tower of the Kazan Kremlin. Moreover, visitors of the show will have a chance to see exhibitions and of Kremlin museums and participate in their programmes because the working hours of museums will change – they will be open during 21 hours (from 27 to 30 December 2016 and on 2 January 2017 from 06.00 p.m. to 10.00 p.m.). Museums will be open on 1 January for the first time.

A costume quest Open Sesame will be waiting for its guests. The Kremlin New Year's party New Tale about Shurale for kids will take place in Manezh exhibition centre. There will be an exhibition dedicated to poet Gabdulla Tukay's 130 rd birthday. The Hermitage-Kazan prepared an interactive programme. The Tatarstan Museum of Natural History will organise a scientific show Ded Moroz's Secret Laboratory.

Working hours of Kremlin museums: opening hours are from 12.00 a.m. to 12 p.m. on 1 January, from 10.00 a.m. to 09.00 p.m. on holidays, from 11.00 a.m. to 09.00 p.m. on 6 January



Tatarstan

Sviyazhsk

It will present three programmes.

1. Christmas Carol: on 3 and 6 January from 04.00 p.m.

2. The Tale of Shooter Nikita and Tsarina Syuyumbike (from 1 to 10 January, duration –is 1 hour, from 11.00 a.m., 01.00, 02.30 and 04.00 p.m.). The programme includes fights of warriors, jumping over a huge rope, tug of war, team games.

3. Sviyazhsk Amusements is the major show that will take place from 2 to 7 January at 12.00 a.m. and 02.00 p.m.


In addition, there are two exhibitions. The first one is dedicated to the anniversary of the biggest church of the island. It has an icon the church was named after. The second exhibition is held in an old water tower and is about Kaluga porcelain tiles. In addition, there are traditional exhibitions, for example, the Museum of Sviyazhsk located in three buildings (from 11.00 a.m. to 06.00 p.m.).
You can also cover Winter Volga Route from Kazan to Sviyazhsk on skis. It is a 34 km route that takes about 6 hours.
Bolgar

New Year's parties will be held at the Museum of Bolgarian Civilisation from 26 December at 11.00 a.m. Guests are also invited to the second traditional meeting and performance with historical characters (Khan, his wife, Peter I, Ekaterina II and Ded Moroz with Snegurochka, of course) named Historical Kaleidoscope.

Festive programme Christmas Miracle will kick off on 5 January. Five museums will be open from 08.00 a.m. to 05.00 p.m. One can have a very beautiful photo shooting in the evening.
Yelabuga

Yelabuga will present an entertainment programme called Winter Amusements in Commercial City that will take place at Shishkin's House Museum where guests will enjoy slopes, ice labyrinths and a costume show. There will be held family competitions like making the best snegovik, construction and conquest of an ice fortress. People also can acquaint with traditions of wedding customs and participate in different masterclasses.



Kids will be able to participate in production of tales. The museum also has a new exhibition Fashion 100 Years Ago. It is kid's fashion, a joint project with a Moscow museum.
Chistopol

The State Historical, Architectural and Literary Museum-Reserve of Chistopol prepared both a programme for kids with merry games and adults – musical and poetical Christmas evenings with Green Bank group.
Kysh Babay's residency

Kids can met Kysh Babay in Yana Kyrlay village. It became popular not only in Tatarstan but also in other regions of Russia. Guests will be able to participate in interactive games and tales together with characters of Tatar folk tales, different masterclasses and joyful competitions.


Reference
Calendar of events:
gokazan.ru
visit-Tatarstan.com
ostrovgrad.com