''A refusal of the Ministry of Economy to support such routes will scotch the development''
Ildar Khalikov hoped that tourism of Tatarstan would catch up with oil recovery or petrochemistry one day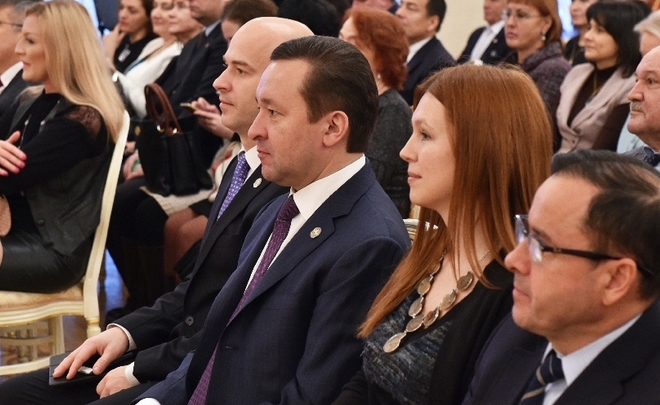 Smartly dressed representatives of tourism gathered in the Kazan City Hall on 16 December. The State Committee for Tourism of Tatarstan honoured them, and Prime Minister of Tatarstan Ildar Khalikov was the first to congratulate them. There were many awards in different nominations. Various tourism products – from posh Luciano restaurant to Kukmor boots called Regina. Realnoe Vremya tells why Ildar Khalikov started to use Lenin's slogans all of a sudden and assured the representatives that tourism in Tatarstan would be able to compete with oil recovery and petrochemistry, why Sergey Ivanov thinks that the opening of Turkey and Egypt won't affect the development of tourism in Tatarstan.
''There is such a party!'' like ''There is such a sector''
This year Tatarstan has hosted the first regional competition called Leader of Tourism whose winners were awarded in the Kazan City Hall. The contest was called Tourism – 21 Century from 2001 to 2015. This year it was decided to modernise it and include 10 nominations, some of which were divided into several sections.
Winners of the competition don't get money but a certificate and priority support in promotion of their products. As for occupied categories, for example, the best guide of the year, an image is taken into account.
''For any of them, it is an invisible asset, a so-called brand that a guide can use for at least two or three years. They also understand it, and it helps them at work,'' chairman of the State Committee for Tourism of Tatarstan Sergey Ivanov told.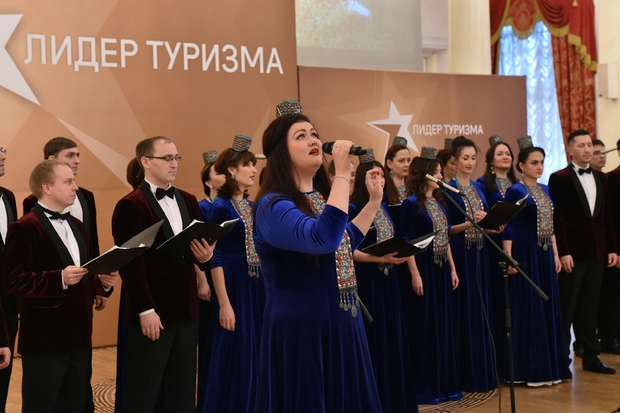 Not only the people who sent their applications took part in the competition. ''There were several meetings of experts. If we understood that there were candidates who did not send their applications officially but were really the best in their category and made the greatest contribution to this category, the award was given regardless of whether the application was sent or not,' the chairman of the committee answered Realnoe Vremya's question.
Awards in nominations were given pompously – in a hall with columns in the Kazan City Hall with the Tatarstan State Choir's performance and dances. Prime Minister of Tatarstan Ildar Khalikov opened the award ceremony. He said that when he entered the hall, he remembered words of 'one famous politician and father who said: ''There is such a party!'' It should be noted Vladimir Lenin is the author of the words.
''So we can certainly say that Tatarstan does have such a sector! Now we can certainly say that the sector is very strong and developing. And we hope much that it will catch up with the largest sectors of Tatarstan like oil recovery or petrochemistry. It seems that despite the difficulty and almost unreality, this goal is quite attainable. We know many countries and cities in the world that managed to do it even if they also have oil, gas, minerals, many big industrial enterprises,'' the prime minister of Tatarstan noted.
Khalikov noted that the republic began the year with great hope and some fear considering the absence of big events that could attract a big tourist flow to the republic. ''The sector was afraid a bit. But I want to say it was not in vain – the year has been good.'' He thanked tourism market players for it.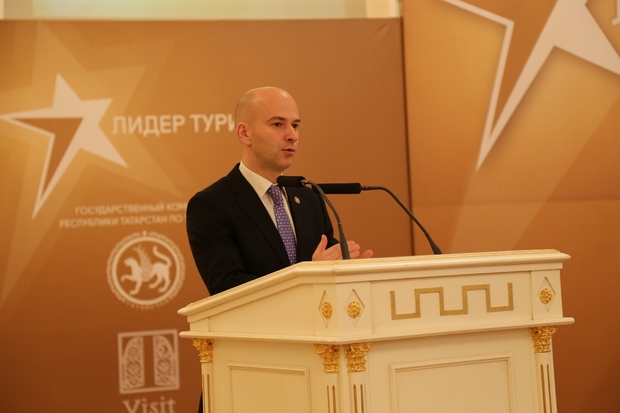 Regina boots, hotel of the vice-president of the Association of Restaurateurs and Hoteliers and Tatar dinner show as the best
We won't enumerate all the winners because one page won't be enough considering the amount of subcategories and special awards. We will mention the key ones.
Persona Grata expectedly won in Tourism Agency of the Year. Evgeny Terentyev, the executive director of Tatarstan Health Resorts Association of Health and Resort Establishments, was Persona Grata. By the way, that victory was not accidental. The chairman of the Committee for Tourism notes now they are going to put effort to develop health resorts. Tourist and Information Centre of Kazan received its award too. In May, the centre followed an example of western countries and staged KAZAN dinner show. Naturally, with a national accent. The successful realisation of the idea allowed the centre to win in Discovery of the Year.
In addition, Integration, an organisation of the disabled that opened a specialised tourism company Integra-Tour, Kazan Riviera for the opening of a big wheel and organisers of HoReCa Kazan-2016 hospitality and public catering industry exhibition were awarded a certificate of Discovery of the Year.
Luciano became the best restaurant. The manager of four or five-star Relita Gulnara Safina was elected a vice-president of the Association of Restaurateurs and Hoteliers in March and substituted Evgeny Lodvigov.
Tatar Village was the best three-star hotel in 2016. One or two-star Bulgar and Kukuruza boutique hostel were the best too.
Pinery in Zelenodolsk District was the best health resort. The executive committee of Almetyevsk District was noted in Municipal Tourism Policy of Tatarstan, the Kazan State Institute of Culture was the best in Tourism Education. The Kukmor Fulling and Felting Factory got its award in Souvenir of the Year for its Regina boots.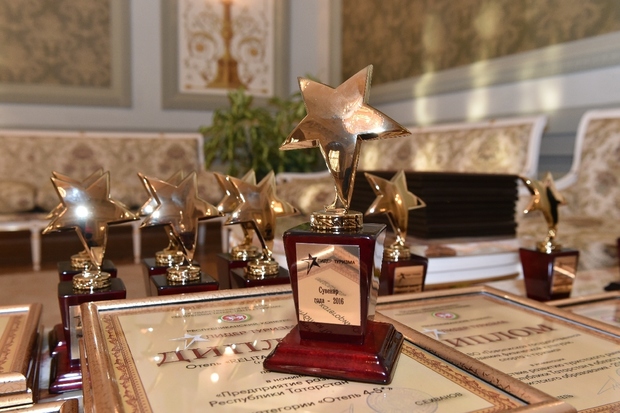 3 million tourists per year and hopes for Chinese
Generally speaking, at least 3 million people have visited Tatarstan in 2016. In comparison with the previous year, the growth has made up 12,4%. The accurate number will be made public at the end of January. It is planned to reach 5 million tourists by 2022.
Ivanov hasn't told yet how much money the budget received in 2016. But he said that taxes totalled 900 million rubles in 2015. It is 4,5 billion rubles with linked industries and about 9 billion with a multiplicative effect. Ivanov assured that the growth of numbers is a result of a job that took many years. He put an example of Finland's increased tourist traffic. The committee worked on it for several years. Chinese tourists can be another example. A direct flight to China was launched in Kazan this year. This tour includes three cities – Kazan, Saint Petersburg and Moscow. The last flights were operated in November. As Sergey Ivanov told Realnoe Vremya, it is planned to renew them in May.
Another tourist product – only in Tatarstan with classical landmarks and natural beauties of the republic – has also been prepared. All negotiations were held, but no agreements have been reached at the moment. The interlocutor of the newspaper told that Chinese tourists like to move very much. It is difficult to interest them with one region only. ''Probably we will manage to leave them only in Tatarstan. But it will be a small percentage of tourists for a while,'' Ivanov thinks.
''A refusal of the Ministry of Economy to support such routes will scotch the development, of course''
Meanwhile, Kommersant told on 17 December that a bill on subsidisation of tour operators working in the domestic market, which was offered by the Ministry of Culture, was stopped at the federal level. The Ministry of Economy stopped it. The ministry thought that additional 2 billion rubles would be needed for that purpose. But the allocation of that money would not bring an expected growth in tourism. Sergey Ivanov commented on the situation.
''There are several routes that are strategically important from a perspective of propaganda of the cultural and historical legacy of the country, so to speak. They are not always profitable but important in terms of patriotism, knowledge of history and culture of our own country. First of all, the Ministry of Culture offered such routes,'' the chairman of the State Committee for Tourism explained.
We are speaking about regional routes that are, first of all, based on traditions, culture, history of ethnicities of Russia. One of the routes was prepared by the Republic of Tatarstan as well.
''A refusal of the Ministry of Economy to support such routes will scotch the development, of course. To start with, it will stop an opportunity of tour operators to prepare separate routes. The young, school kids and families with children whom these routes are aimed at will suffer,'' Ivanov commented.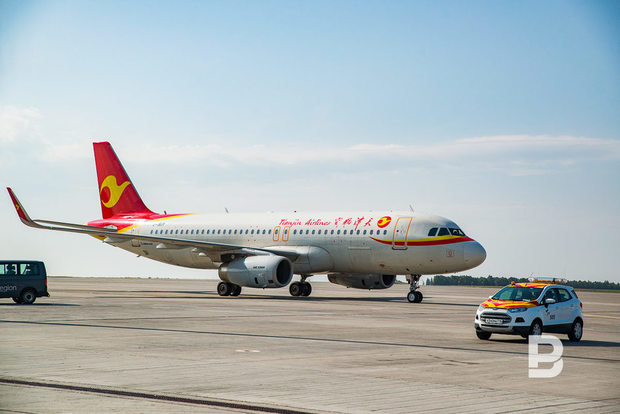 Subsidisation was supposed to reduce the cost of such routes by compensating transport costs, expenses of tour operators to promote their tourism product. In the interlocutor's opinion, the absence of support will lead to a considerable reduction of the tourist traffic in these routes.
It turned out that the Ministry of Economy refused to subsidise domestic tour operators many times. A similar initiative was made public last year.
Sergey Ivanov did his forecast for the domestic tourism in general. Its indicators can expectedly decrease when Turkey and Egypt appear.
''If Turkey and Egypt work full steam, a reduction can take place. It refers to beach regions like Krasnodar Krai and Crimea. I mean the growth indicators demonstrated in 2015 and 2016 can change in 2017.''
In Tatarstan, not much will change in this respect because the republic is working on another sphere – event-related, gastronomic, cultural and educational tourism.
Sports