Rio — Kazan — Windsor — Tokyo: en route of lanes in capital of Tatarstan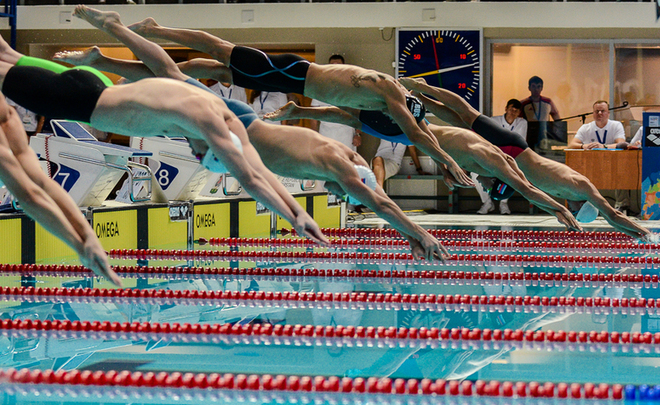 The Russian Short Course (25 m) Swimming Championships, which took place in the Kazan Aquatic Palace, has ended recently. It was the first big competition of swimmers after the Olympiad in Rio de Janeiro. The sports staff of Realnoe Vremya tells about the first steps of preparation for the new Games in Tokyo.
Long road to Tokyo
Cyclic sports have a 4-year regime of work — Olympic cycles. In fact, all the preparation is aimed at the only competition with two or three heats. I would compare it with a school preparation — 11 years of studies for three or four state exams. Yes, there are 'annual exams' like the world and European championships. There are exams that take place once in 4 months — same European championships.
In swimming, there is a seasonal division into summer and winter stages. In summer (March-August), athletes prepare for competitions in a 50-metre swimming pool. From September to February, swimmers winter in 25-metre aquatic centres. Now the winter season is taking place. The Russian Championships, which was held in Kazan, were a preparation stage for the World Championships planned to take place at the beginning of December in Windsor (Canada).
Guests from the Atlantic Ocean
The Russian Championships were quite impressive — the main group of our leaders arrived in Kazan. Evgeny Rylov, Natalia Lovtsova, Nikita Lobintsev. Nikita is another interesting story. After the Olympiad, he told about his grievance against the entire world. He refused the past, told about his new plans and wanted to swim in 'Yefimova's team'.
'As you know, there is being created a club for Yulia Yefimova where I will train together with her. We will attract other guys too. There will be sparring partners from the national team. I think we will show better results by helping each other. It is a precedent when such a team is created in our country. Our country will change its course sooner or later. We will be pioneers. Let's see what will happen,' enthusiastically and vividly told Lobintsev in an interview with R-sport.
Later his interest in swimming together with his bride in Russia calmed down, which is seen in the talk of the author of these lines with Nikita Lobintsev: 'At the moment everything is done by the skin of our teeth. It is difficult to look for sponsors who don't want to give money. They say that swimming is not very spectacular and popular sport. I hope we will win many medals in the World Championships, and probably something will change,' he said to our newspaper. In fact, he is competing in the USA with David Salo with whom he trained before:
'Dave asked for my plans. I told I wanted to work one Olympic cycle more. He said the training would begin in 30 minutes. That's what he said. The conditions did not change. If I want to work with him, there won't be any problems. Dave assured me,' Nikita told us.
Can't you find any sequence in his words? To work with Dave for 4 years more but live with Yefimova, Morozov and our other top swimmers in Russia. Moreover, nobody wants to give money for such an elite club in Russia. And Dave is unlikely to move from the States. Somebody is keeping something back from us.
Nevertheless, now Nikita has separated from our other athletes like Morozov and Tarasevich. Every person has the right to rule his life. They are really 'big' athletes and personalities. But it is wrong when somebody can do everything, while another person can't, when somebody gets huge scholarships and the other doesn't know how to get money on flights. Just remember the story of breaching a sponsorship contract of Arena by Yulia Yefimova. The fine was not big. But the obedient federation paid it, not the very athlete. Yefimova was delivered a 'verbal warning'.
Choice without choice
The report and election meeting of the Russian Swimming Federation (RSF), which took place under the aegis of the competition, was as long-awaited as the very championships. The conference is annual. However, this year it has had a special importance: the next Olympic four years have ended. Preparation for the new life stage of our swimming is starting. Conclusions were drawn, sports functionaries including the president of the RSF were chosen.
A hard and hot fight for the post in swimming was expected before the Olympiad. Aleksander Popov and Vladimir Salnikov are four-time Olympic champions who have an incredibly authority, support and power. It is not a surprise that they don't speak the same language. They faced a confrontation and pursued different positions.
Salnikov supports Soviet orders, camps, bases and clubs in monotowns near Moscow. Popov was for democratisation of the national team, new rules, methods, getting rid of the state management, freedom of sport from politics. Popov required it being an athlete (if you remember conflicts in Sidney and Athens). He is also requiring it now.
Yefimova, Morozov, journalists and a new society are behind Popov. And power, Mutko and old-fashioned people support Salnikov. As a result, Aleksander Popov remained in the States, refused to run for president, so the conference was like talks about achievements and in expectation of greater victories. There was only one candidate, and the elections turned into a show.
Trip from Petersburg to Kazan
Speaking about sports results of the championships, we can't help but note the next victory of the Petersburg school. 34 medals! 18 gold medals! 11 silver and 5 bronze. Unabated Veronika Popova played a major role. She won six gold and one silver medals.
'Thanks to Veronika for coming here. It is important that athletes of that calibre participate in the championships. You follow their example, try to swim as fast as they do, aspire to summits,' said Daria Mullakaeva, a young Perm swimmer who won one silver and two bronze medals in Kazan, to the correspondent of Realnoe Vremya.
'I am very glad that I have won, that I have been noted. The championships were successful. I kept in shape, conditions. I recovered after the Olympiad. It is good that I have set a record. It is a pity that Lena did not swim with me. It would be more interesting to swim with her. But Arina and Dasha are good rivals. The fight was tense,' told Veronika our newspaper after her victorious 400-metre heat where she set a record of the country.
'Kazan is always good at receiving, organising championships. I still remember last year's world championships. But there are few girls. I train with men. They swim faster. I follow their example and become better. So it is even an advantage,' Popova added later.
Seven representatives of the northern capital are in the top 10 of successful athletes. Apart from Popova, Aleksander Popkov, Kirill Prigoda, Andrey Shabasov, Daniil Pakhomov, Daria Kartashova, Anastasia Lyazeva are among them. 'We have many good swimmers. We train a lot. We have been competing together for a long time. We have a serious attitude to competitions. It is our recipe for success,' Kirill Prigoda noted.
The Moscow team finished second. Rozalia Nasretdinova, Svetlana Chimrova, Daniil Pasynkov, Anton Chupkov are the leaders of the Moscow team. We can see again that experienced athletes prefer to reside in Petersburg. Moscow is a shelter of young but talented swimmers. In any case, all interesting athletes come from backwater — they move to teams from two capitals. This time the tradition excluded Krasnoyarsk. This is why it took third place in the standing. 'Sport is developing in Krasnoyarsk, including swimming. A huge job is done. The city is preparing to host big sports events, including the Universiade,' said Andrey Arbuzov, a young talent of the Krasnoyarsk team, to the correspondent of Realnoe Vremya.
Household chores
As for the results of the Tatarstan team, we can't help but remember it has been the third Russian competition that Yana Martynova has missed. Yana always made good performances in Russian competitions, set records. She could not see herself in international contests but she used to swim in Russian swimming pools like a duck to water.
'Yana's departure is a big loss for our swimming. I have never had idols because I thought I could swim better than they did. Neither Popov, nor Salnikov, nor Phelps was my idols. But one couldn't help but follow Yana's career. She was always close to us, swam with us and was faster,' told Aleksander Krasnykh from Bugulma us.
Very Aleksander won everything among juniors — Russia, Europe, the world. It is obvious he is ready for something bigger. In the Russian Championships, he won his both events — 400 and 200-metre freestyle. He swam better than it was necessary, was close to the record. He crossed the qualification barriers set by Sergey Kolmogorov (head coach of the national team of Russia).
'Aleksander showed very good results in the championships, progress; he swam as an adult. He swam better than the time we set. There were not reasons not to take him,' told Kolmogorov the correspondent of Realnoe Vremya when commenting his inclusion in the final list of participants of the World Short Course Swimming Championships at the beginning of December.
The third gold medal of Tatarstan belongs to Nikita Korolev who won in 100 metres medley. 'I am glad I have finished first and won the gold medal, it has been my personal record. I haven't had the result that was necessary for the World Championships. It is sad. I was close. In this respect, I am not very happy. I have not reached Canada. But I can swim in 100-200 metre relay, according to the results. The head coach will make a decision. Let's see. The odds are that I will compete in the Salnikov tournament and will prepare for the next World Championships in Budapest,' Nikita who was not included in Kolmogorov's 'list of 29' commented his heat.
Experienced Irina Prikhodko has had four bronze medals under her belt. She won prizes in all backstroke events. Every time she fought till the end, something lacked: 'Bronze is also a medal, a good result. I would not be ready to change three bronze medals for one gold. Every medal was won due to hard labour. Great effort was put. Every medal has its own story,' Irina told us.
What's the result? We discovered many new names when the championships ended. Kliment Kolesnikov, Daniil Pakhomov, Aleksander Krasnykh. We defined the squad for the World Championships. We set tasks and goals for the new Olympic cycle. We re-elected Vladimir Salnikov, confirmed his unsinkability and implication in the sports elite. The Olympics in Rio ended, and a long and hard preparation for Tokyo started.
'The championships have ended. I congratulate all the participants, medallists and winners. You all did a good job. You showed decent results and demonstrated the power of Russian swimming. Thanks to the organisers, journalists, volunteers and referees, doctors and all people who participated in this sports celebration. We are waiting for better results in Canada, in the World Championships in Windsor,' President of the Russian Swimming Federation Vladimir Salnikov concluded.