30 years since the end of the Cold War: "The world just has become different, there are no prominent allies today"
The Cold War officially ended 30 years ago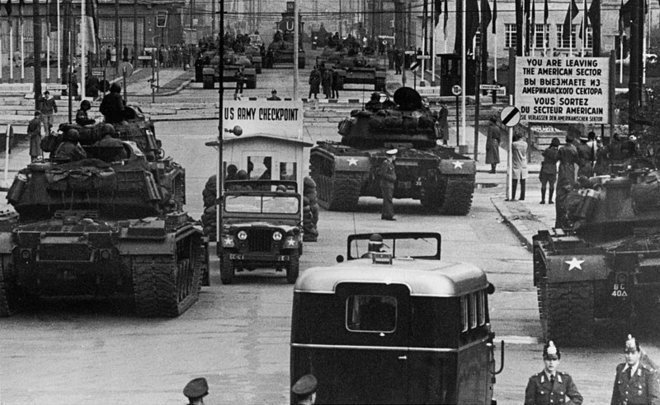 On December 3, 1989, Mikhail Gorbachev and George H. W. Bush declared that Russia and the United States were no longer strategic adversaries. This day went down in history as the official date of the end of the Cold War. The political and economic events of the last decade have been mixed. Formally, the Cold War between our states ended 30 years ago, but is it really so? Realnoe Vremya correspondents interviewed famous people about whether they consider the US an ally of Russia.
Realnoe Vremya's poll includes opinions of influential politicians, MPs, businessmen and scientists on whether the United States and Russia can be considered allies today, 30 years after the landmark date.
Irek Zinnurov State Duma Deputy from Tatarstan, Olympic medalist in water polo

I hardly consider the US an ally today. After all, allies are those who act in alliance with each other. But the actions that the Americans take from time to time, rejecting some international agreements, can hardly be called partnership ones.

By and large, the tension never finally subsided. Just from time to time it becomes smaller, and then increases with renewed vigour. So it will be, probably. It is unlikely that everything will ever come to a state of friendship. The US are unlikely to abandon their political doctrine: they are trying to build a unipolar world, not paying attention to the opinion of other states. Therefore, probably, we will not have allied and partnership relations — because they involve joint discussion and implementation of many projects. But when they unilaterally first renounce international agreements then to impose sanctions — what are we talking about?

At the same time, the US continues to impose its conditions not only on us, but also on the rest of the world: for example, Europe, when they bombed Yugoslavia, without asking anyone anything... Then we remember what happened when they were looking for atomic weapons in Iraq. They play their game, and they don't care about the opinions of others. Remember Kosovo: the referendum was held and detached from Serbia. But when the same thing happened in Crimea — they consider the will of the people outlawed. I think we will never have an alliance.

Vitaly Milonov State Duma Deputy, Member of the State Duma Committee on International Affairs

I do not agree that the Cold War is over because the US, basically, never finished it. We can say that in 1992-1993 they beat us for a while. Until the starting point of Yevgeny Maksimovich's turn over the Atlantic — the cold war was in suspended, frozen. America is a nation that is always at war, it will never accept the absence of itself as a superpower. In advocating democracy, the Americans are quite clear by this that it should in no way concern American national interests around the world. And how can we say that there is no cold war today? No, there is, of course!

We can talk about partnership with America, but even in Brezhnev's time there was cooperation on a number of issues between the Soviet Union and the West. We bought pumps in England, something else. It is not necessary to refuse cooperation in any case — the main thing that there was a benefit for Russia from it. That we may be enriched by it, not impoverished. Cooperation should not be the price of some political compromise, so Russia should start from its national interests, which extend far beyond our borders. If we start from this, then cooperation with America will go well. Because Americans understand the language of adequate strong people. If we turn into Ukrainians, Georgians, Bulgarians, who are constantly asking for something — then no one will talk to us.

Marat Galeev Tatarstan State Council Deputy

Thirty years is a long time. There have been such metamorphoses over this time that the question of Russia's alliance with America is out of question in principle. We've never really been allies. It was just a period of trying to put an end to the Cold War. And in the first 10 years it seemed that it was possible, but after that significant changes began to occur, and now it is difficult to call us allies. Of course, there are different opinions. In certain circles, there is a judgment that the Cold War 2 is in full swing. It's probably too much…

The world has simply become different: there are no prominent allies today, and in the former "blocs" a huge number of contradictions have arisen between the former allies. Now the state of the world is such that new points of contradictions of a global nature have formed. The beginning of the century is characterized by globalization trends. And globalization meant preferential trade, the development of trade relations within the WTO. Now it is the era of protectionism, bilateral unions have become more prevalent instead of WTO institutions. The tipping point came in 2016, with the advent of Trump. Obama was the personification of globalization and the development of cooperation at the global level, but now everything is somewhat different. Against the background of all this, of course, there is no cold war, but there is an increase in local military conflicts in which large countries are indirectly involved, and we are not allies here with America.

Pavel Podlesny political expert, head of the Centre for Russian-American Relations of the Institute for the USA and Canada Studies at the RAS

It is pure absurdity to consider America our ally today. In all official documents of America, we go as a rival, a power that violates the world order. We also do not hesitate to "compliment" America. So, unfortunately, it is not our ally.

Artur Khosrovyan Night Mayor of Kazan

I do not divide the planet into allies and enemies at all because it is written, "the Lord's earth and all that fills it." Everything that people with borders and propaganda have come up with is deeply unpleasant to me, there can be no real allies or enemies in this whole story. I believe that all people are brothers, and I prefer to see this world as such. Everything else is the cost of propaganda and ideology, which is trying to manipulate people. America is definitely not our enemy, there live exactly the same people.

Rafil Nugumanov ex-Deputy of Tatarstan State Council, Major General of the Police

The Cold War turned into super-hot, I think. Of course, I do not consider America an ally of Russia. And this cannot be because there is a confrontation between NATO and Russia. We can work together with America in some things — against terrorism, in the economy. Wars all come to an end. And it would be great to establish relations with America, but so far it is not. First of all, we should develop economic relations, then political relations will develop. Well, to end the arms race, to return to the old rails of "non-use", that is, to return everything that we cancel today.

Sergey Pasechnik Director General of Companion SP travel store

The state is, first of all, people. For ordinary people, I do not see any obstacles. And if we consider the allies of the state, it depends on what. There are no obstacles in tourism. I do not consider America an enemy. If we talk about politics, then Putin and Trump compete in something, well, that's it... Some prohibitions, but for certain persons.

Pavel Kostrikin partner of the developer of the Primavera cottage village

No, of course not. There were business relations were during the Cold War as well. Thirty years ago, they and we made mistakes, there were failures on both sides. But there was a more equal competition for world influence — the word "war" may be not a good one. The spheres of influence of the USSR were no less than that of the United States. Business is business, but the states are still in conflict for political interests. Today the war is the same, "cold', in general, although there is no competition on equal terms, as before. However, I think that recently we have been looking decent in some areas, but not in all. It is difficult to compete on equal terms — the economy is smaller.

Adel Yagudin Indever's parent in Tatarstan

The United States is a competitor in the political, economic and military spheres. But the information that comes to us, by and large, does not correspond to the real situation. Those who go there know it. Americans come to our country. People normally communicate with each other. Probably, in some areas, the country can be called allies. It is necessary to look depending on the situation. But do not perceive the United States as an enemy.

Galina Sharafutdinova Executive Director of the Association of Restaurateurs and Hoteliers, Kazan, Tatarstan

I am far from politics. It is very important for me that today, regardless of any events, if the governments are able to agree with each other at their level, it guarantees us calmness and, probably, some confidence in the future.

For me, the cold war, as it is called, has never been one. I know that many people from Kazan go to America and feel very well. They work, travel. Staying there is comfortable. Therefore, I do not associate this country with something negative. Another question is that there are disagreements at the level of politics, but, nevertheless, this does not prevent us from living.

I would be very happy if free access to the countries was maintained for the residents of both states. If we talk about sanctions, they partly create obstacles. But there is a silver lining, it helps to mobilize, to find their internal reserves. At least our industry has not suffered, we have found a replacement that pleases our guests.

Yevgeniy Ivanov Managing Owner of Penta House

Definitely not an ally, but one of the important strategic states with which we need to be able to talk and behave on an equal footing. There is mutual process of agreements with them. But definitely not an ally, otherwise nuclear warheads would not have been directed and NATO would not have been near our borders.

Rafael Syrazhev Owner of Nevada RT development company

Only the United States has the exclusive right to create money in the right amount for its economy. For example, Russia, to create 65 rubles, first needs to ask permission from Uncle Sam in the form of a ritual of importing $1 into our country. Russia, in fact, pays tribute to America. As, in fact, all other countries do. And it happened because all the countries somehow once lost some war to the US. Therefore, for Russia, December 3 is the thirtieth anniversary of the cold war we lost, and not just the date of its end. Wwe lost it only thanks to the ingenuity of Mikhail Sergeyevich.

If we look very broadly and consider our payment of tribute to the FRS as a partner-ally act, then yes, the US and Russia profess a partner-ally relationship... As for Mikhail Gorbachev himself, he remains and has always been an ally of the United States. And it would be good for all of us to always correctly interpret historical facts and their "heroes" for the edification of future generations.

Boris Lyuboshits Chairman of the Board of Directors of Audit Group consulting company, Member of the Supervisory Board of the Guild of Investment Financial Analysts of Russia

As Peter I said, Russia has only two allies: the army and the navy. Today, America cannot be considered an ally of Russia. But for the peaceful future of our children and grandchildren, of course, it would be good if the two superpowers, Russia and the United States, could find something in common through dialogue, as they did at the end of World War II, when America and Britain supported the Soviet Union. Unfortunately, we do not have a common enemy to unite for. I can only talk about politics as a layman, this is not my area of interest.

The interests of politics, as a rule, contradict the interests of ordinary people and the interests of other spheres. Art, science, business, sports — the things that have no boundaries. It would be good if the politicians could also agree. For business, there are obstacles, risks, sanctions today. I lived a lot in the Soviet Union and I know how people could not go abroad or buy, for example, the right book.

By the nature of interests I read a lot, I order a lot of new editions. For example, I have just recently needed books. One was found in London, the other — in Kiev. Before that, one book was brought from Berlin, and another — from Serbia. Can you imagine if it hadn't been? And for scientists?! The Iron Curtain is very bad. I have seen a post that soon people will not be citizens of the country, but citizens of some business. If we work with you at Google, for example. We can live in any country, but only where we work matters. I am a liberal, a Democrat and a humanist.
By Olga Golyzhlybiba, Ekaterina Ablaeva, Lyudmila Gubaeva