Ayrat Khayrullin: "In five years, 80% of communication between the citizen and state must be digital"
In an interview with Realnoe Vremya, the head of the new digital ministry of Tatarstan said about the reasons for its appearance and its tasks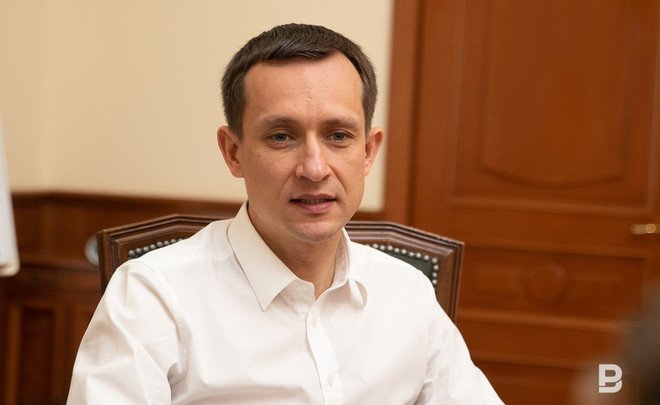 Head of the Tatarstan digital ministry Ayrat Khayrullin told Realnoe Vremya about the reasons for the appearance of the new ministry, how his team would fight information gaps, provide Internet to the private sector and mobile network to remote districts of the republic. In addition, the former head of Almetyevsk District forecasted that by 2024 80% of all communication between the citizens and the state would be digital.
How Tatarstan digital ministry will fill information gaps
Mr Khayrullin, your ministry has been reorganised. Why has this happened and what tasks will the almost new ministry perform?
Tatarstan President Rustam Minnikhanov gave us a serious task — to make digital technologies serve residents of Tatarstan, so that communication of citizens and businesses with the state, municipalities will be proactive, quick and, most importantly, convenient. And digitalisation gives such a possibility. For this purpose, it is necessary to create a high-tech, flexible and adaptive management system based on data.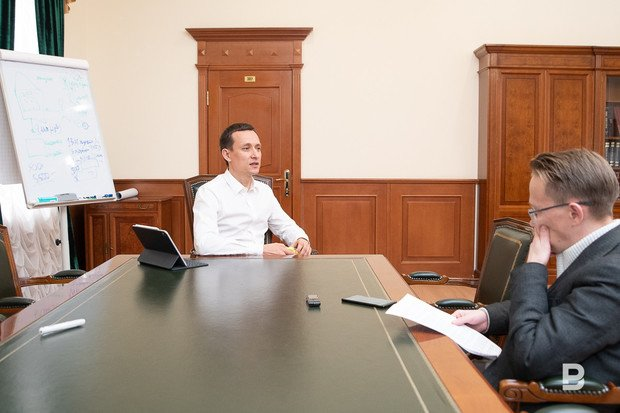 Today ministries and municipalities often look like information gaps or information islands, there is no full-fledged cross-cutting intergovernment digital interaction, every agency is focused on its internal business processes and internal automation.
And for a proactive principle that I talked about a big systemic work of my colleagues in the Tatarstan government, municipalities and all ministries without exception will be needed. And the Ministry of Digital Development of Public Administration, Information Technologies and Communications of Tatarstan will create and purse a united state policy on digital transformation. And a greater satisfaction of citizens and businesses of communication with the state is the key indicator of our joint work's efficiency.
What global tasks does the ministry have to perform till the end of the year?
Firstly, we are going to increase the efficiency of public spending. Digitalisation is a matter that's hard to touch unlike a laid road or repaired social infrastructure facility. Together with Alevtina Kudryavtseva [director of the Centre for Economic and Social Research of the Republic of Tatarstan in the Tatarstan Cabinet of Ministers], we will pilot a method of price evaluation of development of digital services when it is necessary to hold an auction when choosing a supplier of solutions. It is easy to check and assess the value of hardware, while the price of software development is not always a transparent process.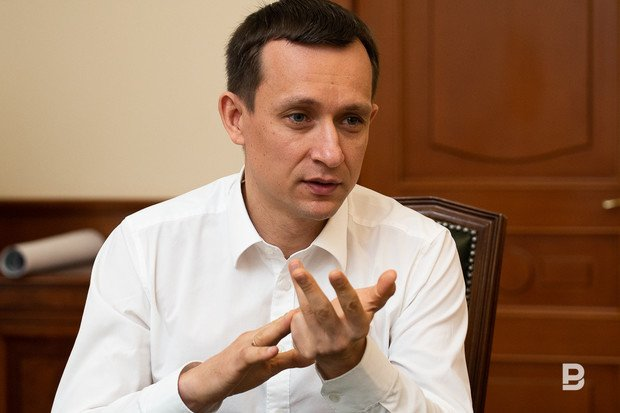 Secondly, it is Digital Economy national project. This year we must provide optical-fibre cables to 498 schools, hospitals, rural health posts, rural settlements, fire brigades so that they will be in one information space (in general there will be connected 3,000 socially important facilities at the expense of the federal budget in the next three years). We also became one of the pilot regions of Russia to test a model of personal digital certificates for citizens within Staff for Digital Economy federal project. And what is important is that the Tatarstan president gave every ministry, municipality to find and appoint a person responsible for digital transformation (Chief Digital Transformation Officer) (without increasing staff number) who will transit analogue communication into digital. And a unique educational programme was prepared for it together with Innopolis University.
Thirdly, we will improve the quality of the mobile network. For this purpose, our ministry created a separate group I chair where we weekly solve specific problems together with all communication operators. Network must be available everywhere in the 21st century, it is basic factors. We can't imagine our lives without network any more. We see that Kazan has problems even in the city centre. There is a lot of addresses from municipal leaders. Our task is to provide the density of mobile network tower construction where it is needed without destroying the architectural appearance of cities and respecting the boundaries of the historical centre of Kazan.
"In five years 80% of all communication between the citizen and state must be digital"
At a recent foresight session, you said the strategic digital transformation of Tatarstan would happen 3-5 years later, which must be done in a consensus with society. While it is in development, can you say how you see it yourself?
In five years 80% of all communication between the citizen and state must be digital. A big job was done in Tatarstan on e-services and e-payments: utility bills are paid every three seconds on the portal of state services. Almost one in four families uses a smartphone or personal account on the portal of state services to pay utility bills. Generally speaking, every hour citizens pay for utility bills, duties, taxes, fines, kindergarten fees and so on using their smartphone or the portal at any time at 2,6 million rubles. This doesn't need cashiers or people who used to accept and count money. Digitalisation does everything.
Digitalisation probably is also supposed to reduce corruption, functionaries' bribery, bureaucracy.
This won't happen per se. For instance, according to administrative regulation, it takes 10 days to grant permission for construction. But without digital technologies, it is hard to track the process of document review. It can lead to abuse. As a result, the efficiency of services in some local self-governments is low.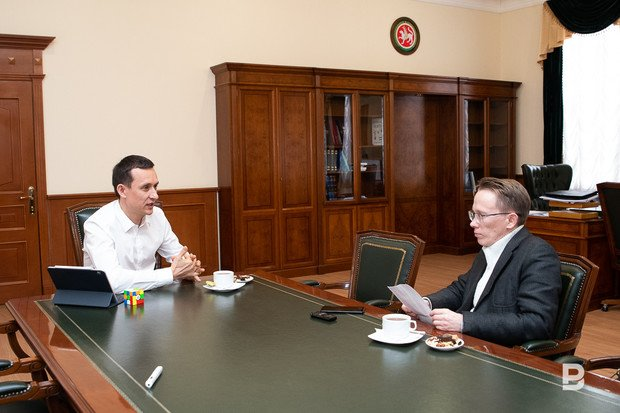 During five years, digital technologies will make these processes transparent, allow creating a system that will show how much time a functionary spends to consider one's documents.
Our ministry's task is to get our priorities right because money, time, human resources are limited. We will pay all our attention and make public investments where digitalisation will have the biggest effect on citizens.
Tatarstan to allocate 280 million rubles on regional projects of Digital Economy national project during five years
You said about limited money. At the first autumn session of the Russian State Duma, there was said a sad fact that only 8% of Digital Economy national project was financed. How much will digital transformation cost till the end of 2024? Where will the money come from?
In general there will be allocated from 500 billion to 1 trillion rubles on digitalisation of all Russian regions, excluding big amount of non-public money within public and private partnership. A three-year-old project of connection of 1,913 socially important facilities of Tatarstan — rural health posts, the Ministry of Emergency's offices, offices of Russian Guard, Central Election Commission — to the high-speed Internet will be financed from the federal budget. The Ministry of Digital Development of the Russian Federation with Tattelecom PJSC after a competition almost two months ago. Tattelcom already began to lay fibre optic links.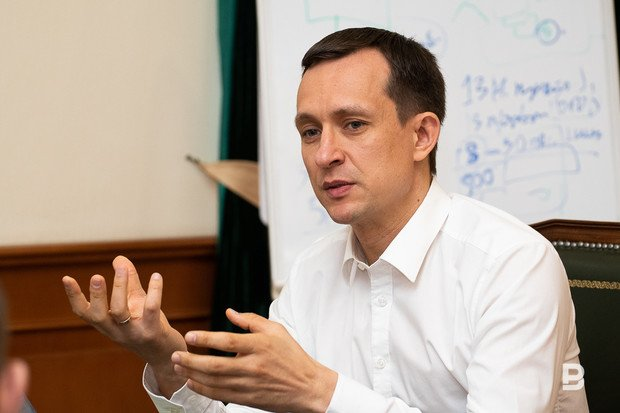 We also wait for a competition to receive a grant in Digital Technologies project — up to 5 billion rubles from the federal budget are supposed to be given in 2019. Our industrial enterprises and organisations from the real economy will be able to apply for this competition if they want to introduce promising cross-cutting digital technologies — the state is ready to subsidise it.
How much money does Tatarstan allocate approximately?
Within regional projects of Digital Economy national programme, there will be allocated about 280 million rubles from the regional budget until 2024. Digital measures are also considered in programmes of other ministries depending on their sector.
You've mentioned some digital certificates. What is it? What will it give to people, Tatarstan?
It is an experiment organised by federal ministries, we applied for it and won the right to host it (together with another four regions). It is supposed that there will be chosen regional digital educational sites during the experiment where any resident of Tatarstan will be able to do a digital training course.
By Sergey Afanasyev. Photo: Maksim Platonov
Tatarstan