''Iranian fruits can compete with Turkish in terms of their price and quality''
While Iran and Russia are getting closer, Tatarstan started to increase commodity turnover with the Islamic Republic fivefold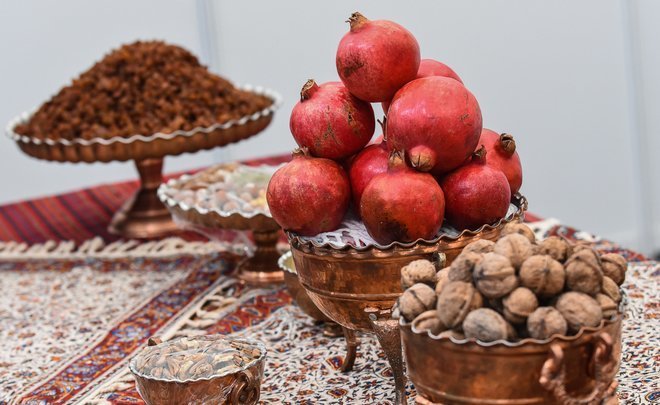 Iran has shown its goods: a test exposition of 40 Iranian manufacturers who have been under pressure of international sanctions for over 10 years opened in the commercial pavilion of Kazan Fair Exhibition Complex. Tatarstan Prime Minister Aleksey Pesoshin and Governor of Iran's Razavi Khorasan Province Mr Alireza Rashidian saw Persian goods by 12 a.m. when sellers unpacked and put them. Realnoe Vremya knew that new Parsek company took the initiative and started to arrange direct wholesale supplies of fruits and tomatoes from Iran to Kazan.
On the wave of political approximation of Russia and Iran, Tatarstan continues looking for points for mutually beneficial growth of commodity turnover with the Islamic Republic. External trade with Iran was at a zero level because international sanctions noticeably limited the circle of its foreign commercial partners, where Tatarstan couldn't help but be present. But with the imposition of sanctions against Russia, Tehran started to carefully arrange a kind of business front in Russian regions that could become outlets for Iranian goods and very producers could make money from supplies to Russia. In this respect, Tatarstan is considered as a point of entrance for export of traditional agricultural products, and agricultural Razavi Khorasan Province became its twin city.
Chocolate dates, carpets and ceramic tiles, or what the Iranians brought by New Year
A special exhibition of Iranian goods where 40 manufacturers mainly from Razavi Khorasan Province opened in Kazan on 20 December as the development of these relations. It's curious that they were provided with not commercial pavilions that are habitual for citizens of Kazan with a stable high purchasing traffic but quite a secluded place of Kazan Fair Exhibition Complex. It seems that the sellers didn't expect big revenue from sales but came with the presentation.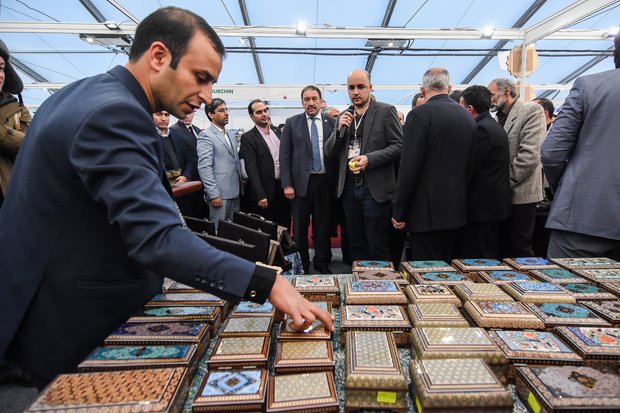 The exposition still wasn't ready to host guests at 10 a.m.: people just started to assemble easy plastic constructions and very goods remained laying packed in boxes. For this reason, the visit of first persons was scheduled at lunchtime, that's to say, when the business forum ended. But the exposition wasn't completely assembled by the arrival of VIPs – head of the government Aleksey Pesoshin and the governor of the province. There was a mess, while the very Iranians were either calmly wandering in the hall or carefully babysat the kids they brought with themselves. In brief, the first guests weren't welcomed standing at attention like our directors do. But as soon as taciturn Aleksey Pesoshin approached some exposition that had been assembled in a hurry, all Near Eastern guests immediately gathered around him and were emotionally praising goods.
Despite the small area of the exhibition hall, Pesoshin's delegation looked the exhibition over for almost 30 minutes. The Tatarstan functionaries knew what tyres Iran made, the weight of granite floor tile and amazed at ornaments of ceramic tiles. Meanwhile, the sale of fresh Iranian dates was more vivid. This delicacy isn't a popular product on our tables but is equal to bread in Near Eastern countries. This is why Arabs welcome respected guests with it. It's a pity they didn't bring ripe fruits: there were neither oranges nor kiwis. Later Iran's ambassador to Kazan would call this event important in strengthening business links.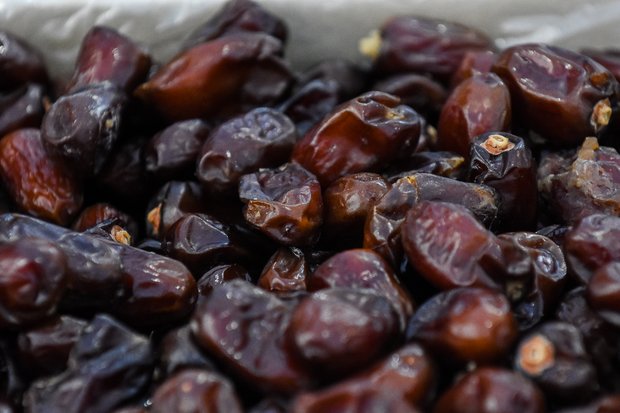 To increase commodity turnover with Iran
Before the beginning of the first exhibition, governor of the province Alireza Rashidian and the ambassador of Iran to Russia had a series of political meetings with regional officials. Early in the morning, they met with Tatarstan President Rustam Minnikhanov. Here the head of the republic expressed a desire to increase low commodity turnover paces with Iran. ''Today commodity turnover between Tatarstan and Iran grows quite well (Editor's Note: it increased 1,5 times in 2016), but volumes are still lower than we would like,'' Rustam Minnikhanov complained. ''Digits should grow 5-10 times, not 1,5 times,'' he defined the growth path. ''The potential of Razavi Khorasan Province and our republic allows it,'' Rustam Minnikhanov is convinced.
The launch of direct flights from Kazan to Mashhad can boost growth dynamics. Rustam Minnikhanov said the issue of establishment of direct flights from Iran to Tatarstan had been discussed at a meeting with representatives of Mahan Air, while Iran Markaz expressed its readiness to develop cooperation in tourism. ''I think it's very important elements that will allow us to bring our nations together, help develop our cooperation,'' the Tatarstan president said.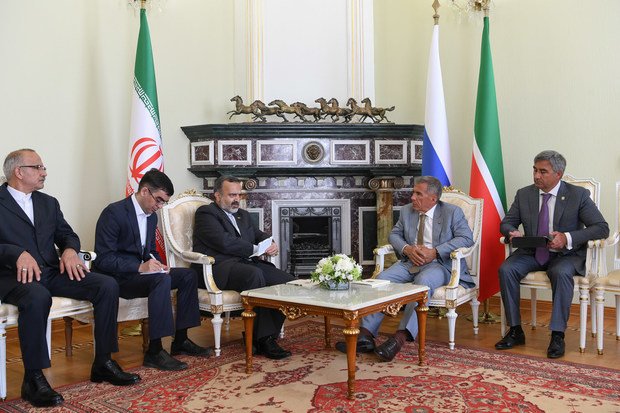 $13,3 million is little for eastern friends
It seems that new approaches to higher commodity turnover were chosen in the Kazan Kremlin. But it was decided to tell these plans to the Iranian businessmen who came to Kazan. On the Tatarstan-Iranian Business Forum, Tatarstan Prime Minister Aleksey Pesoshin returned to the hackneyed topic. Having called Iran 'one of the priority partners of Tatarstan' that we had 'lasting warm relationship with', he noted that the volume of external trade with the republic increased 1,6 times – to $13,3 million – last year. But these modest digits didn't surprise him at all. Aleksey Pesoshin repeated they needed to be augmented. ''Our republic is interested in the expansion of mutually beneficial cooperation with Iranian companies. We hope that business circles of Tatarstan and Iran will exchange advanced experiences during meetings, discuss existing possibilities in business, open new areas for cooperation,'' he wished without an address.
In answer, Governor of the province Alireza Rashidian gave to understand that it was impossible to make up a better opportunity to arrange supplies to Russia. ''The atmosphere at the top political level between Iran and Russia has become warm, which one can only dream about,'' he said with inspiration. ''Common cultural, historical and religious links unite us with Tatarstan.''
In turn, Iran's ambassador noted that he was ready to unite trade and industrial chambers of Tatarstan and Iran at one table. ''Iran will maybe make a present for everybody right in Kazan,'' Iran's ambassador added dreamily speaking about the upcoming match of the national teams of Iran and Spain in the 2018 WC that will be at Kazan Arena stadium in June next year. Indeed, what if? Because now it's difficult to guess the outcome of the match, so the Iranian can just pray to God.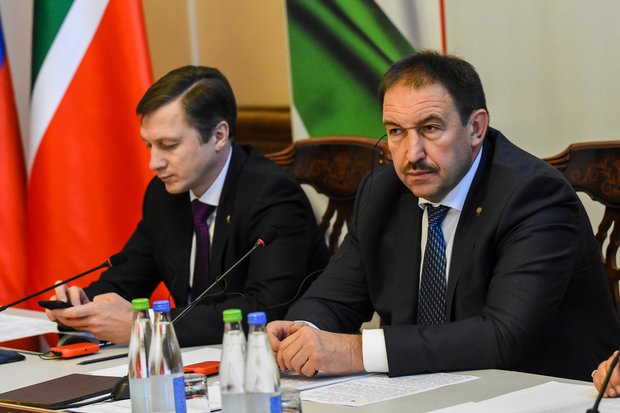 Parsek: we aren't dealers but representatives of interests of big Iranian business
However, the real surprise was waiting for the Near Eastern businessmen right several minutes later after the passionate speech of the ambassador about the desire to win the favourite of European football. They were shown who could become the growth driver of commodity turnover between Tatarstan and Iran. Parsek company from Kazan that was founded for trade with Iran was the basis for building business contacts. Commercial Director of the company Dmitry Kuznetsov told during the meeting the company started to think of possibilities of trade with Iran about one year ago and achieved some results last year. ''We go to Iran about twice in a month, a big number of meetings with large Iranian corporations, power representatives, businessmen take place there,'' he drew the attention of the audience. According to him, Parsek is a representative of interests of several big companies. Nowadays Parsek signed memorandums of understanding with Isofam, one of the biggest MDF manufacturers in Iran. ''This company is going to build a factory in Russia, and we represent its interests in looking for a place.'' But Mr Kuznetsov didn't specify whether it was a distributor of Isofam.
In addition, there is an agreement with an Iranian syndicate of steel pipes manufacturers uniting over 100 enterprises. ''We are having negotiations with Severstal and Novolipetsk Metallurgical Factory on steel sheet supply,'' he defined the second area of their activity. The company also holds negotiations on the visit of officials of Pooya PolymerTehran that makes additives to polymers and plastics in Alabuga SEZ: ''This company makes additives to polymers and plastics and is going to open a factory in Russia.''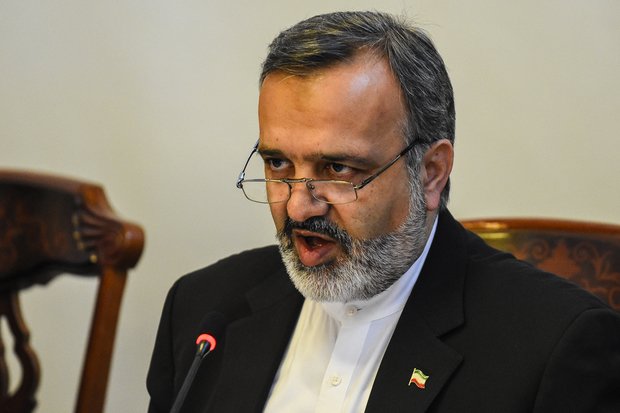 And finally, it is having negotiations with one of the biggest investment funds of Iran, SSIC. ''This organisation is interested in constructing cement and grain terminals in Russia. We offer them to localise in Sivyazhsk Multimodal Logistics Centre,'' he said. Later Dmitry Kuznetsov specified for Realnoe Vremya the company's status. According to him, Parsek isn't a commercial dealer of these companies, as one could suppose, but has functions of representative of interests: ''According to the memorandum, we are empowered to have negotiations with local authorities, prepare the market, find a better place to locate the construction, select design and construction organisations while localising them in the country. In a word, we represent their interests in our legal framework.'' These agreements were signed in 2017.
Iranian fruits can compete with Turkish in terms of their price
And the very company started to sell probably the most liveable business sphere. Dmitry Kuznetsov said direct supplies of Iranian fruits to Tatarstan bypassing Moscow have already started. In addition, the company needed to create a mechanism of financial reciprocal payments with suppliers of Iran from scratch. ''Not logistics but banking transactions are one of the main problems,'' the company's commercial director said. ''Iranian banks were shut off from SWIFT system. This is why payments were impossible. Now several Russian banks joined Iranian banks via SWIFT. But payments aren't made easily. Our goal is to perfect these schemes – to send money there and get a product.'' The main problems were solved during this year, and it's possible to do calculations. ''Only we in Tatarstan started to work with Iranian companies on transactions via a bank in a civilised way,'' he noted.
In December, Parsek supplied the first lot of kiwi, now the second lot is underway to sell it to wholesale purchasers. ''Iranian products can compete with Turkish in terms of price, and its quality is undoubted. So we will bring many things that will fit the price,'' Dmitry Kuznetsov assured. In the future, Parsek is going to arrange supplies of tomatoes and fruits that mature when it's winter in Russia. But supply volumes remain small. ''We gradually establish relations with Iranian business, learn how to cooperate. Iranian colleagues learn together with us. There are still many obstacles and barriers on this road. But I'm sure we will cope with them and be on a wide road of large-scale, mutual beneficial commercial cooperation,'' he concluded.