Putin proposes to adapt to climate change and benefit from it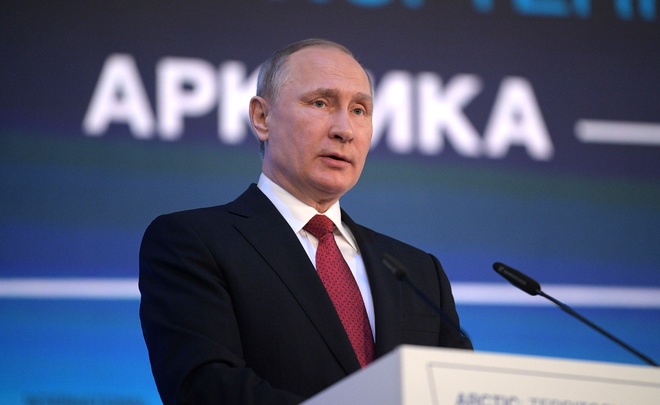 President Putin considers global warming to be ''one of the most serious challenges facing humanity'' but believes that climate change may help to develop the economic potential of the Arctic region by exposing natural resources and opening new navigation routes. Thus, it is reasonable to adapt to warming if it is impossible to stop it
Speaking at an Arctic forum in Arkhangelsk on Thursday, Vladimir Putin said that climate change could bring ''more favourable conditions for using this region for economic ends'', reports The Independent. According to the Russian president, global warming is good for exposing natural resources. Besides, Russia can obtain new year-round ports and navigation routes due to melt of Arctic ice. Two days earlier, the first ice-breaking LNG tanker entered the Arctic port of Sabetta to test a new route for ships carrying oil and liquefied gas.
Putin's Finnish counterpart Sauli Niinistö also took part in the forum as well as President of Iceland Guðni Th. Jóhannesson. Speaking at the forum's round-table session, Niinistö called climate change a ''serious threat'' to the Arctic.
The Russian president stated that warming was not mankind's fault as icebergs had been melting for decades. He cited an Austrian explorer with ''a photographic memory'' who visited the Arctic in the 1930s. Twenty years later, when the explorer saw photographs from another expedition, he noted that ''there were fewer icebergs there''. ''That's when there were no such anthropological factors, such emissions, and the warming had already started,'' said Putin and added that if it is impossible to stop the warming as ''it could be tied to some global cycles on Earth or even of planetary significance'', then the issue is to adapt to it.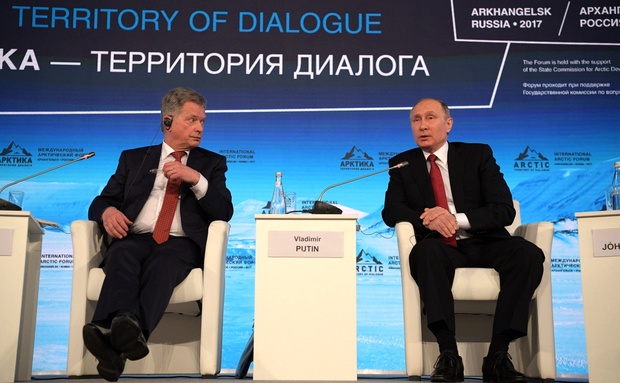 According to the media, Putin's position contrasts with his speech at the United Nations Climate Change Conference in Paris. During the conference, which took place in November 2015, the leader said that the quality of life worldwide depends on solving the climate problem: ''Global warming is causing more and more hurricanes, floods, drought, other abnormal phenomena and is also causing tangible economic damage destroying established human habitat''. He also stated that Russia's efforts have slowed global warming by almost a year.
Asked about the current U.S. administration's plans to embrace policies that will probably accelerate the changes, Putin said that ''the suggestions and positions of those who disagree with their opponents are not so stupid'' and wished good luck to Scott Pruitt, who was recently appointed to head the U.S. Environmental Protection Agency. Pruitt is often criticised for his position on warming as he rejects the scientific consensus on climate change. On Thursday, it was announced that Donald Trump would decide by May whether the United States will remain in the Paris Agreement, which maps out a global action plan to put the world on track to avoid dangerous climate change by limiting global warming.