How Ildar Khalikov and Aleksandr Braverman test new business app with entrepreneurs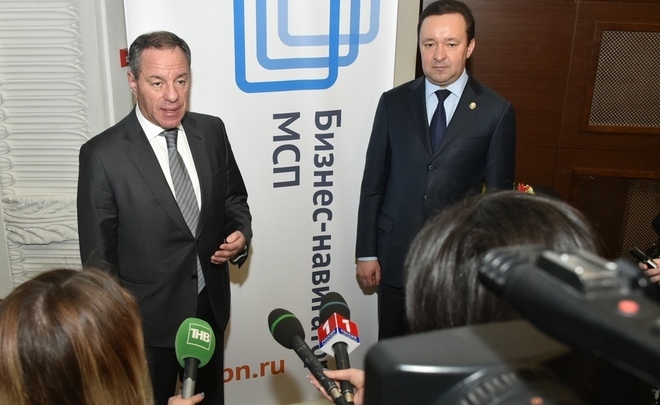 Business Navigator e-service, which was launched in September last year, is aimed to help entrepreneurs to run business in service sector in big cities – with a population from 250,000 to 1 million people. On 22 March, Kazan entrepreneurs tested the workability of the federal service in presence of VIP guests. Realnoe Vremya's correspondent witnessed it.
Navigator will show road to business
''I deliberately took the pulse: 794 new Business Navigator state portal users of small and medium businesses registered only yesterday,'' guest from Moscow – Small and Medium Business Corporation director general Aleksandr Braverman – started to praise the growing popularity of the service in his presentation in Kazan. ''Actually, we prepared for the meeting yesterday,'' Prime Minister Ildar Khalikov joked in answer and then promised to ''present'' Yakov Geller's IT inventions. The guest was a bit shocked. According to Aleksandr Braverman, setting key parameters of one of the 75 given business areas in Business Navigator, he automatically gets practical recommendations on preferable location of, for instance, laundry or café, the sample of a business plan with ROI analysis and information where it is better to take out a loan to start the project.
As an option, an entrepreneur can obtain information about all state support measures in Business Navigator – financial and property – and check the future counteragent (the Federal Tax Service and Arbitrage Court are in the programme). Profitability of the business chosen by the entrepreneur is defined as difference between effective demand and supply. The automated system itself calculated the purchasing traffic of each point it chose. Data of the Federal Statistics Service about the current consumption of 200 categories of goods and services by residents of 169 cities indicated the demand. Geolocation in all these cities is carried out by 2GIS system. Only registered users can get access to the navigator. They get free access to basic information services and market place calculation.
Tatarstan was one of the first regions to be in Business Navigator systems. It has data of five cities of the republic. And very Tatarstan entrepreneurs often visit the portal – they account for 17% total searches in the Volga District.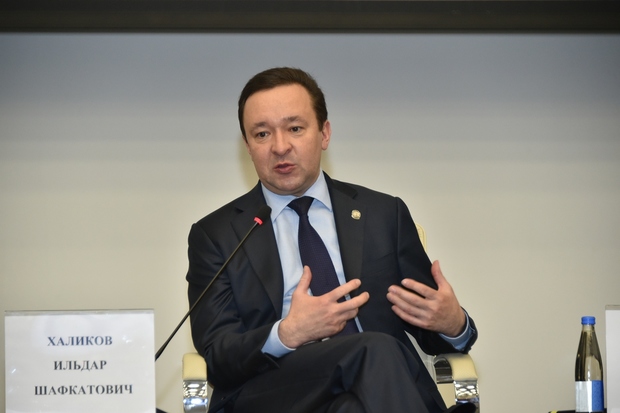 Braverman's Business Navigator lacks mobility!
Although the system was launched in the summer like a test, it still needs to be completed. It seems that SMB Corporation director Aleksandr Braverman and Prime Minister Ildar Khalikov decided to test the marketing programme online.
But before that, the prime minister who examined it on his iPad told Braverman what it lacked. ''Everything is good, you know. It accurately helps to find clients. But I would sign up for newsletters to see new offers in a real time mode,'' he told. ''And it would be good to have them on the phone.'' ''Great, we will certainly launch a mobile app,'' Braverman supported the idea with delight having named an incredible kick-off term – in 2018.
Where do another eight rival hair salons come from?
Ilnar Nabiullin who wanted to open a chain of economy class hair salons in Kazan was the first volunteer who dared to ''talk'' to Business Navigator. ''Probably you want to open them in places with less competition,'' he was asked a question. ''On the contrary! We would like to find places with a great deal of rivals,'' he set a task while the audience sighed in surprise.
The results of the systems surprised even more. The potential demand in chosen streets was estimated at 26 million (visits), and the demand was met by rivals – 22 million visits. And here the system ''shouted'' not to run the business! It turned out the system did not grant access to business calculation, that is to say, the chosen option doesn't guarantee a perspective of 5 years. His expectations of the competition did not live up too. The system found 28 competing hair salons, while the businessman knew only about 20. ''Where do another eight rival hair salons come from?'' he was surprised. Nevertheless, he was content. ''Earlier we had to define the traffic on our own. We examined shops and pharmacies by foot in the morning and evening. Now time for analytics has reduced. Business is a good calculation,'' he shared.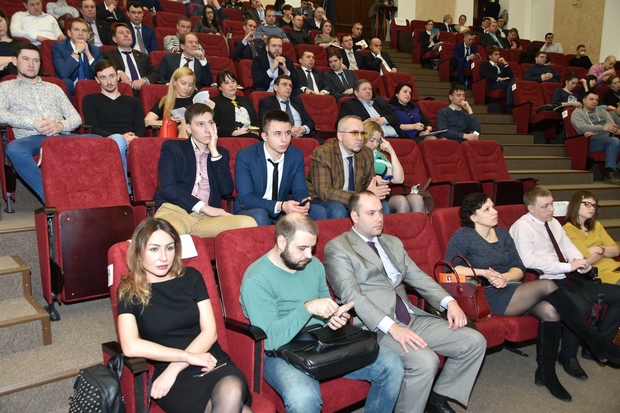 Digitalise and snitch
Another volunteer detected a disadvantage during the test. Albina could not find the exact nomenclature about purchase of goods in the system. ''All bricks are different. The system doesn't have the exact identification of goods,'' the prime minister paid attention. When Aleksandr Braverman wanted to ''finance Yakov Geller's inventions'', the prime minister realised and even promised to present them, but not all. ''We digitalised 72,000 nomenclatures of purchased goods,'' Geller told later. ''Why should we give simply give them?'' Another entrepreneur asked Braverman what halal producers who can't compete with illegal makers should do. ''Snitch!'' Ildar Khalikov answered instead of him and offered to create a page with unfair players.
Several entrepreneurs noticed the system doesn't have answers to searches ''cane furniture'' and ''quest''. It is a slip, Braverman explained. Answering a question whether there were video lessons, he said education for small and medium business owners will be a key area in the work of the corporation. ''Today preparation level of entrepreneurs is not perfect. There is big room for growth,'' Braverman stressed.
Earlier director general of the Tatarstan Guarantee Fund Sergey Bolotaev praised the programme because it gives a business plan approved by leading federal banks (in other words, one can take out a loan fast), so to speak. The most important thing is that they can participate in bonus loan programmes at 6,5% with a loan rate of 9% a year (by the way, the Tatarstan Guarantee Fund got 4bn rubles for this purpose). But representatives of regional banks unofficially noted that those business plans were signed for federal solvency standards. ''While we have our own standards,'' a representative of one of the big Tatarstan banks noted. According to them, loans for existing business plans have not been granted yet. Braverman was asked 27 questions in total and will probably pay attention to something.