''Sergey Kogogin is already sizing up the project…''
Coşkunöz Alabuga and Magnitogorsk Iron and Steel Works created a joint enterprise to produce components for cars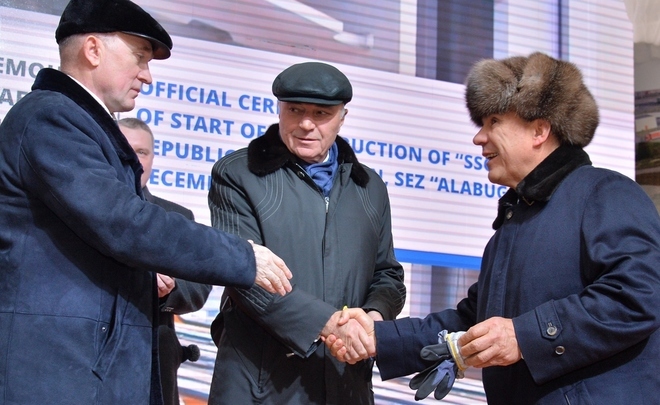 Alabuga Special Economic Zone gave a ''royal present'' to its Turkish resident Coşkunöz Alabuga, a subsidiary of Coşkunöz Holding. The head company decided to completely invest in the construction of a factory, which will be equal to about 670 million rubles, for the first time in its history. Metallurgists made another pleasant surprise for the Turks: Magnitogorsk Iron and Steel Works (MMK) agreed to create a joint enterprise, which guarantees a stable supply of steel sheets to the factory. Both sides promised to invest 350 million rubles in it.
Turkish alliance with metallurgists
On 12 December, Alabuga SEZ became a place where cooperation ties of Russian carmakers and metallurgists going through an industrial revolution strengthened. The future factory making patterns and stamping components for car body was the point of contact of their interests. The factory was founded by Turkish Coşkunöz Alabuga and Magnitogorsk Iron and Steel Works (MMK) (independent experts could not remember that MMK was part of any alliance with carmakers). They are expected to launch the factory manufacturing car body details in early 2018, first of all, for Ford Sollers (the installed capacity is up to 100,000 lightweight cars and buses).
Only 'first persons' of Tatarstan, Chelyabinsk Oblast and Turkey came to the official ceremony of the kick-off of the construction. A showy and spacious tent was located on the site of the construction. Anyway, it was a tent made of white anti-wind material. Powerful heating devices were inside it. But the frost was perceptible. President of Tatarstan Rustam Minnikhanov and Governor of Chelyabinsk Oblast Boris Dubrovsky with his people came at about 12 o'clock. The most important thing was that chairman of the board of directors of Magnitogorsk Iron and Steel Works PJSC Viktor Rashnikov was present. And director general of KAMAZ Sergey Kogogin was the most well-known face of the Russian car industry. Turkish ''hosts'' of the future factory – member of the board of directors of Coşkunöz Holding Emin Ataç and director general Coşkunöz Alabuga Ahmet Erdem Acay – felt like guests in that event.
Administration of Alabuga SEZ supported stampers
The first thing that drew attention was the unusual name of the factory. Its official name is Alabuga Service and Metal Centre CJSC, and it doesn't have logotypes of its founders Coşkunöz Alabuga and MMK. This mess is easily explained: Alabuga SEZ was the investor and contractor of construction of the factory of 8,200 square metres that will be leased to Alabuga Service and Metal Centre (it is a joint enterprise of Coşkunöz Alabuga and MMK). According to the official message of the Tatarstan president's press service, Alabuga SEZ managing company will invest 670m rubles, and private investors of Alabuga SMC will pay about 250m rubles. So, the cost of the whole factory will be 1 billion rubles. The new plant will make steel blanks for a further stamp of car body components. At the first stage, the factory will produce 40,000 tonnes. It should be added, it has been the first joint enterprise together with the acting resident of the SEZ.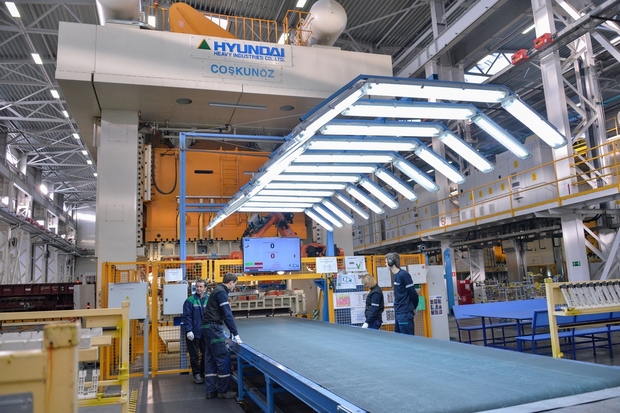 ''Tatarstan and Chelyabinsk are big partners whose commodity turnover exceeds 35 billion rubles,' Rustam Minnikhanov told. ''But they supply two times less than we do. Today we will make a step. The production we are launching will consume from 40 to 60,000 tonnes of steel.''
He enumerated three areas where car metal is used: first of all, ''to provide production of cars in Yelabuga'', secondly, supply to other regions, and, thirdly, to be able to export goods made of Russian metals. So, the head of the republic crossed out doubts that Coşkunöz Alabuga and MMK will work only for Ford Sollers. ''Sergey Kogogin is already sizing up the project,' Minnikhanov told either seriously or jokingly.
MMK rushing to become the Number 1 supplier for automotive industry
After the return speech of Governor of Chelyabinsk Oblast Aleksander Dubrovsky who called Tatarstan Bashkortostan, chairman of the board of directors of MMK Viktor Rashnikov took the floor. According to him, this year MMK has strengthened its ties with the automotive industry having supplied about 450,000 tonnes of metal, which is 10% more than in 2015. He said they delivered 0,5 million tonnes of metal for pipe production, automotive industry and construction to Tatarstan.
''We produce a high-quality metal. We hope to take a decent place in Alabuga,'' Rashnikov noted. In a talk with a correspondent of Realnoe Vremya, member of the board of directors of Coşkunöz Holding Emin Ataç told why they had chosen MMK as partner. ''Our production is closely tied with the feedstock. This is why we need an uninterrupted supply of steel sheets. The joint enterprise guarantees that the raw material will always be in stock,' he told and explained that the distance reduced to almost 500 km instead of the previous 3,100 km. So the Turkish company is going to increase its competitiveness in the market. By his forecast, the automotive industry will increase by 15% next year, and we needed to get ready for growth.
Joint enterprise doesn't guarantee a reduced price for metal
Independent analysts think that the creation of the joint enterprise doesn't guarantee reduced purchase prices for metals. But the supplier of car body components can count on bargains for previously agreed supply volumes, says VTB-Capital analyst Vladimir Bespalov. In his opinion, a big economic effect can be expected from the reduction of transport costs. ''Probably the joint enterprise of Coşkunöz Alabuga and MMK will expand its supplies among other carmakers of the region who don't like to be dependent on one supplier.''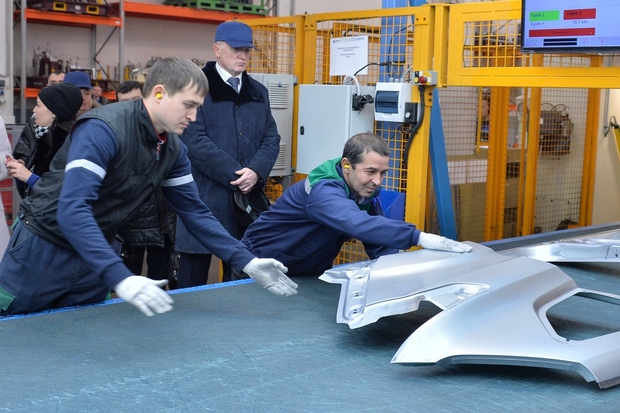 Leading expert of Finam Management Dmitry Baranov notes that we can call this enterprise service and metal centre because they not only sell their products but also make their own goods by using the given metal as feedstock. ''We should say that there is no information that the new enterprise will use the metal produced by Magnitogorsk Iron and Steel Works only. Probably other producers' metal will be also used. We don't know the conditions the sides agreed to cooperate on. But they are likely to make the joint enterprise successful and profitable for its shareholders. It means that the price for the final product of the new enterprise, including transport costs on delivery to Alabuga SEZ, needs to be competitive. Perhaps the metal that will be used to manufacture details will also have an attractive price.
The fact that Alabuga SEZ will construct the new building on its own can have several explanations. First of all, it is the case of efficiency of the joint enterprise – it is maybe cheaper to lease sites than build their own. Secondly, it is new experience for the SEZ. It will allow to attract a new resident and can be applied to other projects. Thirdly, the SEZ made that decision because it was not the first project of the Turkish company – it has been working in Alabuga for several years, they have good relations, they can make a concession on this issue. Finally, it diversifies the activity of the SEZ, allows it to earn money for a further development of the territory.
Realnoe Vremya online newspaper