First after China: why 'aquatic world' of FINA and Kazan flourishes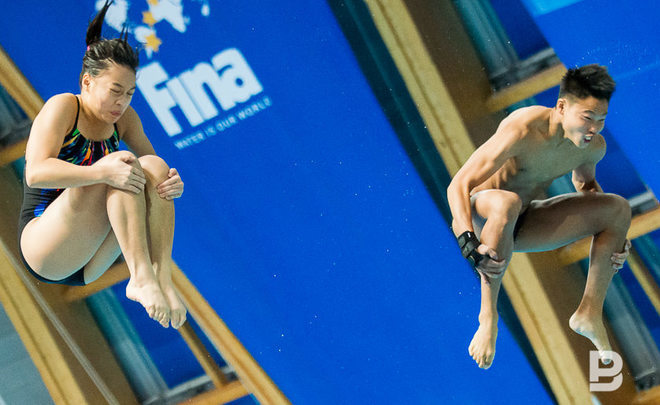 The next championships under the aegis of FINA – World Junior Diving Championships – ended in Kazan on 4 December. Tatarstan has been closely cooperating with the International Swimming Federation since 2011 when FINA President Julio Cesar Maglione held an unscheduled summit of the heads of delegations in our city. Realnoe Vremya tells what the date of the capital of Tatarstan with FINA looked like.
All roads lead to Kazan
The World Diving Championships, which have just ended, have been the fifth big competition of 'flying people' at Aquatic Palace. The swimming and diving venue, which has been built for the Universiade, doesn't have analogues in Russia and Europe. Changeable platforms and the 'rising' swimming pool is the gimmick of Aquatic Palace.
Considering the start of the new Olympic cycle and good opinions of all delegations about Kazan, the strongest diving powers could bring really top-class squads to our city. Whether it is a joke or not, 11 participants of the recent Olympiad in Rio and athletes who took part in the Kazan aquatic forum, members of the first teams of countries who were here during world stages participated in the competition.
Not always experience beats the youth: for example, Lois Toulson, who finished fifth in Rio, was supposed to be a hot favourite before the start of the competitions in Kazan. However, she took only a silver and gave way to another Olympic diver – Elena Wassen.
'Surely, this experience helped me. But the emotion and impression that you go through at the junior tournament are unreplaceable; you will experience them nowhere else,' told us the winner after the award ceremony.
'It was quite interesting to be back to the juniors after the Olympics,' the silver medallist said. In Rio, there was an amazing atmosphere; Tonia Couch (my diving partner in synchro events) and I were very close to winning a medal but here, in Kazan, it's great to perform too. There's a huge difference between Rio and Kazan — here I know almost everyone; we've been competing against each other for a long time. But it never prevents us from staying good friends,' silver medallist Lois admitted in turn.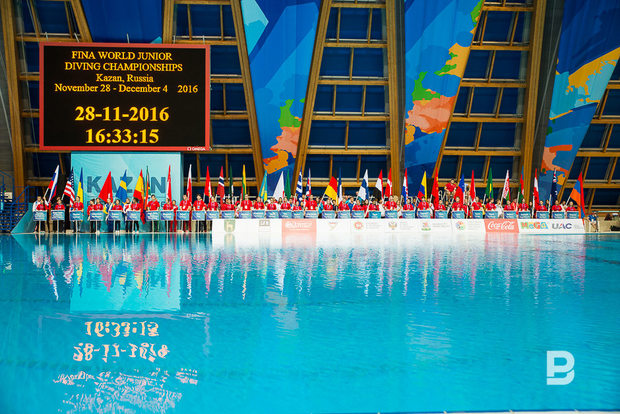 Shleikher is not the only one
The national team of Russia did not hide its champion ambition before the kick-off of the championships. A team that is able to fight and win first prizes gathered in Kazan. 'We promise to not to disappoint our fans. Nikita Shleikher competed in Rio and Ruslan Ternovoy won a gold in the Russian Championships among adults,' Minister on Youth Affairs and Sport of Tatarstan Vladimir Leonov assured on the first press conference.
Indeed, in the current situation, it is not bad to be second. At the moment China is unattainable in diving for everybody. Nikita Shleikher was under big pressure. He competed not only on his homeland – he dived in his native swimming pool – but also in his native city in front of the people he knew when he was a kid. Naturally, only a gold was expected from him, who is a person who reached Brazilian Olympic semi-final. He did not let down and added one gold to the Russian squad's collection. He finally left his eternal rival who was born in the same year Chen Linhai behind in the 3 m springboard.
'Kazan is a very big and beautiful city. I have never been here. So I am happy that the championships are taking place here. Today the competitions were tough. I could win a gold, fought against Nikita for the first place but I was not able to take the lead. He is lucky to compete at home, on his homeland. I have not competed in my native city yet. It helped him much. Spectators furiously supported Shleikher. I will have a chance to take my revenge. I set a goal to win a gold and I believe I will be able to do it. Then I will try knowing the city better. There will be time to do sightseeing,' diver from the Celestial Kingdom Linhai commented.
Apart from the gold medal, Nikita has two silver medals more – in the 10 m platform and 1 m springboard events. Chinese Chen left Nikita behind in the latter competition.
'It was very cool to win Nikita. I was close in the 3 m, then I lacked a bit to win a gold. Now I dived without mistakes and took the deserved first place,' Chen admitted after the victory and did not hide the importance of the battle against Nikita Shleikher.
Backstage games
People observed Ruslan Ternovoy with great interest. The guy outgrew of the young junior category. In the Russian Diving Championships in Penza before the Olympiad, Ruslan finished first. The 16-year-old Penza diver was ahead Shleikher and Minnibaev. But he was not allowed to the Olympiad because of his 'young age'. Whether it was a decision of the administration or some accurate calculation, nor Viktor nor Nikita showed a result.
It turns out the championships in Kazan must be life-changing for Ternovoy. He was going to show everybody what degree they were mistaken to. And Ruslan managed to gladden himself and his fans when he won a gold in the 3 m springboard.
'To be on the podium and listen to my native country's anthem is something new for me. I became a world champion, it is just cool! I am happy that I competed better than the Chinese athlete. I knew I was stronger, now I proved it,' he told Realnoe Vremya after the victory.
Ternovoy added that he decided to not include all his best dives in the programme in order to exclude any possible mistakes.
'The programme was even easier than I am performing now. The most important thing was to perform it well, without slips and get high points. I decided to not to take a risk and did well. Now I can celebrate the success with my relatives. All people are congratulating me, and I am congratulating them. I am going to go to Kiev right after Kazan to visit my relatives and gain strength for new victories. I hope the coaches will permit,' Ruslan expressed his hope.
The too complicated programme did not allow Ruslan to win his second victory. Only a handful people are able to perform twists at the age of 16, and Ruslan could not handle them in the final. As a result, only a bronze. But it is only a preparation for the future. It is seen a great master of flights above water is growing.
Meanwhile, the Kazan championships revealed new intrigues. For example, European champion Viktor Minnibaev who stopped competing in juniors' team for a simple reason because he is 25 was present in the stands during all competition days. Why did he come to Kazan? To support his friends?
Viktor talked to Nikita Shleikher the most. Probably several years of performance for the national squad of Russia united the guys. But there is another version that looks like truth more. It is rumoured that Nikita Shleikher and Viktor Minnibaev will dive in synchro events from the next season. And they are here to choose the programme. Everything is done in accordance with a good Russian tradition – in special secrecy and privacy mode.
Very Viktor refuses to comment his presence in the World Championships: 'I just love Kazan. My friends Ruslan Ternovoy and Nikita Shleikher are competing here. I just came to support them.' Sorry, but it is unlikely. And the version with the new couple for synchronised dives from platform taking misfortunes in World Cup stages and the Olympiad into account look like truth.
Dmitry Belov who won a gold in the 1 m springboard among young juniors especially surprised. Dmitry was in reserve till the last day. He was included in the list on the competition day:
'I am not used to observe my rivals. But here I heard the points and understood the rivals took a step back, and I had a chance to win a gold. The Colombian diver took a risk and performed the back 2 ½ somersaults. The risk was not justified. I just needed to perform the whole programme well, it was I did. I was only fifth before the final. I did not count on a medal. These have been my first world championships, the first and only event, so that I gave 200%,' he told modestly after the victory.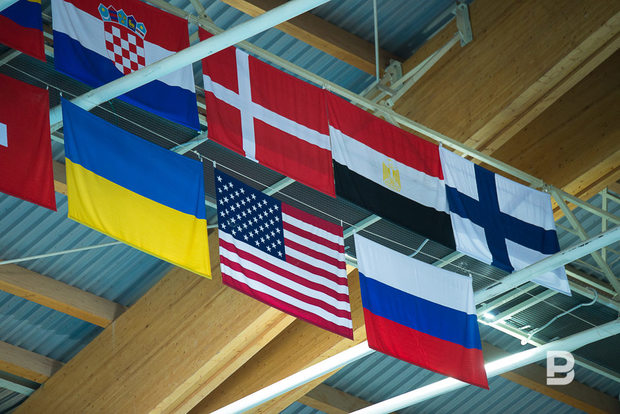 Further – more
The Kazan summer championships were forgotten together with the last award ceremony of the athletes who dived from the platform. Chinese athletes became winners (7—4—3), the national team of Russia was the runner-up (3—3—4), athletes from Great Britain were third (2—1—2). The results are absolutely logical and fair as well as the top 3 best athletes – Katherine Torrens, Nikita Shleikher and Chen Linhai.
'I woke up in time today; I felt great and managed to perform all my dives smoothly. I'm happy that I won; I believed in myself and I succeeded,' the owner of two gold medals Torrens revealed the secret of her success.
Kazan successfully held another big competition. Both Russian and foreign participants did not let down.
By Rustam Imamov. Photo: Maksim Platonov