How inflation props up growth of Tatarstan retail trade
Last year, the Tatarstan retail market reached a record high in monetary terms — 1,22 trillion rubles. But the amount of products sold dropped by 3,1%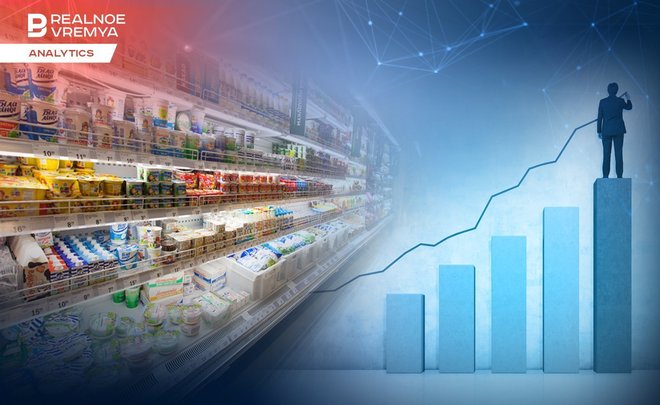 Last 2022 year became one of the toughest for Tatarstan's consumer market. It wasn't so hard even during the lockdown. Especially the non-food and services sectors suffered most. The exit of international brands, disruption of logistics and a reduction in imports led to a situation where the retail market lost more than 3% in physical terms, but despite this, amid high inflation, it reached a record high in monetary terms. For the first time, the retailing turnover of Tatarstan reached 1,22 trillion rubles — in 2022, this figure didn't surpass a trillion. Read in a report of Realnoe Vremya's analytic staff what factors influenced the market, how some brands rose by 40% and how services dropped.
Five years of turmoil
Retailing turnover in Tatarstan in 2022 reached 1,22 trillion rubles, and this is a record high in the last five years: 1,07 trillion rubles in 2021 and less than a trillion during previous years. But inflation that exceeded 11% for the first time in many years easily explains the "accomplishments" of 2022.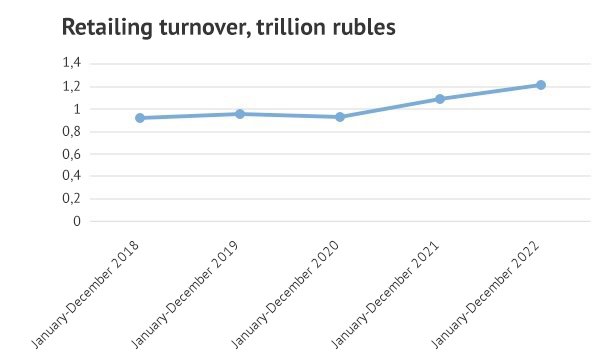 In fact, the Tatarstan retail market dropped: the physical retailing turnover index was 96.9% compared to the same period last year, in other words, retail trade decreased by 3.1%. Mainly the non-food sector that collapsed by 8.9% made a contribution to this reduction. The physical non-food retailing turnover index totalled 91.9%. Foodstuff sales, in contrast, rose by 4.8%. The share of the non-food sector in the total volume decreased from 57.2 to 53.4% in 2022, while the share of food product trade rose from 42.8 to 46.6%.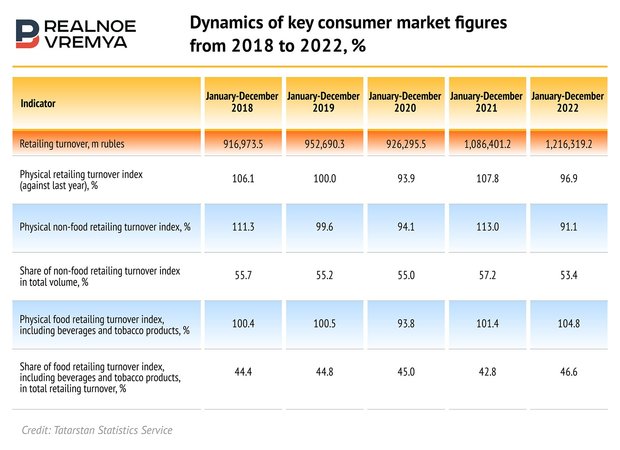 Exit of international brands and reduced imports
The retail market in Tatarstan dropped lower than in 2022 only in 2022 when many trade enterprises closed because of the lockdown. At that moment, retail trade reduced by 6.1% at once. But the non-food sector had never decreased so low. The exit of many international brands, including car manufacturers, from Russia shattered this trade segment that seriously depends on imports.
At the same time, retail food trade showed record growth — also for the first five years. As strange as it might sound, Tatarstan residents started to buy more foodstuffs last year. And this is the difference between 2022 and 2020 when retail food trade also decreased — by 6.2%.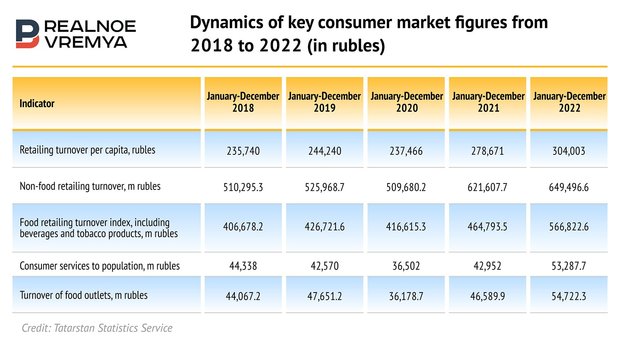 Absolutely all retail market segments in 2022. So retailing turnover per capita in Tatarstan rose from 278.7 rubles to 304 rubles. The non-food retailing turnover did from 621.6 billion to 649.5 billion rubles, the food turnover increased from 464.8 billion to 566.8 billion rubles. Housekeeping services reached a record high (from 42.9 billion to 53.5 billion rubles) as well as food outlets (from 46.6 billion to 54.5 billion rubles).
Fewer stores and beauty salons
At the same time, the number of trade enterprises reduced by 219 last year — mainly because of the exit of foreign companies in spring.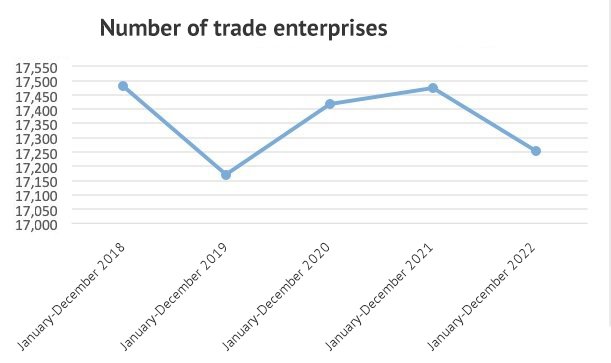 Not only shops and store chains but also food outlets (-53 establishments) and housekeeping facilities for the population (-1,207) closed. There wasn't such a serious decline in the number of retail enterprises in 2020, which shows the crisis in the consumer market is more serious.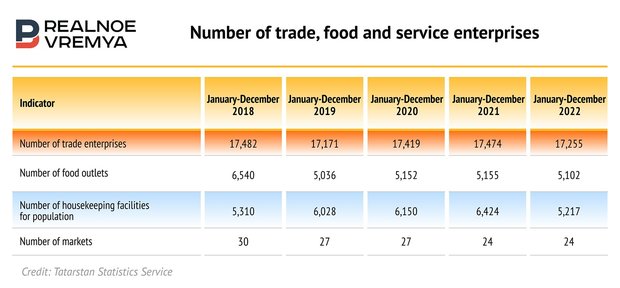 One of the worst periods in the last few years
Russia's retail trade in 2022 decreased more than by 6.5% — it is one of the worst indicators in the last few years, head of INFOline analytic agency Ivan Fedyakov characterised the situation. But the state of affairs in the food and non-food segments is different.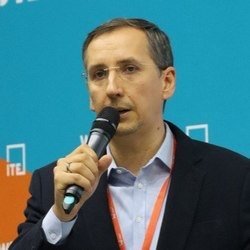 Falling incomes of the population became one of the significant reasons influencing the state of the sector, the analytic is convinced. "A more than 2.5% income decline will be registered officially by the end of the year," he stressed. "While the real decline is by far more dramatic. Moreover, incomes have been falling since 2013, and the negative dynamics has already reached almost 10% in the last ten years."
Besides the population's falling real incomes, Fedyakov names another problem — the market is losing consumers. Russia breaks one record after another in demography: the country's natural losses in 2021 totalled nearly a million people, while a negative migration balance was registered in 2022 for the first time in 30 years.
"To be fair, I wouldn't say everybody rushed to the economy segment"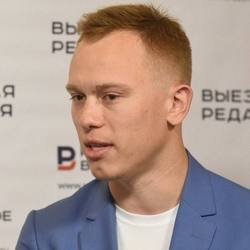 According to him, the middle segment dropped during tense phases in 2022 — in February during the first shock and in September because of the partial mobilisation. "During these tense moments, which is 2-3 weeks, there was a fall in the middle segment. Then everything went back to normalcy," says Nabiullin. "While the drop in the premium segment was more noticeable. Somebody disappeared, left the country and panicked. Now we returned out indicators and even continue growing. In general the situation is positive."
"It is a time of opportunities for us"
"The clothing market in general went through serious transformation in 2022 and passed from one hand to another, so to speak. Such big players as Inditex, Uniqlo and H&M lost the touch, others took advantage of the moment. I know there is a big clothing brand that rose by 40% last year," said Adel Yagudin, an entrepreneur, founder of Indever company making men's tailor-made suits and owner of Sisley stores in Kazan.
"Our business seriously depends on traffic. For instance, we were at an advantage at Kazan Mall whose traffic significantly increased. If we were at Mega, the situation would be worse because a number of key anchor tenants left Mega last year, and the traffic assumingly fell by some 20%," he thinks.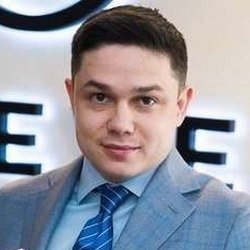 Many Russian clothing brands, according to him, are starting to grow: "Lime had a crazy growth. Somebody simply was renamed and is growing too."
Those who weren't hit by the sanctions directly also feel quite good. Those who were directly blown by the sanctions have problems. "For instance, it is car dealers," he puts an example. "BMW didn't close the dealership, but they have neither cars nor motorbikes. Perhaps, they would be happy to grow but have nothing." In 2022, the Russian car market collapsed by 58.8% compared to 2021, and according to Avtostat's data, Russian Lada whose share rose by almost 28% last year became the leader of the market (in 2021, it was equal to 22.25%).
45 brands left the car market
"In 2021, Russia's car market had about 60 brands of which some 45 left the market in 2022. In other words, the total number of brands dropped from 60 to 15," calculated member of the Association of Russian Car Dealers, independent expert Sergey Naumovsky. "Moreover, the share of Chinese brands that was around 20-25% in 2021 rose to almost 75% by late 2022."
Sales of new cars in Russia decreased from the region of 1.7 million in 2021 to less than 700,000 in 2022.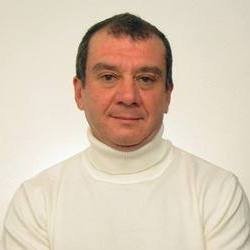 Food outlets also under sanctions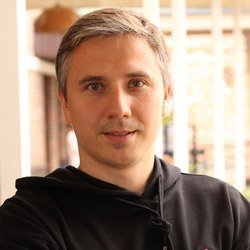 There are positive changes for food outlets too — domestic tourism is growing, moreover, not only because international travel became unavailable for many but also because of the growth of Russia's interest in their own country and the development of hospitality infrastructure.
As a rule, tourists do not want to save money on leisure and food, this is especially notable in the premium segment. "The interest and trust in good local restaurants, hotels, glamping sites is rising," the restaurateur notes. "All this becomes a driver for the industry, has a positive impact on development prospects of farms, producers of good Russian equipment, furniture, professional cleaning equipment as well as other areas of the hospitality industry."
This is why, on the one hand, the market really grows in monetary terms, but this is not a reason to sit on one's laurels because it is dictated, firstly, higher prices, the restaurateur agrees. "There is a leaning in transactions and number of bills in the industry across the country: during the high season, we get growth because of the development of domestic tourism, but as soon as the weather goes bad and tourist activity decreases, the industry is at a loss. We want to change it and we try to recommend business activities during the low season," he says.
Yulia Garayeva, Syumbel Gubaydullina
Tatarstan