Dietrich Möller, Siemens: 'The crisis is just an episode that doesn't cancel our strategic plans in Russia'
Who will take the lead in the market of industrial enterprise automation in 15 years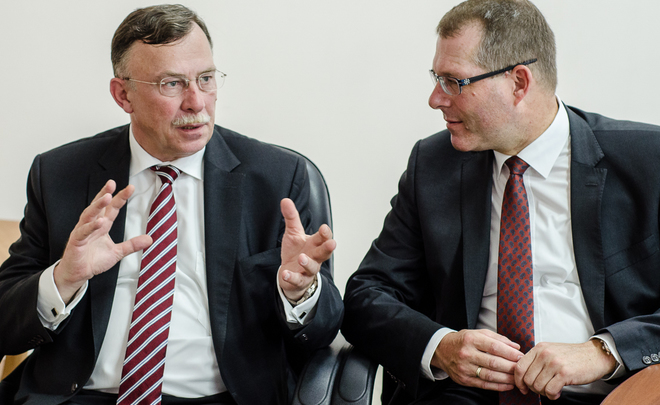 German Siemens that cemented a niche of power generation equipment and electrical goods has been working in Russia over 160 years. The top management of the transnational concern arrived in Kazan in order to meet with its strategic partner GC TAIF and visit its laboratory in the German-Russian Institute of Advanced Technologies where it gave an interview to Realnoe Vremya newspaper. Willi Meixner, who is the CEO of Power and Gas Division in Siemens AG, and president of Siemens Russia Dietrich Möller told what areas the company is ready to invest in, what productions are located in Russia, where the company is afraid of being left behind by its rivals, and how the conjecture of the market is changing. The rector of the Kazan National Research Technical University-KAI (KNRTU-KAI) Albert Gilmutdinov was the interpreter who helped to understand the foreign guests.
The whole range of turbines for energy generation
Realnoe Vremya: 'It is known Siemens and TAIG have signed a cooperation agreement in many priority areas. What projects have you already fulfilled?
Willi Meixner: First of all, Siemens highly appreciates the partnership with TAIF, which has been going on for many-many years. And we also admire the progress the company is making. We cooperate with TAIF in automation and process equipment. Now we have two big projects: a 500 MW combines cycle power plant and refinery projects.
RV: What is the function of Siemens in these projects?
Meixner: We are ready to supply modern equipment to their new power plant, install it and offer its further maintenance. It is a key strategic project for us because we have a factory in Saint Petersburg with 500 trained engineers where we are manufacturing gas turbines.
RV: Do you have analogous projects with other industrial enterprise of Russia?
Meixner: We have supplied many power plants to Russian customers. We offer the whole range of turbines: from small-sized power plants like 10 MW up to 500-600 MW. Siemens manufactures the heart of these power plants. Yaiva is one of our recent projects in Russia together with local ENKA. The project was fulfilled on time and within the budget.
RV: Do you educate specialists to work with the systems you implement?
Meixner: Personal training has always been a part of projects.
RV: Then you can assess whether there is a problem of insufficient skills of workers.
Meixner: We have experienced that Russian people are very educated.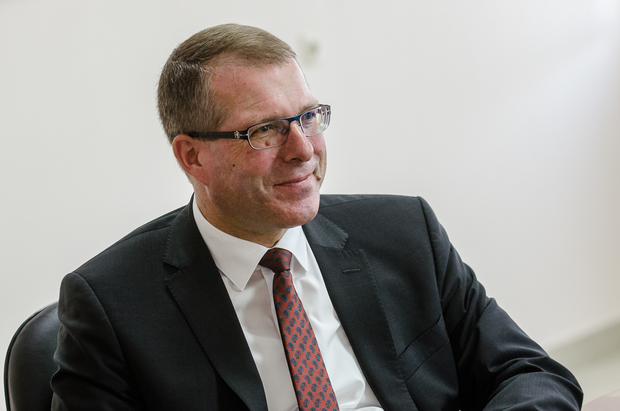 We offer the whole range of turbines: from small-sized power plants like 10 MW up to 500-600 MW
Dietrich Möller: But we deal with education of future workers of Siemens in Russia. Our business needs trained local specialists, of course. We are a strategic partner of the German-Russian Institute of Advanced Technologies where there was created a laboratory with all necessary equipment. Siemens also awarded six grants to KAI students who may study and have a Master's at a German university.
Development of alternative power engineering and common practice
RV: In your opinion, is the difference in the approach to regulation of power engineering sector in Russia big from other countries? Does Siemens find it difficult to adapt its solutions to the goals of the Russian sector and industrial groups?
Meixner: Siemens works with the Russian market not only in conventional power sources but also renewable energy like wind power.
From our point of view, if we look forward, there are two important things for Russia. One the one hand, to continue to invest in competitive power generation for industries like TAIF is doing. On the other hand, to continue modernising the existing power generating equipment in order to increase their efficiency. For this purpose, it is important to find the right mix of fossil-fuel power plants and renewable energy in order to connect those two forms of technology like wind and solar power and get smart grid as a result.
Any project needs a long-term period, public and governmental interest in it. The payback period in this industry is 20-25 years. People who invest in the construction of such power plants need investment security.
RV: As it was known during your meeting with TAIF, the holding is going to produce energy autonomously only for the needs of Nizhnekamskneftekhim without bringing the energy source to the market. Is it a worldwide practice or is it an isolated case?
Meixner: It is common around the world to have their own energy generation for large energy generation companies.
'A fight for a market position starts after the end of a crisis'
RV: Did you have to reduce your business or some business areas in Russia because of sanctions?
Möller: Actually I have to say we lost no contract because of the sanctions. But at the same time we feel that the barriers don't affect our clients. Financing of projects in Russia is more complicated. This is why their fulfilment slows down. Secondly, Russia has economic difficulties that are not connected with sanctions. It has an impact on our volumes.
However, there is a slight increase after the crisis in some spheres like medical equipment.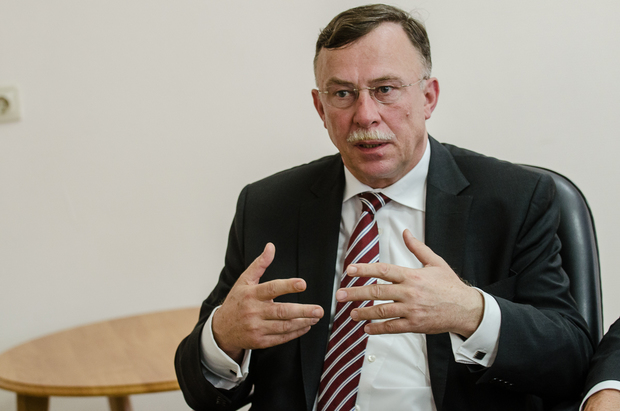 We lost no contract because of the sanctions
Actually we consider this crisis as a chance. We should think about future investments during the unstable period because a fight for a market position starts after the end of a crisis. We should get ready for it. This is why Siemens continues to develop: we opened a big factory in Saint Petersburg 1,5 years ago where we manufacture power generation equipment, gas turbines and compressors. A new fleet for Sapsan and Lastochka electric trains will be put into operation this summer. Moreover, we have strategic plans for further localisation of production and engineering. So, the crisis is just an episode that doesn't cancel our strategic plans in Russia.
RV: What are the most profitable business areas in Russia you have?
Möller: Siemens has all areas of its business represented in Russia from equipment for oil and gas complex, oil extraction, generation, electric energy supply and distribution to equipment for industry, medicine, transport. For instance, Russian Railways is one of the major clients not only in Russia but also worldwide. So, today Siemens is an infrastructural company that provides services of all production chains in all priority sectors of the economy.
The most important area for Siemens today is digital technologies. Industry 4.0 and Internet of Things is our strategic area. And nowadays Siemens fulfils projects of fully automated factories and is ready to supply tools for design and fulfilment of these projects.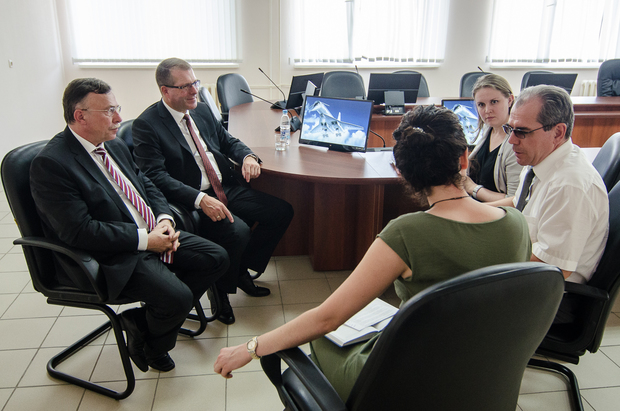 Concessionary model for Moscow-Kazan High-Speed Railway
RV: You've already started to tell about electric trains. Are there any additional operational requirements to your cars? What is their difference from 'ordinary' Sapsan trains?
Möller: You know we signed the first contract on Sapsan trains in Russia in 2006. This project was fulfilled on schedule and within the budget. Passenger service started in 2009. And Sapsan trains have been running between Moscow and Saint Petersburg for almost 7 years.
If you ask Russian Railways, they will confirm it is the most successful project for them. They have celebrated the 20 th-million passenger recently. Passenger traffic has grown by 30% in recent 6 months.
Sapsan has become a symbol of modernisation of Russian railways. We had other clients based on this success. It is also connected with the localisation of this production. We support this direction in comparison with net import. Equipment of foreign origin is also good, of course. But it will give a worse result in the stable development of the Russian economy than the initiative to localise the business.
Now Siemens and our partner Sinara Group have a joint venture in Yekaterinburg. It is a big factory that manufactures trains. The localisation of Lastochka train production has already reached 70%. And we are going to increase this indicator to 80%. It is great success, in fact. And we hope we will be able to continue to develop in this area, for instance, in Moscow-Kazan High-Speed Railway project. Here we also talk to Russian Railways and the Russian government.
RV: What are the terms of Moscow-Kazan High-Speed Railway project?
Möller:. It is well known that Siemens has the most advanced train production technologies. At the same time we are discussing a participation in the financing of the project. It is a concessionary model when a private infrastructure is built and it pays for itself during 15-20 years. Siemens is ready to work on this project together with other German companies. We also took the initiative in offering a financing with German banks. Actually, the German initiative is different because we are ready to localise technologies in Russia completely. You can imagine the scale of such a national project because it can make up a trillion of rubles. But the economy in Russia also must be able to duplicate this decision. Such trains should run not only from Moscow to Kazan.
Contracts on electric train maintenance are signed for 30 years in advance. In other words, the financial stability of Siemens allows Russian Railways to make sure Siemens will be able to fulfil this project in Russia with Russian workers in 20-30 years.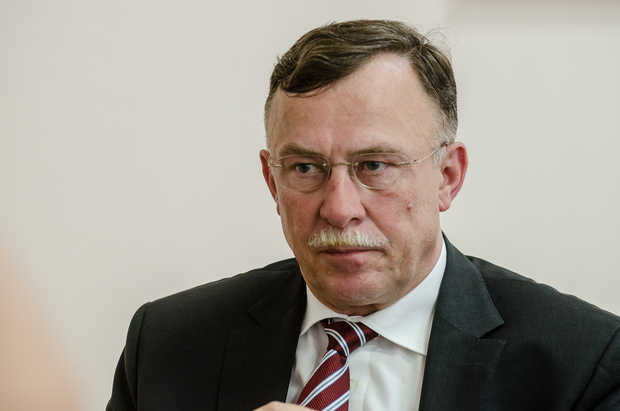 Sapsan has become a symbol of modernisation of Russian railways
RV: Are there any additional operational requirements to your cars? What is their difference from 'ordinary' Sapsan trains?
Möller: Russia has its own climate peculiarities, of course: it's either -40 or +50. It also has its own requirements: you know that in Russia gauge is wider than in Europe. Signalling system and traffic management are specific – everything complies with Russian standards. But new standards are also created because there has not been created any speed requirements for a train running at 400 kph. The entire sector of railway machinery develops during this process.
'We designed Sapsan trains when smartphones did not exist'
RV: Last year we visited Innoprom exhibition and got acquainted with representatives from China who actively promote their railway. Is it difficult to compete with China? Or don't you feel any competition at all?
Möller: Our former Siemens CEO said many years ago: 'I don't know what is worse: to work in China or not to work in China'. We compete with Chinese companies in many areas around the world, not only in train production. For example, we know that a big company that manufactures trains has appeared in China and it offers rather interesting financing terms. But the Old World, Europe has its own advantages: we have technologies, innovations, trained specialists. The trains that China offers is what Russia already has – Sapsan trains. We designed Sapsan trains when smartphones did not exist, that is to say, 15 years ago. Technologies have developed during this period. And we offer a 2016-year generation Sapsan. Yes, we compete with Chinese companies that develop fast in many areas. The environment is very competitive. But we are not afraid. We have 50,000 people who work in China. We, in fact, we can supply from China.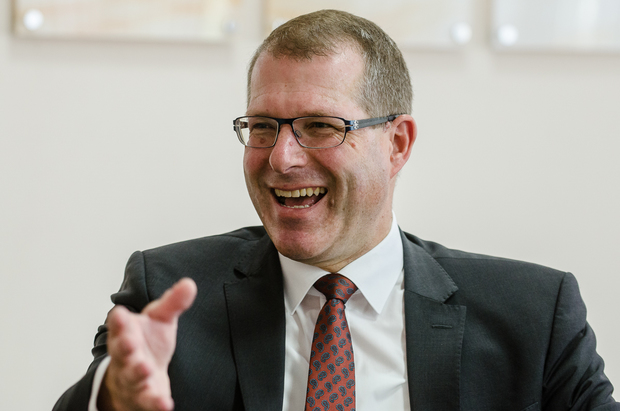 RV: Nowadays many transnational companies are actively investing in design and implementation of cognitive technologies, smart machines. Do you invest in smart technologies? In your opinion, how will the technological development in electronics and electrical goods change in the next 10, 30, 100 years?
Möller: Of course, I can't say what will happen in 100 years. But it is possible to forecast for 10-30 years. When no one was speaking about Industry 4.0 and Internet of Things, we bought a company that created software for design. At that time we saw that IT companies started to attack the market of industrial enterprise automation. Today in Siemens, the operational process has been fully computerised, only then a real production begins. We are on the development wave. I think, indeed, there will be a revolution. Those companies that use information and digital technologies in the whole added-value chain will hold the lead in 10-15 years.
We are convinced the landscape of our rivals is changing. Firms that develop fast in certain technologies appear. I will put an example. On a Hannover exhibition, Siemens demonstrated production and solutions dedicated to Industry 4.0. Preparing for the exhibition, we thought of how to explain this Industry 4.0 clearly. Then we liked an example of an American company. They started to design a production of golf clubs. The company elaborated individual clubs: for tall and short people, for women and men. These parameters are chosen on a computer, then a fully automated chain does the rest of the job: from design of a set and preparation of feedstock supply to very production. We also elaborated the whole chain. It is not difficult, in principle. Having launched the sale of individual clubs for the price of ordinary clubs, that company increased its volume by 30-40%. There are hundreds of thousands of such examples of individualisation of mass production. Our future lies with it, undoubtedly. We invest billions in it.
By Anna Saushina, Alsina Gazizova. Photo: Oleg Tikhonov