'Tatarstan may reduce the length of holiday'
How Tatarstan reacted to the president's address about non-working April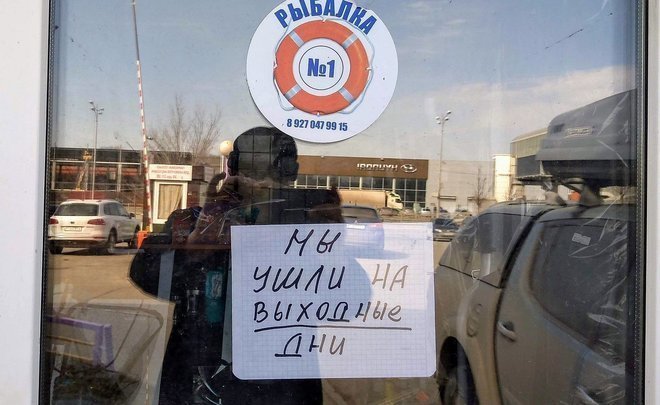 Vladimir Putin addressed the Russians on 2 April, announced that whole April would be non-working and permitted the regions to decide themselves what establishments should work and if borders had to close. It will be known what a decision the Tatarstan president will make, Realnoe Vremya was said in the Kazan Kremlin there wasn't any information yet. But Vladimir Putin's words have already caused a great public outcry. Most of the experts we surveyed recognise these measures are very strict and threatening with big losses but they are vital too. The risk won't disappear soon. "If the number of testing increases and anti-body is found, we will probably find out that 85-90% of people have already had the coronavirus but went through it in a hidden way," the State Duma's deputy and ex-Minister of Health of the republic Ayrat Farrakhov expressed his opinion.
Nobody will work throughout April
In the president's address, Vladimir Putin claimed that the peak of the coronavirus pandemic hadn't passed, this is why the regime of paid non-working days was extended till the end of the month. But the country is big, and the situation is different everywhere. It is still alarming in Moscow with the highest number of patients, but some regions don't have any case of the disease. This is why Putin empowered governors to make local, targeted decisions. They will decide themselves what measures to take on the spot, depending on the real situation. For instance, what organisations should stop working and what organisations can work.
However, polyclinics, hospitals, pharmacies, groceries and all essential structures will keep working. It will be possible to restrict the activity of core enterprises only after approval of the federal centre. At the same time, the regime of non-working days can be reduced too in the future, Putin didn't exclude that.
The president urged to save jobs, the country needs a steadily running economy. He urged the citizens to strictly meet the authorities' requirements and specialists' recommendations. According to them, then it will become possible to gain time. He thanked the Russians and wished them health.
Ayrat Farrakhov Russian State Duma's deputy from Tatarstan, member of Committee for Budget and Taxes, doctor of medical sciences, honoured doctor, ex-minister of health of Tatarstan, ex-vice minister of finance of Tatarstan, ex-vice minister of health of Russia

I absolutely agree with President Vladimir Putin. The peak of the pandemic hasn't passed. Actually, none of the countries that turned out in a very difficult situation has passed the peak. We can say just preliminarily that Italy and Spain are passing their peak. This can be concluded because their number of infected people is reducing every day, but, again, the number of mortality due to the coronavirus is just increasing now both in Spain and in Italy. So a huge burden has fallen on health care organisations. Unfortunately, even doctors have to choose who should have the ventilator and who not. This is wrong, of course. The number of people with coronavirus is rapidly growing in the USA. There is, of course, the experience of Japan, Sweden and South Korea that managed to have their own scenarios, and they are managing to do it without a total lockdown, without complete isolation.

I also agree that the month-long lockdown in Russia means huge losses for all budget levels. It is huge losses for entrepreneurs who have a huge burden to pay salaries to workers. But, of course, it will be simply hard to stay home during the month. Nevertheless, people's health and lives matter more. And we have to go through it, isolation is an absolutely justified and necessary step now. I think the peak of the epidemic is ahead.

And, unfortunately, speaking about Tatarstan, I will make you sad: but the coronavirus incidence will be growing both in Russia and Tatarstan. Of course, some regions can change the date of the end of "holiday" till the end of April. But now we should seriously think of how to live after April because there is a risk of secondary infection. If the risk of infection in general doesn't disappear, it will be necessary to think of how we should live in the conditions of limited quarantine. If the number of testing increases and anti-body is found, we will probably find out that 85-90% of people have already had the coronavirus but went through it in a hidden way, actually, they could not feel the symptoms. The number of people who had the coronavirus and recovered can be higher. It is an immune part of society, people who shouldn't limit to quarantine measures anymore, who can work. Consequently, we will maybe have to switch to a restrictive measure only for those who haven't had the disease and those are at risk — who are 65 years and older.

Oleg Morozov member of the Russian Federation Council from Tatarstan, ex-director of Russian president's administration for domestic politics

It seems to me that Putin clearly gave us to understand that the regions may decide to reduce this quarantine regime unilaterally depending on the situation with the coronavirus unfolding on a territory. This is why Tatarstan has the full right to do this if the republic understands that the situation is on the right path, the incidence isn't growing but decreasing. Of course, Tatarstan can reduce the length of the "holiday". I think Putin set the maximum term and meant that the regions with a critical situation due to the pandemic, where there can't be another way will have the month-long "holiday". In other cases, the term can be reduced.

As for the further recovery of the economy and businesses of Tatarstan, I think all those measures that are offered by the authorities to support pensioners and non-working citizens, loans for businesses, freezing rental, postponement of utility bills — they are aimed to simplify the situation in the labour market. Though we should understand, of course, that it will be difficult for our economy to handle all this situation with the pandemic and lockdown.

Irek Zinnurov water polo player, two-time Olympic medallist, Russian State Duma's deputy from Tatarstanдвукратный призер Олимпийских игр, member of the Committee on CIS Affairs, Eurasian Integration and Relations with Compatriots

You know if we have a look at what's happening in Europe, Italy or Spain, I wouldn't say these measures are strict. People's lives, health are a priority anyway. Moreover, we can see that over 700 cases of coronavirus infection have been detected today, about 400 were found yesterday. And it seemed that after the day when over 500 cases were found, it seems the situation has stabilised. But there is a rise again, the incidence has almost doubled. Yes, the month-long holiday is hard, but we have to go through this stage to avoid the Spanish or Italian scenario. We should be stricter about this anyway.

Because our mentality is similar to that of Italians, Spaniards. We aren't the Japanese, Chinese who were said "you can't do this, which means you can't", and they didn't do it. And what's happening here? Schoolchildren, educational, sports establishments went on holiday last week. I was near the grove next to the Chemists' Culture Centre and saw the following: the basketball and football sites were filled to the gills, the sports playground was full, the children's playground was also full with parents and children. Moreover, they were supposed to be in quarantine. This is our mentality. It seems that we can't avoid strict measures. For instance, in Georgia where the economic situation is very and very weak, there haven't been found cases of coronavirus infection, and the population understands that they have to go through the restrictive measures. I have friends there, and they immediately told me: "If the Spanish or Italian scenario takes place here, we can do nothing".

To support the economy and businesses, the state has already taken some measures, support small and medium-sized businesses, including natural persons. I think all regions will have tough times, but in Tatarstan, we have non-stop production too, which can't stop, and it continues operating. From this perspective, we will anyway stay afloat as for big businesses. While small and medium-sized businesses… Of course, they have faced tough times, and these tough times will stay even after the epidemic. It is the times after which it will take one much time to get out of the crisis.

Boris Mendelevich State Duma deputy, honoured doctor of Tatarstan

I think the first most important thing the president began his speech with gratitude to doctors. As a doctor, I have to note this first because I don't recall the president to thank doctors on behalf of the whole country, I don't recall it. And it is really important and valuable for me. On the other hand, I would like, I do hope that this gratitude that the president has expressed and many people in the country are now expressing will remain later, when the epidemic is over, and the prestige of the profession of doctor, which was lost in fact, will recover.

As for the extended holiday till late April, this decision is expected. And it is quite a reasonable thing. The following should be understood: the measures taken by our government in January provided our country with an advantage over this disease. And thanks to this advantage, we can analyse what's happening in other countries. And this analysis suggests that quarantine is, of course, one of the most important preventive measures. I think the extension of the holiday will have a positive impact on the development of the epidemic in our country.

Of course, the number of infected people will go up. There is no doubt about that. But our key task is to avoid a surge, peak, avalanche-like development of this epidemic. Everything is designed to enable the health care system to handle the flow of patients it is receiving. Every region should take measures depending on the situation developing in every region. And it is completely correct that the president gave the regions a chance to decide what measures to take themselves.

Ultimately, there are a lot of debates on what matters more — the fight against the virus or the fight against the crisis in the economy. These two things are clearly intertwined. Some people say that we should forget the economy and combat the virus only. Others say the opposite, like the USA president. Probably both are right. From a medical perspective, I can say that nothing matters more than health and human life.

Ildar Gilmutdinov State Duma deputy

The president's decision is correct, of course. The situation is so that the incidence isn't decreasing. And the extension of the self-isolation regime isn't a forced measure — there is no other way.

Human life is more valuable than any business in general. Of course, those people who earn their living can and should be understood. But in any case, there are some priorities. The state will clearly support some business areas: there are certain tax concessions, orders and so on here. The key issue is to survive this all. And we will solve other problems later. Nobody is going to forget anybody. The state has capabilities, resources: both financial and other. This is why nowadays the task is to survive.

The situation in every Russian region is different in both coronavirus spread and measures taken. The president gave a lot of power to the regions by his decision so that they can make decisions on both enterprises and other restrictive measures, allowance and non-allowance on their own. It is a correct stance. It is better seen on the spot, so to speak. I think a decision is up to the Tatarstan management.

Boris Lyuboshits Chairman of Audit Group Board of Directors, Chairman of the Russian Commerce of Commerce and Industry's Commission

We don't have the decree of the government to declare a state of emergency. This is why all existing agreements are considered in force. If there were an emergency regime, they could be recognised as invalid. And if the agreements are valid, and you as a profit enterprise do the work, you are paid, you should keep doing it, otherwise there will be fines. If you do the work for a non-profit, public organisation or you won a tender, if the work isn't done, such a company is among the organisations that can stop their operation.

If a company can suspend its operation, another question arises. How to pay salaries to its workers? With a proposal to everybody to go on holiday for a month but keep the salary, another question arises: where to get money for it? Nobody finances a profit enterprise, it worked for a month, paid for rental, salaries, taxes and continues its operation. If the enterprise doesn't work, what money should they be paid? Then they should have said the state was subsidising enterprises completely or partly or the authorities should tell the business: "Let's come to an agreement, we will pay 50% of salaries to your workers, while you take on 50%". Or 30 by 70%, 70 by 30%. When we are simply telling the business: "Don't work but pay salaries", a handful can do this.

My recommendation is that every enterprise should create rules of behaviour in such a situation. Firstly, don't panic. Secondly, don't deceive yourself. Create an anti-crisis management department made of your workers, invited experts and consultants, name it as you like. The department will think of how to survive in this situation.

Lenar Salakhutdinov Director of MEDEL multi-disciplinary clinic, member of Tatarstan Health Ministry's public council

If thin and fat people are shut in isolation, the latter will lose weight. The same thing happens to organisations. They are consuming their fat during this time if they have accumulated money. For those companies that don't have accumulated money, it is a slow death. Entrepreneurs who already have troubles have been put in such a situation. Many of them won't get out.

It is a shock not only for businesses but also for the population, there are other methods to fight this problem. Firstly, there are COVID-19 tests. If the state had provided all health care establishments with them, including private organisations, the population would have been quickly tested for this virus. Then they could be provided with the same means of protection like masks and gloves, though they are said to be useless. However, a mask protects by 20% biologically and 20% psychologically. The result is 40%. It is a good number. If we add gloves that protect from another 30%, we approach 100%.

We have suspended our operation. 90% of my colleagues have suspended their operation too. Of course, we plan to start working for urgent medical services, but it depends on the situation. There must be concessions because a business can't be rescued without them. Some sectors that depend on these situations very much: it is everybody who provides emergency life support. Generally speaking, they are working now. The only problem is that certain regulations are needed at work. If health care establishments understand it well, shopping mall must compulsorily have sites to disinfect hands in several places, not in one place like it's happening now. Many people even don't see and understand where the disinfectant is.

There is a disorder now, including in law-making, regulation. One decree contradicts another. For instance, an order of the Ministry of Health Care regulating medical activity had only one recommendation to close health care establishments, while Russia's consumer protection watchdog Rospotrebnadzor had an order, including for inpatient units. There must be emergency aid in any circumstances, this just must have special precaution measures. In such situations, public bodies must provide sanitary training that was practised in the Soviet era. It isn't used now at all — only on paper. It needs to be introduced not like today's only "wash your hands".

There is an urge to wash our hands, keep a distance, wear masks. But nobody understands that if we count the masks per capita, clear statistics will show there is 0,001 mask per every Russian resident. Moreover, Russia is sending help to foreign countries to fight the virus. Russian citizens are still not provided with masks. This is why, first of all, they should work to deliver information to people that allows generating and saving the immune system at a high level. This must happen always and especially now. One shouldn't focus on handwashing only, it is necessary to say what should be eaten to improve the immune system, how to live, what exercises to do. But if we start talking about it, pharmaceutical companies will see a fall in income because people will refuse medicine. This is why sanitary training for the population isn't used in a proper way.
By Sergey Afanasyev, Lyubov Shebalova, Maria Gorozhaninova
Tatarstan