Mitsui & Co., Ltd. — bridge between Tatarstan and Japan
One of the largest Japanese corporations began to establish business relations with Russian regions with Tatarstan
The construction of Ethylene-450 complex at Nizhnekamskneftekhim, the erection and equipment of Bisphenol A and polycarbonate plants at Kazanorgsintez, the construction of the heavy residues deep conversion complex on the territory of TAIF-NK, the fourth stage of polystyrene production is just a part of the projects implemented by TAIF GC together with Mitsui experts, with the help of the Japanese corporation or with its affiliated companies. Read how business relations between Mitsui & Co., Ltd. and TAIF Group were established in Realnoe Vremya's report.
Mitsui: from samurai clan to global corporation
Mitsui Bussan Kaisha is the oldest trading house in Japan that traces back to 1616 to Mitsui samurai clan. Mitsui Bussan Kaisha company was created in early 1876 by Takashi Masuda. After 200-year isolation, the Land of the Rising Sun opened to the world and began international trade.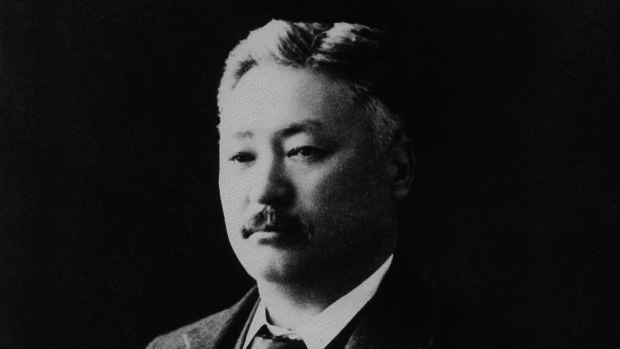 At the moment, the future holding's staff had just 16 people. At this stage, the company was exporting rice and coal. 10 years later, it had offices in Shanghai, Paris, London and New York. Later the range of products expanded: cotton yarn first, then products of mechanical engineering, shipbuilding and chemical industry appeared on the list. The company began to not only sell but also actively produce by creating and absorbing enterprises. The geographical footprint considerably expanded.
After Japan's defeat in World War II under pressure of the USA, one of the then biggest zaibatsu, or corporations of Japan, was fragmented in 180 independent firms. Their merge began on 25 July 1947 around Daiichi Bussan Co., Ltd. And this day is considered the foundation day of Mitsui Bussan, which was renamed as Mitsui & Co., Ltd. In 1959. The majority of its debris had been collected by this time, and a new rise of the corporation began, which soon got a status of global in its today's version.
The Mitsui & Co., Ltd. headquarters — the biggest component of the holding — is located in Tokyo, while over 44,000 employees work in 462 subsidiaries and affiliated companies around the globe. Mitsui Group's areas of interest are trade and investments, high technologies, shipbuilding and shipping, construction and sale of realty, minerals production and processing, insurance, pulp and paper industry, food industry, fashion, health care, forestry. Mitsui entered the petrochemical industry in 1958 with the foundation of Mitsui Koatsu.
Ethylene-450
The cooperation of Mitsui and TAIF Group began as early as in the USSR, that's to say, long before the appearance of the Group of Companies itself. Toyo Engineering Corporation, which hadn't come under Mitsui Group yet, signed a contract with the all-Union association Tekhmashimport to design and deliver equipment for a new ethylene complex with a capacity of 450,000 tonnes a year — the biggest one in the Soviet Union then. The construction kicked off in the early 1970s, while the first ethylene product was made in 1976.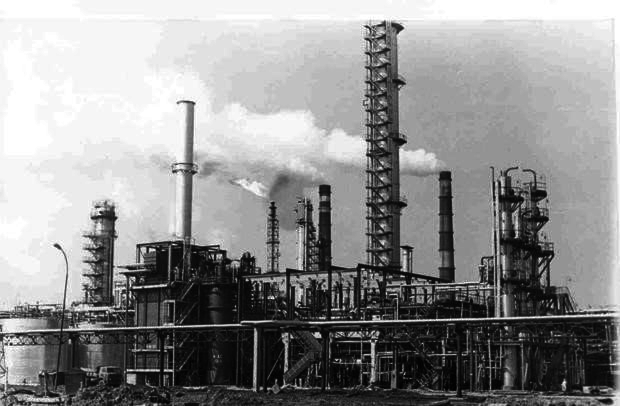 Today Toyo Engineering Corporation is an important component of Mitsui Japanese corporation. Nizhnekamskneftekhim PJSC, which is part of TAIF Group, continues using the ethylene complex whose capacities reached 600,000 tonnes of ethylene a year as a result of modernisation and improvements. While the cooperation, which began almost half a century ago, goes on.
Takehiro Togo
"I suppose Takehiro Togo was the first Japanese with whom I had close relationships. It is possible to say I discovered this unknown for me and mysterious nation while talking to him. He became a generalised character of the Japanese people," First President of Tatarstan and today Tatarstan State Adviser Mintimer Shaimiyev said in an interview with Realnoe Vremya about the meeting with the extraordinary and plenipotentiary ambassador of Japan to Russia and later Mitsui Group's senior adviser, who is deceased now.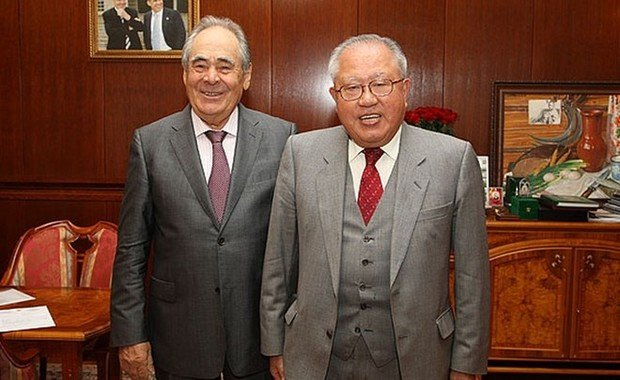 The first meeting was in 1998 when Mr Togo who chaired a big delegation of Japanese businesspeople arrived in Tatarstan. The Land of the Rising Sun was just discovering Russian region, and Takehiro Togo carefully studied the information he had and decided he would begin to establish mutually beneficial cooperation between Russian and Japanese regions with Tatarstan.
"The inquisitive Japanese didn't limit to a visit to our capital only, they went to Yelabuga, Mendeleyevsk and Nizhnekamsk," Mintimer Shaimiyev says.
"They were interested in possibilities of making Japanese investments in the Kama Industrial Region. They visited our biggest enterprises: YelAZ, Nizhnekamskneftekhim, KAMA TYRES," Mintimer Shaimiyev recalls.
An agreement on strategic partnership between the government of Tatarstan and Mitsui & Co., Ltd. and Toyo Engineering Corporation was signed during a visit to the Kazan Kremlin.
A return visit of Mintimer Shaimiyev (with the official delegation of the Russian Federation chaired by President of Russia Vladimir Putin) to Japan took place soon. Mr Togo who was present in negotiations actively helped the Tatarstan representatives' talks both at the highest state level and during a meeting with Mitsui Group officials he arranged. It was then when they came to an agreement to create a council on cooperation between Mitsui corporation and the Tatarstan government.
Later, thanks to Mitsui Group's help and with the assistance of Mr Togo, TAIF Group of Companies managed to get and implement the two latest technologies in Tatarstan.
Bisphenol A and polycarbonate
Contracts on licensing and basic design for Bisphenol A production with Japanese Idemitsu Kosan Co., Ltd. and polycarbonate with another company from Japan Asahi Kasei Chemicals Corporation were signed as early as 2004. Subdivisions of Mitsui & Co., Ltd. became an intermediary and organiser of the negotiation, while Toyo Engineering Corporation prepared the draft. Kazanorgsintez PJSC became a place where the construction of enterprises began. Representatives of Mitsui officials also arrived in the future factory's foundation stone laying ceremony.
"I remember that though the weather for Senior State Adviser Mr Togo was, to put it mildly, unusual, 30 degrees below zero, he was courageous and performed his role of one of the foundation layers well," Mintimer Shaimiyev shared his memories.
The first project — bisphenol A — with a capacity of 70,000 tonnes a year was assessed at $102,54 million. The major volume of its products was designed to produce polycarbonate — the construction of the polycarbonate factory with an annual capacity of 65,000 tonnes was evaluated at $196,3 million.
The new factories were to complete the production line of phenol, acetone and ethylene oxide processing, which had already being produced in the enterprise, into polymers, which hadn't been previously made in Russia and CIS countries. What is more, up to 20,000 tonnes of carbon dioxide, which had been simply thrown into the atmosphere, was to be involved in the production.
The first equipment for the new productions began to arrive in the middle of 2006, and the first bisphenol A was already manufactured in 2007. In 2008, test lots were supplied to a number of enterprises in Poland, Germany and Baltic states to evaluate the quality. And it was recognised very high.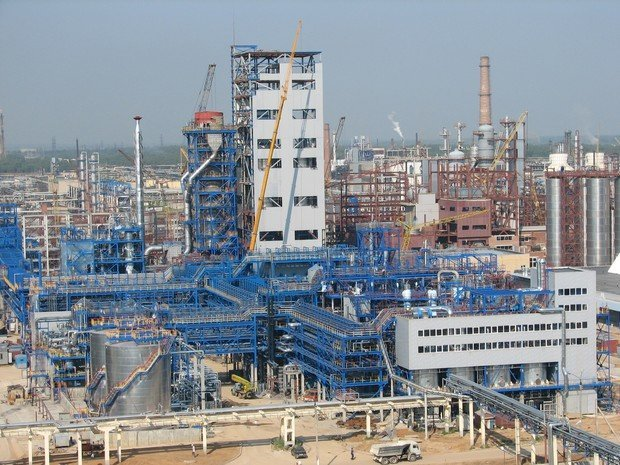 A phosgene-free polycarbonate production technology was launched at Kazanorgsintez in the first half of 2008. The relatively new technology, which appeared just in the early 21st century, is different from the phosgene technology because of safety for both the environment and human. Japanese friends arrived in Kazan again for the official launch of the new factories and celebration of the 50th anniversary of Kazanorgsintez PJSC to share the joy with Tatarstan colleagues. Mr Togo together with Mintimer Shaimiyev and TAIF JSC Director General Albert Shigabutdinov cut the ribbon by putting the factories into operation.
Mitsui & Co., Ltd. Interested in expanding cooperation with Tatarstan
Senior Adviser to Mitsui Global Strategic Studies Institute Takehiro Togo claimed this as early as 2017, during his next visit to Tatarstan. There is a lot of promising areas: railway, energy but, most importantly, oil refining and petrochemistry. It's the areas TAIF Group is especially strong on.
They didn't have to wait for the next project for long: a consortium of Japanese companies Chiyoda Corporation and Mitsui &.Co., Ltd. conducted a feasibility study of construction variants of the heavy residues deep conversion complex at TAIF-NK PJSC at TAIF GC's behest. Thanks to the launch of this production, the feedstock conversion rate will grow from the current 71% to almost 99%, light oil products will make up the biggest volume.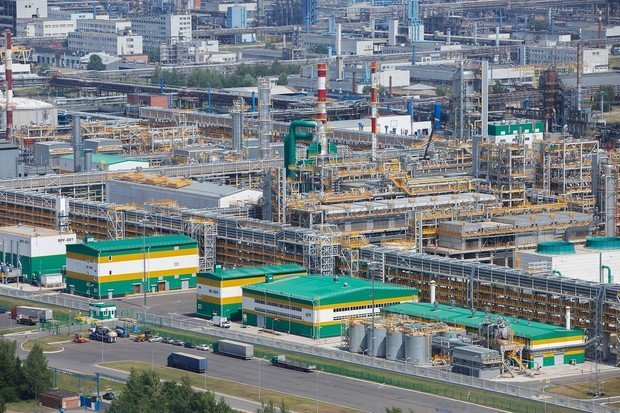 The work on the signing of contracts to design the complex according to Veba Combi Craсking (VCC) technology began in late autumn of 2012. A licence agreement was signed with Kellogg Brown & Root LTD, a contract on detailed design, production and delivery of equipment to install the VVC was with the Japanese Mitsui & Co., Ltd. and its subdivision Toyo Engineering Corporation. Nowadays commissioning is underway. The complex whose goal is to increase the oil conversion rate to almost wasteless is ready to process heavy residues of TAIF-NK PJSC plants.
"It is a great project that gives an opportunity to expose the oil residues to cracking, now they are just burnt as fuel. Technology is very advanced but the experience of use is still very important. After gaining it, TAIF-NK is going to play a big role in its spread, as the global companies will be interested in its assessment of the technology. So, TAIF-NK will be able to ensure the distribution of the technology among the companies of Tatarstan, Russia and all over the world together with Mitsui," Managing Director of Mitsui & Co., Ltd.'s industrial projects in Europe, Russia, CIS countries and the Near East Ikuo Kasama emphasized during one of his visits to Tatarstan.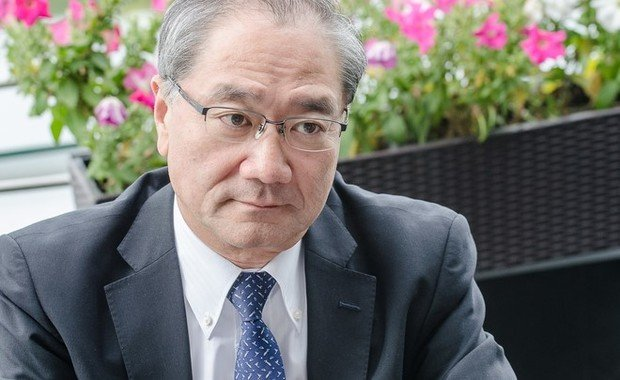 In 2014, TAIF Group launched the fourth stage of polystyrene production. With the Toyo-Mitsui technology, 13 names of polymers are manufactured. The production capacity is 50,000 tonnes a year.
Further cooperation development of Tatarstan and particularly TAIF Group and the Japanese companies Mitsui Group and Toyo Engineering Corporation was discussed in 2016, too. During a Tatarstan delegation's visit to Tokyo in February, which was chaired by the republic's president, Rustam Minnikhanov met with Toyo Engineering Corporation President Kiyoshi Nakao and Managing Director of the corporation Ikuo Kasama. Then the sides remembered the projects that had already been implemented, discussed those in operation and outlined ways to develop relations. In August, representatives of Mitsui & Co., Ltd. officials visited the head office of TAIF GC in Kazan to offer their services and experience in new ambitious projects of the Russian petrochemical tycoon — the construction of a new ethylene complex with a capacity of 1,2m tonnes a year and its own energy source for Nizhnekamskneftekhim PJSC.
Rules of the global market are impartial: who offers the best terms wins and gets the right to implement a project: high quality for the best price. TAIF Group's another long-term partner German concern Linde AG got a contract to build the first stage of the ethylene complex. Another big player from Germany — Siemens — will provide the erection of a 495 MW combined heat power plant for Nizhnekamskneftekhim PKSC. But the development of TAIF GC is a constant process: there is plenty of tasks aimed to modernise the existing equipment and construction of new factories ahead. Mitsui Group remains one of the leading contenders to participate there.
Reference
Mitsui Group is a Japanese one of the world's largest trading and investment group founded in 1876. Nowadays it has 154 offices in 66 countries, 436 subsidiaries and affiliated companies around the globe employing over 40,000 employees. Mitsui has been operating in the Russian market for about 50 years. It owns 15 companies in Russia and 1,000 employees. The total volume of investments to Russia — $3 billion. Mitsui has 14 operating units including Iron & Steel Products, Mineral & Metal Resources, Infrastructure Projects, Motor Vehicles, Marines & Aerospace, Basic Chemicals, Performance Chemicals, Energy (1 & 2), Foods & Retail, Consumer Service, IT, Financial Markets, Transportation Logistics Business Units.
TAIF Group with more than 43,000 employees is a manufacturing and investment company that owns considerable assets and production capacities, flexible and high-level management. TAIF Group consisting of 54 subsidiaries and affiliated companies operates in different spheres with the following businesses: oil and gas processing, petrochemistry and power engineering, telecommunications, construction, banking, investments and services. All the enterprises are closely connected from a perspective of economy, equipment, technologies and management.

Tatarstan