Almost half of banks reduce their loan portfolio volume
Credit demand drivers in 2018 were mortgage and the population getting poorer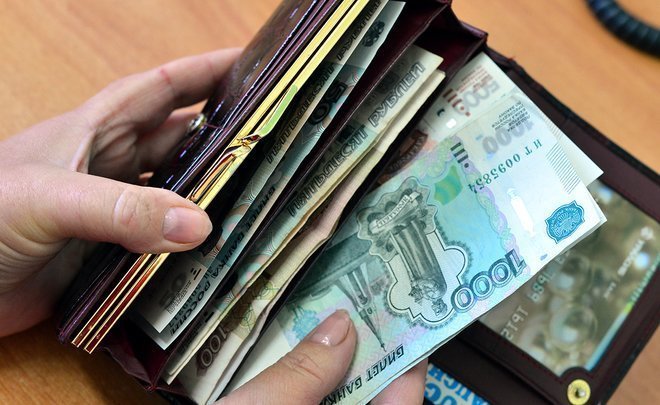 In 2018, the portfolio of bank loans to individuals and companies increased by 5,9 trillion rubles, but the ''authors'' of this growth were mainly large banks, while almost half of the players' portfolios decreased. At the same time, the population is increasing its obligations much faster than legal entities are. Businesses, although beginning to recover from the crisis, still need only short-term money. Read more in the overview of Realnoe Vremya.
Residents of weak regions are racking up debts
By January 1 of this year, the total debt of the population of Russia and non-financial companies to banks had approached the level of 48,3 trillion rubles — which is by about 6 trillion (14%) more than at the beginning of 2018.
During the year, banks were diligently lending to those who showed interest in loans. The interest was mostly shown by natural persons, exhausted by the continuing decline in incomes: the volume of their debt grew two to three times faster than the debt of organizations.
At the beginning of the year, the loan portfolio to the population as a whole in the banking sector amounted to almost 14,9 trillion rubles, and its growth relative to January 2018 reached 22,4%. The loan portfolio of legal entities and individual entrepreneurs (32,3 trillion rubles) grew more modestly in a year — by 10,3%.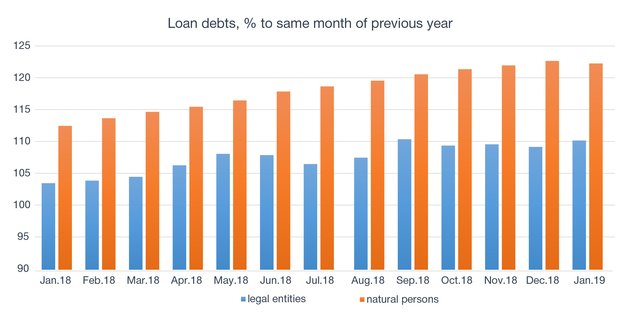 Nominally, residents of Moscow, Moscow Oblast, Omsk Oblast, St. Petersburg and Tyumen Oblast — prosperous regions with a relatively high standard of living — have the largest obligations on loans today. In most of them, the debt of the population grew at an average Russian rate in 2018.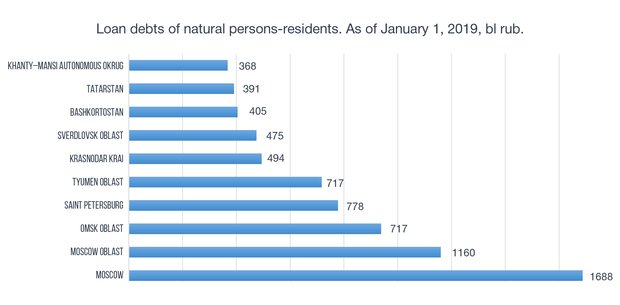 A sharp surge in debt, meanwhile, occurred in a number of economically weak subjects: Republic of Tuva (2 times in annual terms), Altai Krai (2,2 times), Zabaykalsky Krai (3,1 times) and Khakassia (4,6 times). The most significant increase in the debt of resident-individuals — 6,6 times — was recorded in the already mentioned Omsk Oblast.
In some regions with a low standard of living, lending to individuals grew much faster than the average pace, says Alexander Proklov from National Credit Ratings agency. This, without a doubt, suggests that people in such regions are forced to finance their priority needs at the expense of banks, he adds.
Mortgage does not explain everything
Part of the rapid growth of public liabilities can be attributed to mortgage lending, which all last year was breaking records. At the same time, ruble and currency mortgages now account for only 43% of the total debt of individuals to banks. In addition, according to the Central Bank, the issuance of new unsecured loans is growing slightly slower than mortgage loans (last December, the dynamics was 22,5%).
The portfolio of loans to legal entities and individual entrepreneurs increased most significantly in Krasnoyarsk Krai (5,4 times), Altai Krai (4,6 times), Irkutsk Oblast (4,4 times), Magadan Oblast (3,8 times) and Khakassia (3,1 times). While in more than one third of all regions of the Russian Federation (35) it decreased.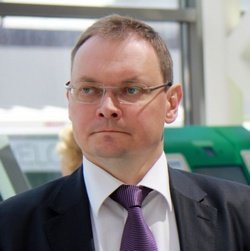 According to Proklov, the probability that in 2019 the rate of lending in retail and in corporate segment will be equal is small: ''Of course, the Central Bank pays attention to the problem of too rapid growth of the debt of individuals, and most likely, these rates will slow down. Nevertheless, in the conditions of falling incomes, loans remain in demand among the population, which means that consumer lending will continue to grow.''
''The credit activity of corporate clients depends very much on the situation in the economy, on the expectations of clients in terms of economic growth,'' says Marina Polyakova, the director of credit products development at Alfa-Bank. According to her, the activity of businesses, especially small and medium, is gradually recovering from the crisis recession.
''The total loan portfolio in the banking system, which stagnated 2-3 years ago, is beginning to grow. This means that customers have adapted to the new conditions and understand that it is necessary to invest in business development. The demand for loans from companies and entrepreneurs is coming to life, although we should admit that customers are mainly credited for working capital, covering cash shortage, but they are still looking at long-term investment projects carefully,'' Polyakova said.
Small banks losing portfolios
As for specific banks, the picture is as follows. The top 5 players — Sberbank, VTB, Gazprombank, Rosselkhozbank and Alfa-Bank – have the largest loan portfolios. At the beginning of this year, they together accounted for 36,5 trillion rubles of liabilities of individuals and legal entities.
Sberbank in 2018 increased its total portfolio by 2,7 trillion, or by 17%. VTB's loan portfolio grew by almost 4 trillion rubles (71%). The growth of Gazprombank and Rosselkhozbank were 11% and 14% respectively, and the portfolio of Alfa-Bank gained 27%.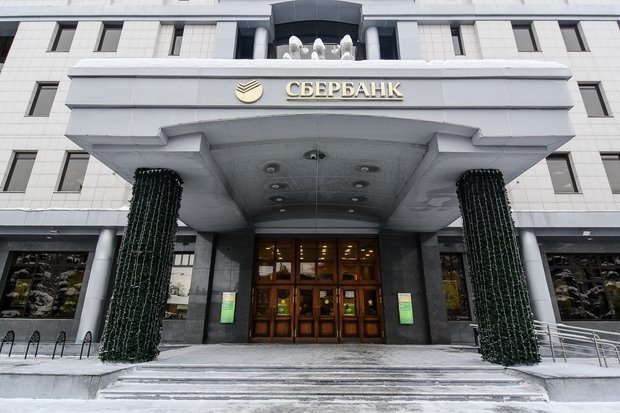 Some market participants were particularly active in one segment. For example, VTB's loan portfolio to the population increased 8,8 times over the year. Also, a serious breakthrough was made here by Russian Regional Development Bank controlled by Rosneft, whose portfolio grew by almost 2,5 times.
In the case of legal entities, a noticeable growth (more than 2 times) of the portfolio was shown by the reorganized Trust Bank, on the basis of which the Central Bank creates the so-called Bank of Non-core Assets, as well as Sovcombank and Tinkoff Bank (growth of 1,4 times).
But in general, the situation in the sector was not so smooth. Out of 446 credit institutions that had loan portfolios, almost half (47%) declined. Among the major players, Otkritie FC Bank (for the year its portfolio shrank by 20%), Dom.RF Bank (-44%) and BM-Bank, part of VTB group (-47%), had the losses. However, the largest number of losses accounted for small banks.
Tatarstan players were not doing well either: 10 out of 14 banks registered in the republic lost part of their portfolios. As a result, their total loan portfolio decreased from 310,2 billion rubles at the beginning of last year to 295,5 billion in January 2019. Only Ak Bars Bank (+8%), Timer Bank (+64%), Avtogradbank (+12%) and IK Bank (2,5 times growth) managed to improve their results.