Best personnel: TAIF-NK hires WorldSkills winners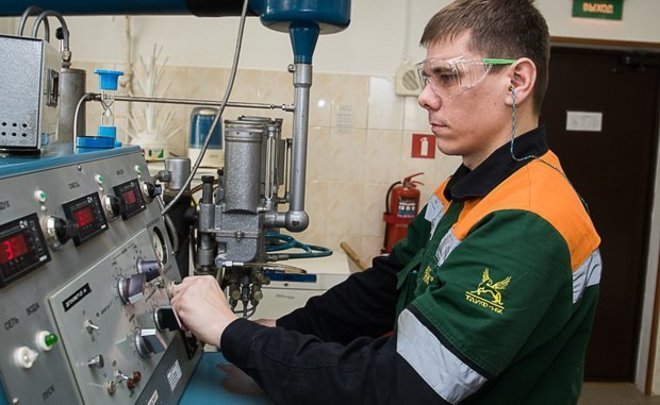 The Nizhnekamsk oil refinery not only supports the movement WorldSkills Young Professions but also chooses promising employees among its participants. Two winners of different WorldSkills stages have been invited to work this year. Realnoe Vremya tells why these specialists are better than others and why TAIF-NK stopped inviting candidates from other cities.
48% of staff are under 35
The Nizhnekamsk oil refinery focuses on the youth. 3,812 people work at TAIF-NK, 48% of whom are workers from 18 to 35 years. It's not easy to find a job in the enterprise: every candidate goes through a multi-level selection system consisting of several interviews and careful examination of all documents. If employees from neighbouring regions were invited to the enterprise, this idea was refused several years ago because they understood the petrochemists' city had many of its own professionally trained graduates of higher and vocational educational establishments.
''Nizhnekamsk Chemical and Technological Institute and Petrochemistry and Oil Refinery College named after Nikolay Lemayev annually graduates well-trained personnel for our sphere. Like any big enterprise, we have a base of specialists who want to work with us, which is regularly updated,'' Director of HR Department at TAIF-NK PJSC Galina Shimanskaya explained.
Promising specialists are selected for work at TAIF-NK before graduation. Every spring, graduates acquaint with representatives of industrial enterprises – at the meeting, HR department's employees not only evaluate a student's average points but also his participation in competitions and professional excellence contests, including WorldSkills.
''A fight for the best students begins among employers. An employer, in turn, has the right to choose to which enterprise to go. TAIF-NK PJSC always chooses the most ambitious employers for whom directors will be thankful,'' Galina Shimanskaya told.
''These specialists are well trained, their thinking is more designed to achieve high professional results''
Next summer, Kazan will host WorldSkills Championships. In August 2015, the Tatarstan capital won the right to hold the biggest world professional excellence competition going ahead of such famous cities as Paris and Belgian Charleroi with the aid of Russian President Vladimir Putin and Tatarstan President Rustam Minnikhanov. 1,600 participants under 22 years from 70 countries and 250,000 guests are expected to arrive in Kazan. Kazan Expo international exhibition centre will become the main site, which was built deliberately for WorldSkills.
The high-tech centre is located in a 55,6-ha venue and became the biggest in Volga Federal District. There were built indoor and outdoor exhibition areas, exhibition pavilions equipped with all necessary mains, a gallery, a unique congress hall, multifunctional transformable conference halls, VIP lounges, food courts and reception halls. WorldSkills Championships will be in August 2019, but the world-class exhibition centre is already operating – its official opening was on 17 October during Road 2018 international specialised exhibition. Tatarstan President Rustam Minnikhanov and the Russian president's aide Igor Levitin took part in the ceremony. The implementation of Safe and Quality Roads priority project was discussed on the exhibition. One could acquaint with the latest technologies, digitalisation of the sector, development of motorway services and the creation of infrastructure for unmanned vehicles, there was also held an exhibition of road and construction machinery.
Thanks to the upcoming WorldSkills Championships, the movement WorldSkills Young Professional is developing in the republic – officials of TAIF-NK actively support it. According to the decision of TAIF-NK PJSC Director General Rushan Shamgunov, the enterprise's workers go to competitions on different scales as experts. In such competitions, they not only evaluate participants but have an eye on promising students. Two graduates from Nizhnekamsk Petrochemical College have been hired at TAIF-NK after a victory at WorldSkills this year. The first winner is Guzel Garayeva who participated in the 1 st Interregional Professional Excellence Competition in Best Professional in Chemical Analysis Laboratory Worker in 2015 and in the open competition NK Skills in 2016. In 2016, she also became a winner and owner of a certificate of Young Professionals of the Republic of Tatarstan Open Regional Championship. The second one is Veronika Zarifullina who won WSR-2015 Open Qualifying Championship in Chemical Analysis Laboratory Worker. She participated in the final of the 3rd WorldSkills competition and won the 3rd place in WorldSkillsRussia.
''These specialists are well trained, their thinking is more designed to achieve high professional results. They learn the profession better than secondary vocational education teaches. Laboratory workers usually come here without experience. This is why they start working as samplers first, and these two graduates were hired as laboratory workers,'' Galina Shimanskaya continued.
To make it easier to join the staff and master a profession for an employee, the company also created an adaptation programme, which is successfully applied. Employees who were hired again do vocational training, they also have mentors who are experienced specialists and help to learn the ropes in the enterprise and obtain necessary skills. Training is presupposed not only for new specialists. To constantly improve the employees' qualification level, TAIF-NK employees regularly take a professional training course. The company has different areas and types: for workers who have been hired again, to master a new profession, training for related professions and refresher courses. 2,158 employees in total took a professional training course in 2017, the enterprise allocated 23m 658,000 rubles for this purpose.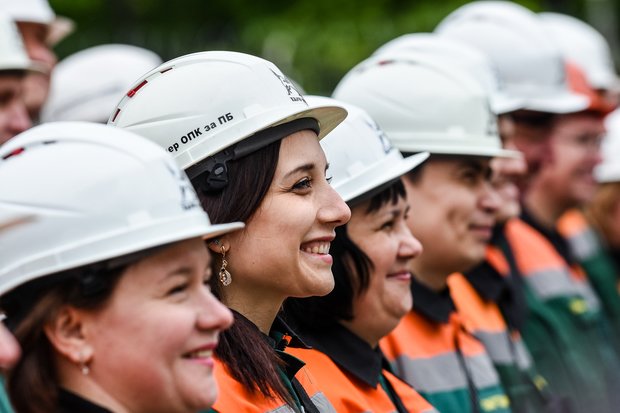 ''A worker can go to the clinic, get medical care, which is paid to the medical establishment by the insurance company''
TAIF-NK PJSC Director General Rushan Shamgunov pays a lot of attention to social politics. Every employee annually gets financial help to improve his health on a holiday. It's a one-time payment as high as a salary that everyone can count on after spending a year in the company. In addition, there is compulsory medical insurance, insurance against accidents at work and occupational diseases at the expense of the enterprise. To allow employees of the company to get medical services, TAIF-NK PJSC signed an agreement of voluntary medical insurance of workers with one of the insurance companies.
''After a year of work, employees are given voluntary medical insurance certificates for a wide range of medical services. A worker can go to the clinic, get medical care, which is paid to the medical establishment by the insurance company,'' Director of HR Department at TAIF-NK PJSC Galina Shimanskaya explained.
There is also a monthly financial help for women on maternity leave, a one-time payment in case a baby is born or adopted, when a family is created, for birthday and retirement. They support parents of disabled children, unemployed pensioners and 1 st and 2nd degree disabled people, workers who quit the job due to health problems.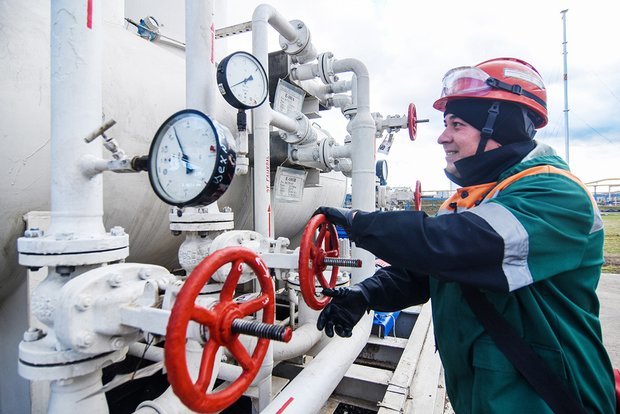 To help the employees to solve a housing problem, the company has Social Mortgage programme. In 2015, TAIF-NK PJSC launched a corporate mortgage programme with the help of a shareholder. According to the programme, the workers can take out a concessionary loan for 15 years to pay the first instalment. The additional corporate mortgage programme will be applied until 2020.
According to TAIF-NK PJSC Director General Rushan Shamgunov's decision, the enterprise will go on allocating big money on social politics, train the workers and create comfortable working conditions. The oil refinery understands that the enterprise's staff is a guarantee of successful accomplishments and the future of TAIF-NK is in young and professional personnel's hands.
Partnership material
By Ksenia Zharkova. Photo: Oleg Tikhonov
Tatarstan