''Flying Tatar man'' lands near theatre
A monument to Rudolf Nuriyev opened in Kazan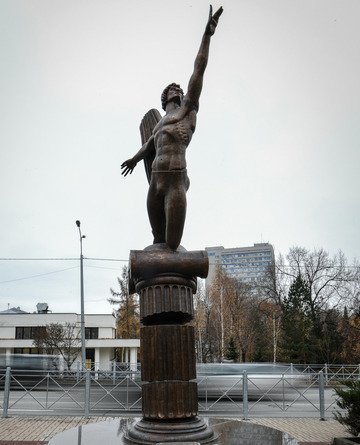 A monument to Rudolf Nuriyev by Zurab Tsereteli opened near the Musa Dzhalil Opera and Ballet Theatre in Kazan on 7 November. The author deliberately arrived in Kazan for several hours to be present in the ceremony and then visited Red Gates / Upstream interregional exhibition contest. Realnoe Vremya tells the details of Tsereteli's visit.
''And he took me for a KGB employee''
Music from Swan Lake was already heard near the building of the opera theatre on Dzerzhinsky Street – it's a milestone ballet where Nuriyev had the leading role. There wasn't any traditional cloth covering a monument for a moment – Tsereteli's creation could be seen and evaluated. By the way, benefactor and businessman Rustem Magdeyev paid for the monument and its delivery to Kazan.
The public started to gather half past noon. Leading soloist of the Musa Dzhalil Opera and Ballet Theatre Oleg Ivenko was one of the first people to come, now he is linked with Nuriyev. He played the role of the great dancer in Ralph Fiennes's The White Crow film. Then director of the opera theatre Raufal Mukhametzyanov came. Citizens of Kazan should thank him because of him Nuriyev visited Kazan in the spring of 1992 and then gave permission to call the festival after himself.
Zurab Tsereteli arrived in a grey coat and bright red scarf almost at 13.00 holding the hand of Tatarstan Culture Minister Irada Ayupova. He approached to welcome First President of Tatarstan, State Adviser Mintimer Shaimiev. The opening ceremony opened after Tatarstan President Rustam Minnikhanov came.
''Kazan has a ballet festival named after Rudolf Nuriyev, we have such a ''flying Tatar man''. I'd like to thank Mr Tsereteli, you, Rustam Magdeyev for this idea. I thank everyone who came to celebrate this event, which is, actually, significant not only for the capital of the republic. Such people are born once in a hundred years. And Rudolf Nuriyev, a Tatar man, is among them, his mother comes from our land. I congratulate all of you, we thank the sculptor and the sponsor,'' Rustam Minnikhanov addressed the people present.
Zurab Tsereteli who gave a speech later was brief. ''What do you want from me? This is my word, this is the cry of my soul,'' the sculptor said and addressed the monument to Nuriyev. Then he noted he ''adored Kazan'' he had visited several times.
''I'm very glad the monument to great dancer Rudolf Nuriyev has appeared in Kazan. One year ago, I had a chance to play Rudolf Nuriyev in Ralph Fiennes's The White Crow film. Now we're actively presenting the film at international festivals in America, Great Britain, Japan. It's just recently got a prize at an international film festival in Tokyo. Working on the role, I read about Nuriyev a lot, watched films. Nuriyev was a very strong person, he was a self-confident and quite a strict person. Tatarstan should be proud of him because Nuriyev always said he had Tatar blood running in his veins,'' Oleg Ivenko concluded.
Naturally, Raufal Mukhametzyanov also delivered a speech at the monument's opening ceremony. He told he went to the Mariinsky Theatre in 1989 to talk with Nuriyev, the artist was dancing on his home stage in La Sylphide at the moment. Mukhametzyanov did the impossible – he managed to persuade Nuriev to visit Kazan.
''We were sitting and talking with him on a banquette at break between rehearsals. Oleg Vinogradov, Nuriyev's classmate, saw us. At that moment, he was the chief ballet master of the Mariinsky Theatre. I had a jacket and a tie on, and Vinogradov took me for a KGB employee. Who could be sitting backstage next to Nuriyev and calmly talking with him in 1989? When I said I was the director of the opera theatre from Kazan, Vinogradov was surprised: ''What does Kazan have to do here?'' But Nuriyev immediately replied: ''My mother was born in Kazan,'' Mr Mukhametzyanov told. And Nuriyev visited Kazan in 1992.
By the way, both Oleg Vinogradov and outstanding dancer and ballet master Vladimir Vasilyev sent telegrams to citizens of Kazan with congratulations on the erection of the monument to Nuriyev. Raufal Mukhametzyanov read them at the opening ceremony.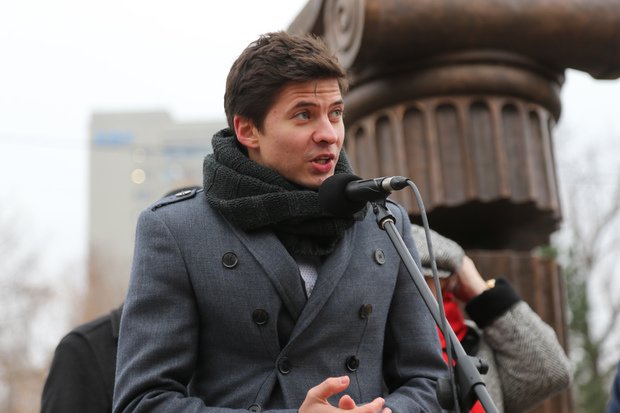 Award for president and minister
The second reason for Zurab Tsereteli's trip to Kazan was a visit to the fifth Red Gates / Upstream interregional exhibition contest. It opened on the second floor of Khazine gallery on 7 November.
Firstly, Tsereteli quickly looked over the exposition, Vice President of the Russian Academy of Arts Konstantin Khudyakov accompanied him. He stopped near Confession work where Dostoyevsky is featured by an artist from Udmurtia and asked who did it. The painting really drew the attention due to some dramatism. It was seen Mr Tsereteli liked the works presented on the exhibition. But he was in a hurry, he was to fly to Moscow two hours later. This is why the opening immediately began.
''The fact that Mr Tsereteli is with us is a sign of respect for our republic and those processes we have today. Today Mr Tsereteli is to be in an event with top officials of the country. And it's a great honour for us to have you with us,'' Culture Minister Irada Aupova noted. She said the monument to Nuriyev, which had opened, became an adornment of Kazan. According to her, the name of the exhibition, which was opened, was symbolic because a real artist is always against the current and breaks all stereotypes. ''Because we can create something new only by breaking stereotypes, without blinkers,'' Irada Ayupova concluded correctly.
It was felt Tsereteli was touched by the reception he had in Kazan: ''When I come here, I'm always amazed at the people living in this city. Now you all have so kind eyes, and this means a lot. Now we are free: we draw what we want, there is no censorship. I'm amazed at the exhibition, it has different works. It was different in the past, everything was identical in the past.''
Indeed, Red Gates / Upstream exhibition presented works in different genres. Zurab Tsereteli offered to bring the exhibition to Moscow and promised to find halls it deserved.
The president of the Russian Academy of Arts brought two awards. The first is for Tatarstan President Rustam Minnikhanov. It's a medal ''For Merits to the Academy'', Tatarstan Culture Minister Irada Ayupova was asked to give the award to the president of the republic. The second award was designed for Mrs Ayupova herself. The Russian Academy of Arts expressed its gratitude to Tatarstan Culture Minister Irada Ayupova, which was confirmed by a letter of the Academy given to her.
Tatarstan