Mintimer Shaimiev: ''National language classes can't be treated this way in a multi-ethnic country''
How journalism, pensions and school were discussed at the Forum of National and Regional Mass Media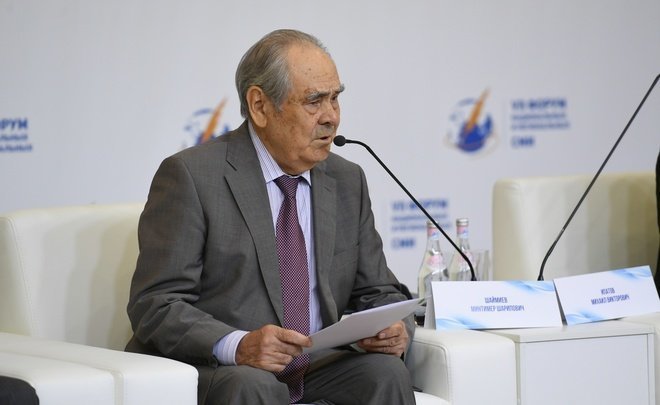 Journalists from 19 regions of Russia gathered in Kazan at the Forum of National and Regional Mass Media. They discussed professional problems of newspaper and TV journalists. But everything expectedly switched to another topic, which actually was similar to the main theme. In some experts' opinion, national newspapers and literature can disappear if mother tongues are studied at school only till the ninth grade. Realnoe Vremya tells the details.
''I'm given 45 minutes, while the others – just five''
The Forum of National and Regional Mass Media is held for the seventh time, this time 200 journalists and editors from 19 regions of Russia have become its delegates. Opening the forum, moderator of the meeting Director General of Tatarstan Novy Vek channel Ilshat Aminov said 963 mass media sources were registered in Tatarstan, while 170 nationalities lived here. Tatarstan State Adviser Mintimer Shaimiev was given the floor first.
''I'm given 45 minutes, while the others – just five. This is why I will adhere to the points,'' said Shaimiev with a smile, the audience replied with an approving laughter, but only local journalists who know Shaimiev loves to talk about every issue in detail understood this joke was only partly a joke.
And the 45 minutes were little to deliver the worries about all problems that concern the first Tatarstan president. He started with the theme of the forum. ''The closeness and love for your roots must be the source of your and our creative inspiration,'' said Shaimiev and talked about what was done in this respect in Tatarstan in detail.
TNV-Planet channel airs in the Tatar language. ''I should say we receive so many letters that it's impossible to read them indifferently. How thankful people living in Russian regions and abroad are for airing. They feel nostalgia – people sit, watch the channel and cry. Shayan TV channel for children has started to air this year.
Newspapers and magazines are printed not only in the Russian and Tatar languages but also in the Chuvash, Udmurt languages. The circulation of newspapers issued in Tatarstan, according to the second quarter of 2018, totalled 1,2 million copies. 37 mass media sources in the Tatar language are printed in other regions.
Tatarstan writers have a chance to print their compositions within a public subsidy. This year the Tatar Publishing House will print 124 books. Similar public subsidy mechanisms exist only in Tatarstan, Chuvashia, Bashkiria and Yakutia.
''We see how many pensioners go on a holiday abroad when we are on a holiday in foreign health centres''
As journalists from 19 Russian regions were present at the forum, Mintimer Shaimiev considered important to dispel the factoids about Tatarstan for people who had them. ''It's needed to understand,'' Shaimiev explained and remembered 1992.
''It's still written that Tatarstan behaves this way or this is why it feels fine. With the adoption of the declaration on state sovereignty, people tried to label us as separatists. At the same time, they forget the Russian Federation was first to adopt the declaration on state sovereignty having declared its rights to the USSR. It's not accidental, we all didn't have rights. In such a republic like ours, only 2% of industrial potential belonged to us, the rest belonged to the USSR,'' Shaimiev said.
Then he switched to the changes that were made after the decision 26 years ago: ''We supplied gas to all Tatarstan, we don't have a house without a gas main. I have to say to you that not all houses have gas in Moscow suburbs. ''We declared war on slums in 1995. We built 1,768 new blocks of flats and gave 48,600 flats to those who lived in barracks.'' Then Shaimiev returned to the modern time and remembered successful SEZs in Russia – Alabuga, Innopolis and Rustam Minnikhanov's role in it: ''I say to our president: 'You fly more than any pilot''.
He didn't omit his brainchild – the revival of Bolgar and Sviyazhsk, the construction of Kul Sharif Mosque and the reconstruction of the Assumption Cathedral, the construction of the Our Lady of Kazan Church and Bolgarian Islamic Academy and unexpectedly switched to another important topic – the pension reform.
''We see how hard it is and we have to explain the pension reform. The most important thing is to prepare these reforms. This is inevitable if we want our pensioners to have corresponding savings and could afford to provide a good old age, to travel and so on not today and even not in the short run… We see how many pensioners go on a holiday abroad when we are on a holiday in foreign health centres, you can envy them the conditions they live in. They earned this. This system justifies itself. But this period of transition is the most painful moment. This probably should have been done earlier. But is there another way? No country will handle it in another way – there are so many pensioners who don't work. Fortunately, lifespan increases,'' Shaimiev expressed his opinion about another topic that concerns everyone.
''My grandmother always give me an example of Mintimer Shaimiev''
Everyone, of course, expected to hear the position of the state adviser on a more important topic for Tatarstan and national republics that was linked with the forum's theme – mother tongue classes at school. But Shaimiev didn't mention it for some reason. But later, when Rimma Ratnikova, chairwoman of the Tatarstan Union of Journalists, dedicated almost the whole speech to it, he couldn't contain himself and told what he thought.
Before this, Deputy Director of the Federal Agency for Ethnic Affairs Mikhail Ipatov gave a speech who remembered his grandmother.
''My grandmother always gave me an example of Mintimer Shaimiev. For me, it's a great honour to be sitting together with him. She would watch TV and say: ''What a person he is! How he cares about the state! Follow his example,'' said Ipatov and told about the project ''About the Russian Federation'', which is the agency is fulfilling now and whose one page is dedicated to Shaimiev: ''It's a book about heroes, one of such heroes is sitting next to me. It's a project about the birthplace, parents, family, meadow grass… A project about us will appear after this forum, about those who love and appreciate their country.''
Vladimir Solovyov, chairman of the Russian Union of Journalists, told about another project: ''We're changing the format of the Union of Journalists, there will be a new site, and I offered to publish the best samples of the press in national languages with translation into the Russian language. We can't know all the languages of peoples of Russia, and if it was translated into Russian, we could read and see our colleagues.''
''The comments there drove us mad''
Rimma Ratnikov is the only person who mentioned the topic that's directly linked with the national and regional mass media – mother tongue classes at school.
''The problem of language classes is important for journalists, it's not only a topic of patriotism and love for one's region but also an issue of conservation of mass media in people's languages. Will they develop if people study their mother tongues till the ninth grade? Will they then make attempts to continue studying philology? Where will writers come from if people don't know their mother tongues?'' said Ratnikova.
According to her, Tatarstan had concerns linked with the national issue in the 90s and thought all's fine. But it went through this complicated unrest last autumn when the problem of languages classes at school was discussed.
''In some digital mass media sources, which aren't public, not to mention social networks, the comments there drove us mad, what a point did the discussions reach. These facts were considered at a meeting on complaints about the press, they reached the prosecutor's office. Moreover, it's was done by both sides. This picture is quite instructive, it says serious measures are needed to train journalists who will be able to teach the audience in this sensible sphere. We've gone through this period thanks to Tatarstan authorities and didn't let the situation get worse. But some methodological accompaniment is needed anyway, how one should act in such situations in regions,'' said Ratnikova.
Ratnikova says the law on mother tongue classes and new federal standards adopted by the State Duma will diminish the issue's topicality. She also remembered Putin's speech at Mashuk educational forum where he told about the necessity to conserve languages of peoples of Russia and revival of the experience that existed in the USSR.
''The USSR had such programmes, we should revive them. We apply every word of the president and charged jurists of the State Council with finding these programmes,'' said Ratnikova.
''What an era are we living in when prosecutors go to school?''
As Ratnikova mentioned this topic, Shaimiev decided not to keep silent and explained why didn't talk about languages in the main part of his speech. Otherwise, it would drag out for 145 minutes, not 45. ''I didn't talk about this issue of language problems separately. If I would it's possible to forget what one came for and to turn this into a discussion of this vital problem.''
Unlike Ratnikov who noted she applied the president's every word in reality, Shaimiev complained about the ''devotees at the top'' who ''if the president expressed his opinion start to make this wish a reality''.
''Public workers at the top shouldn't be so devotees in their actions, start to make a wish reality so much if the president expressed his opinion. Vladimir Putin expressed in Yoshkar-Ola, first of all, his care about the official languages of the Russian Federation. He said perfectly correct not to reduce classes of the official language of the Russian Federation. It's his obligation, any president should have said that. And then attacks on mother tongues of the multi-ethnic Russian Federation began. We lived so, live and will live without depending on anything. There is the Constitution of the Russian Federation, it's clearly written there what the official languages of the republic are, about all rules.
And it's not easy to explain to people when prosecutors started to visit schools in the republic. What an era are we living in when prosecutors go to school? Yes, it happens when there are breaches. But it's the first right to speak the language given by parents! School is a holy place, it's a temple of knowledge. It's good there weren't incidents, teachers didn't have a nervous breakdown. But national language classes can't be treated this way in a multi-ethnic country,'' said Shaimiev.
According to him, ''one can't try to put state educational standards above the Constitution of Russia or regions of the Federation''.
''To understand it, one should live in a multi-ethnic republic. Such work should be done carefully within the already adopted law through state standards. And here Mr Putin's requirements and concern about official languages should be satisfied. When standards are created, all the alarm should disappear, and people should calm down and create further speaking the country's official language and other languages,'' Shaimiev ended his speech.
Tatarstan