Russian boycott of Belarusian dairy: about how Tatarstan saving agriculture, and Rosselkhoznadzor — the health of Russians
Tatarstan authorities ask Russian citizens not to worry about price increases and do not rule out that there may be attempts to put pressure on the agency to lift restrictions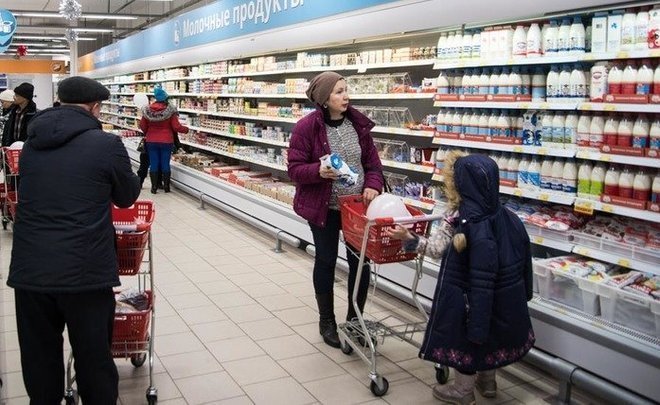 On Saturday morning, the Tatarstan Cabinet of Ministers urgently convened the press to express its opinion on Rosselkhoznadzor's decision to ban the import of dairy products from Belarus. It should be reminded that many people consider Tatarstan to be the initiator — Rustam Minnikhanov ''opened the eyes'' of Dmitry Medvedev to the situation on the dairy market. Nevertheless, Rosselkhoznadzor claims that it had controlled the dairy from Belarus for a long time and repeatedly warned about the possibility of imposing restrictive measures. Minister of Agriculture Marat Akhmetov believes that the ban will not lead to an increase in retail prices for dairy products in Russian stores but does not exclude that attempts may begin to put pressure on the agency to lift restrictions. Read the details in the material of Realnoe Vremya.
Antibiotics and medicines for cows: what is the Belarusian dairy made of?
Rosselkhoznadzor made the decision on temporary restriction on the import of a number of dairy products from Belarus to Russia on February 22nd. Since February 26th, it has been introduced the ban on import of milk in bulk, pasteurized, sterilized and ultrasterized cream in bulk, dry, concentrated, canned and condensed cream, whey, whey concentrate and milk protein. Rosselkhoznadzor says it has repeatedly warned the Belarusian party about possible restrictions if it does not take measures to control the safety and quality of the products exported to Russia. According to information on the agency's website, in 2016 there were 723 violations of veterinary-sanitary norms and requirements, in 2017 — 596, in two months of 2018 — 31, 65,6% of which — it is the presence of prohibited substances-antibiotics and other drugs used to treat animals. Besides, it was revealed the discrepancy of weight fraction of fat and milk powder. Among the violators — the dairy company Babushkina Krynka in Mogilev, the branch of the Kalinkovichsky dairy plant in Svetlogorsk, Milkavita OJSC, Oktyabrsky Zavod SOM, the Polotsk dairy plant, Praymilk PLC, the Slutsk cheese-making factory, the Orsha dairy factory production workshop Sennensky — milk from these plants were imported to the factories of Russia.
However, according to the ministry of agriculture of Tatarstan, this is only the tip of the iceberg — the products that were imported legally. There are also supplies under ''black'' schemes without accompanying documents. Marat Akhmetov found it difficult to answer about the volume.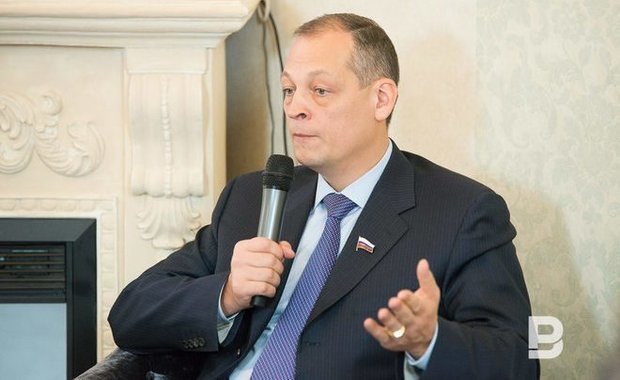 Earlier, deputy of the State Duma Ayrat Khairullin stated that through Belarus over three months there have been shipped a lot more products than they produce a year: ''It was imported almost through smuggling. These dairy products were to go in transit to Kazakhstan and Kyrgyzstan. But once in Russia, they did not reach the addressees and were unloaded at dairy plants in our country.''
About how Tatarstan invested in dairy boycott: ''There is certainly a serious pressure to abolish this decision''
Rustam Minnikhanov told about the losses that farmers suffer due to that dairies have shifted from local and organic products to cheaper ones and milk powder from Belarus to Dmitry Medvedev on February 16th.
''It is difficult for me to object to the arguments brought by the head of Tatarstan, because we have to develop our own dairy industry. We have the common market with our friends from the Eurasian Union. We cannot limit it, but we have to think about our citizens. If we, in fact, block the supply of normal milk and open the market for milk powder only for the sake of compliance with economic principles, why the hell we need such principles. We just need to think about how to get out of this,'' Medvedev said and instructed Deputy Prime Minister Arkady Dvorkovich to prepare proposals.
The instruction was given on February 20th, and on February 22th Rosselkhoznadzor decided to ban the import. Obviously, the ''blame'' for this was put on Tatarstan, and on Saturday, the Cabinet of Tatarstan urgently summoned the journalists to express their position. According to Marat Akhmetov, Tatarstan and Russian producers ''took this decision with approval'', however Akhmetov is sure that some restrictions were assessed not on the plus side.
''There is probably a serious pressure to abolish this decision, but we understand that this decision has been made in favour of protecting our Russian producers, especially as Tatarstan is the subject number one in terms of commercial milk volume. We are very interested and hope that this decision will help our Russian and Tatarstan producers to increase the range of products on the Russian shelves,'' said Marat Akhmetov.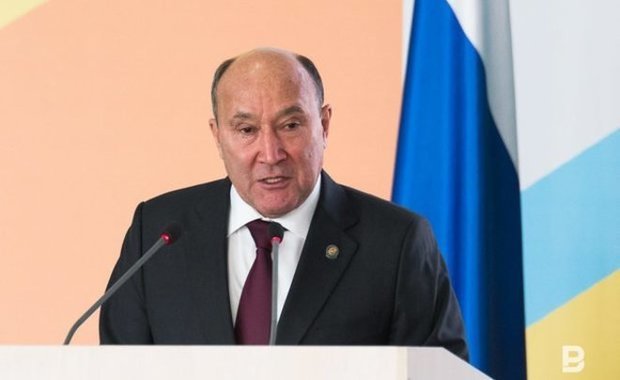 ''Trade margins on certain types of products, especially cheese and butter, reach 60%'': who gained from milk?
Purchasing prices for milk have fallen by almost 40%, while retail prices have not fallen a ruble. Fair fears are that with the ban on supply, given the appetites of wholesalers and networkers, they will not increase. However, according to Marat Akhmetov, there is nothing to be afraid of for the population, what is more, ''there are reserves in the direction of prices lowering''.
''The population should not fear that suddenly with the introduction of restrictions on the Belarusian products across the country prices will increase. The population did not benefit from lower purchase prices for raw milk. This share of income came to wholesalers and retail chains. But if the relevant supervision services work with retail chains, wholesalers in terms of their selling prices and in terms of margins, there is a serious opportunity even to reduce consumer prices. According to our information, trade margins on certain types of products, especially cheese and butter, reach 60%. I sometimes even think they do it on purpose to put own producers in an awkward position,'' Marat Akhmetov said.
Besides, the summer is ahead when milk production increases and raw material prices fall. Akhmetov found it difficult to say whether the purchase prices for milk would recover and in what timeframe. But for producers, the republic has developed support measures: not in August as usual, but in February private subsidiary farms will receive compensation totaling 360 million rubles, they will be redistributed in favour of owners who have more heads of cattle and, consequently, more affected by the collapse of prices.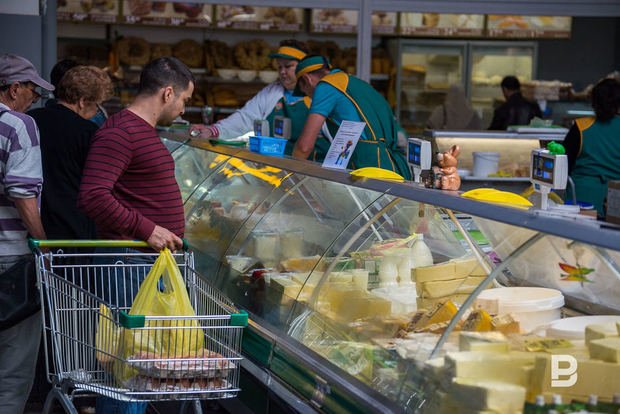 Raw materials appendage?
However, it is also wrong to blame only bad manufacturers who buy milk powder. At the same briefing in the Cabinet, Akhmetov said that difficulties with the processing of milk arose including due to the lack of capacity of local processing enterprises.
''Taking into account the fact that the companies went through bankruptcy procedures and only in the summer we found investors that entered and began to work, we had to continue to take out 1,000 tonnes of milk from the republic this year as well. And those enterprises with which we had worked for many years began to tell us: we have milk powder for processing, we will not buy yours. Accordingly, the prices began to fall. We need time to upgrade. We have an investment programme for the Kazan plant for 1bn rubles with an output of 1,000 tonnes processing. They daily increase milk intake — they began with 40 tonnes, now 200 tonnes are processed, in the summer they are going to reach 400 tonnes, and in 2019 — 1,000 tonnes. There are projects for Mamadysh, Naberezhnye Chelny combines, Bugulma, Chistopol. The Zelenodolsk plant is fully loaded,'' Marat Akhmetov told.
About the fact that Tatarstan is a raw appendage that does not have its own production base, Minister of Agriculture of Russia Alexander Tkachev has already told about: ''These companies greatly contribute to price boosting. You are exporting raw materials to other areas hundreds of kilometers away. It is clear that you are used as a raw materials appendage. That's why you get 18-19 rubles at the output.''
By Daria Turtseva. Photo: Maksim Platonov