Brothers forever: LUKOIL and Tatneft are ready to unite outside Tatarstan
Tatarstan offers to conclude a renewed agreement with LUKOIL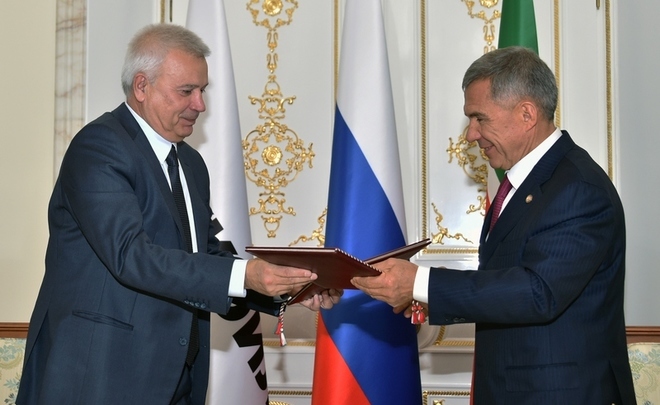 Tatneft, which has recently set a top priority to increase annual oil production up to 35 million tonnes, has found a strategic partner to expand the resource base in the country. It can be the second largest oil production company in Russia LUKOIL (92 million tonnes). As president of the oil company Vagit Alekperov stated on Wednesday, LUKOIL is ready together with Tatneft to participate in the competition to develop new fields in Russia and abroad. Developing cooperation over 10 years, the government of the region and LUKOIL have agreed to establish a working group to signing a new long-term agreement. Read more in the article of Realnoe Vrmeya.
Strategic partner of Tatneft invites to new fields of development
The meeting of Tatarstan President Rustam Minnikhanov with President of LUKOIL Vagit Alekperov on Wednesday finished with significant, one can say even crucial, solutions for Tatarstan's oil industry. The delegation of the second largest oil production oil company of Russia cmae to Kazan after a series of visits around Russian regions that have multidisciplinary business of LUKOIL, which fits in a brief but succinct phrase – ''from production to filling station''. Tatarstan agenda of LUKOIL, as it turned out, focused on key Russian and Tatarstan for oilmen matters — subsurface resources management. Welcoming the guests in the Kazan Kremlin, Tatarstan President Rustam Minnikhanov highlighted that the company LUKOIL is a strategic partner for the republic and Tatneft, the joint work with which gives results.
What is behind these significant presidential words was revealed by Vagit Alekperov during communication with journalists. He with evident satisfaction reported on reaching mutual agreements on initiatives on joint participation of LUKOIL and Tatneft in tenders for development of untapped oil fields in Russia and abroad.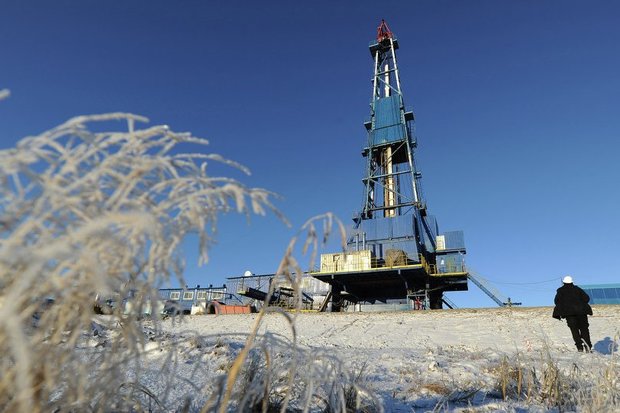 ''We hope that if the federal government conducts contests on allocation of resources, then we together with Tatneft will participate in them,'' he reported about a possibility of merging in the alliance with Tatneft. ''We have established very good relations with Tatneft, now we are considering a number of new ventures outside the Russian Federation.''
He reminded that there is already ''a successful exploration project on the territory of the Republic of Kalmykia'', which has cemented relations with Tatarstan oilmen.
''This all inspires optimism and, most importantly, stresses that Russian companies are able to build alliances, they can work together and we will continue this practice,'' he added optimistically.
However, he decided not to disclose the information about for the sake of entering what oil-producing regions — West Siberia, Yamal — LUKOIL may set up a joint venture with Tatneft. This scheme has long been practiced by Rosneft, Gazprom, which joint ventures entered new areas of the Far North. As the Ministry of Natural Resources reported, now it is being prepared the auctions on development of hydrocarbon fields in the Yamal Peninsula (Verkhnetiuteysky and West Seyakhinsky areas), as well as at fields in Western Siberia, which is closer to LUKOIL. Board of Directors of Tatneft will consider the investment strategy and implementation of the company's budget for eight months of 2017.
RITEK — 14% of ''small'' oil production
At the same time, LUKOIL is committed to making its subsidiary innovative company RITEK continuing to work on complex fields of Tatarstan. ''In general we see our main task in maintaining the resource base here, on the territory of the region, through the introduction of new technologies,'' noted Alekperov. According to him, this task is considered as primary, although participation in other ventures is not excluded.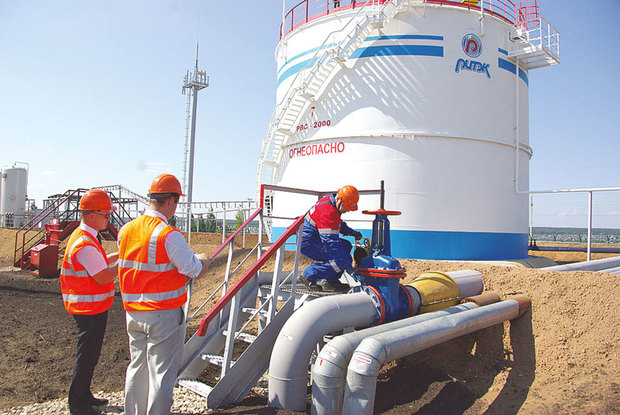 President of Tatarstan Rustam Minnikhanov made no secret of professional interest in innovative technologies of oil production applied by LUKOIL. ''The republic is closely monitoring all the processes that occur in LUKOIL. But the innovative methods of oil production, as well as the organization of the oil production process, the use of new technologies are of a particular interest,'' said President of Tatarstan Rustam Minnikhanov during a meeting with Vagit Alekperov. According to him, the current share of RITEK production among small oil companies is 14%. ''We discussed that the resource base and everything else should be consistent with that the company was stable and dynamically developing,'' said Minnikhanov.
LUKOIL to mechanical engineering: fix quickly
At the meeting he proposed to renew the text of the agreement on cooperation between Tatarstan government and LUKOIL, which was signed 10 years ago. ''We need to create a working group to prepare a new text document based on new realities and challenges that LUKOIL and Tatarstan face today,'' he said. Apparently, it will concern not only partnership in oil production, but it will also cover all aspects of business relationship with the republic. After all, LUKOIL oil company is one of the major consumers of the products of the republican enterprises and, first of all, machine-building complex. As reported by the president, ''over four years we have increased the volumes of supplies of products to partners from LUKOIL fivefold. We expect this figure will reach 33 billion rubles in 2017.''
Despite the difficulties with the quality, Vagit Alekperov is positive. ''I want to emphasize that your mechanical engineering workers today very quickly respond to certain offers, promptly correct the misunderstandings that occur on objects,'' he briefly responded, adding that the company ''is a reliable purchaser of machinery and oil field equipment. ''We have a full understanding and desire to work together,'' he concluded.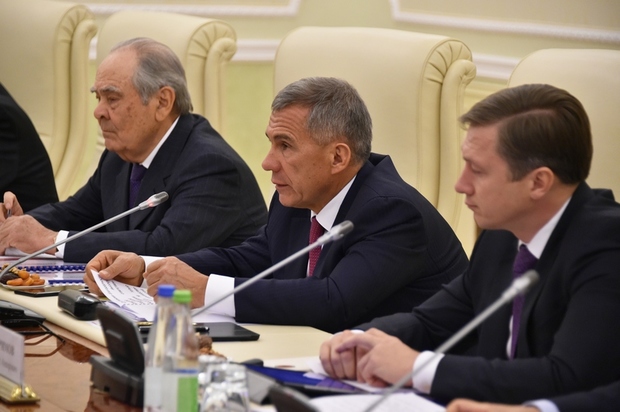 LUKOIL remains a social partner of the republic. Rustam Minnikhanov expressed gratitude to Vagit Alekperov for participation in the programs of social mortgage, as well as projects related to the revival of cultural and historical values. ''I can tell nothing except words of gratitude and wishes for further collaboration'' he concluded the conversation on a high note.