International panorama: quantum breakthrough of China and SOS messages from Qatar
Former employee of the Ministry of Foreign Affairs of the USSR Yulduz Khaliullin about the absence of stability in the world. Series 2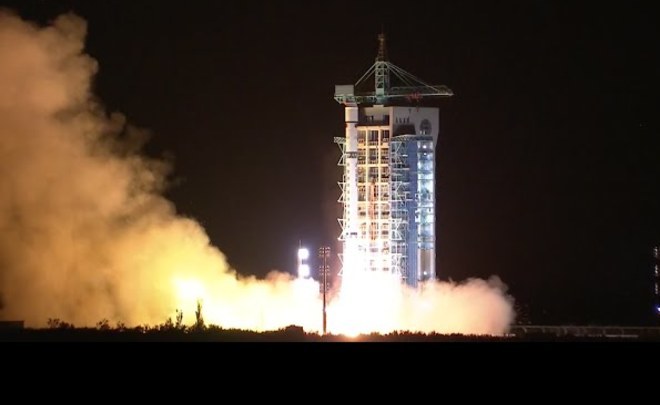 Famous Soviet and Russian diplomat and expert in Eastern Studies Yulduz Khaliullin again gives a review of interesting events that have recently taken place in the world. As a person making science popular, in today's column, Realnoe Vremya's contributor tells about an experiment of China with quantum satellite and sympathy of French scientists to young President Macron. He also mentions a meeting of ministers of foreign affairs of BRICS countries that was held these days and the political conflict around Qatar.
PRC's quantum satellite – huge success of science
The latest space experiment of China in space gave a completely new sense to the term ''spy satellites'' that could be declassified somehow in the past. The current experiment introduces a completely new element where laws of quantum physics are used. Called Micius after a Chinese philosopher (Mozi), the satellite was launched in the Gobi Desert in August 2016. It is a completely new form of the Internet that is absolutely safe to break the key (its main goal is to close this key). The satellite is equipped with the highest optical equipment and sends photons of light – an encrypted secret message – to two stations located in China 1,200 km away from each other.
Jian Wei Pan claimed they started a new era of quantum technology in space. We are talking about cryptography that holds all the scientific secrets in its hands to keep the key in secret. This satellite operates successfully, though data about its operation has not been published yet. It is extremely important.
In general, China is making huge steps in science. According to different sources, in 2016, scientists of all the world published about 1 million scientific research in different magazines and other resources. But the United States and China head the list. In addition, PRC is ahead of the USA in such spheres as Chemistry and the Maths, Computer and Engineering Technologies. Japan is sad that the number of their publications has reduced in comparison with last year. As Nature says, this country ranks fourth-fifth in the list.
On BRICS sites
PRC is quite successful in politics. On 18-19 June, a meeting of ministers of foreign affairs of BRICS countries took place in Beijing. The goal is to prepare for the summit of leaders of BRICS countries that is to be in the autumn. The BRICS forum has been existing for almost 10 years. As far as we remember, Russia also hosted this large-scale event two years ago (Ufa, 2015).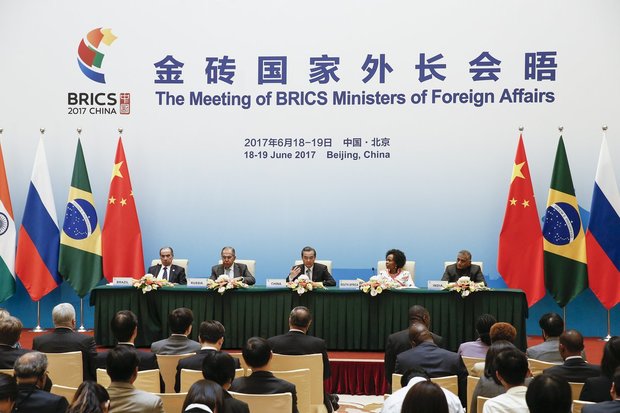 I should note that Brazil and the RSA did not approach 2017 in their best shape: these countries are split up by political and economic crises. Although these days Brazil President Michel Temer met with President of Russia Vladimir Putin in Moscow. He (Temer) is in the cross hairs of the masses of Brazil. Like previous feminine President Dilma Rousseff, he is accused of almost the same sins.
Sergey Lavrov and Chinese Minister of Foreign Affairs Wang Yi were the centre of attention of the recent meeting: the head of MFA of PRC as representative of the host country and Lavrov – as experienced diplomat. Lavrov, in particular, stated BRICS countries found on a spiritual foundation of tradition values of the five countries.
It seems the organisation is very high. But it still doesn't have a secretariat that would organise events, prepare documents. Probably it will be discussed at the upcoming summit in the city of Xiamen (China).
The five countries are carefully observed by the whole world. The economic growth of China and India continue and total 5-6%. Though in Brazil, RSA and Russia, this growth have fallen to zero and even negative indicators.
At the same time, India and China still have complicated relations. Some difficulties arise between them from time to time: PRC actively cooperates with Pakistan, and Pakistani-Indian relations remain tense. But the Chinese are breaking this wall. They announce their project One Belt. One Road they have already started.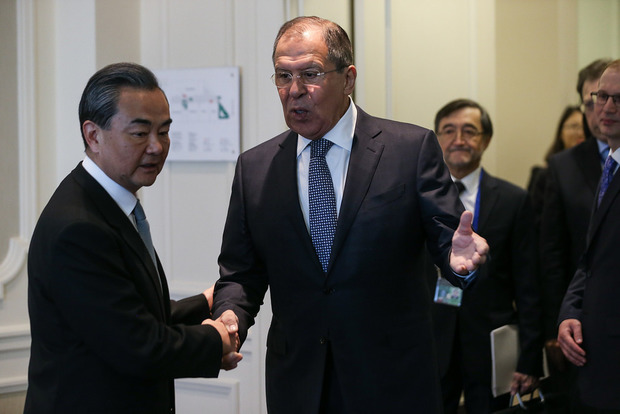 The Indians don't like that the Chinese road will cross the so-called occupied Kashmir, which belongs to Pakistan, and then pass through Baluchistan and reach Gwadar Port. Goods that need to be exported will cover this road.
The fact that BRICS Development Bank with a capital of $50bn was created remains important. It is a serious pool. The Chinese capital accounts for a considerable share here.
Qatari hopes
We would like to pay our attention to Near East. Qatar was given 13 demands from Arab countries – Egypt, the United Arab Emirates, Saudi Arabia and Bahrein – that Doha must meet during 10 days. It all means aggravation of the situation around Qatar. Cut of ties with Iran, closure of the Turkish military base in the country and damages are among these demands. They also require expelling foreign citizens who found refuge in Qatar (from Egypt, Saudi Arabia) and stopping the support of terrorism. In addition, these countries wished Al-Jazeera channel had been closed.
This is why it is suitable to mention the change of Saudi Arabia's crown prince. The king of Saudi Arabia appointed his son Mohammad bin Salman Abdulaziz for this post who is deputy prime minister and defence minister.
Earlier all the kings were sons of Saudi Arabia's founder Abdulaziz ibn Abdul Ramhan ibn Saud. Other sons of the first king of the country are quite old, some reforms are needed. Perhaps this is why the monarch appointed his son an heir.
What is more, demands of the USA to Qatar have become stricter. Although Washington said that the demands need to be realistic. But there is an impression that Americans bet on the House of Saud. This process is taking place during a big crisis in the region – after isolation of Qatar at the beginning of June. And what is happening between Washington, Riyadh and Doha is of great interest.
Moreover, a significant article of Ambassador of Qatar in Moscow Fahad Al-Attiyah headlined 'Qatar Counts on Russia's Decisive Position' has been recently published in Nezavisimaya Gazeta. According to this publication:
''The countries that boycotted Qatar told 12 organisations announced the list of accusations of terrorism including 59 people, 12 organisations, including non-governmental. There is no such a thing.'' This is why he mentions that Qatari citizens don't participate in terrorist attacks. At the same time, the Qatari diplomat notes that citizens of Saudi Arabia, not Qatar, performed the attack in the tragedy in New York in 2001.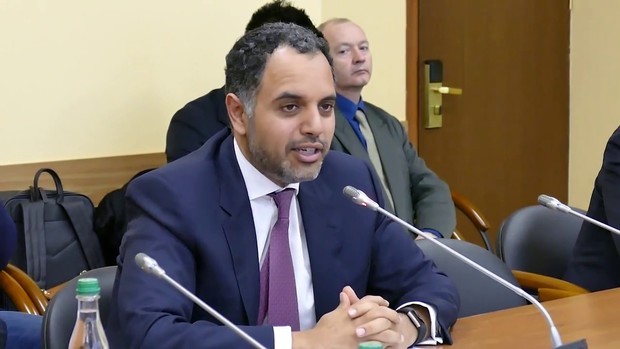 Qatar attempts to attract Emir of Kuwait Sabah Al-Sabah as intermediary to get some support or compromise. By Doha's estimate, the boycott of Qatar is quite complicated and contradictory. Decisions of the king of Saudi Arabia to take measures mitigating the situation are illustrative. What is more, Egypt decided to allow flights to Qatar.
''There is no doubt that change of the regime and appearance of the government under the influence of Saudi Arabia and the UAE is the goal of the campaign against Qatar,'' the ambassador of Qatar claims in his article. ''For this reason, Doha hopes that Moscow will be against the Qatar blockade in the UN Security Council and other international forums.''
Macron and science
Again about science and a bit about Europe. Having created a new centrist reformatory movement La République en Marche! and having got a comfortable majority in the Parliament of France (308 seats out of 577), Emmanuel Macron was on the road of revolution in the country in all the areas. In addition, one half of his deputies are women who have never been in politics.
Macron promised to increase expenditures on science from 2 to 3% of GDP and give universities more autonomy. He promised to turn France into a leading power in climate and environmental issues.
Science magazine interviewed important international scientist and mathematician who became a member of the National Assembly, 43-year-old Cédric Villani, director of Henri Poincaré Institute. He said he had never participated in political movements, always was a scientist. He became a director of one of the important scientific and research institutes of France 8 years ago. But the current political situation in the country was unique. He said he wants to participate in the transformation of France into the leading European scientific power in a close contact with European and American scientists, of course.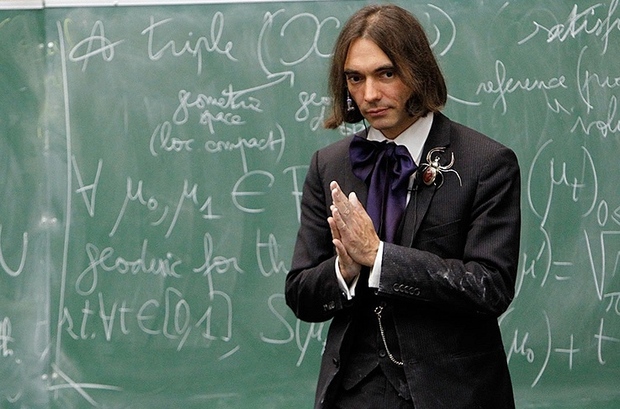 The scientist also told the magazine that Macron ''believes science is part of global politics'', which he likes a lot.
We can presuppose that having got 60% of mandates, Macron can be a unformal leader of the European Union at least until the elections in Germany in September. The president of France is at the top of political Everest now. So his movement La République en Marche! can become a French analogue of United Russia or Turkish Justice and Development Party.
We should also pay attention to a meeting of Lavrov with Minister of Foreign Affairs of France Le Drian. The head of the Russian MOF claimed the new sanctions imposed by the USA when new 38 people and organisations were included in the list was over the top.