Joseph Gentry, GTC: ''Sanctions haven't affected our business with Russian partners''
The company is going to build hydrocarbon resin factory in Tatarstan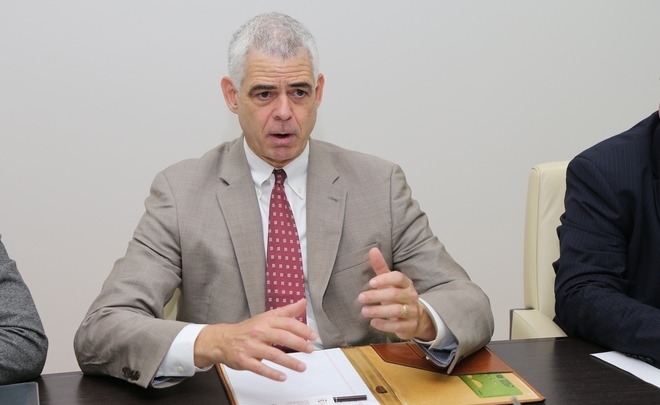 The American company has been closely cooperating with Nizhnekamskneftekhim for several years and now offers to build a joint venture to produce hydrocarbon resins. Vice-President Licensing at GTC Joseph Gentry arrived in Kazan to negotiate on joint projects and made time to give an interview to Realnoe Vremya.
Conversion monomers and liquid pyrolysis products
The global licenser of GTC Technology deals with engineering, technology and energy saving technologies. TAIF petrochemical holding is interested in GTC in refinery of heavy pyrolysis products that make high marginal goods as a result. It should be reminded that at the beginning of June Nizhnekamskneftekhim, which is part of TAIF Group of Companies, signed a contract with German Linde AG on the construction of the first stage of Ethylene Complex. Effective conversion of monomers and liquid pyrolysis products will become an important part of the project. At the same time, the experience and technologies of GTC – world leader in this area – can be in demand.
TAIF intends to decide how much money is needed for further ethylene conversion. ''To get money, we need to decide what products we will get from what is made in the ethylene unit. Polypropylene, polyethylene that we made earlier are not in high demand in the market. We are interested in, for instance, polyurethane, but a licence is needed for it. Or, for instance, now we are making simple polyesters, but we want to increase production volumes,'' says Head of Management and Strategic Development of Nizhnekamskneftekhim group Khamit Gilmanov.
In addition, GTC Technology helps increase the capacities of operating factories by small modernisation – it is not necessary to change the equipment completely, it is enough to update only internal devices. It increases production profitability and saves money on energy. However, Realnoe Vremya talked with Vice-President Licensing at GTC Joseph Gentry.
Over 15% of aromatics in Russia
You are one of the leading licensers in aromatics production. What's the percentage of your business in Russia?
Speaking of aromatic hydrocarbons, it is 15-20%. The number is important for us because the market also grows very fast. We have good relationships with many companies in Russia and in CIS countries.
Probably there are companies you are interested to work with more.
Nizhnekamskneftekhim, which is part of TAIF, is the most important one. We have done some projects and hope for further cooperation. We also have worked with other Russian companies including Rosneft, LUKOIL, Surgutneftegaz, there are projects in Ukraine, Belarus and in CIS countries.
What projects did you fulfil together with Nizhnekamskneftekhim?
Aromatics Complex is reconstructed in IP-600 Plant. This complex has pygas hydrogenation, benzene recovery, hydrodealkilation. This project includes new feedstock and production update because there will be a new olefin complex. We offer Nizhnekamskneftekhim new projects including analogous aromatics factory within Olefin Complex by Linde with aromatic solvent and thermal hydrodealkilation units. We think such by-products as naphthalene, styrene, carbon black and conversion of C5 fractions with emission of isoprene, dicyclopentadiene.
At the same time, there is a distillation modernisation programme because GTC is the biggest world distillation equipment producer. This project will allow Nizhnekamskneftekhim to save money by modernisation of its obsolete equipment. GTC updates distillation equipment, columns, absorbers by substitution of internal devices for modern ones, modernisation of equipment is under way. It helps to increase production and save the lifespan of the existing equipment. GTC has been working here for 3 years. We have had 6-7 projects during this time. They usually pay back within months.
I can't help but ask about sanctions. How did they affect the business?
From our point of view, they haven't affected our business with Russian partners. We are still very interested in joint projects. The sanctions might have had a negative impact on financing. Maybe it is more difficult to get money from Western and European banks. We have had no difficulties with money while receiving transactions, but a client can have them while getting money for a project from western sources.
So did the pace of mutual cooperation slow down?
No, sanctions did not slow our projects with Nizhnekamskneftekhim down. The reconstruction of the existing factory is moving forward and all the planned projects are done.
The only hydrocarbon resin factory in Russia
You offered Nizhnekamskneftekhim to create a joint venture to produce hydrocarbon resins. But the end of negotiations has not been made public.
I would like to explain the work of joint ventures. GTC has a partner – it is one of the largest hydrocarbon resin producers Neville Chemical. And we made Nizhnekamskneftekhim a proposal to master the modern hydrocarbon resin production technology. Negotiations are under way now. The factory needs to be powerful enough to be able to compete on the international stage in terms of sales. Top managers of both companies have already met, and the discussions continue.
Are we talking about construction of the factory in Tatarstan?
Yes, it needs to be here at Nizhnekamskneftekhim whether the feedstock is. These products are not made in Russia, almost everything is imported. This is why the area is prospective for further hi-tech processing. Hydrocarbon resins are linked with the conversion cluster that makes high value added products like ink for printers, superabsorbents, sealant, etc. As Tatarstan doesn't have its own factory, this sector is not developed enough, we will be able to distribute the product throughout the country and partially cover the European market.
What does the joint venture mean? Do the enterprises invest equal amount of money?
We have other joint ventures with equal distribution. GTC provides technical know-how – it is engineering support, technical services. It is a brand of the end product that we supply world markets. Nizhnekamskneftekhim would make available land, staff, feedstock. It is also a brand, their vision of the market development in Russia and CIS countries.
You have similar joint ventures in Italy and India. Could you tell about them in detail, please?
These projects are on extraction of different types of hydrocarbon resins in different capacities in factories with different configurations. But I am not the official spokesman. The projects are moving forward, they are in a design phase.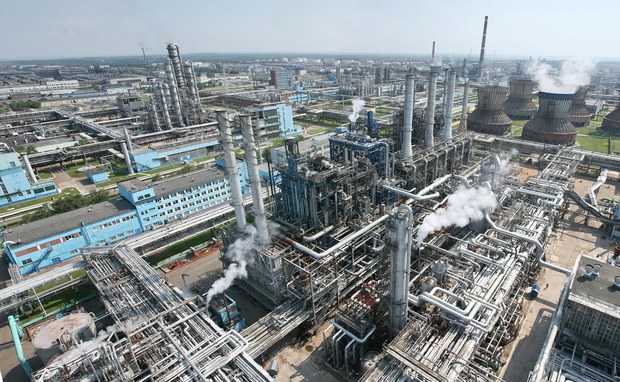 Several years ago, GTC Technology created the production technology of aromatics from natural gas. Has it been already applied anywhere?
It is a technology where methane is converted into aromatics. There is a demonstration plant in the USA. We have made some improvements. We are working on commercialisation with an Asian country to not only get aromatics from methane but also other valuable products like propene, butadiene.
Is it a test now?
Yes, it is a new technology. We built all the parts and decided to create a demonstration plant, to make a single unit. We did it and we are working for commercialisation right now.
It is known that an international consortium for construction of an aromatics complex with a capacity of 300,000 tonnes per year with natural gas as feedstock is created. What stage is the work at?
Yes, we are negotiating on creation of a consortium that will enable to reduce technological risks of implementation of the new technology. We have two options. The first one is aromatics, the second – propylene production but not from methane but propane. It will be an alternative to traditional dehydrogenation of propane. It has some capital cost advantages, it is easy to use.
You offered Nizhnekamskneftekhim to join the project as well. Were they interested in it?
Nizhnekamskneftekhim is quite a stable programme in this area. As for appliance of this technology, we probably see it in the future in the development of the feedstock at Kazanorgsintez. It is a great honour for us to cooperate with TAIF Group of Companies. We always try to offer the best ideas and technologies to improve operational effectiveness and profitability of the factory and hope to continue the cooperation.