Russia finds new oil field in Arctic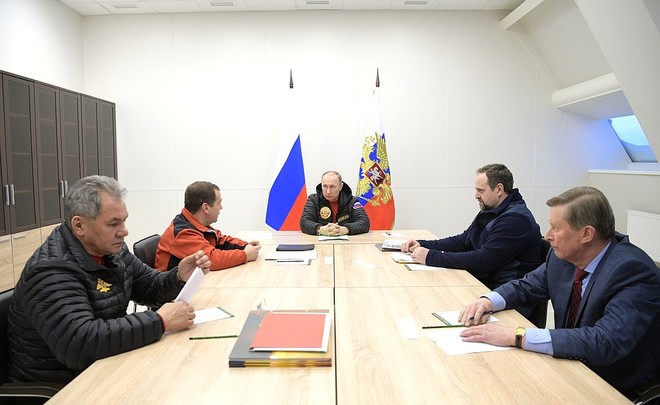 On Sunday, Russian Rosneft announced a discovery of a new oil field in the Arctic Laptev Sea. Rosneft's discovery is located in an area that presumably holds at least a dozen promising reservoirs. According to UPI, the Russian government considers Far Northern oil production to be a strategic priority even despite current market conditions that make development cost-prohibitive.
''On the basis of primary studies already, it can be concluded that a new oil field has been discovered, the volume of the resource potential of which is increasing as the drilling continues,'' said Rosneft in an official statement. The samples that showed ''high oil saturation'' came from the Tsentralno-Olginskaya-1 well in the northern Laptev Sea. The company did not reveal any reserve estimates or other detailed information on the well.
Rosneft possesses 28 drilling licenses in the Russian Arctic. Earlier, the producer claimed that the entire Laptev Sea oil reserve was preliminarily estimated at more than 60 trillion barrels of oil equivalent with 14 promising oil and gas basins in the region. Since 2012, Rosneft has invested $1,72bn (100bn rubles) in Arctic exploration, says Oilprice.com. Furthermore, the company is going to invest $4,29bn (250bn rubles) in its Arctic development in 2017-2021.
Minister of Natural Resources and Environment of Russia Sergey Donskoy believes that the Arctic region is a strategic development opportunity. However, most of the Russian oil producers are not ready to continue their work on fields above the Arctic Circle until oil moves above $75 per barrel due to high costs of development in the region. On Wednesday, Urals crude was trading at less than $44 per barrel.
Although experts assume that the Arctic could supply 20-30% of Russia's total crude oil output by 2050, there is only one producing platform in the country's Arctic shelf at the moment. Prirazlomnaya platform in the Pechora Sea operated by Gazprom Neft has been pumping oil since 2013. The field's annual production can reach 40 million barrels at full capacity, but by the end of November 2015, total output since inception hit only 7,33 million barrels.
Currently, Russian crude oil production is mainly concentrated in Western Siberia, but ageing fields there are becoming more difficult to be exploited. Besides, they carry a heavier tax burden, so oil companies ''with oil prices much lower than they used to be just three years ago, Russian oil and gas companies have received an additional push to expand their exploration activities to north and east, despite the harsh weather of the Arctic''.