IMF: effective governmental policy and robust buffers help Russia exit recession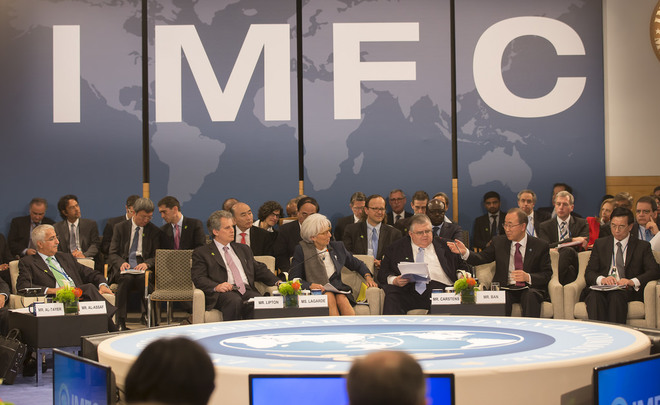 The Russian economy is recovering from an exhausting recession and is doing it faster than it was expected. The International Monetary Fund is now predicting a growth of 1,4% by the end of the year praising the government for its prompt and adequate reaction. The medium-term growth outlook remains at 1,5% compared to 3,5% and over in 2010-2012.
The International Monetary Fund (IMF) improved its forecast for Russia's economic growth, says Financial Tribune citing the fund's regular report published on Friday. According to the new data, the country's economy can grow by 1,4% this year, while in October, the IMF predicted only 1,1% growth. The economy is exiting a two-year recession thanks to the authorities' effective policy response and the existence of robust buffers, said the fund in an official statement.
Moscow's intentions to bring down budget deficit, replenish foreign currency reserves, privatise some state-owned companies and get rid of weak banks were approved by the IMF. However, a medium-term growth is unlikely to exceed 1,5% because of the ''structural bottlenecks'' and the protracted effects of sanctions. The economy needs to become less dependent on oil prices to overcome the crisis.
The fund believes that the Russian government should accelerate the reforming process to lay the basis for a new growth model. Thus, it highlights several key priorities, such as rebalancing growth towards non-commodity sectors, reaching the inflation target while continuing with gradual monetary policy easing and introducing a fiscal rule aimed at generating sufficient savings to reduce the impact of oil price volatility.
Russia's former Minister of Finance Aleksey Kudrin also warns that the economy is too dependent on fluctuations of the international oil market. The ruble exchange rate is currently pegged by 70% to the price of crude oil, which plunged to $26 a barrel at the beginning of the last year. In 2017, the price bounced back to around $50, but Kudrin considers that this growth may be short-term.
''I see a greater possibility for a slump of oil prices than for their growth and that's why the possibility of a weakening ruble is bigger than of a strengthening ruble,'' said the former minister. Russia needs to diversify its exports to stabilise the exchange rate. The economic development strategy prepared by Kudrin's Centre for Strategic Research envisages a considerable growth of exports of manufactured products in order to cut down the impact of oil prices on the ruble's rate.