Two ''pillars'' instead of three: oilmen and chemists give hope for spring in Tatarstan
Recently published statistics of economic development in the first months of this year has given hopes for continuation of the economic growth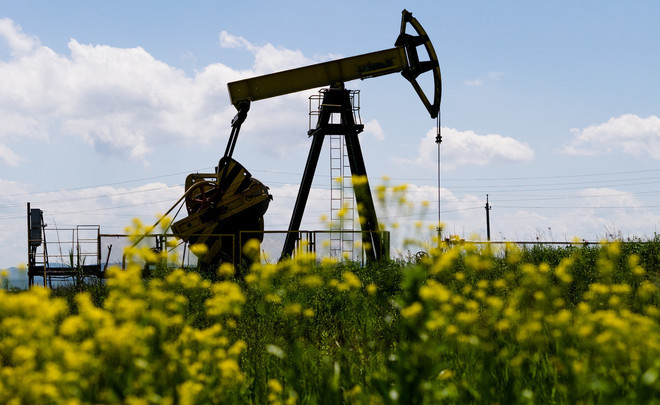 The beginning of last year was a shock due to a sharp fall in oil prices. Since then, oil prices have increased almost twofold, and this means that we are facing a completely different economic reality. If to compare with last year's nightmare, this year we have quite a blissful picture. However, the economic observer of Realnoe Vremya Albert Bikbov considers that we should rejoice with caution. Besides, ''sluggish'' January and ''short'' Febuary have a little to say about how economic growth will develop in 2017. But for today, knock on wood, the beginning of the year is reassuring.
Oil handicap
The beginning of the year has been quite successful. If to compare with the beginning of last year, one can't help but notice a giant ''oil handicap'' — at the beginning of 2016 there was a shocking blow due to the catastrophic fall in oil prices. But for two months from the beginning of 2017, the average price of Urals oil has grown 1.8 times in comparison with the same period last year and amounted to 53,32 USD/bbl. At the same time, an 80% increase in world oil prices has not been significantly tainted by the strengthening of the ruble: the average nominal US dollar exchange rate in January-February 2017 fell by 23% relative to the figure in 2016 and amounted to 59,17 rubles per dollar. As for the euro, a drop is almost the same (-25%). As you can see, oil exporters have fallen on their feet. For importers, everything is fine, too — it is bad only to those who buys crude oil in the country, the cost of netback (export alternatives) has risen along with world prices. That means that costs of crude oil purchased in the country have significantly increased.
For two months in 2017 compared to the same period last year, the industrial production index of Tatarstan has grown by 4.4%. That's what makes the life-giving oil exports! This growth figure is just gorgeous compared to the average in Russia, where the index of industrial production for 2 months in 2017, by contrast, has fallen (-0.3%).
Index of industrial production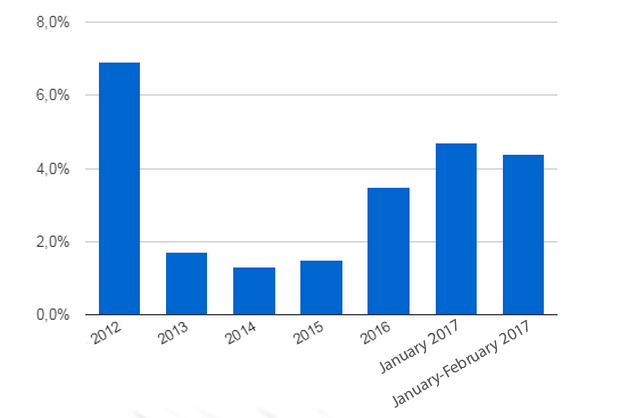 Two ''pillars'' instead of three
Oil producers, taking advantage of good market conditions, have made it possible to increase the physical volume of production (mining) and, consequently, of export. So, in the group of Tatneft alone for two months of 2017 there were produced 4.8 million tonnes of oil, which is by 0,183 million tonnes more than in the same period of 2016 (+3.0% to 2016).
Index of mineral production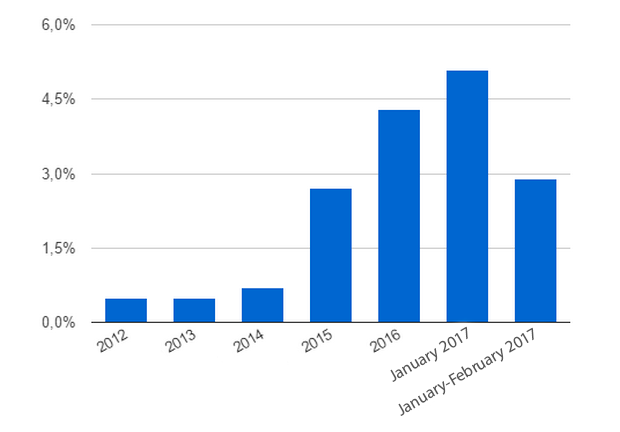 As you can see, the increase in mineral mining has stabilised at a high level. Thanks to the growth of the index of mineral production in January-February 2016 by +2,9% (in Russia +1,7%), as well as related to oil production branches, the economy of Tatarstan is growing.
In the chemical industry of Tatarstan, the volumes have increased by 7.2% (like in the ''golden'' times of the Tatarstan economy (2012-2013)! One of the main reasons for the growth of the chemical industry, as well as last year, is still the factor of import substitution.
Index of chemical production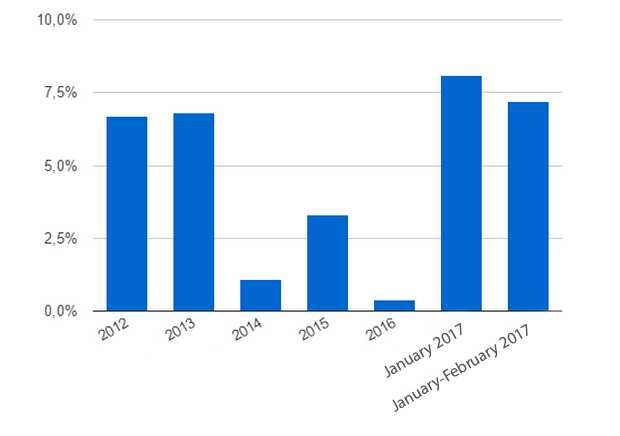 Thanks to these two ''pillars'' (oil production and chemistry) we look much better (+4.4%) than the whole Russia, where the index of industrial production is worse than in Tatarstan (-0,3%).
Only oil refining let down, which traditionally used to be the third ''pillar'' of our economy (due to the appreciation of crude oil prices on the domestic market). Here, the fall in January-February 2017 compared to the same period last year was down -6.9%. In Russia, the drop in the refining is less (-3.0%).
Index of oil refining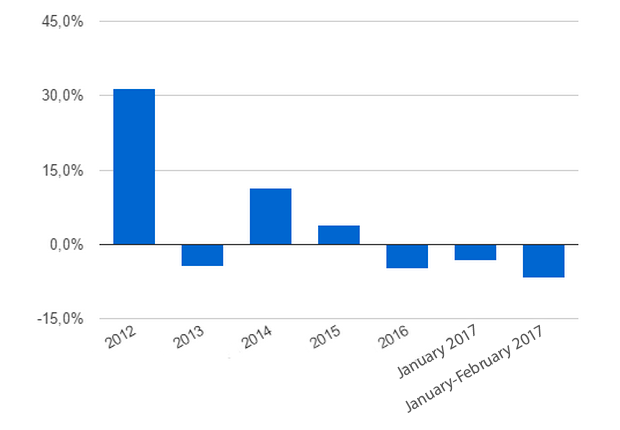 Anyway, the drop in oil refining has not changed the general positive picture in the triad — ''mining — refining — petrochemistry''. It is possible to predict the situation in this sector for the next month only with a plus sign: since December last year, prices have fluctuated in a comfortable range around $55 per barrel. Any fundamental reasons for a major slump in oil prices are not observed — so everything will be ok.
Brent Dynamics of prices for Brent oil
If oil increases in price — everything else also increases
There is great news in the manufacturing sectors — the index of the manufacturing industry was in a positive zone in January—February 2017 with an excellent result (+6,5%)! It is logical — oil prices increase, processing also grows!
In the processing sectors in Tatarstan, the industries focused on import substitution — food, production of beverage and wearing apparel, manufacture of leather products, woodworking, agriculture, manufacture of rubber and plastic products and even (!) production of vehicles and equipment – are rapidly growing. So, KAMAZ PJSC in January-February 2017 sold 3,439 cars, which is by 19% more than last year.
The only disappointment in our Republic — mechanical engineering. For two months, the decline was -14,3%. But as they say, ''the night is still young'' — for two first months of the year it is premature to make reliable conclusions.
Index of manufacturing industries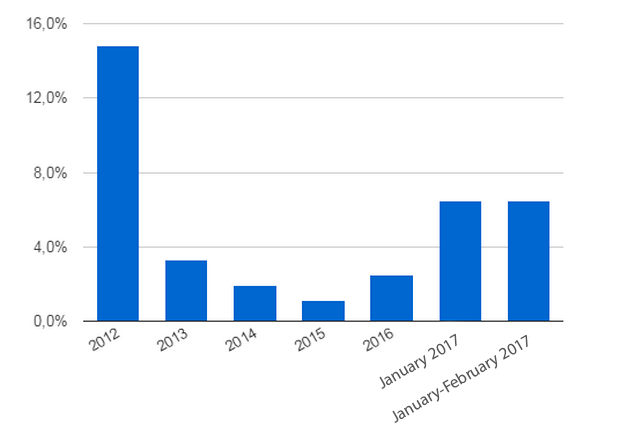 Indices of production (January-February 2017 to January-February 2016)
| | | |
| --- | --- | --- |
| | TATARSTAN | RUSSIA |
| Manufacturing in total | +6,5% | -1,8% |
| Food production | +15,7% | +1,1% |
| Beverage production | +35,2% | -9,7% |
| Manufacture of wearing apparel | +8,4% | +3,7% |
| Manufacture of leather, products from leather and footwear | +27,1% | +11,3% |
| Wood processing and production of wood products | +38,4% | +3,7% |
| Manufacture of rubber and plastic products | +7,5% | +3,7% |
| Production of machines and equipment | -14,3% | +9,7% |
| Production of vehicles and equipment | +10,2% | -20,2% |
A good thing — the growth and stabilisation at decent levels of retail turnover: in general, it is seen a consolidating at higher levels than in the first months of last year.
| | | |
| --- | --- | --- |
| | TATARSTAN | RUSSIA |
| Production and distribution of electricity and gas | -3,5% | +1,7% |
| Housing construction | +0,6% | -19,5% |
| Agriculture | +1,6% | +0,4% |
| Cargo turnover of motor-vehicle transport | -1,9% | +6,1% |
| Retail turnover | +0,7% | -2,5% |
Retail turnover per month (million rub.)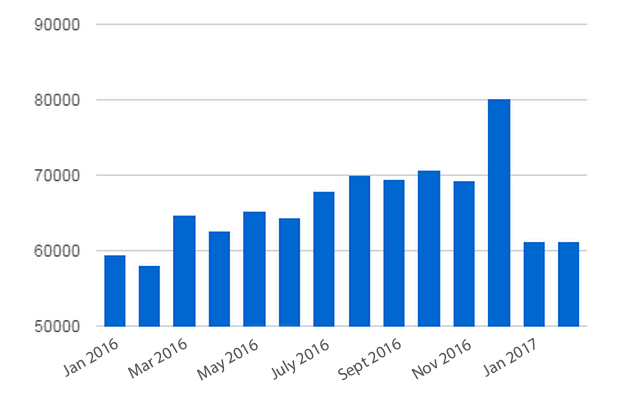 A slight increase and stabilisation at good levels of retail is a very good sign, it is largely due to the stop of falling of real money incomes and wages relative to the same period last year.
This stabilisation begins to nudge the population to increase consumption, so in the near future the problematic retail market will continue to revive.