''When huge rusophobic campaigns attacked Russia, Churkin reflected them''
Five facts about Russia's former representative to the UN: nickname Mister No, role with Lenin and hint to Qatar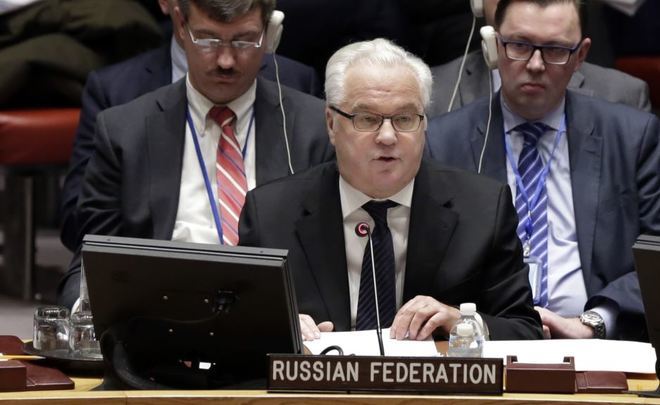 Permanent representative of Russia to the United Nations Vitaly Churkin died in New York on 20 February in the evening. Many officials of Russia and other countries expressed their condolences. The diplomat's words told from high rostrums became quotes. Realnoe Vremya remembers some interesting facts of Churkin's biography and presents comments of his colleagues they gave for our online newspaper.
Fact No. 1: to play together with Lenin in a shelter

When Churkin was 11, he played in Blue Notebook film (in 1963 as Kolya Emelianov, the son of the shelter's owner where Lenin hid). In a year, he performed in Zero Three (1964, as Edya, Olga's son). Aged 13, he shot in Mother's Heart (1965, as Fedya). The skills he got during the shooting were useful in the future. As it is known, the diplomat probably was a good actor.
No. 2: to comment the incident when South Korean Boing was downed

On 1 September 1983, a Soviet jet downed South Korea's commercial Boeing above the Sea of Okhotsk (near Sakhalin). Churkin was the only Soviet diplomat in the USA who appeared in front of the media and answered journalists' uneasy questions.



A scene from Blue Notebook film. Photo: kino-teatr.ru
Fact No. 3: first to commente the war 08.08.08

The Georgian conflict broke out around South Osetia in August 2008 where Russian militants participated. On the same day, Churkin was one of the first Russian diplomats to manifest Russian's position on the issue and characterised the events as ''frankly aggressive acts of Georgian force structures towards South Osetia, which is an internationally admitted side of the conflict''.

''Could you tell how we should answer to that we started to destroy Tskhinvali and what we could do? Ask NATO for use of force? NATO is busy in Afghanistan, Kosovo and Iraq… By the way, we have been supporting the creation of a statement of the Security Council's chairman on the use of force for several weeks in the Security Council. Why did not they support us? We tried making a decision on ceasefire during the first hours of the conflict,'' he spoke out in the UN.

On 26 August 2008, he said that Russia officially admitted the independence of South Ossetia and Abkhazia. According to him, the decision on admission of the independence of two former Georgian territories was dictated by a necessity to provide security of fraternal ethnicities. By the by, he refused to admit Kosovo as a sovereign state.

Now people want to rename some streets in several cities of Abkhazia and South Osetia in honour of the diplomat.



Photo: AP Photo/ Seth Wenig
Fact No. 4: ''Kuzya's mother'' for Qatar

At the beginning of 2012, the UN Security Council considered the project of the resolution on Syria during which Russia and China banned the document, Minister of Foreign Affairs of Qatar Hamad bin Jassim warned: ''I warn Russia, if Moscow uses the veto and does not support the UN's resolution, it will lose all the Arab countries."

The Russian parried: ''If you talk to me like that, there will be no Qatar today.'' By the way, some media translated it into Russia stricter like ''there will be no Qatar on the map''.

He added that he represented ''great Russia and spoke with important people only on its behalf''.

As diplomat Vasily Likhachev who personally knew Churkin explained Realnoe Vremya, the representative of the Russian Federation gave to understand that Qatar is not a constant member of the UN Security Council. And the Russian diplomat was to reply to ''weird estimations'' that referred to Russia's actions in Near East.



Permanent Representative of Russia found to reply to Hamad bin Jassim's remark. Photo: islam.az
Fact No. 5: our answer to the USA on Crimea

Crimean Spring took place in March 2014. A referendum during which residents expressed their desire to join Russia was held on the peninsula.

On 19 March 2014, the USA's Permanent Representative to the UN Samantha Power claimed in answer to his phrase that the voting in Crimea was legitimate: ''Russia is known for its literary greatness – and what you just heard from the Russian representative showed more imagination than Tolstoy or Chekhov. Russia has decided, it seems, to rewrite its borders, but it cannot rewrite the facts.''

Russia's permanent representative immediately found an answer to the remark of his American colleague: ''Madam Power started with a reference to Tolstoy and Chekhov and finished by having let herself down to the level of tabloid press. It is simply unacceptable to listen to these insults addressed to our country. If the delegation of the United States of America expects our cooperation in the Security Council on other issues, then Madam Power must understand this quite clearly.''

He rarely agreed with his western colleagues. For this, the European media called him Mister No. Moreover, he managed to quarrel with nobody personally.
Vasily Likhachev Central Election Commission of the Russian Federation member, Russian diplomat

For Vitaly, there were two components in work: to represent the interests of the Russian Federation as a professional. On the other hand, a possibility to come to an agreement with interests of the international community: Russia is not an alien community. Russia is a world player. Russia is no egoistic. Russia represents international civilisation abroad. If he had said ''no'', we would not have got so many achievements in recent time, especially on Syria.

He was noticeable due to his creative gimmick. He possessed a huge magnet. Journalists accredited in the United Nations felt it and went to him. He liked to speak loudly, with stresses. Obviously, the experience as translator played its role. As interlocutor, he clearly showed his position, defined priorities, opened formats. This style not only has the right to exist but it is also comfortable when huge rusophobic campaign attacked and are still attacking Russia. He reflected these waves. He showed a completely different Russia, not a country how public opinion represented it to the countries of the West. What Vitaly and his colleagues did (it is a common work) is priceless. He had an ability to unite. His every person knew his function, tasks. As a result of the coordinated work in this direction, we had very good results. He laid such a foundation that these results won't disappear in foreign policy and diplomatic relations of modern Russia.

Yulduz Khaliullin Russian diplomat, expert in Eastern studies

Unfortunately, I did not meet Vitaly Churkin. He always worked in the Department of Foreign Affairs, while I was in Asian departments. He was one of the greatest diplomats of the beginning of the 21 century. He is at the level of Dobrynin (who worked as the ambassador to the USA for 20 years), Troyanovsky (ambassador to Japan for 10 years and representative of the USSR to the UN for 10 years), Petrovsky. He was among the greatest diplomats of our country.

He knew how to explain our position in very difficult conditions of constant criticism, adoption of different resolutions in the UN. Undoubtedly, he had certain instructions from Moscow. But one needs to implement and explain these instructions, so that representatives of other countries will understand it. His death is a big unexpected loss. What is more, he died one day before his birthday: he was going to be 65.

Of course, nobody is irreplaceable. At a certain moment, there will be a problem to find this person. The world is rich in talents. If not the president makes the decision on somebody's appointment instead of him, at least, the minister of foreign affairs will do it.
Events