Rustam Minnikhanov at Minister of Sport's session: ''Olympics in Kazan? No problem!''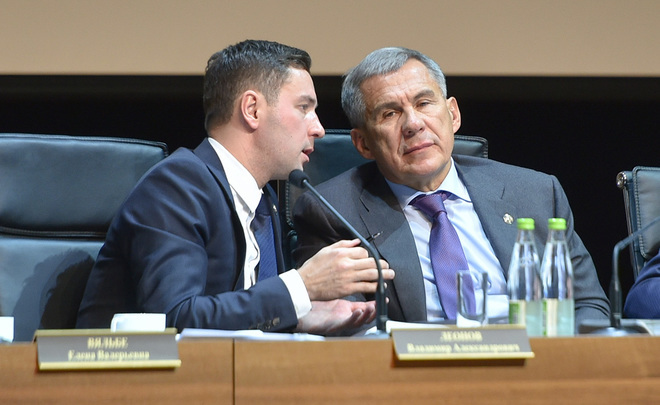 On 1 February, Volga Region State Academy of Physical Culture, Sport and Tourism hosted an expanded session of the Ministry of Sport of Tatarstan where sports results of the republic for 2016 were drawn. Goals for 2017 were also discussed. Realnoe Vremya tells what topics were raised at the meeting.
Sport to the masses
Development of Tatarstan, particularly Kazan, has gained a pace that is incredible for Russia in recent years. In 2016, the republic took the lead in Russia in terms of the number of people doing sport. The infrastructure and all possible state programmes allow it. Tatarstan has more and more different places to do sport every year. And, as it was announced at the session of the Ministry of Youth Affairs and Sport of Tatarstan, it is not the limit.
''In 2017, 100 universal sports facilities will appear in the republic. We will also build 29 hockey rinks with artificial ice and stands with a capacity of 100 seats and 11 new ski bases. Moreover, another 10 ski bases will be built together with the Ski and Biathlon Federation of Tatarstan,'' told Minister of Youth Affairs and Sport of Tatarstan Vladimir Leonov.
The minister also told that students were the most active athletes among amateurs. ''In 2016, the percentage of residents of Tatarstan who regularly do sport is 41,5. At the same time, 79% of students do sport on a regular basis, including 12% of disabled people. Last year, the republic hosted over 800 sports competitions, of which 41 were Russian and international.''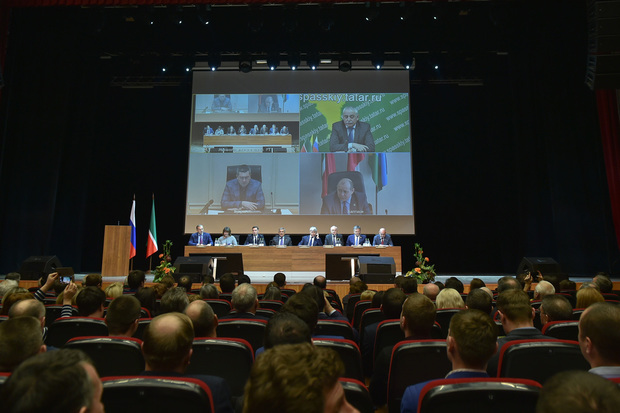 Development of GTO system (All-Union Physical Culture Training Programme) is one of the important topics mentioned at the session. Tatarstan, of course, is one of the leaders in the country concerning the number of people who passed the tests of ''Ready for Labour and Defence'' Russian Physical and Sports Complex. In 2016, 130,000 people were among them.
Leading specialist of the regional public organisation of GTO in Tatarstan Artur Sabitov told about it at the session: ''In 2016, 131,312 people passed GTO tests. 34,329 of them will be awarded GTO badges. Every resident of the republic must easily pass GTO tests as a requirement to physical preparation level. It is our goal.''
''Tatarstan is a centre of the biggest international sports events''
Speaking about professional sport, there is a progress as well. Before the beginning of the meeting, guests were shown a motivational video about achievements of Tatarstan athletes and clubs on the Russian and international stage. The events that took place in Kazan were also recalled: from different world cups to regional championships.
''Tatarstan became a centre of the biggest international sports events. Today the republic is a reliable partner of the federal authority on this issue. Representatives of world federations know the high-level organisation of sports events in Tatarstan. It is both a high sports and organisational level and a colossal hospitality level of the republic,'' Leonov noted during his speech.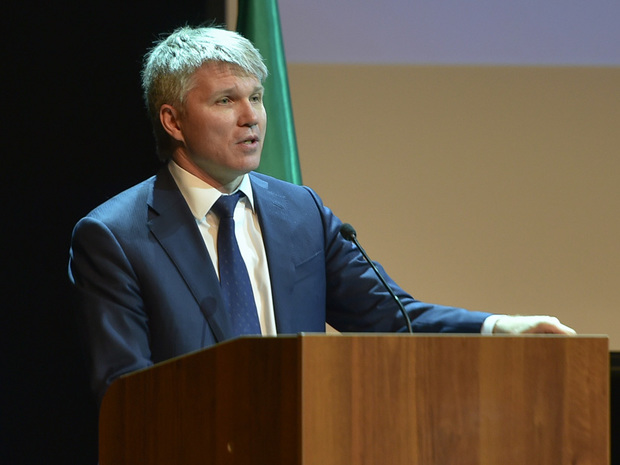 ''Olympics in Kazan? No problem!''
Olympiad could help but be mentioned during this meeting. The upcoming Winter Games in Pyeongchang were discussed, of course. After the session, Minister of Sport of Russian Pavel Kolobkov expressed his hope that the national team of Russia would not have problems impeding the team from taking part in the Olympiad: ''You see what results the guys demonstrate in winter sports. It means that our athletes have numerous dope tests. I think there is no precondition for exclusion of our national team from the Olympic Games.''
After the 2013 Universiade, the capability of Kazan to host the Olympiad has been actively discussed in recent years. It was rumoured that the city had sent an application. The exact date is not mentioned, of course. 2024 and 2028 were presupposed. Mayor of Kazan Ilsur Metshin one stated that the Olympiad in Kazan can be held in ''2030 or 2050''.
President of Tatarstan Rustam Minnikhanov also raised the topic of the Olympiad in Kazan: ''It is impossible to maintain the status of sports capital of Russian without big tournaments. We need to use our potential to the max – sports venues, infrastructure, volunteers – and move forward in this direction. We have a good team that is able to perform any tasks. I don't doubt it. Now many people are discussing whether Kazan is able to host the Olympic Games. No problem!''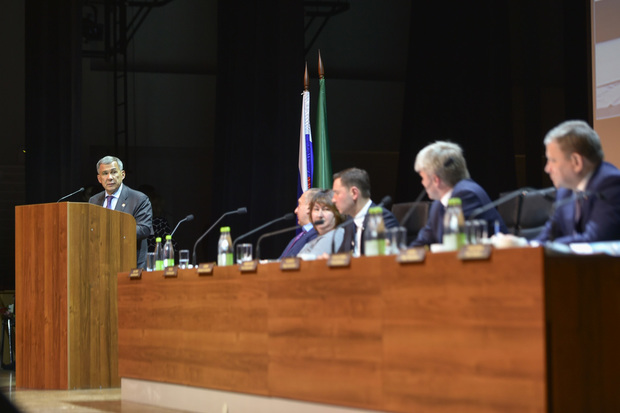 Rustam Minnikhanov: ''We have a good team that is able to perform any tasks. I don't doubt it. The republic of Tatarstan, particularly Kazan is ready to host any competitions''
However, as celebrated Tatarstan shooter Vasily Mosin told at the session, not everything is so optimistic in Olympic sport. He complained about small salaries of Russian Olympians.
''Award of athletes for victories and participations in the Olympiad leaves much to be desired. It is far from the reality, and it literally makes an athlete participate for several regions. This is system is vicious, in whatever light we view it. Its presence just demonstrates the problems of the status of an Olympian,'' Mosin told.
In 2017, the Ministry of Sport of Tatarstan is going to hold many Russian and international events. The Confederations Cup, of course, will be the major event: ''We will host the Confederation Cup in three or four months. The stadium and the infrastructure are almost in excellent readiness. We must organise three test events in the next months,'' head of the Ministry of Sport of Russia Kolobkov told.
The World Wushu Championships, a conference of Ministers and Senior Officials Responsible for Physical Education and Sport (MINEPS), a stage of Silk Road international rally raid and many other sports events are scheduled in Tatarstan for this year.
By Aleksandr Lushkin. Photo: prav.tatarstan.ru