''It's a pity our fans were not promised a beer, I would let them win''. How Vladimir Alekno and his team walloped Germans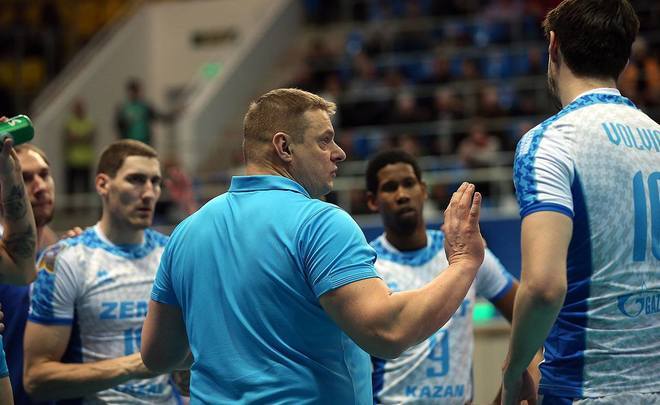 It seems that Zenit and Friedrichshafen demonstrated the best match in this Champions League. Even despite next 3-0 in favour of Alekno's team, Germans managed to bother the host team in a set, which the team that has not been facing a decent opposition for a long time needed. Realnoe Vremya tells why Alekno did not let the guest team's coach win this set, but that man was happy, and where our old León was.
Victorious set against Zenit like festivity in Germany
Zenit's most frequent guest in the Champions League German Friedrichshafen came to Kazan for the fifth time, just imagine. Plus, there was a match in the Final Six, so the rivals collected 11 games in total. Unfortunately, it would be cunning to hint a principal opposition because the Kazan super club's ten victories divest us from any share of importance and intrigue.
But Germans have had a reason for pride for themselves after the December win in Germany. Having won one set in Germany, the head coach of Friedrichshafen was so touched by this achievement that paid all fans who came to support the team a glass of beer. On the one hand, we can't help but remember it with a smile. It looks a bit comic and even wild when one is happy about a defeat as if it had been a sensational victory in the Cup. On the other hand, Germans did what almost nobody managed to do. Zenit won 6 matches and only once lost one set in 6 matches in January. Friedrichshafen volleyball players managed to win against Kazan players in that ''sensational'' set.
''We took the second set against Zenit Kazan, and not many teams are able to do that. I don't have any video that somebody wins Zenit in the second set. In the third set – yes. The second one was a wow!,'' head coach of Germans Vital Heynen did not hide his amazement after the match.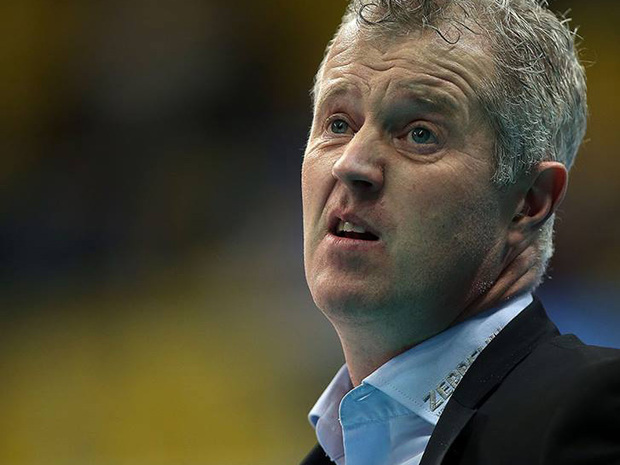 Vital Heynen: ''We took the second set against Zenit KAZAN, and not many teams are able to do that''
In general, if we omit all this sarcasm and a bit insulting facts about the German team (in comparison with Zenit, of course), Friedrichshafen is quite good. For instance, they are leaders in the domestic championship having won 13 in 14 matches. And just these days they managed to win the next domestic trophy. Vital Heynen's team took the Cup of Germany on Sunday when it defeated Berlin in the final – 3-1. However, at the beginning of the season, our rivals managed to raise another trophy – the German Supercup. They easily won against the capital team.
Yes, Friedrichshafen plays quite well in the Champions League, exclusive of the match against Kazan, of course. At the beginning of the tournament, Germans had a gutsy victory against Paris Volley 0-2. In the second leg, Friedrichshafen was on the edge during the match against Turkish Arkas 0-2. They could not handle it on the tiebreak. Both Igor Kobzar and Teodor Salparov unanimously repeat one and the same thing like Friedrichshafen has nothing to lose in the match against Zenit, but they will come to play excitedly because they will be elated at the victory in the German Cup.
And the first set in the Kazan match also could have been a sensation. Friedrichshafen played quite confidently by the middle of the set and reduced the margin to two points at times 11-9. However, Zenit played in a training mode and did not show its full power. Kazan players accelerated a bit, and everything was put in order. The statistics also showed that one team did not want to play – the other just could not. Zenit performed only two aces. Maksim Mikhailov served both. There were two blocks. They lost Germans in some respect – they lost six serves but ended the set confidently – 25-18.
Best match of the season
At the beginning of the second set, Kazan started to play violently and took the lead with a two-point excellence – 1-3. Taking advantage, the guest team treated every combination carefully, so that every combination was prepared for a long time. But they played the combinations effectively. Friedrichshafen used almost every chance. Germans withstood by the first break – 7-8. Then something inexplicable happened to León when he started to serve all balls out, so we got 8-11 soon. Kazan also had problems with the first touch of the ball after reception or shot.
Friedrichshafen was good in attack, so that three forwards played near the net at once. Our blockers did not manage to move their hands quickly along the net, and Germans intelligently coped with it. The two-point difference maintained till the second break – 14-16.
''Today I am happy with the way we played. We have to see we were playing with a young team. I put a very young team on the court. I am happy they learnt. If Kazan needs another team to play one day, we'll come. I would like to play more against Kazan. We learn a lot from them. We won the Cup on Sunday. And we were not so fresh. But I am satisfied, not happy,'' Vital shared his emotions after the match.
One can rarely see Vladimir Alekno convulsively take timeout in the second set. When it happens, it doesn't have a great result, a Kazan miracle, 17-21. It seemed that our Cuban leader did not finish his job at the back, and mistakes at the end started to appear frequently. The totally broken attack was saved somehow by Volvich who hit the floor. So Zenit did not let Germans increase the margin of 3 points. At one moment, León started to move with more expression and blocked almost all attacks of Germans. Kobzar served in a difficult way. In general, they recalled they need to use all power at times and managed to ''return'' by the end – 23-23. Here classical swings began. Vladimir Alekno took one timeout more.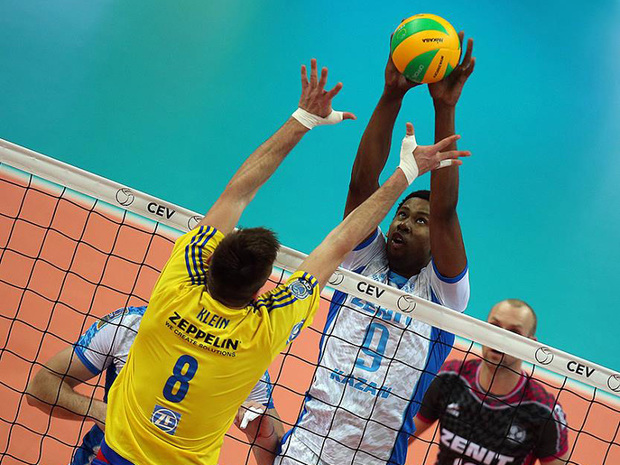 ''Perhaps, the second set is the result of Friedrichshafen's victory in the Cup,'' Vladimir Alekno smiled journalists after the match. ''When you win, come in a good mood, there is no pressure. But it is a pity that their coach did not promise our spectators a glass of beer if he had won the set. I would have even let them win this set.''
Such an end stirred up the hall because last time people saw a tense fight in a set in the previous season. León suddenly started to play whatever but not volleyball. Just imagine, Zenit performed the role of a follower till 35-35.
''The second set dragged on. But we won. I wish we had more such sets with our victory. They benefit Zenit more,'' Alekno admitted after the match.
And when the teams reached fantastic 38-38, Butko was on serve, so the guest team's reception noticeably worsened. And Maksim Mikhailov near the net did not give the guest team any chance and ended this incredibly long but finally interesting set – 40-38.
Without sensations
It seemed Germans would psychologically be down. To lose such an encouraging set is a serious blow to ego and motivation. 3-0 were expected even at the beginning of the set. The closer the first break was, the stronger the attack of Friedrichshafen was – 8-7 by the break.
Finally, the León whom we know, not that useless clone, returned to the court. And his aces appeared. Kobzar and Volvich played as they should. All in all, 16-9 looked logical. Kobzar powerfully and accurately used free zones of the rival, so only the end of the game was a matter of time – 25-17.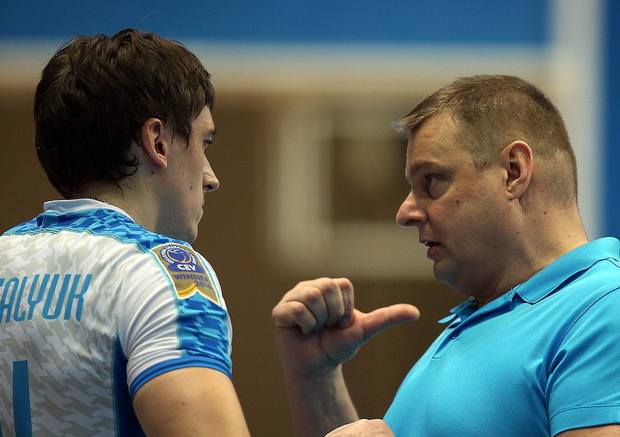 Vladimir Alekno: ''First of all, I think that apart from the result, apart from Zenit's victory, spectators enjoyed this point-to-point volleyball''
In the match where Friedrichshafen and Zenit presented Kazan spectators who are bored of endless wins an exciting set, Vladimir Alekno found only pros:
''First of all, I think that apart from the result, apart from Zenit's victory, spectators enjoyed this point-to-point volleyball. February will be the most difficult month. It is good because strong rivals will play before the play-off. In terms of the result, February will change nothing. It will prepare us to fight. It is very important for us.''
Vital Heynen, head coach at Friedrichshafen:
''Kazan is a very-very good team. Congratulations! They will win the final of the Champions League, I hope. Because then we can say we lost to the champion of the Champions League. We like to be here. But it is too cold.''
By Erik Dobrolyubov. Photo: facebook.com/volleyzenit
Events