Kazan captain's feat in Syria: ''He was alone against 200 ISIS fighters and gave battle''
Realnoe Vremya found out that 35-year-old citizen of Kazan Marat Akhmetshin was awarded Hero of Russia and his daughter got a seat in the Presidential Cadet College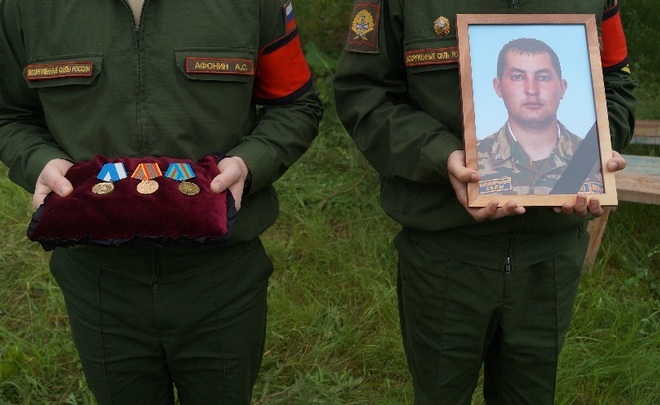 ''When he was found, injured, he was holding a grenade without the pin, and soil was burning around him,'' father Radik Akhmetshin told Realnoe Vremya about his son Hero of Russia's death. The funeral and posthumous award of the 35-year-old intelligence chief of the Self-Propelled Howitzer Artillery Battalion of the Western District Marat Akhmetshin took place in Tatarstan in secrecy as early as 6 June and 31 August 2016. Only now people started to talk about the eternal feat of the 35-year-old captain aloud, though details of his last fight are still officially hidden.
Grandfather – seaman, father – pilot
His grandfather chaired cannons in a destroyer, his father flew supersonic jets — interceptors, while his mother prepared black boxes for that planes and transcribed their information. Very Marat Akhmetshin who was born in a military garrison in Kamchatka was dreaming about the sky and service as a kid. After his graduation from the Kazan School No. 113, he went to the Kazan Artillery College on his father's advice. On graduation, he had been already married and went to see service in Kabardino-Balkaria where he spent 8 years in total. He visited the zone where the Georgian–Ossetian conflict in Tskhinvali took place several times. Now his daughter is 14, son – 9 and his younger daughter is just 3.
Akhmetshin became a captain in 2005. In this rank, he changed many posts — he was the commander of the Self-Propelled Howitzer Artillery Unit of the 58 th Army of North Caucasian District (from 2003 to 2006), assistant to the commander of the battalion of the same army (from 2006 to 2009), commander of Self-Propelled Howitzer Artillery Battery in Gyumri in the Republic of Armenia (from 2009 to 2010) and finally headed the intelligence staff of the Self-Propelled Howitzer Artillery Battalion of the Western Military District (from December 2015 to June 2016).
Almost a five-year break in Akhmetshin's service – from June 2010 to December 2015 – was due to a reformation of the military base. In Kazan, the artilleryman worked as engineer in Public Transport Enterprise No. 2 first, then in another enterprise. Then he sent a request to return to the army having said to his relatives: ''Not for me. There is more justice in the army''. Last time Marat visited his parents at the end of March 2016. Later he went to one of the bases in Nizhny Novgorod. He said he would have a mission in a proving ground in Leningrad Oblast. He warned his wife he would be away for three months.
Last time he called was from Vladimir when he was waiting for a passenger plane. He said to me: ''Listen how your planes take off and land. He also said he wanted very much his son, my grandson to be a pilot,'' former mayor of Military Aviation and towerman at the Kazan airport Radik Akhmetshin remembers. According to him, he did not think his son could be sent to Syria before 3 June. ''Probably he could refuse. But it would be the end of his career and life,'' his father says.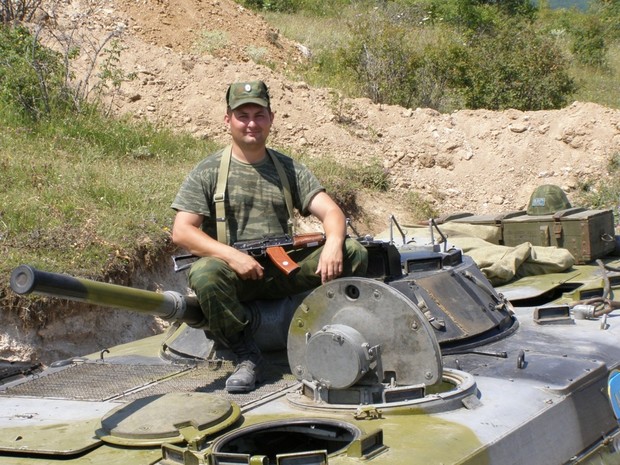 Secret feat and mystery award
His wife and parents were informed about Marat Akhmetshin's death near Palmyra in Syria on 3 June 2016. The official letter said ''he died in action within the military contingent in the Syrian Arab Republic''. Unofficially, his relatives were said that Akhmetshin had performed a feat.
His body was delivered to Kazan by plane on 6 June. Lying in state with the staff head of the Western Military District, military commissar of Tatarstan and secretary of the regional Safety Council took place in Osinovo first, then in the countryside – in Atabaevo village in Laishevo District where the funeral was held. The Russian president's decree on award of the Kazan officer Hero of Russia For Courage and Heroism in Action was issued on 23 June. The posthumous award Hero of Russia was given to the family of the deceased in the Kazan Kremlin on 31 August. The media were not invited to the event.
The hero's family received insurance. His son Amir was promised to be enrolled in the Kazan Suvorov Military School in two years and older daughter Zarina Akhmetshina was accepted to the Presidential Cadet College. She has been studying in Moscow since September. She misses home and writes verses.
The history of Marat Akhmetshin's life and death was made public after when militaries sent letters to the Kazan School No. 113 where the Hero of Russia studied. The director of the school was asked to take measures ''to make his memory and patriotic education of the growing generation eternal''. Teachers and pupils took it seriously. They found the biography of the deceased in Syria by talking to his relatives, friends, teachers and classmates, holding several demonstration classes and even shooting a film about it. Part of the shooting took place in the existing school museum of generals and admirals of Tatarstan. A memorial desk and stand are going to appear in the short run.
''One against 200 ISIS fighters''
What happened no 3 June 2016? At a meeting with pupils of the 113 rd school, head of the of the Military Commissariat in Novo-Savinovo and Aviastroitelny Districts Mikhail Venediktov told Akhmetshin sacrificed his life protecting other people, it was his feat: ''He could order to perform the task that nobody had set him and act on his own protecting other people… There are few such people who can give such an order despite everything knowing that he can be severely punished or even dismissed later. It is the person he was… He has kindness, officer's honour, a desire to protect his colleagues, militaries and take a risk… His last feat proved it''.
In the talk to the journalist of Realnoe Vremya, the hero's father said part of circumstances surrounding Marat's death near Palmyra is not allowed to be made public. He just lifted the veil a bit:
''He was alone against 200 ISIS fighters (supporters of the international terrorist organisation banned in Russia). They had tanks and armoured personnel carriers, while he had only a gun, three cannons (Editor's Note: by the way, one weapon needs four militaries) and grenade… And he gave battle. He was good at shooting, he managed to put several tanks and carriers out of action. When he was backed up, and the attack was opposed, he was found alive. Covered with wounds, he was holding a grenade without the pin, and soil was burning around him. It seems that he wanted to dynamite himself if ISIS fighters would get closer. Our militaries took the grenade and threw it away to let it explode. Only then my son lost consciousness and fell flat on his face right on the fire.''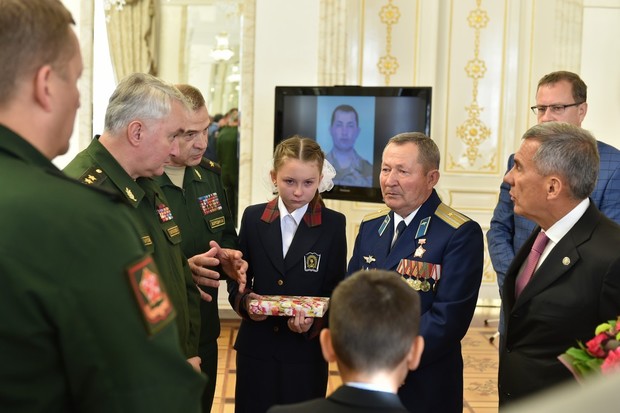 Doctors could not save the officer's life. He got at least three fatal wounds. When asked how the Russian military could meet a big group of ISIS fighters alone in the foreign country, military sources of Realnoe Vremya presupposed that either the main troops took a step back or did not manage to be on the scene. Another presupposition is that Akhmetshin could serve as military adviser and teach officers of the Syrian Arab Republic's army artillery and intelligence art. In addition, as he was not in the rear but in the front line, it means that a strategically important place could be located near Palmyra.
According to the Russian media, 35-year-old Marat Akhmetshin was the 24 th died Russian military whose death was officially confirmed by the authorities.