One of the first: TAIF-NK takes part in Help Get Ready For School charity event
50 children from large and low-income families have received briefcases and school supplies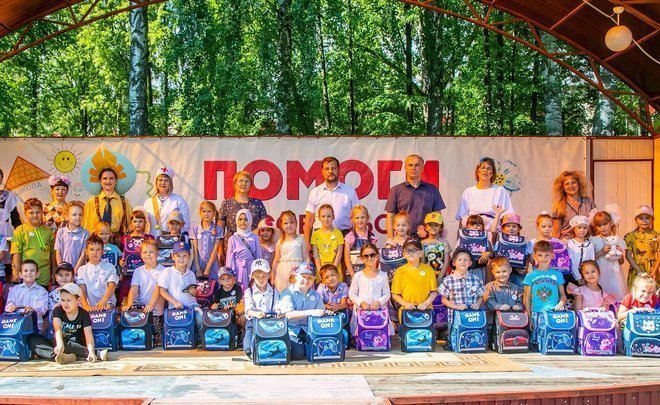 The traditional charity campaign Help Get Ready For School has started in Tatarstan. Within its framework, thousands of future first-graders receive briefcases with stationery. According to the good old tradition, TAIF-NK oil refining company is one of the first in Nizhnekamsk to join the charity event. A festive event on this occasion has been held at Vesta Social Service Centre. The company's employees congratulated the boys and girls on the upcoming school year and handed over bright comfortable satchels equipped with everything necessary for school. Read the details in the material of Realnoe Vremya.
"Our common duty is to show heartiness"

"We really want all the children of our district to cross the school threshold on September 1 with a festive mood. Unfortunately, today the situation of individual families, especially single-parent, large families and families in a socially dangerous situation, remains difficult. Together we can help, in our power to make sure that every child goes to school with pleasure on Day of Knowledge. Our common duty is to show heartiness and concern for the fates of children who need help and support, to let them feel our care, our attention," says Gulnaz Isakieva, the director of Miloserdie Complex Centre for Social Services of the Population of the Ministry of Labour, Employment, and Social Protection of the Republic of Tatarstan in the Nizhnekamsk Municipal District.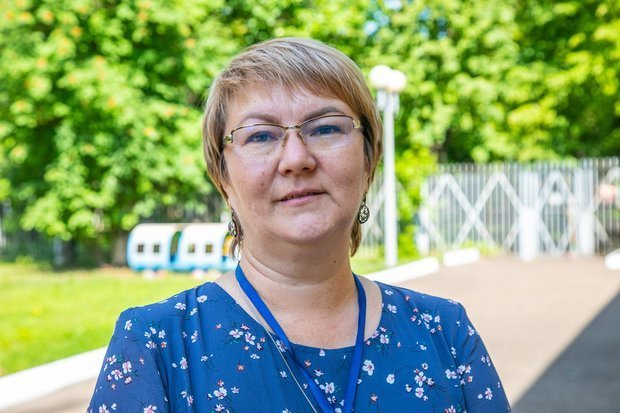 According to her, the charity event such as the Help Get Ready For School campaign just gives an opportunity to join forces for a common, great good cause. TAIF-NK JSC can be used as an example — every year the oil refining company is one of the first to give a festive mood to future first-graders and their parents.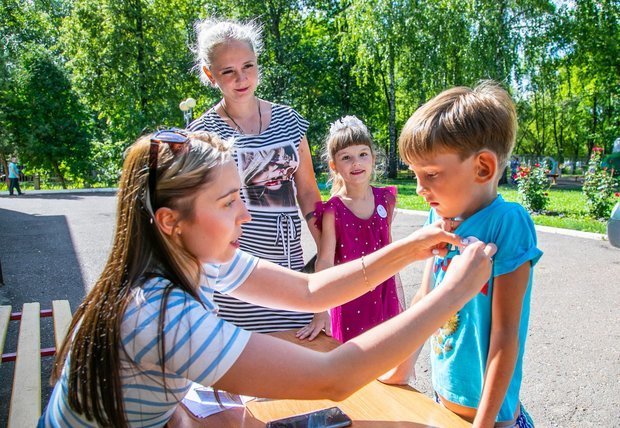 "Today, a big celebration is taking place at the Vesta Social Service Centre. It is organised by TAIF-NK company, with which we have a long-term friendship. The oil rening company annually provides assistance to poor and low-income families of the city and district. We are very grateful to the management of TAIF-NK for the care and attention to children in a difficult life situation. Many parents cannot afford to send several children to school at once. This is a very big help for them," Gulnaz Isakieva stressed.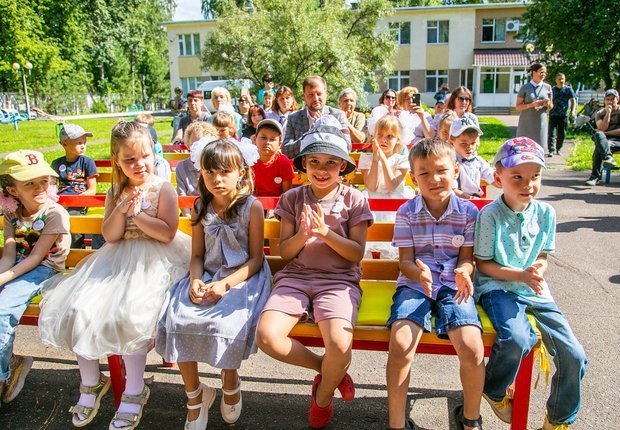 50 children from large, low-income families have been invited to the solemn presentation of school bags at Vesta social service centre. The children and their parents were shown a play about how Dunno was preparing for school. The fairy-tale character told the children how to behave in class and pack a school pack. Young spectators watched the performances of artists with great enthusiasm, guessed riddles and participated in games.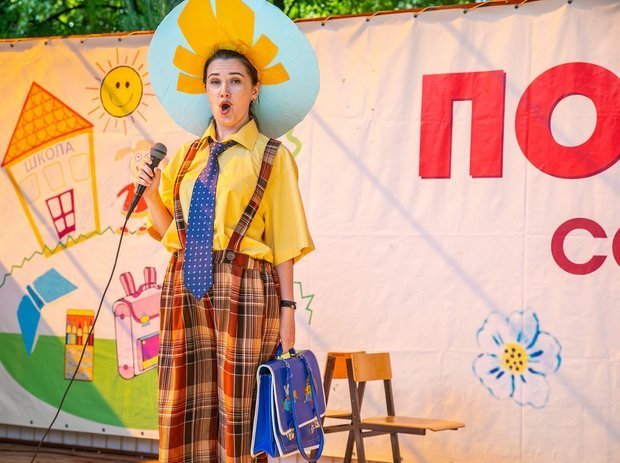 The festive concert finished with the solemn presentation of school bags and stationery. According to tradition, TAIF-NK school bags have everything children need for school — notebooks, diary, sketchbooks, coloured paper, cardboard, pens, pencils, markers, paints, pencil cases, and much more.

"Dear children, dear parents! On the eve of the new academic year, it is very pleasant to tell you to have a good, successful study and to present small but significant gifts from TAIF-NK joint stock company — school bags and stationery. School is a big and wonderful world that will be filled with really unusual things for you, dear children. Well, the most important thing is the world where the road to knowledge will open for you. Knowledge is the magic key that will allow you to successfully enter adulthood. The more knowledge you acquire, the more interesting it will be for you to live and work in the future. So do not be lazy, listen to teachers and parents, comprehend new knowledge with interest. On behalf of the management of our company, I wish you all successful studies and new pleasant impressions. Good luck!" Vladimir Gatunok, the assistant director general for general affairs, congratulated the children and their parents on the upcoming new academic year.
In an interview with the correspondent of Realnoe Vremya, Vladimir Gatunok noted that the employees of TAIF-NK JSC are sincerely involved in this good social initiative and believe that such, at first glance, "small" cases are no less valuable than large projects.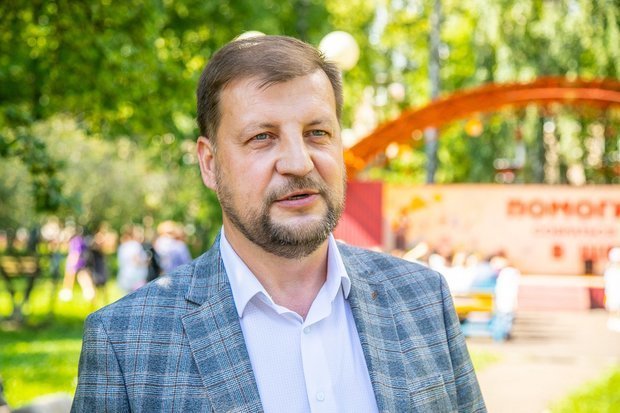 "TAIF-NK Joint Stock Company is a socially oriented company. We take part in the republican charity event Help Get Ready For School regularly and we do it with great desire. It is extremely important for us that future first-graders, many of whom are brought up in large families, do not feel deprived before the start of school. So today, once again, we presented Nizhnekamsk boys and girls with several dozen school bags, equipped with everything necessary for classes. It is very nice to see the joyful faces of the children and their parents. We hope that our support will help children to study with honours," said Vladimir Gatunok.

"It is very significant and valuable for us"
Seeing the bright modern school bags, the children did not hold back their emotions.
"Thank you for such a beautiful school bag. I haven't had time to look at its contents yet, but judging by that the bag is heavy, there are a lot of interesting things there," Amalia shared her impressions.

Amalia's mother, Lilia Ibragimova, appreciated not only the appearance of the school bag, but also its functionality.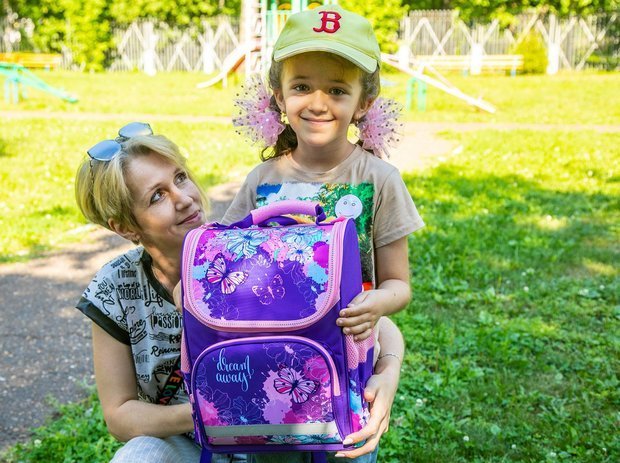 "The bag is very light, comfortable, it is very important for first graders. Thank you very much for your help. This is very important for us. Amalia is the fourth child in the family. I raise the children alone, there is not enough money. Thanks to TAIF-NK, we have saved the family budget," Lilia Ibragimova said.

Yaroslav Ladnushnik came to the holiday with his grandmother from the village of Sheremetyevo. This year the boy is crossing the threshold of the school for the first time. He says that he will handle the gift very carefully, because parents do not have the opportunity to buy everything that is so necessary for him to study.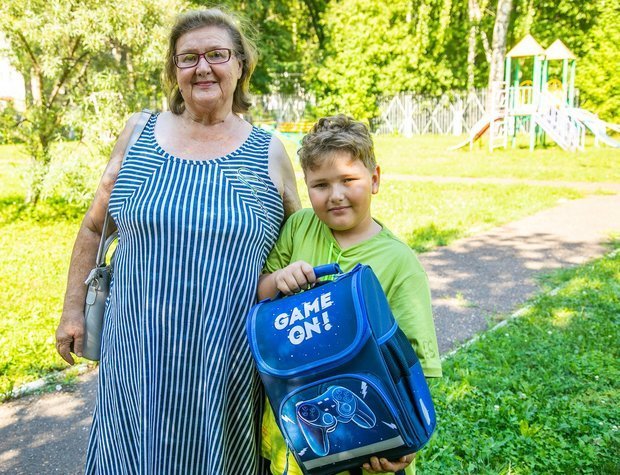 "I really like to paint. In the bag, I saw an album, paints, and coloured pencils. Everything I'll need at school. I promise that when I go to the first grade, I will study only for A and B," Yaroslav assured the correspondent.

Yesenia is also going to the first grade this year. The girl has cerebral palsy, so she will study at home. According to the girl's mother, Lyudmila Usmanova, the holiday, fairy-tale characters, gifts raised both her and her daughter's mood. Due to the illness, the family rarely leaves the house.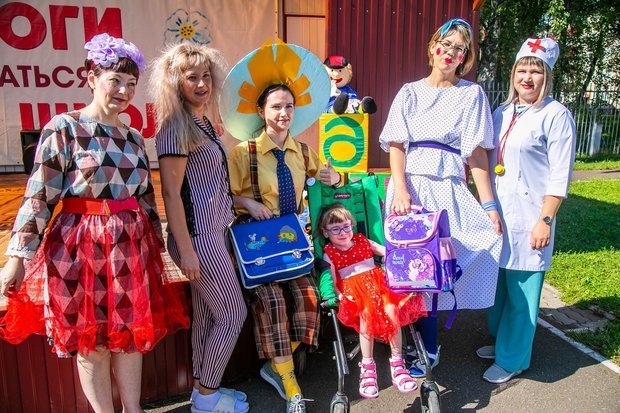 "Yesenia is the fourth child in the family. We are very grateful to TAIF-NK for their assistance. This is very important and valuable for us," Lyudmila Usmanova admitted.

The Lapin family also has four children. Yaroslav is the third among brothers and sisters. Today, together with the rest of the children, he received a school bag and school supplies as a gift.
"Preparing a child for school is an expensive pleasure now. Certainly, I want my children to go to school like everyone else — in a beautiful uniform, with a good school bag. I want them not to feel that mom and dad can't always buy them what other kids have. Thank you to TAIF-NK for the reverent attitude to such families as ours, this is a very good help," said Nadezhda Lapina, a mother with many children.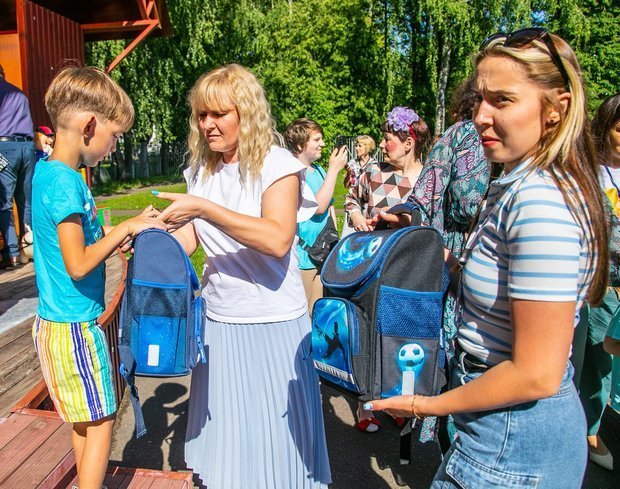 TAIF-NK JSC, as a socially responsible company, pays great attention to charity issues and every year responds with pleasure to the call to take part in Help Get Ready For School campaign. The action has been held since 2007 on the initiative of the Republican Council for Charitable Activities and with the support of the head of Tatarstan.

Tatarstan