Fathers and sons: only Alina Zagitova's gold will make dad give up smoking
The women's short programme began on 20 February morning at the 2018 Olympics with the participation of the ''Tatar princess''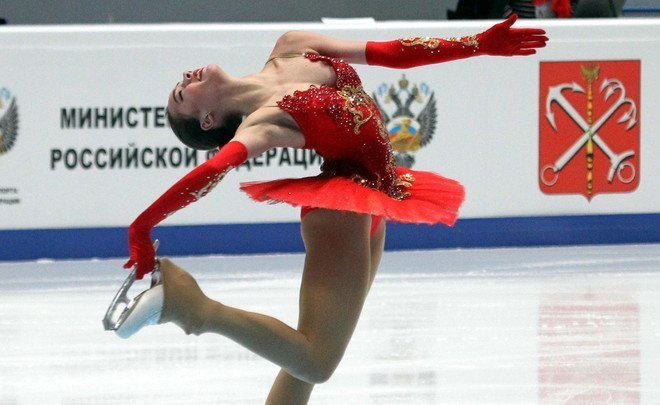 After a Ukrainian freestyler won the Olympic gold in aerials, the absence of gold medals in Pyeongchang will mean seppuku in sport for the Olympic team of Russia. Only the female figure skaters and male hockey players have real chances to win the biggest prize. We will dare to presuppose that even considering that hockey remains the main winter sport for Russians, the squad consisting of two top clubs headed by Oleg Znarok whom the people don't like much causes less affection among our compatriots than two bewitching stars that shine in the sky of figure skating – Evgenia Medvedeva and Alina Zagitova. On the threshold of the fight of smart and beautiful girls, which kicked off early on Wednesday morning, famous commentator and permanent author of Realnoe Vremya Aleksandr Norden tells about the 15-year-old ''Tatar princess'' who is ready to try the crown on right now.
''Ilnaz is a very decent person and cunning hockey player''
Dads who play hockey often manage to become the founders of sports dynasties. Everybody knows the names of fathers and sons like the Howes, Hulls, Burkovs, Kholikovs. Russian hockey also has enough examples when sons and even grandsons of hockey players follow the road of their dads and granddads and achieve many successes in the ice game themselves – enough to mention the dynasties of the Tikhonovs, Drozdetskys, Varnakovs. But if girls are born to famous hockey players, they also put skates on and start to conquer the sports Olympia. Olympic figure skater Marina Anisina, the daughter of three-time world and European hockey champion Vyacheslav Anisin, and coach and TV commentator Tatiana Tarasova, the daughter of famous Soviet hockey player and coach Anatoly Tarasov, are the brightest examples here.
Here a daughter of another renowned master of the game with a stick and puck who can make a breakthrough in world figure skating has grown up. Her name is Alina Zagitova. By her fifteen and a half years, she's achieved what many single figure skaters don't throughout their career. The charming teenager already bears the titles of the world junior champion, Russian and European champion among adults and silver medallist of the current Winter Olympic Games in team event. In several days she has all chances to turn the silver medal into gold.
While Ilnaz Zagitov is a legend of Izhstal. The roots of the native of the capital of Udmurtia comes from Tatarstan. And it is symbolical that the future defender, captain and then the head coach of his native club in the Izhevsk district is called Tatarbazar.
The pupil of Izhstal Youth Sports School scored his first goals at the level of adults in December 1992 aged 16. He played four matches for Avangard in Superleague in the 1994/95 season and scored 33 (12+11) points for Neftekhimik and Izhstal in the first league of the Russian championship one year later.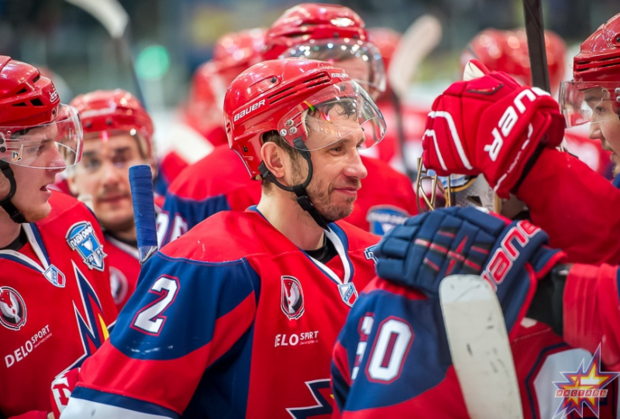 With breaks in performances for Neftyaniki from Leninogorsk and Almetyevsk, Progress from Glazov and Saryarka, the defender played 14(!) seasons for his native club. The 15 th one – 2014/15 – became Zagitov's swan song as a player. The team captain won the silver of the Supreme Hockey League with Izhstal and repeated this achievement one year later as coach of the team. 638 games for Izhstal and 209 (67+142) points are enough to write down his name to the history of Udmurtian hockey.
I asked fitness coach at Bars and Irbis Aleksandr Svilin who met the defender in the early 2000s when the latter joined Neftyanik from Leninogorsk where my interlocutor helped head coach Andrey Kirdyashov:
How can you characterise Zagitov as a person?
Ilnaz is a very decent man. He has a wonderful family – wife Leysan and two daughters Alina and Sabina. When Zagitov came to Leninogorsk, Alina was just born in May 2002 (Editor's Note: Zagitov played for Neftyanik in 2002-2006). Our families have been friends since then.
And as player?
On the one hand, he is a domestic defender. He is very reliable and remains in his goal. But he scored a lot from the blue line, without having a very powerful slap shot or wrist shot. He was always thinking, I'd say, a cunning hockey player. He could find a gap, a weak link in the rival's defence with a shot or assist.
''I expelled Alina three months later...''
''Leninogorsk didn't have a figure skating school,'' Svilin continues. ''This is why we went to mass skating with families. But the dad taught Alina to skate in Almetyevsk where the Zagitovs moved in 2006 because the head of the family went to local Neftyanik.
Yubileyny Sports Palace in Almetyevsk was the first ice rink of the future champion. She started to do sport in a figure skating school in 2007, though the dad did hockey exercises with his older daughter (who was, by the way, named after her future idol Alina Kabayeva) from time to time and then with his younger daughter.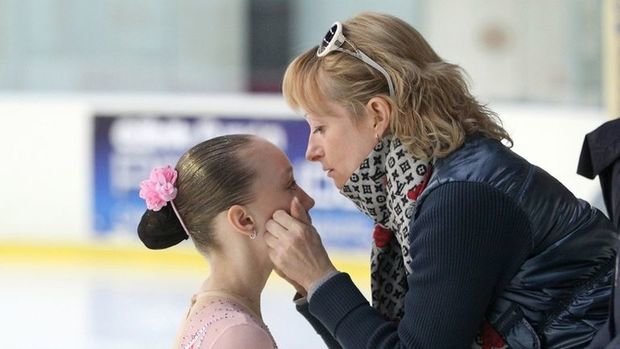 Later Alina trained in Moscow under famous coach Eteri Tutberidze who brought up Olympic champion of Sochi Yulia Lipnitskaya, 2016 and 2017 world champion Evgenia Medvedeva. At these Olympics, she is leading both our amazing girls to success, which can become the main in their sports biography. But Alina reached the renowned mentor in Crystal department of Sambo 1970 Sports and Education Centre only in 2015. He had been training with Natalia Antipina in Izhevsk before. By the way, don't think that her dad who played hockey taught Alina to skate, which would be quite logical. No, her mum did it.
''Once she (mum) tried to do figure skating,'' Alina told in different interviews. ''But it didn't happen. And then she did her best to make me fulfil the dream that hadn't come true.''
I continued asking Aleksandr Svilin questions.

What kind of dad was he for his daughters? Was he strict?
''He was soft,'' the coach replies. ''While Leysan was strict, she controlled Alina and then Sabina's attendance of training. She was the person who took the older daughter to Moscow.''
In Crystal, in Tutberidze and Sergey Dudakov's group, Zagitova didn't stand out of the crowd of other pupils. Moreover, the mentor didn't see any prospects: ''I expelled Alina three months later. I want an athlete to be independent, while she didn't understand our system of training a bit… where nobody hurries, forces, shouts.''
Udmurtian Cinderella could return to the backwoods without seeing the ball. But everything happened like in a beautiful tale. Leysan Zagitova and her daughter came to say goodbye to the coach with a bunch of flowers, and the coach suddenly said: ''Let's try one more time…''
''We even didn't dream of a world championship...''
And they did… Alina started her first 2016/17 season with participating in the Russian championship and was at the bottom of the top 10. But 6 months later, in August 2016, she was first at a stage of the Grand Prix among juniors in France, third in a competition in Slovenia in September and reached the Grand Prix final that she easily won in Marseille in December. Eteri Tutberidze with choreographers upgraded the programme of the rapidly progressing pupil – a dance to the melody from Saint-Saëns's Samson et Dalila substituted The Pink Panther in short programme, while heroine mastered eternal Don Quixote, which she is victoriously performing at ice rinks now, instead of the music from Ghost the Musical. In Marseille, Zagitova walloped her rivals by setting three world records at once – 70,92 points in short programme, 136,51 – in free routine and 207,43 in total. The new star of the ice ended the year with an unexpected silver of the Russian championship among adults. I will remind that the girl achieved it all at the age of 14.
2017 started for Alina with a victory in the Junior Championship of Russia and European Junior Olympic Festival in Turkey. In May, in Taipei, Tutberidze's pupil achieved the greatest success at the junior level – she won the title for the world champion in a close fight with her rivals from Japan.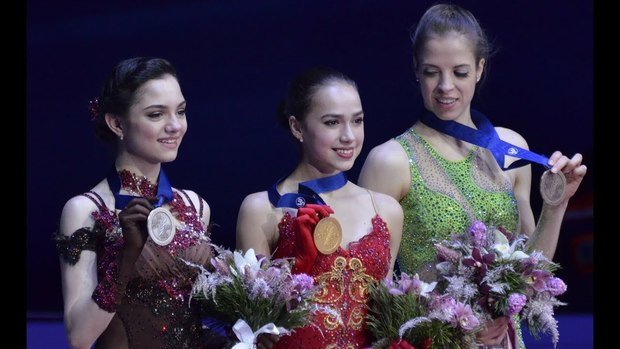 Kitri won Anna Karenina
The best world junior's debut in international competitions among adults was in September 2017 when she won the Lombardia Trophy in Italy. Two months later, she was ahead of Higuchi from Japan and our Radionova at the Grand Prix stage in Beijing. Another two weeks later, she performed a real deed at the fifth stage of the Grand Prix of France. Ranking only fifth after short programme, Alina leapfrogged in free routine and became first again. By the way, the performance in short programme was not very confident because it was completely new to the athlete – to Darren Aronofsky's famous Black Swan film. Roughness is permitted. But only during the first official performances, then perfectionist Tutberidze and her ''swans'' must be ideal.
The country had a chance to see the perfection that can be achieved in figure skating in the performance of the unique teacher's pupil first-hand. The 2018 European Championship was in Moscow. The duel of Tutberidze's two pupils – Medvedeva and Zagitova – was a real blockbuster of this festival of beauty and flexibility. 15-year-old Alina came to this championship as Russian champion (among adults), 18-year-old Evgenia had many titles under her belt, two titles of the world champion were the main.
The judges who evaluated the champions' programmes found it extremely tough. Everything was defined in free routine that Medeveda as lyric Anna Karenina and Zagitova as playful Kitri performed without faults, from the point of view of people who know nothing about niceties in figure skating, including 12,000 lucky people who got tickets to Megasport arena. The judges gave the first place to Alina, anyway. And it was the recognition that Cinderella wasn't going to put the laundry maid's apron on any more.
As a result, Zagitova reset world records in short programme (80,27) and in total (238,24) in the European championship and led the ISU rating. ''I've not so far realised what happened,'' Ilnaz Zagitov replied to his friend Aleksandr Svilin who congratulated him. ''I didn't watch the performance itself. When Alina competes, I get the shakes.''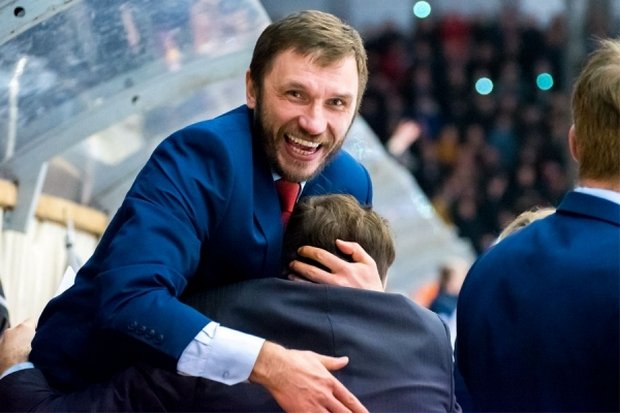 ''If Alina wins a gold, I will give up smoking!''
The European Championship, especially in a fight against such a strong rival, is, of course, the summit. But the coronation of the princess can take place only at the Olympics. Zagitova went through the first fitting very well. Substituting Medvedeva in team event, Alina showed her free routine brilliantly and provided a 20-point margin from the second place. After the deserved silver in team event, our two stars went to calmly prepare for the face-to-face duel in Japan. And happy Ilnaz Zagitov said in an interview with Soviet Sport: ''This silver is like a gold. I'm happy Aline withstood this tension, this responsibility and didn't let her team down.'' And the dad couldn't watch her daughter's performance again: ''I didn't sleep all night, I fidgeted, I didn't know what to do… I watched Kolyada skate, but I couldn't watch Alina's performance, I went out into the hall.''
It's fine when the dad feels nervous – we all know how parents concern about their favourite kids. But when you, a 15-year-old girl, still a teenager, aren't given a chance to calmly prepare for the main competition, which is probably the main one in all life, it is awful. One of the athletes she defeated in team events American Ashley Wagner put psychological pressure on Zagitova first: ''I respect the competitive approach. But no cannot do this set up. It's not a program. She killed time in the beginning and then just jumped the second half. It's not a performance,'' the American athlete wrote in social networks. It's a pity Ashley doesn't know the favourite phrase of English football fans that the scoreboard says what matters.
The figure skater who has genes of powerful dads and mums may not notice these bites of envious people. But how should even the ''iron'' kid fight against the high-handedness of big men who additionally have big power? On Monday, a WADA doping officer appeared during Alina's official training and took a blood sample and then offered to take a urine sample. The athlete who got nervous couldn't do it. ''She was on the ice during her training. But she had to leave it after the doping officer asked to take a sample. So the training was interrupted,'' the figure skater's staff claimed.
Will the ''Tatar princess'' be allowed to win a gold in the competition that was going to start the following morning? ''If Alina wins a gold, I will give up smoking,'' Ilnaz Zagitov said to Aleksandr Svilin when he came to Kazan with Izhstal to a regular match one week ago. Mr Zagitov, after seeing what sports functionaries are doing with our Olympians, one will not only give up smoking but start drinking. But we sincerely wish that your wonderful little fairy will make you give up the bad habit in the next days!