''Dakar is severe: people risk their lives. And not only their own''
How KAMAZ-Master won the main race of the world for the 15th time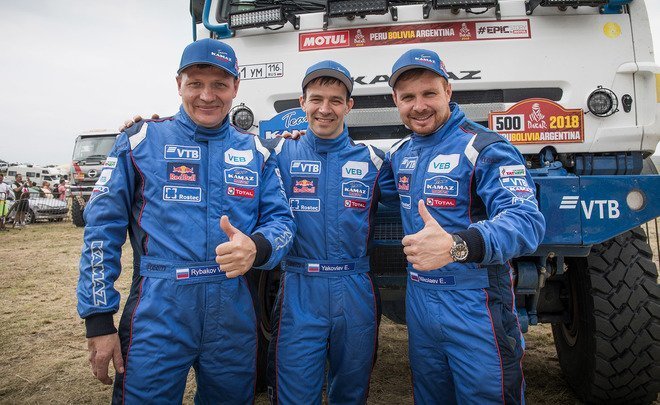 KAMAZ-Master became the winner of The Rally Dakar again – this phrase sounds so habitual that Tatarstan even forgot to really appreciate victories in the prestigious race that takes place in the most complicated terrain and climate conditions. This year the Dakar celebrated its 40 th anniversary. And it seems that the organisers prepared real hell in sands and high mountains of Peru, Bolivia and Argentina dedicated to the jubilee. And the Tatarstan competitors could not miss the next trophy in their 20th jubilee. KAMAZ-Master team gave a briefing dedicated to the 15th victory in the Cabinet of Minister for Kazan journalists, while the winner of the race gave an exclusive interview to Realnoe Vremya's reporter.
''The Dakar that we remember in Africa is back''
Golden Bedouins (one is big, the other is smaller) that were beautifully standing between two pilots of victorious KAMAZ-Master are those trophies that teams from 54 countries of the world covered 8,000 km in the severe and at times awful off-road tracks of South America for.
This image – the person with a covered face – has just registered in Tatarstan: anyway, KAMAZ-Master has already won the 15 th victory in the Rally Dakar. It creates a deceiving impression that anyone can win the Bedouin – like it's enough to prepare the car better than others. Meanwhile, the participants unanimously claim that this year's Dakar has been especially dangerous and close to its classic African version. The very KAMAZ-Master pilots – winner of the race Eduard Nikolayev and bronze medallist Ayrat Mardeyev – told about the difficulties they had to face in South America.
''We managed to drive without mistakes first,'' Nikolayev told. ''But like people say, there are not easy Dakars. And after several stages, I expected that nothing would be so easy and a surprise was waiting for us. And so was it. One day I could not cross the sound dune for the first time, I started to drive back by my traces, but I didn't notice a pit. A wheel dumped in it, and the truck leaned on one side. But here team spirit of not only our guys but also our friends of TATRA team worked out. They came, helped, and we continued going through this special section. However, not only the road of this Dakar was complicated – competition also grew. Yes, this time major rival of the Tatarstan team Gerard de Rooy was absent, but many other top pilots participated.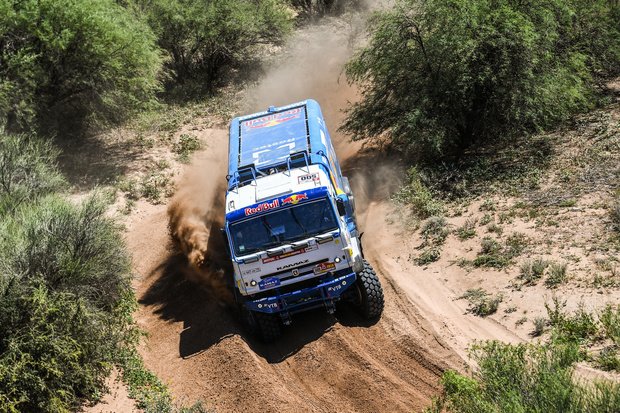 ''It was especially difficult in high mountains,'' the winner continued his story about difficulties of the 2018 Dakar. ''We have been cooperating with the Moscow innovation centre for many years that helps us feel the difficulty of high mountains. Anyway, the team felt uncomfortable because we very suddenly climbed to the mountains – from just 1,500 to 4,700 metres above sea level. Even our cars, engines feel this height. The Dakar was called an ORC race. This year there was a lot of off-road tracks, severe dunes, beds.''
''The organisers said firs that the Dakar had a jubilee that year, this is why it would be interesting and complicated. So was it,'' Ayrat Mardeyev continued the topic. ''This was the most difficult Dakar again, a real marathon that we remember in Africa. Initially, the race wasn't very good for our crew. I made a mistake at the second stage, I laid on one side, we lost more than two hours. It's good our guys were close and we managed to raise the car, restore it and finish the stage. We understood further that we still could recover everything. We tried to reduce the margin every day, catch up with the crews who were ahead of us and did our best for it.''
Performance in our style — victory thanks to the ''victim''
The very story of success of Eduard Nikolayev is worth special attention. It is the case when team efforts and the ''victim'' of the second crew helped the first one get the long-awaited trophy. The team decided to bet on Nikolayev's crew, and Mardeyev even literally had to give parts to the car on the way that had more chances to win.
''We needed to be as close to Eduard as possible at one of the most difficult stages called Super Preamble, and we managed it, our crew finished fifth,'' Mardeyev told about team spirit. ''And we managed to help, we took some parts off. If we hadn't stood together so, the team would have probably lost the first place and fallen behind at this stage.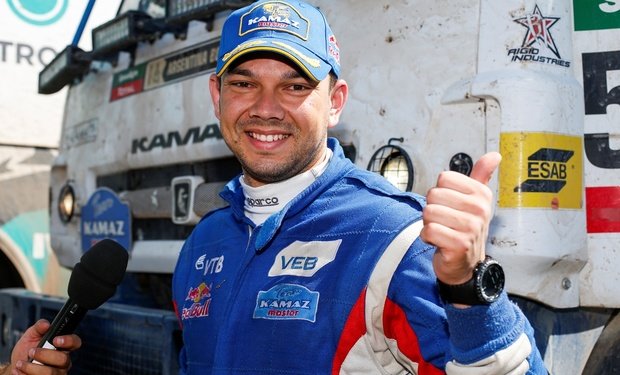 By the end of the race, we understood that our crew also could occupy the podium even if there still were many rivals ahead. But our main task was to be as close to Eduard as possible (Editor's Note: Nikolayev's crew) and help them if needed.
Here our teamwork helped. Not all teams have such tactics, the majority goes for a personal result. A team result is important for us, our Golden Bedouin is expected at home,'' Mardeyev told.
''We're very pleased the first person of our country knows about all twists and turns of the fight''
In answer to the question whether two jubilees didn't press the team (Editor's Note: this year KAMAZ-Master has been 20), the pilots gave different answers. But it's clear that the team feels huge psychological pressure before every big race, especially before the Dakar.
''We know that both the president of the Russian Federation and the president of Tatarstan always follow our performances,'' Eduard Nikolayev shared his feelings. ''Even now we've recently had a meeting with the first person of our country, and we're very pleased that he knows about all twists and turns of the fight in detail, what happened at special stages. It's great pride for us. It was even a bit exciting he knows everything. It gives additional psychological responsibility. Nevertheless, we need to know how to psych up ourselves and do our business well.''
''I also shed tears a bit at the finish''
After the briefing, Realnoe Vremya's reporter managed to personally talk to the Dakar winner Eduard Nikolayev.
I saw how a motorbike pilot almost started to cry out of despair at one of the stages, but he anyway went on and finished the race. Do such breakdowns happen in your team?
Of course, it's difficult. I also shed tears a bit at the finish because I understood how difficult this Dakar was and how many times we could have left the race. Indeed, there were such cases, there also were serious breakdowns. Thank God, we were lucky this year. If the breakdowns we had reached their final result, even the guys who were with us just couldn't help us. We just wouldn't have the time, it was just impossible to change these parts in motion. But I will repeat that we were lucky. At one moment, we heard that the reduction drive of the front axle started to crack. It's good we reacted fast, found a solution, turned the locking differential on and reduced the speed. And we reached the finish carefully.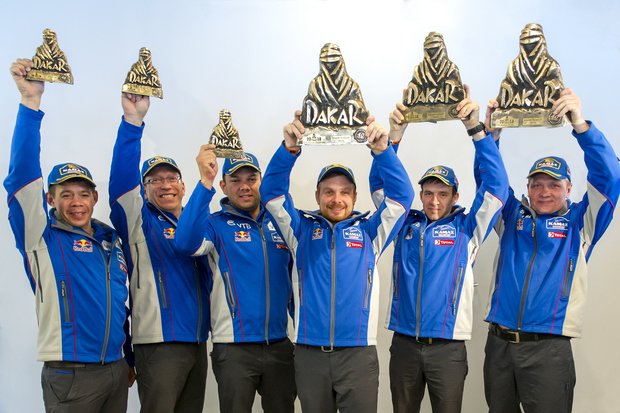 I think many bikers cried, but only he was shown. Actually, the Dakar is severe. People risk their lives and not only their own – the crews have 2-3 people. But we have to take risks, it's impossible to win without it.
How do you manage to handle the conditions you faced, for instance, in the dunes in Bolivia or in high mountains with +50 degrees in pilot's cabin? Because we don't have such conditions.
We plan our trips and training during the year. We go to Kazakhstan to drive in sand, to Karelia – for tortuous tracks. We go to Morocco. Yes, unfortunately, we had problems with high mountains, it's difficult for us to tune our engines. For this reason, this year we plan to go to high mountains to Kyrgyzstan because we see and understand we seriously lose in these sections.