On the way of sustainable development: Tatarstan's petrochemical giant increases revenue, rubber and plastic production volumes
Results of Nizhnekamskneftekhim's work in 2016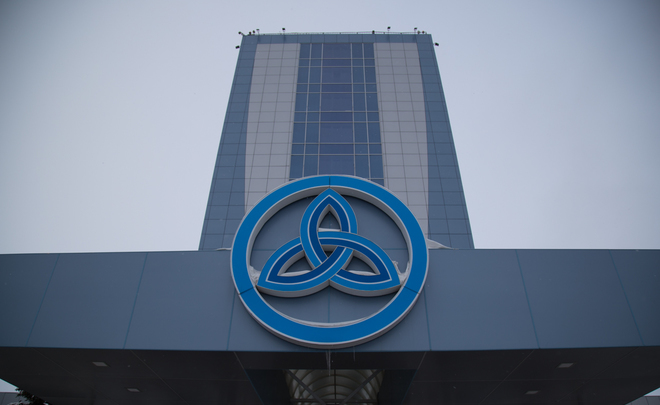 One of the biggest growth points of Tatarstan – Nizhnekamskneftekhim PJSC – demonstrates decent financial results and a dynamic growth of production volumes again. The enterprise's annual revenue passed the indicator of 2014 by 2% and reached 153,4 billion rubles, of which 52% come from sales in the domestic market. What factors affected the annual results of the republic's industrial giant? Realnoe Vremya studied the annual report of the company.
Domestic sales passed exports
Industrial production in Russia in 2016 demonstrated a growth after the recession for the first time during the crisis: GDP reduction paces significantly slowed down, inflation considerably reduced and the Russian ruble rate stabilised, while growth in Nizhnekamskneftekhim's critical areas – rubber and plastic production – was far better. As it is noted in the annual report, these factors for Nizhnekamskneftekhim as well as pursuing its strategic goal of production modernisation, product range extension and mastering new technologies to cement positions in Russian and international markets brought quite successful results.
Last year, NKNKH put new production sites into operation within its development strategy: upgraded production of linear alpha olefins, the fifth dissolver in Butyl Rubber Plant, propene cleaner in Plastic Plant and ethylene glycol cleaner – in Ethylene Oxide Plant.
In addition, 2016 had other important events: the group of Rubber Plants produced the 3 rd million tonne of Butyl Rubber and 10th million tonne of isoprene rubber Synthetic Rubber Factory increased isoprene rubber production capacities and mastered a new-generation diene-styrene synthetic rubber production.
The volume of commodities produced during the year grew by 2% in comparison with the previous year: over 665,000 tonnes of rubber (+4% than in 2015) and 725,000 tonnes of plastic (+1% than in 2015) were made. Consequently, the revenue from the sale of these volumes and other goods also increased to 153,4 billion rubles, which became one of the key results of 2016 and a new financial record of Nizhnekamskneftekhim in its 50-year-old history.
Synthetic rubbers start to grow
2016 brought the world rubber market a long-awaited price growth. If at the beginning of the year rubber price touched bottom, in autumn, its rates started to go up having increased by over 70% by the end of the year to $1,800-1,900 per tonne. The cause of the five-year-old price growth is explained by concerns about the stability of supplies after the December flood in Thailand that affected fields at the height of feedstock harvest.
The rubber basket of NKNKH consisting of 7 types of products today traditionally accounts for the principal volume of commodity export of the company generating a weighty share of the revenue. 2016 was not an exception. 41% belong to rubbers in the total revenue. Moreover, over 88% of synthetic rubber were sold in foreign markets – in 51 countries of the world. European, Asian and near abroad countries are the major rubber consumers of Nizhnekamskneftekhim. Over 70% of NKNKH rubbers are purchased by five leading world tyre companies thanks to long-term contracts.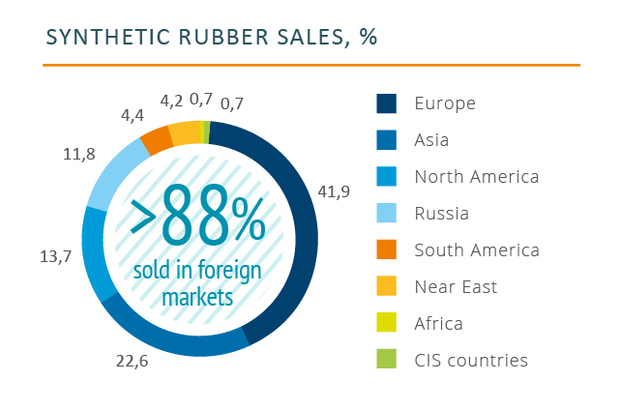 The volume of synthetic rubbers sent to Europe last year made up 42% of exported elastomer supplies. This factor provided the company a reliable guarantee of synthetic rubber sale and helped to conserve the enterprise's stable position.
According to Nizhnekamskneftekhim's annual report, the company has been in the top 10 world synthetic rubber producers for many years being one of the biggest isoprene rubber makers (45% in the global market) and third butyl rubber supplier of the world with 16,4%. It also owns 5,6% of butadiene rubber in the world market.
NKNKH bets on isoprene and halobutyl rubber production increase in order to develop the rubber segment of its commodities in the future. Apart from them, the enterprise masters industrial production of the company's new product — diene-styrene synthetic rubber.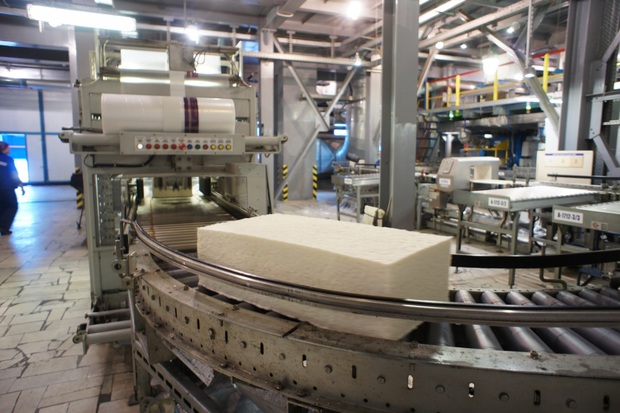 Plastic accounts for over 1/3 of revenue
Plastics are another product that Nizhnekamskneftekhim started to master in 2003. It is the second bigger segment of the company after rubbers that accounts for over 1/3 of sales volume. If in the early 2000s the company produced all-purpose polystyrene only, today the plastic product range consists of styrene, ABS, polypropylene and polyethylene. They are the major part of the commodity volume sold within Russia, which is 61%. Plastics totalled 36,5% in the total revenue. The demand for Russian plastics continues to grow – anti-Russian sanctions and low price for the Russian ruble play the major role at the moment.
NKNKH almost annually increases plastic production volumes meeting the growing demand of Russian polymer processors. For instance, in 2016, Plastic Plant increased its commodity volume by 1% — to 725,000 tonnes of styrene, ethylene and propylene.
By the way, the company is still the leading polystyrene producer and the only linear low-density polyethylene (LLDP) maker in the country. Last year, LLDP production volume surpassed the 2015 level 1,5 times. This year NKNKH will continue to augment the production of this good, which is deficient for the Russian market. It is planned to increase the share of linear polyethylene in the total production volume 1,5 times, or to 100,000 tonnes.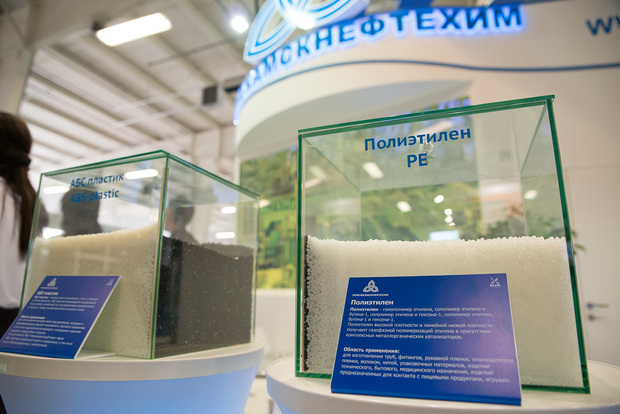 What is more, Plastic Plant produced 135 tonnes of high-density polyethylene and over 217,000 tonnes of polypropylene having increased last year's level by 2%. The company continued to expand its brand assortment: a huge job on transaction from pilot tests to industrial production of polyethylene types designed for rotomoulding, foundry of lids and caps, internal plated pipes was done. Plastic Plant is also mastering another area – bimodal polyethylene production for power cable jackets.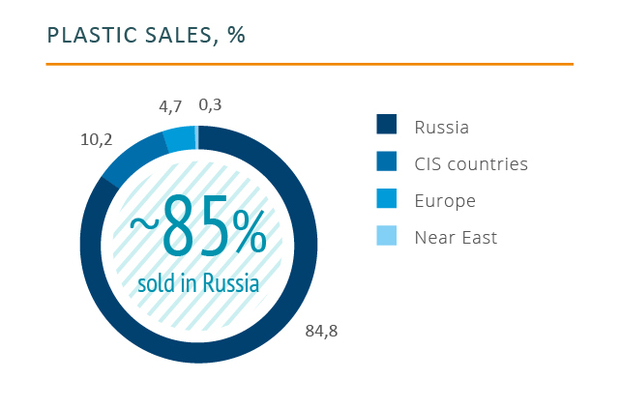 In total, the volume of polymers – rubbers and plastics – made by Nizhnekamsk petrochemists increased by 2,2% to 1,4 million tonnes in 2016, which is more than a half of the annual commodity volume.
Billions for ecology and social support
Together with accomplishment of production tasks, Nizhnekamskneftekhim carried out many social and other programmes and projects. In 2016, more than 60 big ecological measures were taken in 2016 within the 4th Environmental Protection Programme. 1,2 billion rubles were expended for this purpose. The measures enabled to prevent sewage discharges of 6,4 million cubic metres and emission of harmful substances of 1,200 tonnes during the programme.
In addition, production of unusable wastes increased by almost 8,000 tonnes, abstraction of river water – by 6,400 cubic metres, feedstock consumption reduced by more than 9,000 tonnes. Emissions of harmful substances into the atmosphere have decreased by 1,200 tonnes, or 5,03%, since 2014.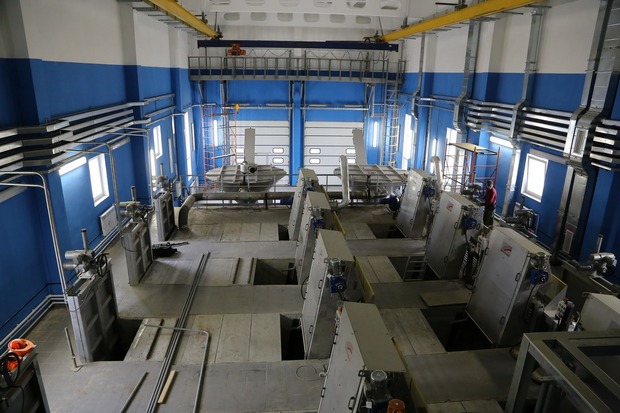 In general, costs of environmental protection made up 4,6 billion rubles against 3,9 billion rubles one year ago. According to the annual report, the costs rose due to increased investment volumes in the fixed capital within the realisation of the project on reconstruction of domestic wastewater mechanical cleaning unit in Biological Treatment Plant. Besides, electric filters were applied in the new isobutylene plant, costs for major overhaul of Biological Treatment Plant's facilities increased. A specialised firm cleaned buffer storage reservoirs on the Tunguche River and removed wastes from Biological Treatment Plant.
Providing workers with dwelling is a traditional priority. 477 families of petrochemists got well-equipped flats within an unprecedented decision made by TAIF PJSC on construction of dwelling for its workers in 2016: 108 apartments on Social Mortgage Programme, 81 apartments – on Development Programme of Industrial Complexes and another 288 apartments – on Additional Housing Construction Programme.
When Nizhnekamsk celebrated its 50 th anniversary, Nizhnekamskneftekhim made an important contribution to preparation and celebration of the city's jubilee as a backbone enterprise of the city: 280 million rubles were spent on reconstruction of the Kama embankment, Svyatoy Klyuch spring and road repairs. Moreover, 500 million rubles were sent to the Fund for Revival of Cultural and Historical Monuments of Tatarstan. The company also helped to organise and stage different international competitions, regional and municipal sports games and contests. NKNKH continues supporting Neftekhimik hockey and football clubs. It has been Rubin FC's major sponsor since 2016.
Future lies with rubber and olefins
Nizhnekamskneftekhim links further growth perspectives with the project on construction of olefin complex with a capacity of 1,2 million tonnes of ethylene a year (EP-1200) with integrated plastic production, which will enable to increase production volumes many times. By calculations, ethylene production will have reached up to 1,8 million tonnes a year, while plastics will amount to 2,5 million tonnes by 2025 when both lines of the production complex are put into operation.
What is more, the final document for 2016 also mentions the perspectives of rubber production of NKNKH. For example, in 2021, synthetic rubber production is going to reach 1 million tonnes due to an increase of production capacities of isoprene, butyl, halobutyl, polybutadiene and divinyl-styrene rubbers.
This year is marked by a big jubilee for Nizhnekamskneftekhim – the first production lot in Central Gas Fractionation Unit was made 50 years ago. Apart from the global EP-1200 project, the company is going to continue the modernisation and increase the production of monomers – butadiene, isobutylene and isoprene – and develop import substituting components production. All these plans are included in NKNKH's Strategic Development Programme until 2020.
By Angelina Panchenko. Photo: Angelina Panchenko, Maksim Platonov