Renat Mistakhov: 'We plan to reach Soviet-era volumes with Meteors'
The head of Ak Bars Shipbuilding Corporation about the plans to produce up to eight high-speed passenger ships a year for river transportation in Tatarstan

This year, Tatarstan shipbuilders plan to deliver four Meteor-2020 high-speed passenger ships and upgrade several ships for river transportation, repair berths and floating landing stages of the republic. As head of Ak Bars Shipbuilding Corporation Renat Mistakhov told Realnoe Vremya, two new steamships are soon going to be handed over to a client in Khanty-Mansi Autonomous District, the next Meteor boats can run in the republic's rivers during the year. But the factory is ready to produce more: "We expect Tatarstan to place an order to make six Meteor boats in our factory and we will start to build them producing more." Read more in Realnoe Vremya's report.
River requires high speeds
The replacement of obsolete passenger river ships has been actively discussed in the last years in Tatarstan. The launch of high-tech new-generation Meteor ships will become one of the solutions to the problem. As Realnoe Vremya was told at Ak Bars Shipbuilding Corporation, two high-speed steamships are already ready and are going to be handed over to the client this summer — Khanty-Mansi Autonomous District. Another two are being built for Tatarstan's needs. They are planned to be delivered during the year.
The passenger hydrofoil — Meteor-2020 project 03830 — was designed by SiTech Design Bureau from Nizhny Novgorod upon the Tatarstan corporation's request. Zelenodolsk's Several features distinguishes Meteor from another new model — Meteor-120R that the Alexeyev Central Hydrofoil Design Bureau recently started to make. The Meteor-2020 has two wings, this avoiding excessive fuel consumption, it is almost 2,5 metres longer and wider, accommodates 122 passengers. The ship gains the speed of up to 80 km/h, whereas the Meteor-120R from Nizhny Novgorod does just 65 km/h. Also, the Tatarstan steamship can perform a 13-hour-long trip, which is five hours longer than its rival can.
"The new Meteor-2020 can run from Kazan to Bolgar, Tetyushi, Ulyanovsk or Samara or in the Volga River upstream — to Cheboksary or Nizhny Novgorod," head of Ak Bars Renat Mistakhov told the newspaper about ways of using the ship.

According to him, aviation and cars are regarded as competitors of boat traffic — the river too requires high speeds so that passengers can quickly and comfortably reach their destination. It is planned to make as few as six Meteors a year to provide Tatarstan's needs for new passenger river ships.
"To get somewhere by Meteor in summer, people have to buy a ticket a month in advance, this shouldn't be this way. We have built two steamships at the moment. But the production capacities allow producing six or eight ships a year. We plan to reach the volumes produced during the USSR when there was planning and 10 Meteors used to be made a year and another two shifted to the next year. At the moment we can offer six-eight ships, but we can expand the volumes if needed," Mistakhov assured us.
The head of the corporation noted that the Zelenodolsk shipbuilding factory has all possibilities to do this task — there was done large-scale modernisation, new machine tools and equipment necessary for shipbuilding were installed. The cost of one Meteor-2020 is 550 million rubles, but mechanisms of passenger ship leasing scheme are now calculated. "We expect Tatarstan to place an order to make six Meteor boats in our factory and we will start to build them producing more," noted Mistakhov.
According to him, other Russian regions — Samara, Saratov, Ulyanovsk Oblast — are expressing their interest in the new Meteors except for Khanty-Mansi Autonomous District and the republic itself.

Workhorse for low season
Another ship — A-217 ice class project — was built at the Zelenodolsk dockyard besides the Meteor. According to shipbuilders, it is a workhorse.
"It isn't so fast — its speed is about 20 km/h and was built to transport passengers, for instance, to the garden during the low season. This ship can move through a thin, broken ice of 30 cm think when neither cars no other transport can provide transportation. We designed it so that it is comfortable for the layman, so that nothing breaks even if you one wants it to and gardeners can easily transport their freight — boards, carts, bicycles, there is everything for it."
According to Volgatatsudremont company and captain of Arabella steamship Roman Lizalin, this ship has already recommended itself:
"We have done various tests — in motion, we have travelled long distances and tested the wind and wave resistance. This year, we plan to hand over this ship to the republic, though at first it was planned to give it to Arkhangelsk Oblast to use, but the deal wasn't sealed.

Problems with imported spare parts can be solved
The first Chaika gas engine ship — a ship that can run on liquefied natural gas — is another famous steamship, the Tatarstan shipbuilders' brainchild — is in Saint Petersburg now. It will transport passengers from Petersburg to Kroonstad.
"We built the Chaika deliberately for the republic to enter the Kazanka River and we have entered its water with such a big ship for the first time in 60 years, reached the Millennium Bridge and turned back. Gazprom was very interested in this project, moreover, the use of liquefied gas was its idea and it asked the republic to give this ship to Petersburg very much — traffic is much bigger there and more prospects of going to some region with this region in the future," Renat Mistakhov explained.
The ship is known for its eco-friendliness, engine service life and a low fuel price compared to diesel, the interlocutor of the newspaper noted.
The project of the second Chaika with a diesel engine was postponed at the moment. According to the head of Ak Bars, it is designed for excursions than regular river transportation: "This steamship has a big cabin for 200 passengers and an erection where parties can be held. The republic, first of all, cares about the population, its transportation — it is gardeners who don't have personal cars. This is why the republic's Ministry of Transport, the Tatarstan management considers workhorses that can transport passengers more."
All new ships are built mainly with Russian components, the Tatarstan shipbuilders assured us, though at first, because of anti-Russian sanctions, they faced a problem of import substitution, including in ship repairs. He put an example of a recent transition from German engines to the engines purchased from Chinese partners. Also, he mentions more promising projects — the launch of the Russian production of shipbuilding engines.

"Impossible to endlessly repair ships"
Repair of passenger ships is one of the areas Roman Lizalin has been dealing with since 2015. VTS company he chairs annually repairs 5-6 different ships. This year, there are big plans to repair floating landing stage — a total of six of them are going to be repair.
"We deliver three passenger ships after repair to their owners by the start of the navigation season and plan to deliver another two ships in summer. In the future, we plan to expand the volumes to start to repair 6-8 Moskva or Om passenger ships — those used by floating landing stages. We do this work so that the whole infrastructure operates as one organism, so that our citizens actively use it," said Lizalin.
However, according to him, even major repairs won't help the ships running in the republic's rivers. By his estimate, previous Meteor models and river trams go obsolete morally and physically: "We try to maintain the technical state of old ships, that's to say, repair them. And safety is the cases here too — huge significance is given to it. Still, it is impossible to endlessly repair these ships." In this case, all hopes are pinned on updating the passenger river ship fleet, including with the help of Meteor-2020 ships.
"Sad to look at landing stages"
There are 22 floating landing stages in Tatarstan today. However, only half of them are used. Each of them is seriously worn out. The task for this year is to repair eight landing stages and provide them with state-of-the-art equipment.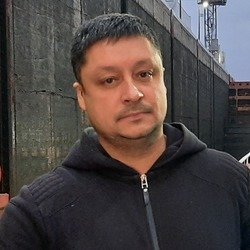 By preliminary estimates, the major repair of landing stages will cost 40-50 million rubles. According to Lizalin, the sum needed to restore each of the eight floating stages will be calculated individually, everything depends on the wear.
The landing stage modernisation project will become one of the steps to create contemporary river infrastructure in the republic. If it receives support of the republic's management, it will become a reality. Meanwhile, technical conditions are elaborated, the next task is to develop design documentation.
Angelina Panchenko, Vasilya Shirshova
Tatarstan