Football pitch to be renewed again at Ak Bars Arena in Kazan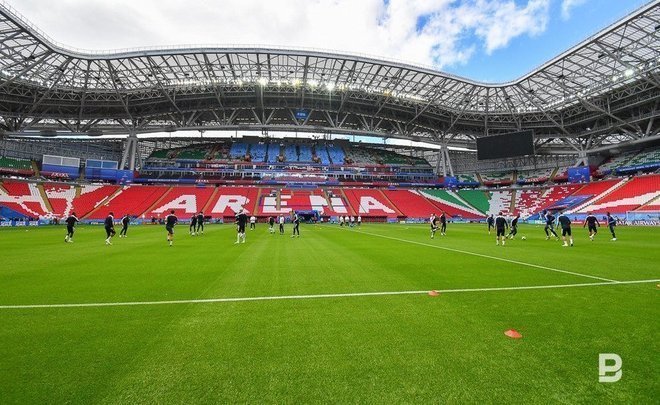 As Realnoe Vremya figured out, Kazan Arena JSC is trying to hire a contractor again to renew the football pitch at Ak Bars Arena stadium. The cost of works is assessed at 3,5 million rubles. A similar contract was planned to be signed in December 2022 but it was cancelled, while the value of the contract has increased by 84,000 since then.
Renovation at the second attempt
As for the procurement that did not take place a month ago, according to the documentation, it was going to be funded with money received within a discretionary management contract. The contract was estimated at 3,4 million rubles.
The football pitch at Ak Bars Arena is 107 to 68,5 metres, the grass is natural. Also, it has a liquid pitch heating system, automatic watering system and automatic aeration system.

The list of works the contract has to do included to mow the grass, remove at least 40 mm of soil, raise GrassMaster artificial fibre system with rakes in four directions four times, distribute sand after every raking layer by later. The client also requires to fertilise the soil, sow grass plant seeds, water the pitch and load the removed soil into a dumper truck and dispose of it.
The only contractor from Moscow Oblast
This year the procurement doesn't have accompanying explanations and technical characteristics. It is just specified that it is not competitive and implemented by one contractor.
Kazan Arena JSC signed a similar pitch renovation contract in 2021. The works cost 3,408 million rubles then.

A company from Khimki, Moscow Oblast, founded as early as 2009 was the contractor. The data published in 2021 reads that the company's net profit is 3,866 million rubles. It is noteworthy that its risks are considered low and it has only 31 traffic police fines for a total of 160,000 rubles among proceedings in execution.
The company has repeatedly worked at various sports venues in Moscow and Volgograd oblasts and in Krasnodar Krai. Among its orders, it had landscape-related works too.

Does money help to solve problems?
Former Rubin FC head coach Leonid Slutsky has repeatedly criticised the pitch of Ak Bars Arena. He stated that football players were constantly injured because of the poor pitch. In the end, the sides even agreed that the pitch wouldn't be used for non-football events anymore.
"We hosted the World Cup with a strong will. We are sitting in a gorgeous stadium. It is a modern, amazing stadium with a capacity of 45,000. Do you know the pitch here is sh#t? It is prohibited to play football here. Our key forward got a very serious injury twice on this pitch when he was away for three months and we lost a lot of points, money," Leonid Slutsky said in an interview with Ksenia Sobchak.
By the way, Ak Bars Arena in general is designed not only for football matches but also other sports events, shows and concerts. So the stadium hosted the opening and closing ceremonies of the 27th Summer University Games and the opening ceremony of the 2019 WorldSkills competition. in 2015, Ak Bars Arena held the FINA World Championship, 2017 Confederations Cup and the 2018 FIFA World Cup.
The Tatarstan Sport Ministry said that the maintenance of Ak Bars Arena stadium cost 306 million rubles, of which 120 million are extra-budgetary money.

In 2022, the Main Investment and Construction Administration of Tatarstan announced a tender for the sports venue's major repairs for 177,3 million rubles from the republican budget. It is planned to installed a multi split system, lay an internal polypropylene sewage pipeline, place toilets, tables and boxes and so on. 73,7 million is going to be spent to restore the fire-proof coating and repair stormwater pipelines of the roofing.
Ak Bars Arena is located in Novo-Savinovsky District in Kazan, between Khusain Yamashev Prospekt and Chistopolskaya Street, not far from Riviera water park and Olympi sports facility.
Tatarstan