Tatarstan to develop numerous joint projects with Uzbekistan
A branch of Khimgrad can be launched in Tashkent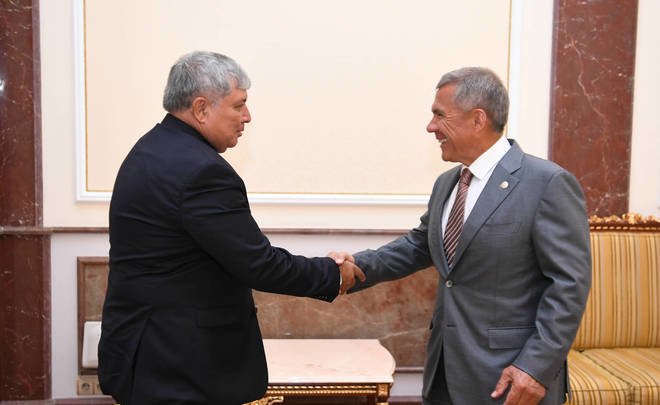 Tatarstan is interested in strengthening ties with Uzbekistan's Tashkent Region, which is one of the country's leading regions. According to President of Tatarstan Rustam Minnikhanov, the cooperation will cover trade, economic, scientific, technical and cultural spheres.
Tashkent Region of Uzbekistan and the Republic of Tatarstan are implementing a number of projects in Uzbekistan and will ensure mutual supply of products, reports Azernews. In August, the Uzbek delegation led by Head of the Regional Administration Gulomjon Ibrahimov visited Kazan to meet with President of Tatarstan Rustam Minnikhanov.
According to Minnikhanov, Tatarstan is interested in the development of comprehensive contacts with Tashkent Region. ''We are preparing an action plan for the implementation of the cooperation agreement signed in May this year. The document covers all areas: trade and economic, scientific and technical, cultural spheres,'' the president of Tatarstan said.
A branch of the Tatarstan's Khimgrad Industrial Park can be launched in Uzbekistan as part of the cooperation programme. ''We want to create this institution together with Tashkent Region. There are entrepreneurs who are ready to develop their business on this site. We will send managers, technologies'', said Minnikhanov, adding that the Uzbek side would support the project by providing the necessary infrastructure.
The establishment of the assembly production of medical simulators in Tashkent Region is another promising project proposed by Tatarstan's Eidos-Medicine company. Besides, the parties are planning to establish traditional trade relations, such as organising wholesale deliveries of products of the Tashkent Region to Tatarstan and promoting Tatarstan goods to the market of Uzbekistan. A special agency will be created to ensure this process.
During his visit to Kazan, Gulomjon Ibrahimov took part in the international specialised exhibition of equipment, materials and technologies for aviation, aircraft construction and space. ''The most important thing is that we saw young guys from Tatarstan developing new technologies that are not inferior to foreign analogues at all,'' he said. He also praised the relationship that the Republic of Tatarstan and Tashkent Region have managed to establish in the last year and a half.
Tatarstan