Nizhnekamskneftekhim is 50 years old: how Tatarstan's petrochemical giant grew
The 50th jubilee since the first production lot was to be celebrated on 31 July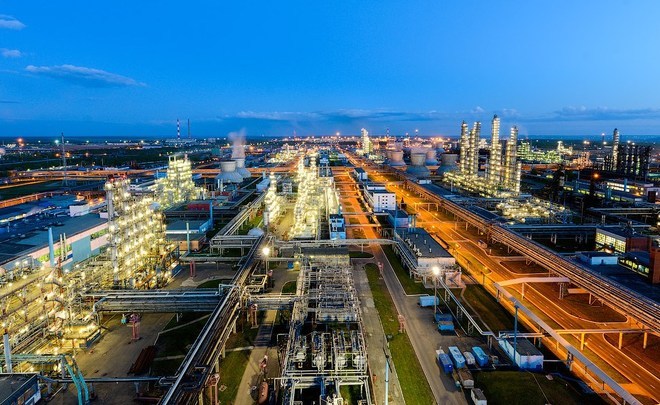 Tatarstan's petrochemical leader Nizhnekamskneftekhim, which generates over 153bn rubles of annual revenue, is the major synthetic rubber producer in Russia and one of the biggest petrochemical enterprises of Eastern Europe. Nizhnekamsk isoprene rubber is famous because tyres of Formula One are made of it and such tyre industry giants as Michelin, Pirelli, Bridgestone, Continental and Goodyear are among its consumers. But everything began 50 years ago, in 1967, when eight types of liquefied gas were made of a gas mixture. Realnoe Vremya tells the details.
Complex of chemical factories 50 km far from Naberezhnye Chelny
The May plenary session of the Central Committee of the Communist Party of the Soviet Union made a historic decision – to build a complex of chemical factories on a 3 ha territory in the lower course of the Kama River. The general construction project was approved in two years, and the first tractor and sled train arrived in the future construction place on 25 December 1960. A brigade of operators delivered wagons, mobile boiler units, power plant, and constructors came in a week. So the petrochemical giant-to-be started to be erected 50 km far from Naberezhnye Chelny.
Big industrial centres were far, there were not any asphalt roads. This is why construction materials and equipment were delivered only during navigation season on the Kama River. The absence of electricity and water supply also slowed the construction down. For this reason, infrastructure was created during the first two years: roads and railways were laid, the industrial settlement was built where constructors and workers housed later. Right this settlement obtained the status of the city of Nizhnekamsk in 1966.
Industrial facilities were undertaken in spring 1963. Construction of the first part of the central gas fractionation unit began in May. They needed to erect a mini-city of 80 parts, trestle bridges and product pipeline, which connected the processor with the gas supplier – Minibay Gas Conversion Factory. The flare unit started to work first, then oxygen plant and, finally, the central gas fractionation unit. It played the major role: the hydrocarbon feedstock was divided into parts there (ethane, propane, butane and others).
The first tonnes of marketable propane, butane, isobutene, isopentane, pentane and hexane of Nizhnekamsk Chemical Factory was poured in cisterns and sent to Omsk and Ufa by rail. It was on 31 July 1967. This date became the birthday of the new petrochemical enterprise.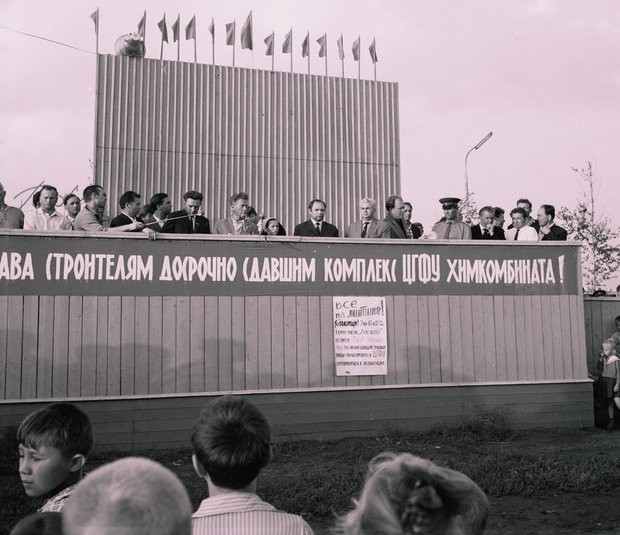 Then, new factories for which the central gas fractionation unit became one of the main feedstock sources started to appear on the Lower Kama River bank. In 1971, another central gas fractionation unit was built. It made 750,000 tonnes of products a year. But the capacity was doubled in 10 years. In 1994, two ''feedstock flows'' – gas factory and divinyl units – came together. And factories manufacturing divinyl and hydrocarbon feedstock appeared at Nizhnekamskneftekhim Production Association.
Growth of synthetic rubber production and the first butyl rubber briquette
Nizhnekamskneftekhim is in the top 10 world synthetic rubber producers. Last year, their production volume passed 665,000 tonnes. The demand for the feedstock for tyre production and rubber goods continues growing. This is why synthetic rubber has firm positions in the petrochemical industry. The enterprise felt the perspective of this area in the Soviet era. ''To increase synthetic rubber production 1,7 times,'' said the directive on one of the CPSU sessions. For this purpose, a construction project of the third stage of rubber production of the Nizhnekamsk Petrochemical Complex.
Then natural rubber was purchased abroad, and the USSR needed its own product. A factory was built in record time and equipment was assembled. The first isoprene rubber briquette whose quality was no worse than natural and resistant to deterioration was made in October 1970.
''Very complicated high-quality isoprene rubber production from cheap local oil hydrocarbon feedstock was mastered. It will enable to improve very endurable car tyres and many other rubber goods for the national economy,'' said the welcome speech of the Tatarstan Regional Committee of CPSU.
Today Nizhnekamskneftekhim manufactures seven synthetic rubber types. Butyl rubber production followed isoprene. The trial product, isobutane isobutylene fraction, was made in December 1972. And the first butyl rubber briquette rolled off the production line in 6 months. Now the same factory also makes halobutyl rubber. Officials of Nizhnekamskneftekhim thought about its production at the beginning of the new millennium. Nobody dared to produce these rubbers in Russian petrochemistry then – the technology was expensive and complicated.
Halobutyl rubber is feedstock for the tyre industry – it is used to make tubeless tyres because such rubber has high gas tightness and resistant to deformations. It is irreplaceable while making conveyor belts and medical products. Earlier only two companies manufactured halobutyl rubber – Exxon in the USA and Bauer in Germany. Nizhnekamskneftekhim produced a test lot in late 2004. Nowadays the company remains the third halobutyl rubber maker in the world and the only in Russia.
The only polyester producer in Russia
Neighbouring Styrene and Polyester Resin Factory is one of the major consumers of products of Ethylene Factory. Nizhnekamsk petrochemists were first in the USSR to undertake the production of propene oxide with styrene. This is why construction of the pilot production began in the 70s. By the way, the new product was manufactured according to technologies that were not known in world practice. Ethylbenzene and Styrene Factory started to work several years earlier. They became a single subdivision with polyester production later. Almost all the styrene is sent to Plastics Factory where styrene polymers and ABS plastics are made.
Clothes, perfume, cosmetics, drugs, brake fluid components, anti-freeze for heating systems. Ethylene oxide is used at their first production stage. It was first created at the end of the 19 th century. But the development was not perfect then, and ethylene oxide with silver catalyst was invented 30 years later. It is the main ethylene oxide production method whose production was mastered at Nizhnekamskneftekhim 37 years ago. Now the factory manufactures ethylene oxide, 2-Ethoxyethanol, Carbitol and all the types of glycols.
Oligomer Factory that was put into operation during Perestroika in 1986 neighbours this factory. Its products – propene trimer and tetramers, alkylphenols, neonols, polyethyleneglycols – are widely used in cosmetology in creams, production of detergents and textiles.
Only Nizhnekamskneftekhim produces alpha-olefins and polyesters in Russia.
From monomer to polymer production
The 90s almost brought the enterprise to bankruptcy. But a new story of achievements began in the 2000s. The petrochemists bet on polymer production. Polystyrene production that is the major feedstock for disposable tableware, packet for kids' toys and pharmaceuticals, goods for the construction industry was the first success. Nizhnekamskneftekhim and Fina Technology (USA) signed a licensing agreement on construction and polystyrene production 17 years ago. The first production was made in June 2003. It was common 525 Polystyrene, which is used to make household appliances. Then the production of other types of polystyrene including shatter-proof was mastered. Another production line with a capacity of 50,000 tonnes a year was launched in two years. The third line was added in three years.
Nizhnekamskneftekhim is the biggest polystyrene plastic manufacturer in Russia, its share varies from 60 to 70% in the domestic market. As demand grows and plastic goods conquer new spheres of modern life, they started to build the fourth technological line of styrene polymer production in 2012. ABS plastic Factory with a capacity of 64,000 tonnes was launched in April 2013 – five major and four additional types that Nizhnekamskneftekhim makes with Italian Polimeri Europa's licence.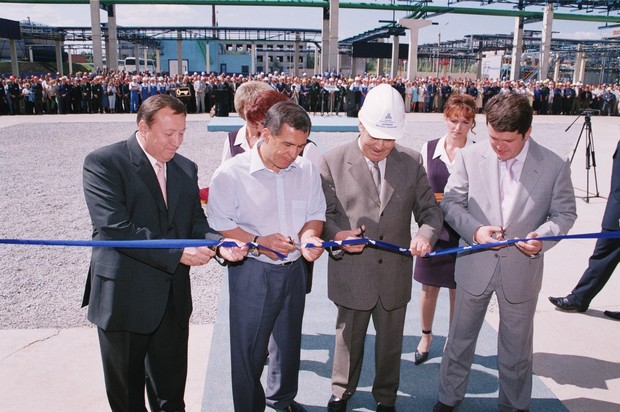 Polypropylene and polyethylene factories also appeared in the enterprise in the 2000s. In November 2003, Nizhnekamskneftekhim signed a licensing agreement with Basell. It presupposed an annual production of 120,000 tonnes of modern polypropylene types. But later it was decided to increase the volumes to 180,000 tonnes.
Polypropylene, a new product for the regional industry, was made in October 2006. It is an ecologically pure material, it is used in almost all the sectors: electric engineering and electronics, construction, car and machine engineering, instrument engineering, medicine, space engineering. For instance, surgeons use polypropylene nets in hernia excision.
In 2006, the enterprise made another step for maximum oil conversion having decided to make a new project – mastering polyethylene production. Ethylene production was launched during the crisis in 2009. The technology again belonged to Italian developers – Basell. The technology allows to get products with different characteristics in Nizhnekamsk including linear low density polyethylene that is made by no enterprise in Russia. In addition, Nizhnekamskneftekhim manufactures unique polypropylene types providing Russian processors with them. So the company accomplishes the import substitution programme. In 2015, the production of polystyrene, polyethylene and polypropylene was united in Plastics Factory. Modernised linear alpha-olefin production was put into operation in 2016.
Today Nizhnekamskneftekhim is the leader of Russian petrochemistry and one of the biggest petrochemical complexes of Europe. It became possible thanks to deep modernisation, constant update of the manufacturing complex, implementation of new technologies, creation of powerful scientific and technological basis.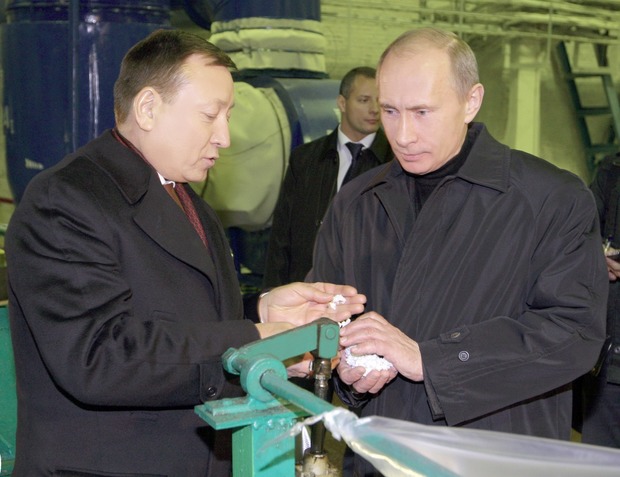 New wreath of history
During the 50th-year-old history, the Nizhnekamsk petrochemists have won fame of the enterprise that is able to perform ambitious projects. Any factory included in the company's structure can be called unique. The main project of the prospective programme — Olefin Complex – is also among them. During the Petersburg International Economic Forum on 2 June 2017, Director General of Nizhnekamskneftekhim PJSC Azat Bikmurzin and Managing Director of Linde AG John van der Velden signed a framework agreement on execution of contracts: licensed agreement; design; delivery of equipment and materials; technical consultation for the first stage of the new olefin complex of Nizhnekamskneftekhim PJSC with a capacity of 600,000 tonnes of ethylene a year.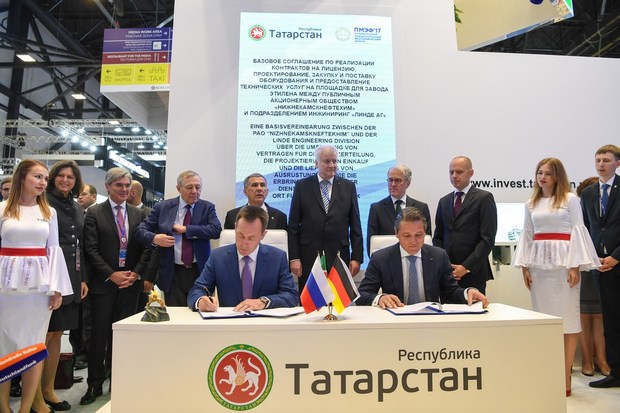 The sides also discussed the second stage that includes an analogous ethylene complex with the same capacity.
Each stage presupposes construction of factories making high value added goods except ethylene production: polyethylene, polypropylene, polystyrene and other derivatives.
Strategic goals of the companies are agreed with the development strategy of the chemical and petrochemical complex of Russia and social and economic development strategy of the Republic of Tatarstan until 2030 and are aimed to increase the conversion of the hydrocarbon feedstock into new products, expansion of the product assortment and improvement of the product quality.
By Angelina Panchenko, Ksenia Zharkova