Andrey Borisov, Sakha Theatre: 'In Tatarstan, you live in Europe and don't consider yourself Eurasians'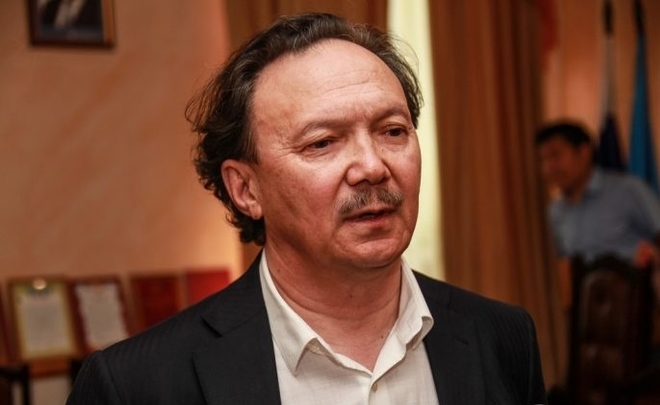 The tour of artists from Yakutia ended on 30 October on the stage of Kamal Theatre. The legendary Sakha Theatre performed three plays in Kazan. One of them was staged by live classic Andrey Borisov and the other two – by his pupils. In an interview to Realnoe Vremya, Borisov tells about the failed staging of Hamlet at the Moscow Art Academic Theatre named by Gorky, expresses his opinion about Konstantin Raikin's speech given at a meeting of the Union of Theatre Workers of the Russian Federation and speaks about his Eurasian projects.
'Olonkho has about 300 plots'
Mr Borisov, you have been working on the renascence of Olonkho in recent time. Not all people know what it is. Could your tell about it in detail?
Olonkho is a heroic epic tale of the Sakha people that became an intangible landmark of the cultural heritage of humankind. Russia has two precedents of that kind: songs of Old Believers and our epic of Olonkho.
What about The Tale of Igor's Campaign?
No. Once UNESCO did such a job and found masterpieces of intangible heritage. The Tale of Igor's Campaign is a great thing. But UNESCO did not consider it an intangible heritage. Olonkho has about 300 plots. More than 100 of them were written down. It is a unique thing. People of Yakutia created and presented it to the world. Another thing is that the world doesn't know Olonkho.
In other words, is your Olonkho Theatre popularising these plots?
Yes, it is introducing it to the world art culture. The Olonkho Theatre is like the Pekin Opera, Japanese Kabuki. Now the Olonkho Theatre has about 10 plays.
Udaganki about feminine shamans is one of them. We saw the staging of your wife Stepanida Borisova at Nowruz.
This play has visited many places. We showed it in Paris too.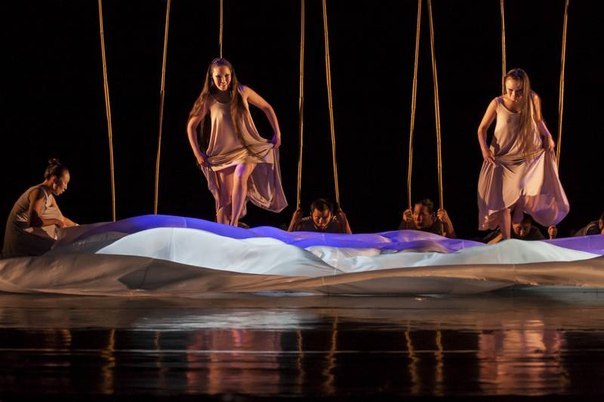 'The Olonkho Theatre is like Pekin Opera, Japanece Kabuki. Now the Olonkho Theatre has about 10 plays.' Photo: vk.com
'Creating Eurasian movement'
Rereading your biography, I find you do many things…
I started to work as an actor at the Yakut Theatre in 1974. Then I became a director, then the Minister of Culture and Spiritual Development. Even in that case, I did not leave the theatre. I worked as minister during 24 years. I called that period 'a 24-year play'. Anyway, I staged plays, fulfilled projects during that period. Many people are coming to project management, while I had it a long time ago.
What is the correct name of your post today?
It is the same post that your religious leader Mintimer Shaimiev has. I am a state adviser to the Republic Sakha-Yakutia. But I tell that I am an adviser of all Yakutia.
What functions are you performing?
Huge! International, interregional, interreligious, cultural and ideological. For example, now I am creating an international Eurasian movement in Russia. It begins from the other side – from Far East, not Moscow because people from Moscow, Tatarstan don't consider themselves Eurasians. You live in Europe. When you live in Asia and look at Europe, you understand what Eurasia is. Moreover, there are many projects in the Pacific region, Japan, China.
Is it difficult?
No, it is theatre. All people are actors.
What about your job at the Academic Theatre named after Oyunsky?
I did not leave it. I am an art director there. As my teacher Andrey Goncharov told: 'I should have the nuclear weapon push-button!' He told it when he was offered to give the theatre to another person while he was sick.
The Goncharov school is severe.
Yes, it is. But I never interfere. The stage manager does what he wants. If it is good, I support him by all means.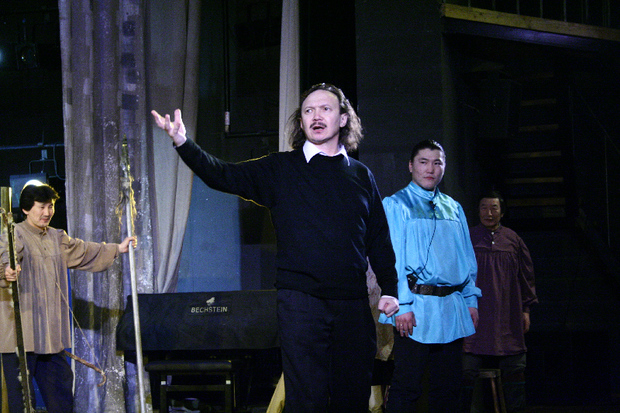 'I worked as minister during 24 years. I called that period 'a 24-year play'. Anyway, I staged plays, fulfilled projects during that period. ' Photo: russiancouncil.ru
'Lear's daughters throat sang'
You surprised the world in your old days when you staged King Lear at the Yakut Theatre. It is interesting to know your concept. How does Shakespeare combine with the Yakut psychology?
It surprisingly combines. Shakespeare is the whole world. When the play appeared, people told about it as praise: 'It is a European Theatre!' And I thought it was not a praise for our theatre. The concept is the following: Lear's daughters appeared wearing Scythian hats and throat singing. They don't speak but sing. It immediately shows Eurasianism. It is a synthesis of Euriasianism and Russian psychological theatre. At the same time the Yakut Theatre is not lost.
What behaviour does the jester have? This character is important in the play.
My jester was Buddhist. For it was a newly-born boy. But critics called him a Buddhist monk. It is an elderly baby. When I staged Hamlet in Moscow at Tatiana Doronina's theatre, I called the play Hamlet. Horatio's Dream. And Horatio was Buddhist. Probably it affected the interpretation. But the play did not see the light of the day. Tatiana Vasilyevna did not understand it.
It should be expected.
Horatio studied in India. Shakespeare also wrote about it. I suddenly thought everything happening in the play is Horatio's dream. And Hamlet was a just a machine, he calls himself so. For instance, Ophelia appeared pushing a trolley with Polonius' corpse. And she did not know it. It turned out she was pregnant with a corpse. I made an interesting play, but it was not understood.
'The release of the film was bad'
Let's switch to films. How did the idea of the film about Genghis Khan appear? Was its release successful?
I thought about Tengrism, about its power. There are many factors there. There is a book called The Secret History of the Mongols. Genghis Khan says that his mother did much for the creation of the Empire. She came from Olonkhosut tribe. We are this tribe. Kazakhs, Tatars, Bashkirs tell that Genghis Khans is theirs. One can think that the Yakut also chose that road. But I can't oppose the truth! Olonkhosuts are our tribe. I was interested in the examination of Genghis Khan's state structure. But the release of the film was bad. Eight films about him appeared at that moment. Moreover, we had financial problems. We shot the film during four years. All the energy fade away.
And your film was nominated for Oscar.
Mongols nominated it. I was amazed that very Mongols who don't agree that Genghis Khan was Turkic and consider him Mongol but nominated the film for Oscar.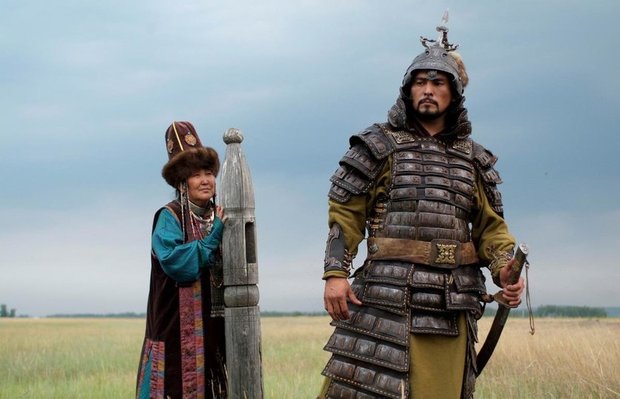 'I was interested in the examination of Genghis Khan's state structure. But the release of the film was bad.' Photo: plus.kinopoisk.ru
Are you going to shoot films further on?
No.
Why?
It is not my cup of tea. No strength, no time. Theatre is the best place in the world.
Do you watch Russian plays?
Rarely, but I do. I think the Russian Theatre is catastrophically losing the Russian Theatre. I don't mean the ethnographic theatre, no. I don't mean jingoism.
Why does it happen?
The pendulum of our interest swings to different sides. A diffusion of the European Theatre went on the Russian stage via the Polish Theatre. The world has never had such a spiritual occurrence as the Russian Theatre. And it is being lost. We keep the Russian Theatre, Tatars keep it, but the very Russian Theatre is losing it. My friend and artist from Saint Petersburg comes to me and says that he comes to me to see the Russian Theatre.
Did you hear Konstantin Raikin's speech at the meeting of the Union of Theatre Workers of Russia?
No. But I know what he was speaking about. He was right. People start opposing the theatre bit by bit, on a sly, at the level of the Minister of Culture of Russia. They say that theatres should switch to contracts. A deep politics is behind it because everything in the Russian culture has been adapted for Europe. But the theatre is still alive. We need to protect it! Why should theatres be reformed? Let them live! Don't touch the theatres!