Profit leader: Avers Bank first among Tatarstan financial institutions in 2017
Results for 2017 were announced at the next general meeting of Bank members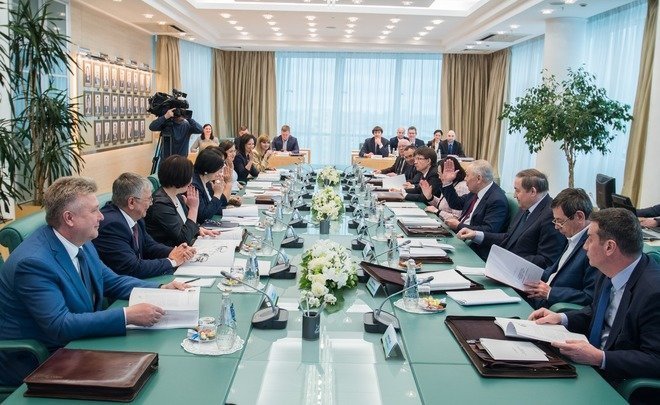 The last year was uneasy for the banking sphere of the republic – licences of five financial institutions were revoked, as a result of which assets of the banking sector of the Republic of Tatarstan reduced. Nevertheless, Avers Bank increased indicators in all priority areas of its activity: the volume of the loan portfolio and money borrowed by clients grew, investments in securities increased.
Record profit of 2,3 billion rubles
In 2017, the Bank showed a new net profit record, which reached 2,3 billion rubles. Such results allowed the Bank to conserve the first place among Tatarstan financial institutions. Moreover, Avers Bank accounted for 46% of the total profit equal to 5,1bn rubles, which profitable financial institutions of Tatarstan showed last year.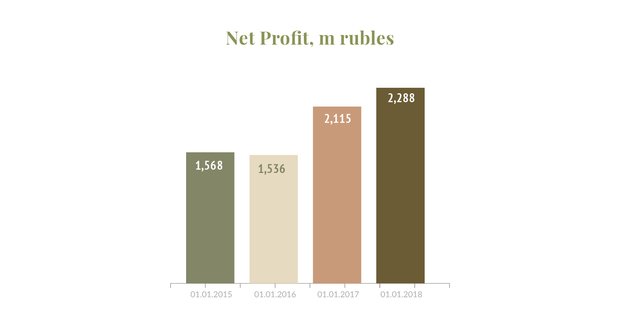 The Bank's assets increased by 34,9 billion rubles. Loan portfolio became the main growth driver. Outstanding net debt totalled 88,4bn rubles, which is 24,8bn rubles more in comparison with last year's results.
Security investments accounted for 25,8% of all assets of the Bank. The Bank also showed a growth in this area – security investments were 35,5bn rubles, which is by a third more than a year ago.
The Bank pays great attention to the quality of clientele. Thanks to it, in 2017, the volume of money borrowed from juridical and natural persons rose by 41% and reached 113,3bn rubles. The Bank's capital was 22,8bn rubles, which 7,5% more than last year's indicator. Н1.0 capital adequacy ratio considerably exceeded the lowest requirement (8%), this indicator reached 26,1% on 01.01.18.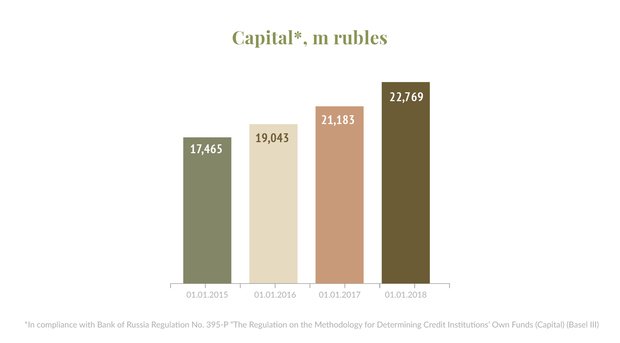 The Bank's reliability is confirmed by high rating estimates on the national and international scale. In September 2017, Fitch international rating agency confirmed the Bank's long-term issuer default rating at BB- with a stable outlook, while RAEX (Expert RA) national rating agency granted the creditability rating at ruA+, also with a stable outlook.
Loan growth
Thanks to the reduction of the key rate in the corporate loan market in 2017, a revival began. However, high loan risks still remained a deterrent, which led to an increased competition among banks for a quality borrower. In such uneasy conditions, Avers Bank managed to increased corporate loan volumes: as from 01.01.18, corporate loan portfolio amounted to 44,569 million rubles, which is 984 million rubles more than the analogous indicator a year ago.
For Avers Banks, 2017 was also successful in the retail banking market. According to banki.ru, Avers Banks stably ranks second among Tatarstan financial institutions in terms of the volume of deposits of natural persons and loan portfolio of private customers.
Natural persons' loan portfolio grew by 7% and totalled 4,771m rubles by the end of the year. Mortgages are still the key product in the structure of retail loan portfolio.
Avers ONLINE mobile app and loyalty programme for bank card holders
To provide security and improve service quality, Avers Bank continued working on improving information systems. In 2017, the Bank launched Avers ONLINE application for iOS and Android. In addition, the Bank's site was updated. The implementation stage of the CRM system was completed last year too. A solution, which enabled to reduce the time of application processing and increase the number of processed petitions of the Bank's clients, was introduced to the Call Centre.
Within developing the National Payment System, Mir payment cards started to be accepted in cash machines, cash dispensing offices and POS terminals of Avers Bank in March 2017.
In December 2017, Cashback loyalty programme for Avers Bank card holders was launched together with TAIF-NK filling stations. Car owners can get 2% cashback and 5% of an additional discount or bonuses while filling at a TAIF-NK filling station.
Plans for development
To develop the technological bank aimed at quality service of customers, projects of the processing centre and online banking are carried out, functions of mobile banking also expand. In addition, the Bank works on remote service channels.
This year the Bank will continue increasing the clientele, improve transaction services and increase the effectiveness of cooperation with customers.
In the short run, Avers Bank sets a task to strengthen market positions at the regional level, improve the IT architecture, products and services and earn a good reputation with regard to customer loyalty indicators.
Avers Bank PLC. Licence by Bank of Russia No. 415 as from 09.06.14.
Tatarstan